Presenting businesses with an opportunity to connect with over 1.5 billion active users, TikTok has emerged as a highly favorable marketing platform to boost online presence. Moreover, the social media platform took another step forward by providing additional tools that assist in creating compelling content and promoting it to a target audience effectively. As a result, numerous brands have started actively seeking ways to use the potential of TikTok for their business.
Whether it's a small or established business, if you're also looking to tap into the massive potential of TikTok, there are several valuable tips and tricks to help you optimize your marketing strategy.
From creating just the right content to influencing your audience's purchase decisions, in this blog post, we will delve into a step-by-step guide to help you use TikTok for your business and achieve success:
Research the TikTok Users
Before you introduce your brand to the platform and apply your marketing strategies, it's essential to understand the TikTok audience and their preferences.
In order to truly connect with your targeted TikTok users, you need to understand their interests, as well as their demographics to track their online behavior. So, by running thorough research, you can obtain valuable insights that can assist you to create content that aligns with your audience and ads that resonate with their needs and expectations. You can use this personalized approach to strengthen the bond between your brand and the audience, which ultimately will boost your engagement levels as well.
Furthermore, through this research, you can also decide your future financial investment in the platform. For example, if you want to reach Gen Z with your video content, TikTok is undoubtedly the way to go, as this age group comprises the most significant demographic on the app.
However, approximately 20.3% of TikTok users are between 40 and 49 years old. So, you can also adjust your content and promote your business to them accordingly.
In conclusion, this research can help you to shape your content accordingly and decide whether to target a specific age group or opt for a broader reach. Based on your audience research, you can also compare TikTok with other social media platforms.
Set Up a TikTok Business Account
Once you research the users and identify your target demographic and audience, the next step to utilize TikTok for business is to create a business account to apply your marketing strategy.
While it might initially seem indifferent, creating a TikTok business account is essential as it unlocks several unavailable features on personal accounts. These features include access to analytics, tools to create and run ads, and additionally, the opportunity to track ad and content performance.
Additionally, a business account allows users to connect their website and other social media accounts to TikTok, creating a more connected online presence. So, by creating a TikTok business account, you can also build your brand credibility and professionalism, which is essential for attracting potential customers.
To switch to a business account:
Navigate the TikTok app and log in to your TikTok account.
Pick the menu icon which is in the upper right corner of your profile photo.
Navigate Settings and Privacy and select Manage account.
Choose Switch to a Professional Account and then, follow all the instructions stated on the screen.
Once you have finished the switching process, wait for your business account to be activated, and start using it right away. You can also access Web Business Suite, Workspace, Analytics, and Activity & Support features.
Create a TikTok Strategy
Developing a successful strategy on TikTok requires a well-thought-out plan to ensure you are reaching your audience, creating content that resonates with them, and taking advantage of the platform's features to grow your following.
Once you research the platform's users, you will naturally complete the first step of creating a successful strategy. Then, you need to decide who you want to reach and who will be excited about your TikTok video content and engage with it.
Once you have identified your targeted audience, you can start creating content specially for them. Think about what type of content they want to see and what will be the most engaging.
Have a content calendar to post TikTok videos on the right days and times for maximum engagement. Measure the performance of your videos to improve the areas that need improvement. Do not hesitate to adjust your strategy and ad campaigns based on analytical results.
Develop Your TikTok Profile
Your TikTok profile is your audience's first impression of your business and should accurately represent your brand voice. So, you'll need to create a compelling digital storefront profile to attract and keep your followers engaged and help them distinguish you from your competitors.
Your profile should capture your account's essence and clearly identify your niche. So, consider adding a profile photo and TikTok bio to draw people in and give them a sense of your brand.
Use appropriate visuals and bio captions to grab your viewers' attention. Add links to your website or recently released products.
If you already have other social accounts, use the same logo and branding across all platforms to establish consistency and make it easier for people to find and recognize your brand. This helps to create a unified and recognizable brand identity.
Additionally, having a consistent look and feel across all platforms helps build customer trust and creates a stronger connection between your brand and customers.
Create Content for Your Target Audience
Another significant method to use TikTok for business is to share user-generated content that aligns with your brand personality and voice and engages both with your existing and potential customers on the platform. Therefore, to attain your business and marketing goals, you need to create high-quality, visually appealing, and engaging videos that are entertaining, creative, and catchy enough to grasp your viewers' attention.
Such that, you can even utilize creating videos as an incredibly effective way to reach and engage new followers and draw them to your profile to check your other content.
Depending on your niche and the type of content you are interested in, from short videos to live streams, there is something for every viewer from all demographics. So, you utilize this chance and can record a video using your phone's camera or professional equipment to take a step into your TikTok career.
But keep in mind that, it's, therefore, important to know the needs of your viewers so that you can create videos that speak to them.
For example, if you want to reach young adults on the social platform, it'd be wise to check trending videos on the TikTok feed that reach millions. Then, you can upload content that imitates other videos already working and put your unique spin on them.
Additionally, you can also adjust video frame speed or add music to make your videos more engaging and entertaining.
To add sound or music, simply tap on the "Sounds" icon on the recording screen. Then you can choose from a variety of options available.
Optimize Your Content for TikTok Algorithm
To further maximize the performance of your content strategy and increase your visibility on the platform, it's essential to optimize your content for TikTok's algorithm.
This means you need to pay attention to SEO-based factors such as video length, TikTok hashtags, and captions. Additionally, you need high-quality visuals to draw attention and drive engagement.
By optimizing each of your videos for the TikTok algorithm, you can reach a larger audience, increase brand awareness and content engagement – and you can also build brand loyalty. You can also utilize your marketing strategies to cater to a wide range of demographics, from Gen Z to millennial audiences.
Buy TikTok Growth Services
Buying TikTok growth services such as followers, likes, and views is another effective way to use TikTok for business. You can speed up the organic process of growing your TikTok account by purchasing engagement for user-generated content.
However, it's worthwhile to note that this method should be used with caution and only after careful research. This is to ensure you're using a reputable provider who knows the TikTok algorithm and terms and can support your marketing strategies.
We recommend CrowdHall.com as a reliable provider to purchase TikTok followers, likes, and views. They ensure that you get organic and highest-quality followers and likes from a targeted not unexpected audience, as well as protect your account from any potential risks.
Additionally, CrowdHall offers excellent customer service, so you can get the support you need.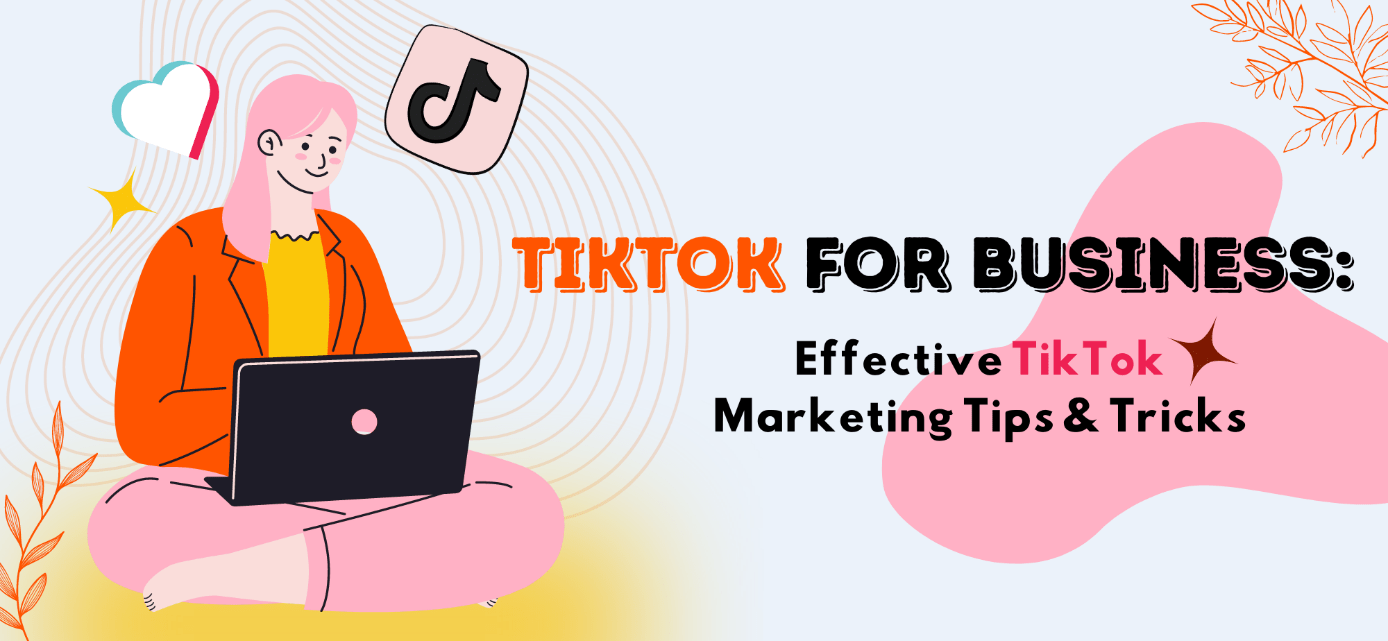 Engage With Your Audience
Engaging with a variety of audiences is crucial to building a strong following in the TikTok community. When you engage with other users, it shows that you value their opinions and it helps to create a personal connection.
So, try to respond to comments and messages, and join or encourage branded hashtag challenges.
Conversely, it's also important to keep an eye out for any negative comments or interactions on your content. If you come across any of them, be sure to address it quickly and politely, so you can prevent it from escalating.
Utilize TikTok Analytics to Track Content Performance
If you want to stay ahead of the brands' competition and maximize your reach, like other platforms, utilizing TikTok analytics is a must.
TikTok analytics provide valuable insights into your content performance, giving you the opportunity to track and analyze your content to drive further success after you upload your first video.
Analytics can be found in the Insights tab of your profile. In this part, you can reach the data about your current followers and how they engage with your content, as well as the number of views your content receives. These insights can help you to specify which of your content is performing better than others, who your followers are, and where your overall audience is located. Furthermore, you can use this information as a milestone while creating highly engaged videos.
You can also use analytics data to understand the best times to post your content in order to maximize your reach and engagement, so you can create yourself a posting schedule.
Collaborate with TikTok Influencers
Influencer collaborations are a powerful marketing strategy on social platforms and TikTok is no exception.
Working with influencers on TikTok can help brands reach the right audiences, build awareness, and increase engagement.
It's also an effective way to tap into the TikTok's creative energy and utilize influencers' power to create entertainment content that resonates with video viewers. It's also possible to do hashtag challenges with influencers, which can create a viral effect amongst the users of TikTok.
Use TikTok Ads to Reach a Wider Audience
TikTok video ads are powerful tools to boost brand awareness and drive sales. They are effective because they are native to the platform, allowing users to engage with the content in a more natural way. They are also more affordable than traditional video advertising and also can be used to target certain audiences.
There are a variety of ad formats the brands can use, such as:
In-feed ads / Native ads.
Brand takeover ads.
Top view ads.
Spark ads and more.
Businesses mostly utilize in-feed ads and brand takeovers to reach their potential customers.
Furthermore, ads are easy to set up and manage through the TikTok ads manager.
The platform provides a simple and intuitive interface that makes composing and managing campaigns easy just with a few clicks. Additionally, it allows you to target your ads to specific audiences based on their age, location, interests, and more.
Once you've created your campaign, you can monitor its results in real time. This allows you to adjust as needed to ensure your ads perform as expected.
What are the Advantages of Using TikTok for Business?
The first and most obvious advantage of using TikTok for brands is the ability to reach a large and diverse audience. Businesses can easily upload a social media video and run ad campaigns that will appeal to various users.
Additionally, TikTok provides businesses with a platform to showcase their brand in a fun and creative way. Through hashtags and trending topics, businesses can reach and build a strong connection between the brand and its followers. This can lead to increased brand recognition and loyalty.
Another benefit of TikTok for brands is the algorithm designed to serve content that appeals to each user's interests. This makes it even easier for businesses to target their desired demographic.
Content Ideas for TikTok Business
If you're looking for business content ideas to add to your TikTok content strategy, consider creating short, entertaining videos showcasing your brand personality.
Introduce an office pet or show behind-the-scenes footage of your business to give your followers a glimpse into what happens behind closed doors or during new product creation.
Upload educational and tutorial videos that teach viewers something new about your industry or product.
Showcase client success stories and share testimonials to build trust with potential customers.
Post polls and surveys to get feedback from your followers and use it to inform your product and business decisions.
Encourage viewers to engage with your content by using creative challenges or prompts. In addition, motivate them to share their own videos using your branded hashtags or challenges.
FAQs
The section below provides answers to some common questions related to leveraging TikTok for your business:
Is it free to create a TikTok business account?
Yes, it is free to create a TikTok business account. The only charge associated with the account is the cost of any ads you run. With business accounts, you can access important analytics and other features unavailable with a standard personal account.
Can you use TikTok for business with a personal account?
Yes, you can use TikTok for business with a personal account. However, you will be limited in the features and analytics you can access. Additionally, you may have fewer chances to reach the right audience, as the platform's algorithms prioritize business accounts.
How much do you need to pay for TikTok ads?
The cost of TikTok ads varies depending on the type of ad you choose, the budget you allocate, and other factors. Generally, it starts at $10 per 1000 views. The minimum budget for TikTok campaigns is $50 per day, while the minimum budget for ad groups is $20 per day.
How can small business owners promote their brand on TikTok?
Small business owners can create engaging content that will attract their target audience. They can partner with influencers and use TikTok's powerful advertising tools within their budget to increase their reach. They can also use hashtags and challenge campaigns to further promote their brand.