When discussing medical website development, one of the burning questions is whether to use an existing WordPress template or hire experts who can create a custom website. In this article, we'll first explain what custom WordPress development is. Then, we'll discuss the benefits of custom websites for private hospitals and clinics.
What Is Custom WordPress Development?
Before discussing it, let's first talk about WordPress.
WordPress is a free and open-source content management system (CMS) that allows you to build and host websites. It was initially released in 2003 and has received numerous updates since then.
WordPress offers numerous features, including a plugin architecture and an extensive template system. This template system lets you build a website based on existing, easy-to-use templates. While this can be a quick way to get your website up and running, it has numerous disadvantages. For example, the templates may not be suitable for your company due to limited features. Or, they can cause bugs or have an unfriendly interface.
Fortunately, you can fully take advantage of WordPress and avoid these potential drawbacks at the same time. This is possible thanks to custom WordPress development, which represents the design and development of a website that fits the complex needs of a company. In terms of medical website design and development, this means building a website that can represent a private hospital, clinic, or another healthcare institution in the best light.
Why Do Private Hospitals and Clinics Need Custom WordPress Development?
It's natural to wonder why private hospitals and clinics may need custom websites, especially those doing well in terms of profit. In today's internet-driven world, millions of people use search engines to read about different health-related issues. They want to know more about diseases, procedures, medications, etc.
Having a website that provides relevant information in an organized manner helps you attract visitors and enhance profit.
Benefits of Custom WordPress Development for Private Hospitals and Clinics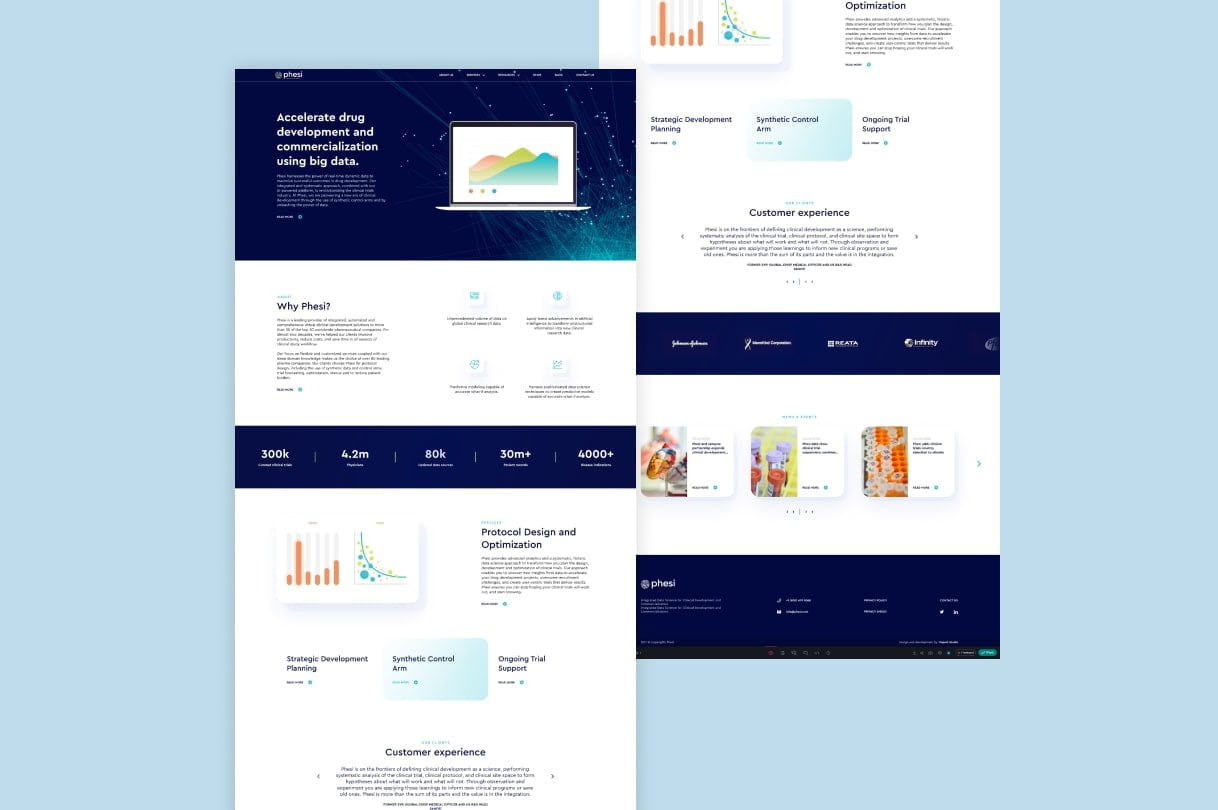 Expanding Reach
One of the main goals of custom medical website development is expanding reach. These days, a vast majority of hospitals and clinics have a website. However, these websites often lack information or aren't organized properly. This means that potential customers may not be able to find and explore the available services, learn more about the team, or ask questions. A simple lack of communication can prevent hospitals and clinics from reaching their target audience and having more clients.
A custom website can effectively tackle these issues. It helps both you and your potential customers at the same time. You can advertise your hospital's or clinic's history and services and your team's achievements and awards. You can also have a dedicated FAQ section for answering any questions people may have. That way, you can convert website visitors to leads and/or paying customers.
Enhancing Security
Hackers often target websites built on mass-produced WordPress templates. On the other hand, unique websites that feature a unique design and are protected by different security strategies aren't as interesting to these uninvited guests.
Since maintaining a website's security is one of the main concerns in this day and age, custom medical website development gives you peace of mind knowing your website is protected.
Building Credibility
Many agree the market is more competitive than ever. Hence, if you want to attract customers, you need to have a strong presence and build credibility. Any person who wants to schedule an exam or treatment wants to go to a doctor they can trust, and that's why building credibility is incredibly important.
Word-of-mouth is one of the best ways to get your name out there and attract customers. However, one can't hear about your hospital or clinic from their family members or friends if nobody ever visited it.
Besides hiring top experts and offering high-quality services, a custom website can lead your prospects to trust you. A great website will display detailed information regarding your hospital or clinic and highlight your team's expertise, experience, and professionalism. It can also contain case studies or reviews from past customers.
Unique Appearance
Of course, the design you choose for your website also plays a major role in how potential customers perceive your hospital/clinic. WordPress templates can often seem uniform or dull. This is no surprise since these templates are designed to be used for different industries and fit the needs of the widest possible audience.
With custom WordPress themes, you can create the website you've always wanted and be 100% sure nobody else has it. It's best to keep the design clean and simple, with a robust website search, engaging videos, and high-quality imagery. Your website should be accessible via mobile devices and computers.
Improved Speed
Thanks to technological advancements, we got used to websites that load in the blink of an eye. A slow-loading website can irritate potential customers and make them jump to your competitor.
Standard WordPress templates are filled with plugins, code, and unnecessary features that can jeopardize your website's speed. Custom templates mean less code and fewer plugins to ensure optimal speed and smooth performance.
High-Quality SEO
Custom medical website design and development involves creating a unique website that suits your hospital's or clinic's needs. Such a website follows SEO rules that ensure better visibility and a higher ranking. With custom websites, the SEO process starts from scratch, allowing you to target unpaid traffic more efficiently.
Advertising Your Hospital or Clinic
Your website serves as a means of presenting relevant information to your potential customers. However, it can also help you advertise your hospital or clinic.
You can use different social media channels and search engines to share your website and reach even more people. In this case, it's all about the first impression. If your website isn't functioning properly, has a poor design, or doesn't have the necessary information, sharing it on social media will have the opposite effect. You could attract people to your website just to have them leave after a few seconds.
That's why you should remember that your website is a powerful advertising tool you should take advantage of as much as possible.
Organizing Data
Private hospitals and clinics often have numerous departments. Each department has its own staff, procedures, treatments, etc. In many cases, every department within a big hospital or clinic operates separately. Organizing your website to display relevant information in a comprehensive manner can be more challenging than you think. More often than not, standard WordPress templates simply aren't enough for a hospital's or clinic's needs.
Since proper data organization can help you get more customers, a custom website could be the right choice. When the information is presented clearly, the people who visit your website will have no difficulty finding what they need. They will see what departments your hospital/clinic has, who works in them, what each department deals with, etc.
Want the Best Website? Hire the Experts
The best medical website development isn't easy and involves careful planning and organization. Besides being visually appealing, your website needs to be functional, secure, fast, and unique. It should contain relevant information, help advertise your hospital/clinic, and build credibility.
If you want the best results, consider hiring medical website developers. These people are experts in their field and have the skills and experience to build and develop a website that best represents your private hospital or clinic.