Some experts say that business owners who want to build a successful brand will more or less use the same recipe for branding, regardless of industry and niche. 
In essence, proper branding helps to position a company within the market, helping consumers understand what the business represents and stands for. Also, branding should foreshadow the consumer's experience with the company when using its services or buying its products. 
From that perspective, real estate branding isn't that much different. The significant difference will mainly be scale: instead of focusing on a corporate, often global aspect, you can go a bit more personal and represent your team, or yourself, focusing on real estate agent branding. 
Real estate branding plays a crucial role in positioning your company within your niche. Your team should be the first to pop into mind whenever somebody in your local area thinks about real estate. With the help of a solid branding strategy, you can reach the forefront of your local real estate scene, and the best way to do this is with a branding approach that shows your company, your personality, your values, and your experience the best way possible. 
In this blog post, we'll cover some essential real estate branding ideas and other tips and tricks that can help you create a solid online and offline presence that will help you stick out from your competition.
On the other hand, for more help, you can always reach out to a creative and experienced real estate branding agency to get the most out of your business. 
6 Essential Real Estate Branding Ideas
Without further ado, here are the six necessary steps that will be able to take your real estate agency to the next level.
Embrace Professional Real Estate Branding Design
When it comes to any type of branding, creating a compelling visual identity plays a crucial role in reaching your full potential. Effective visual representation, may that be web design, social media, or marketing materials, can go a long way in raising awareness of your agency.
Real estate branding design can mean a complete visual rehaul or starting fresh. No matter which route you take, the point is to take it slow and brainstorm the most important messages you want the brand to convey. 
You can also choose to focus on two different aspects: you can either build your brand by concentrating on the real estate type you're specializing, like luxury condos, or focus on your personality as an agent and try to convey the pleasant experience your future clients will have when working with you. 
When creating a visual identity, make sure that the color patterns blend in well with your branding ideas. You'll probably want happier and more reassuring colors instead of cold and dull schemes. Still, you might not want to go overboard with concepts like neon colors, which will turn some heads, but people might get the wrong message.
All in all, your best bet would be working with an experienced branding specialist who has a thorough understanding of your niche, follows the latest branding trends, and understands what your agency stands for. Work together and take it slow. Your slogan, colors, logo, and web design all have to be consistent and carry the right message. This can be time-consuming, and trust us, you want it to be time-consuming. You will most likely be using the same brand identity for years, so you want to be happy with the final results. 
Develop a Written Brand Identity
A good real estate branding design is one thing, but your branding content should also be on point. Interesting and captivating listing descriptions and informative agent biographies are also vital if you want to establish yourself as the go-to brand in your niche.
The best thing you can do here is to approach written branding from the seller's or buyer's perspective. They probably even won't consider working with you if your real estate agent branding is off, thanks to uninformative and poorly-written agent info. This might lead them to think that you are simply unfit to conduct business and would probably fail to carry out a successful transaction. 
Also, if your listing descriptions aren't coherent and descriptive, consumers probably won't be interested in the properties you are trying to sell.
Because of this: 
Aim to tell a story: 

Use the content to tell a story about your team's services, brand, and properties. Use the buyer's point of view and focus on what they might be wanting.

Show that you're passionate: 

Good real estate branding starts with conveying that you truly love what you do. Your content should reflect your love for the industry and your expertise. 

Be unique:

Use a style and tone of voice that represent your personality. 
Don't Underestimate the Power of a Professional Website
When it comes to real estate website branding, having an expert and modern website with a stellar user experience is also crucial for success. While you conduct most of your business offline, your website is your online office, where you can have a chance to generate more work and leads without establishing any physical contact with your prospects.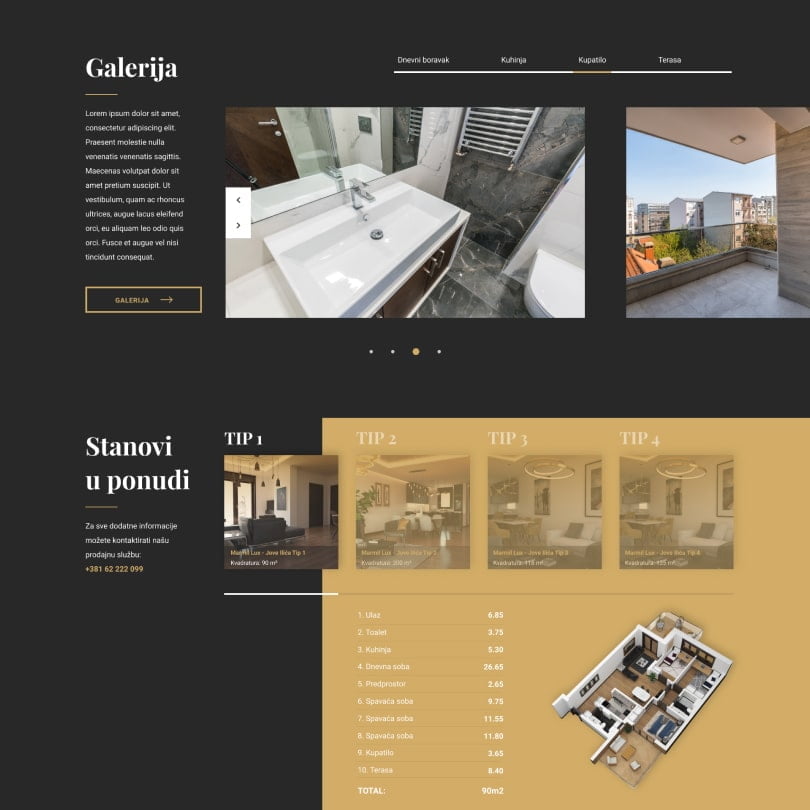 A well-made, modern website with branded content and visuals will do an excellent job of raising awareness of your brand, and when working together with an experienced agency, you can also have the latest gadgets and functionality running on your site, which can create a more immersive connection between your prospect/clients and brand. 
Also, optimize your site, so prospects know how to reach you. And since we're talking about optimizing, you should also use SEO to help your branding efforts take off. This takes us to the next point. 
Dominate Your Local Real Estate Search Results
The internet is a vast digital dimension where your prospects need to see you and your brand. Without proper search engine optimization (or SEO), you will literally become invisible on the internet to people who'd otherwise gladly do business with you. 
SEO consists of several different processes that encompass web design, web development, keyword research, content optimization, link building, and continuous work for the best results. 
Becoming visible on Google takes time and work, but it's one of the best ways to get the word out there about yourself, your team, and the way you conduct business. Talk with your digital marketing agency and explore your options regarding local SEO and learn how these processes can benefit your branding efforts, even if it might not look obvious at first glance.
Branding and Social Media
Real estate branding can also highly benefit from comprehensive social media exposure. Social channels have been crucial for branding for years now, and they allow real estate agents to promote their services, listings, and themselves. 
Having a strong social presence is essential to improve your branding, and as such, devising a bullet-proof social media strategy is vital to help your agency stick out from the crowd.
Don't forget your social posts and overall presence should represent your written and visual brand identity. You should aim t stick with the same or similar language and colors so your brand stays consistent and true to itself. 
We also encourage you to get creative with your social content. Videos and photos of listings and fully staged houses are great. Still, you can also consider adding before and after photos, open-house preparation videos, and behind-the-scenes footage, and you can even post a few memes here and there if it plays well with your brand identity. 
Be engaging. Don't be reluctant to engage with your followers. Ask questions, ask for their opinions, and encourage them to tell their own stories, anecdotes, and experience with real estate. Still, don't forget to establish yourself as an expert in your field, so your audience will know that you and your team are the agency they should turn to. 
Don't Forget the Offline Aspect of Branding
So far, we've been more or less talking about online real estate branding, but don't forget real estate relies on the physical, real world, meaning that you should take advantage of every offline branding opportunity as well. 
Yard signs, billboards, community events, and sponsorships are all great marketing and branding opportunities and excellent methods for creating new relationships and maintaining old ones. 
Offline branding extends all the way to the actual transaction. This means that you should ensure to showcase how you value your clientele and that you are a seasoned professional who can get the best deals and provide them with stellar real estate services. 
Putting it All Together
Branding isn't just a fly-by-night process. It takes time, knowledge, planning, and effort. Still, building a strong brand presence can ensure you keep turning heads, getting calls, and making waves in your local real estate scene. 
The point is to create an identity that represents what you and your team stand for and how you do differently from the rest of your competition. That's why it's important to work with a smart branding agency that can help you define your strongest points and create a branding strategy around these strengths.