Being in shape and eating healthy is a hot trend right now. Starting more or less as a subculture- movement back in the '40s, bodybuilders and fitness enthusiast were first seen as "outsiders" and "odd" but thanks to a few individuals, like Arnold Schwarzenegger, Reg Park, Lou Ferrigno, Larry Scott, and Frank Zane, physical culture has risen from its underground status and became a huge industry with different branches grossing over billions in revenue nowadays each year.
It's also astonishing to see that such a physical phenomenon can carry over so smoothly and streamlined into the digital realm, becoming the norm for fitness enthusiasts and athletes to push and consume content online.
Simply put, even in the '90s, info on great coaches, gyms, and healthy physique-focused meals more or less spread around by recommendations but now, people can simply get gym memberships, hire coaches, watch classes, and create individualized diet plans with only with a few simple clicks.
The fitness industry in the digital age
As stated above, a lot has changed when it comes to the way fitness enthusiasts push and consume their products and services. The digital realm has made it easier for athletes, gyms, supplement companies, competitions, sports federations, and clubs to promote themselves, to reach a broader audience and to generate more revenue as a byproduct.
With such a huge potential it's no wonder that the vast majority of fitness brands seek to get into the game, either by creating a new website or by improving their current online presence and profile.
In short, a website and a full digital ecosystem will help brands promote their business and raise awareness. Also, it can help with the following:
Demonstrate your expertise and the quality of your services
Help you boost online sales and subscriptions
Help keep in touch with your regular clients
Help you reach out to new ones
Be more accessible
Enable you to set new business goals
Educate
Build and strengthen your online community
Offer special discounts and bonuses
However, with such stiff competition, brands must keep an eye on current trends and tailor both their website and brand development efforts to their short- and long-term goals.
Fitness website – the basics
When it comes to developing your fitness website, there are a couple of questions you will need to assess. Apart from your specific niche however, there are a couple of features that are pretty much must-haves, and in this section, we'll discuss those.
User area
While it's not necessarily a must for all fitness websites, it's highly beneficial to have personal accounts. For starters, having your clients' contact info can help you promote your services and notify them about trends, changes, and such. Also, if they become your members or costumers, it will be easier to keep in touch with them.
On the other hand, having accounts can give your users the option of personalizing their experience on your platform by tweaking a few settings, editing their own portfolio, tracking their progress and physical condition. Letting them sign up via social platforms is a good idea too since it saves them time and effort.
Member support
Rapid and professional assistance can help you a great deal with customer satisfaction and retention, especially when you are doing business on an online surface.
Most clients like to be reassured that you are ready to help them whenever they hit obstacles so make sure that your Contact Us page is visible and easy to use. For that, you can simply embed your contact info into the header or the footer of the website or you can use more advanced features like live chat or chatbot automation if it blends well into your specific niche (for example, if your main goal is selling supplements).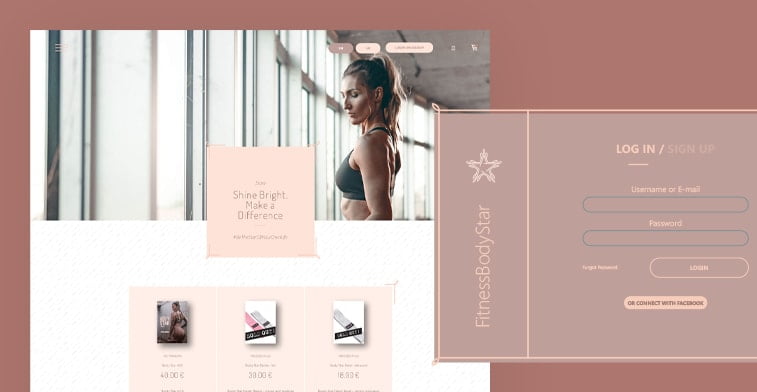 If you choose to have active customer support specialists, you can take some of the load off of them by adding a FAQ page or Help Desk.
Also, if you wish to incorporate online registration features, make sure that the instructions are clear and easy to understand.
Content-dense
Your content will be one of the main driving forces behind your website's success and you should make sure that you're following current trends.
According to research from 2019, videos will make up 82 percent of all web traffic and the usage of relevant images can help increase information retention up to 65 percent.
The research also reveals that the preferred content formats are as followed:
Video
Newsletters
Social Images
Videos
Blog Articles
Downloadable PDF content
With this in mind, video and visual content preparation is an essential part of any fitness website development project.
The imagery should encourage people to take action, give them a look at their end goals, and give them the motivation they need to keep going.
You can incorporate video right from the start, by featuring one in the main block of your homepage so that your audience can instantly see the message you want to convey.
The images should be professional and unique. The best route to take is by hiring a professional (more on this later), however, free stock imagery can get the job done if you are on a budget.
On the other hand, the visuals you use can affect your website's loading speed, so you need to discuss your options beforehand with your developers and hammer out a solution that will keep your website fast.
Videos should also be an integral part of your website, especially if you are planning on running a more robust application with lots of features. Since video is taking over the digital content-rush, shift your focal point accordingly. Exercise examples, technique tutorials, cooking recipes, contest preparations, contest highlights, training highlights, and product test should be included in your inventory (based on your goals and fitness spectrum, of course).
If you are on a budget regarding web development, you can also use Youtube as your main video content platform, however, if that's the case, you should discuss that with your developers, SEO specialists, and digital marketing team to optimize your entire digital ecosystem accordingly.
Including a blog should also be in the focal point in terms of content, especially if you are planning on creating a bigger website. Pushing blog articles can help you drive better traffic and give valuable info to your audience. There are tons of great topics to discuss in the fitness industry and a blog section is a right place to do it.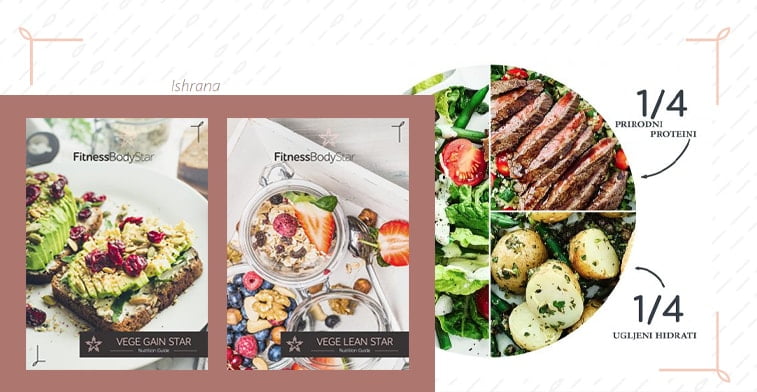 Schedules, tracking options, and notifications
Another important feature you should introduce is a schedule section – especially if you offer direct offline training classes or personal training services.
Clients will want to know what you have to offer, when, and who coaches a particular class. Special tools can help with the integration of scheduling options and you can discuss the pros and cons of each one with your development team.
You can also integrate technologies that notify your members/costumers about the latest news regarding your business, services. Newsletters, for example, can be extremely useful for online supplement shops.
Depending on your specific niche, you can also incorporate different calculators to boost functionality on your website. Let's say, a bodybuilding website can benefit from BMI calculators, calorie intake calculators, while a powerlifter website can benefit from different one rep max formulas.
Flexible offers
While this isn't necessarily a technical feature, it can give your prospects the chance of taking a peek into your web app and services with no strings attached.
It's vital to create a web application that delivers right from the start because if your prospects had a pleasant first experience with it – let's say, after offering them a free trial, the likelihood of them subscribing to your services after the trial is over can increase significantly.
On the other hand, free trials can help you in boosting your sales in the long run. Even if people didn't sign up after the trial, you can still target them with different marketing campaigns, special discounts, or even educational content.
Offering the free trial in a pop-up screen when your prospects are about to leave your site is a great way to catch their attention and maybe, they'll stay around just long enough to get the trial started.
Optimized search filters
This is a feature that will suit bigger platforms well, for example, to find ideal classes, fitness programs, and coaches easier.
In this particular case, it would make sense to integrate the following search queries:
Level
Duration
Style
Intensity
Difficulty
Trainer/Instructor
This is only an example of a specific situation. Your case might be different because you focus mainly on selling products. If that's the case, include relevant queries for that given category. The point is, if you are running a larger website, you want your visitors to find what they're looking for with ease.
The crucial element behind every successful website is functionality. If the web application enables users to carry out their objectives with ease and in a straightforward process, they will be most likely giving your site a visit in the future too.
Fortunately, your developers will be at your service when it comes to these technical and profession-related questions. Seasoned and skilled developers know exactly what features you need, based both on research and personal experience.
Concise pricing
If you offer different services on your platform, don't forget to create a pricing page as well since clients always like to know the material details.
It goes without saying that this is a must-feature for those brands who wish to sell supplements online.
If pricing is something that you don't have totally figured out yet, don't worry. If you are offering classes, coaching, and similar, you can add these extra features later.
Other features
There's a wide array of other features that aren't really necessary but can enhance user experience and can help grow your brand in the process.
Testimonials – reviews, recommendations, and testimonials can be powerful tools to build trust and to help you get closer to your audience. Testimonials help "humanize" your services since they tell a personal success story, a journey of personal growth, both mental and physical. Self-improvement can be a huge motivator and can significantly help you with your brand-building efforts.
Social sharing buttons – we'll talk more about it in detail later, for now, it's enough to say that giving your visitors the ability to share your content on social platforms can help you build your brand and drive more traffic to your site with little to no effort from your side.
Meet the team page – Adding such a page can also help you out with "humanizing" or bringing your content/services/products closer to your audience. While it's not a must-have feature, it's nice to have a page of your staff, especially when they are well-respected professionals in their field of expertise or accomplished athletes. Showcasing their achievements can also help your brand build trust, plus, it's a great promotion for your employees/partners too.
Clients/partners section – if you are working with a well-known industry partner, including them in your website can help strengthen your brand in your target audience's eye. If you've been working with clients who are well-known, like celebrities, include them too. This will instantly boost your prestige online.
Newsletter sign-up forms – We've already mentioned these before, however, these forms can help you with boosting your conversions and can help you with branding. By using the right newsletter strategies, you can significantly improve your digital marketing efforts.
FitnessBodyStar – Leading by example
Before we dive into the matters of development, we'd like to show talk a bit about a website we've created.
FitnessBodyStar is a fitness/nutrition-focused web application focusing on promoting a healthy, active lifestyle and body-positive approach.
The users of the website can simply sign op to the portal, make purchases (like nutrition plans), and can upgrade their fitness level.
Some of the key features:
A minimal design in nude colors – A streamlined and elegant design, not overwhelming and crowded, with soothing colors and imagery that reflects the nature of the client's business.
Online store – Displaying all the products our client has to offer, from fitness essentials, through diet plans to training plans. All in a comprehensive package with clear pricing.
Search feature – To make it easier for visitors to find what they are looking for.
Personal area – A personal space for users where they can track their history.
Relevant content – Just as with every other industry, when it comes to website development, the content on the website should be to-the-point, relevant to the industry and, to the website owner.
Video tutorials & Blog page – As stated before, videos take the forefront when it comes to consumed content on the internet and by default, websites in the fitness industry can leverage this fact extremely well. Short video instructions help visitors and clients alike to improve their fitness skills and levels, and at the same time, help with giving the visitor a more immersive experience on the website.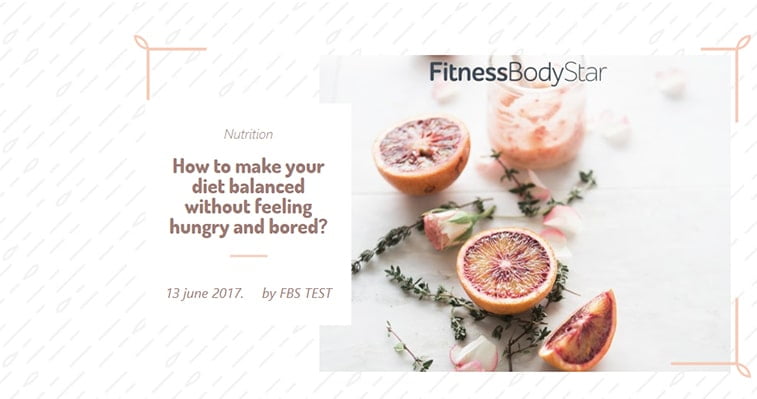 Blogs can also serve an educational purpose, as already stated before, along with helping the client drive more traffic to the website.
Connection to social communities option – It's essential to understand that all brands across the board can benefit highly from social media promotion so adding social widgets and making your content instantly shareable and reachable from social media is vital.
Professional imagery – Photos are of the essence in the fitness industry, with a culture based on aesthetics mostly.
Fast registration – Enabling visitors to become members/clients fast.
Website creation steps
After discussing the general vital features your website should have (mostly depending on your specific niche), now it's time to dwell into more tech-related stuff, more specifically, we'll discuss some of the basic development-related topics you'll need to know before starting.
Luckily, developing a website for the fitness/health&wellness business is similar to any other development process. There are steps you should be inevitably taking to ensure that the entire creation process is streamlined and the work flows steadily.
Stage 1 – doing the research
The first stage is crucial for your website's later online success. Laying down the foundation of your entire online ecosystem starts with doing your research and identifying the key components of your business goals and technical requirements.
That being said, work with your development team closely in this phase. Chances are, they have the necessary expertise, experience, and knowledge base to conduct the required research successfully.
In this stage, focus on:
Portraying the ideal end-user – By creating a comprehensive profile of your ideal user in-mind you can gain valuable insight not only into the necessary functionality features of your website but can learn a lot about the necessary steps you need to take in your later marketing promotions and brand-building efforts.
Collecting info and listing out technical requirements – Work closely with your development team to gather the necessary information you need about the current general and niche-specific trends in web development. Study the market and establish the necessary technical requirements you'll need for your website. If you're working with a restricted budget, let your developers know so they can map out a solution that's within your range and can still help you get the most out of your website and total online presence.
Identifying platform goals – By determining your main business goals with your website, you directly affect the features that will be essential for your website, not to mention, it can alter your digital marketing strategy too. Because of the importance of this crucial step, it's best to share your primary business objectives with your web development team and digital marketing specialists. The development team will help you list out everything from technical requirements to necessary features, while the marketing team can see what they can leverage later on to build your brand.
Competitive analysis – Taking a more thorough look at your competitors' websites can also help you get a better idea of the latest trends in the industry and might even inspire your to come up with something that puts you ahead of the curve. It does not have to be strictly web development-related, so keep an eye out for ingenious branding tactics, content-spread, voice, products, merchandising, etc.
Content planning – Work closely with your web development team to determine the ideal amount and format of content on your page, along with how you should blend these different types. We've talked about the importance of video, images, and blogs, but it's important to find the perfect balance between them – primarily from a material standpoint. Your development team (and marketing specialists) have both the knowledge and the experience to help you come up with an ideal content strategy, everything from the initial website copies to continuous content updates.
Stage 2  – sitemap & wireframe creation
Once you've finished with stage one, you'll have a pretty good idea of the basic elements and features of your website. In stage two, it's time to focus more on the technical side of web development.
Creating a navigation system, sitemap, and menu – A sitemap and a basic guideline can help developers (and you) getting started with the website development faster and can help them stay focused on the already determined site objectives and features. It helps developers organize not just the information your website needs to display but can help give a more comprehensive frame to the entire development process.
On the other hand, sitemaps can help you a great deal with SEO since it helps with getting more accurate search results if they type in the keywords that you are targeting.
Creating wireframes and choosing a tech stack – Identifying the ideal technology stack for your project and creating the wireframes are crucial steps for your website, especially from a technical point of view. Professionals will create a wireframe to kick off the project with a screen blueprint so everybody in the project can have a better feel for the actual project and the end product.
Tech stack, on the other hand, is the set of different languages, frameworks, and other software tools that will serve as the building blocks of your website.
Defining the best framework and optimal tool sets can be a daunting and nearly impossible task if you aren't handy with web development, so it's best to consult with your development team. They have both the knowledge and the experience to suggest solutions that will meet your needs.
Planning out the development cycle – This entails project planning, defining resources, development timeline, testing stages, reviews, and deadlines. The development cycle plan will give you a detailed map of every step the development team is making and it also highlights the points that concern you.
Stage 3 – development & design
After stage two, it's time to shift in a higher gear and move to action. Design and development usually go hand in hand since even little changes in design can influence the development and the other way around.
So, this stage, the tasks should be the following:
Creating several detailed website mockups
Layout design for all devices
Filling the prototype website with content
Reviewing the first iteration of the end products and making changes if necessary
Front-end and back-end development
Core and extra feature incorporation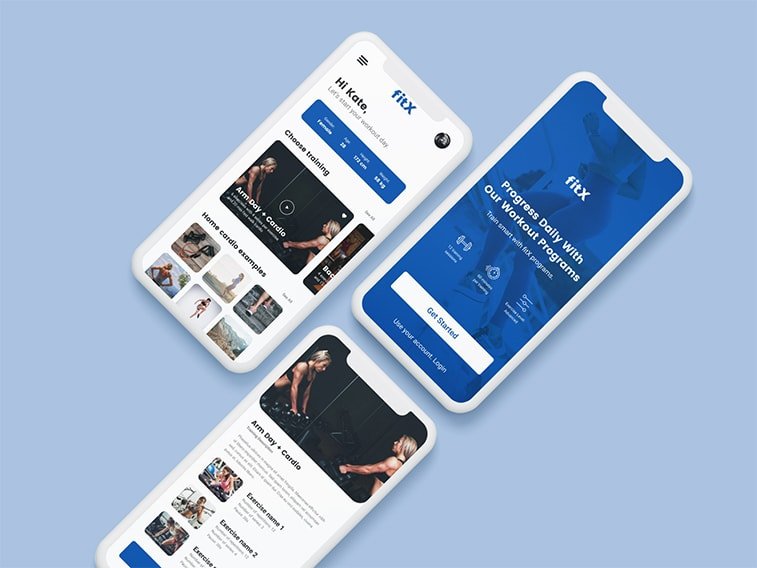 Stage 4 – final reviews and site launch
After the lion's share of the hard work is finally over, it's time to give the website a thorough review. This may take up a lot of time since every technical and visual aspect of the website should be checked making it sure that everything runs perfectly.
During this stage, the following tasks should be performed:
Testing compatibility and usability
Code validation
Bug fixes – if there are any
Proofreading the content – typos can make your website seem unprofessional
Choosing hosting provider along with options and hosting plans
Uploading the site
Running a final website check
Stage 5 – post-launch duties
After you've properly celebrated the launch of your website, it's time to get back to work and work on your digital business goals.
Going live isn't about hanging back and waiting for the website to generate revenue. You should keep monitoring how your platform performs business-wise and updating your website so it keeps on being fresh for visitors.
Along with these, here are a few more things you'll want to do regularly:
Website maintenance – depending on the deal, your development agency might take care of this.
Improvements and tweaks through user feedback – Some features might get outdated or left unused on your website. It's essential to seek out opinions from users and your development team alike and tweak things if necessary.
Further testing, reviewing, bug fixes – It's essential that your website and all of its components work great under all conditions. By running regular checks and tests, you can make sure that's everything's working perfectly.
Updating content regularly – If your content plan involves adding new blogs, videos, and images on a regular basis, this shouldn't come as news. Regular content updates should be scheduled to keep your website fresh and to help your branding efforts.
Extending functionality – The digital sphere is constantly changing, meaning the new trends and features are following each other rapidly so adding new features can help your business and your site with being up-to-date.
Custom VS pre-made – platforms and costs
When we're talking about the technical side of web development, there are basically two different routes to take. You can either choose to build your website out of pre-made templates or choose an entirely custom design.
In short, both have their pros and cons, and your decision whether to choose one or the other will be heavily influenced by your needs, business goals, and budget.
A website from pre-made templates can be a great alternative for those tech-savvy business owners who are on the budget but want something reliable and fast. If they are handy enough, they can create their own website with these components out of the box, with little to no coding knowledge. If they are even more capable, they can make smaller or bigger tweaks by changing the code and so on.
For those who aren't that handy with programming languages and coding, this might not be a great idea since, most often than not, they will also have to perform maintenance by themselves.
Custom solutions, on the other hand, offer maintenance out of the box most times, give site owners freedom of control over the look, feel, and functionality of their website. Hiring a professional agency to build a unique web application can give your business the opportunity to reflect it's real-world shine and success in the digital realm as well, not to mention, with a highly capable development team behind you, you don't have to worry about your website's technical performance much.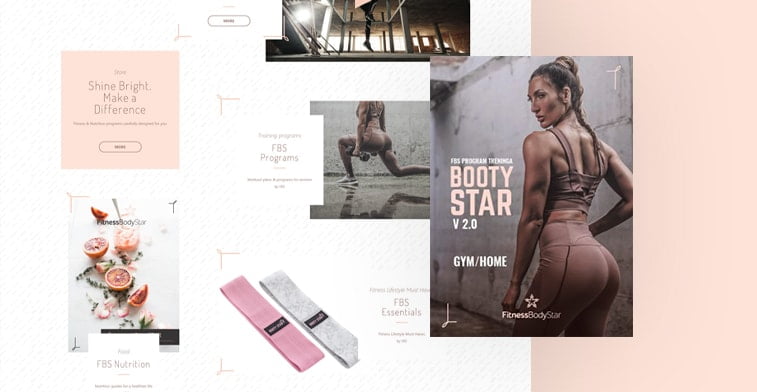 Choosing the ideal framework can also heavily influence the entire development cycle. In some cases, a simple CMS platform can do the job. Let's say you already have a WordPress fitness website and now you'd like to offer supplements online. In this case, you can simply download the WooCommerce plugin by WP, configure it and you can start adding your products and selling them pretty much the same day.
In other, more complex cases, it's best to either ask the opinion of your web development agency or leave it to them entirely. Having the necessary knowledge and experience, your developers will use the ideal platform for your needs no matter how complex they are.
In every industry, entrepreneurs should keep on eye on their expenses and the fitness industry is no exception.
As a rule of thumb, the cost of building the website depends on its complexity and functionality, so taking that into consideration can give you a better starting point early on. If you are on a tight budget, it's best to look for less expensive solutions (the DIY method mentioned above can work – if you have the necessary chops, that is), and move on to more complex stuff as you have fewer and fewer budget restrictions.
Just like in the case of platforms, it's best to ask your development agency. If you tell them your budget and general needs, they can come up with a solution that will have everything you need in a package that will fit in that budget.
Taking a step beyond web development – an omnipresent approach for maximizing your efforts
While your website should be the sole core of your online presence, taking advantage of everything the digital sphere has to offer can help you reach even more people and help your brand stand out from the crowd.
If you wish to get the most out of your efforts and general online activity, then using all available platforms and tools should also be high on your priority list and you should forge your digital strategy with them in mind from the very start.
Social Media
As an entrepreneur, you already know that social media is one of the most powerful tools out there to raise brand awareness, grow your clientele, and simply have a stronger online presence. These statements are especially true for the fitness industry. Just log in to Facebook and Instagram, browse around a bit and you will most probably come across a few fitness brands interacting with their followers, pushing content, and offering their services or products.
That being said, being present on Facebook and Instagram can help you in strengthening your brand whether you're a coach, supplement company, gym, nutrition business, etc. In order to pull this off right, you'll need a comprehensive social media strategy and a website that's optimized for social sharing.
PPC
Paid ads, whether on Google or social media, can help you reach your marketing and business goals easier. Apart from helping driving traffic to your website, advertising can also help you with boosting your conversion rates, not to mention, brand awareness campaigns can help you strengthen your online presence, helping your potential clients and buyers familiarizing themselves with your brand.
Newsletters
If your content strategy focuses on fitness/wellness/health education, then starting a newsletter can do your brand a huge favor. By sending out weekly updates about the latest news concerning the industry and your business, you can also give out valuable tips and info regarding exercise, lifestyle, and nutrition. Not only will you give value to your clients and customers, but you will also help them establish a trusting relationship with your brand, so chances are, they'll probably recommend you to a friend or purchase from you in the future.
Automation
if you are looking to boost your conversions, reach more people, and be available to your customers at any given time, you should look into automation marketing solutions. From 3rd party chatbot software to automated newsletters and buyer assistants, quality automation software can help you sell more, raise awareness, and build customer trust at the same time.
However, don't go overboard and try to automatize every aspect of your digital marketing strategy. If you want a real brand people can relate to and create a connection with, you'll want to engage with them "manually". Answering specific questions and comments can go a long way in building a better, client-focused brand. And in the fitness industry, it's all about being there for the client.
For the best blend of automated and manual marketing practices, feel free to consult with your developers and digital marketing team.
Photography & videos
We've already touched the topic of the imagery before, however, in the case of the fitness industry, this is an utterly crucial element. Since most fitness-related sports are heavily visual (think men's and women's bodybuilding, women's figure competitions, men's physique, for example) professional imagery is a must for fitness websites, especially those that aim to cater to audiences who are involved in these sports.
That being said, considering scheduling professional photoshoots with your trainers, sponsored athletes, and in some cases, trainees should be your starting point. A professional photographer will make sure that both the setting and the lighting will do justice to your brand and to the athletes.
The entire visual identity of your brand shouldn't all be about flexing and bulging muscles, however. It makes sense to make use of photos of professional athletes in peak condition if you are in that specific niche of the industry, however, if you wish to cover a much broader spectrum, you can also benefit from dialing it down a bit, and featuring more aesthetic physiques, those that cater to a broader audience. That being said, you can also include different fitness lifestyle photos that send a positive message of your brand that everybody who wants to live a healthier life can relate to. And if you are already covering a wide range of different fitness topics, like including healthy recipes, make sure that the featured meals are also showcased professionally.
Photographs in general, shouldn't be used sparingly because it's the bread and butter of the industry and your own digital ecosystem. Your website, social media, newsletters, sales, and landing pages should all feature at least one or two professional photos.
A similar approach should be considered with videos too. We're not saying that you have to hire an entire video production agency to shoot how you are doing exercises or preparing meals, however, a solid camera a good camera stand and good video editing skills are necessary to present your video content in a professional way.
---
Putting it all together
It's clear to see that there's a lot to consider when designing a fitness website and building a brand around it from the ground up. From defining your primary business objectives through choosing the ideal platform to create the best-suited digital marketing strategy, there are a lot of steps to take.
As such, site owners should be ready to be flexible both with solutions and with deadlines too. Especially with more complex projects, there's a bigger chance for bugs and errors to occur, not to mention unplanned budget restrictions, that can derail even the most steady project.
The key point here is to be patient and focus on only the current development stage and step at a time.
On the other hand, brand development can also be a time-consuming process. If you've already established yourself offline, you do have a better chance of getting better recognition in the digital realm from the start, however, it's not a rule. Your digital marketing and branding strategy can make or break not just the success of your website but the success of your entire digital ecosystem, so make sure to gather as much info on branding as you can and use the best practices.
In most cases, development agencies also employ marketing professionals who can help you come up with the right strategy for your brand that's also harmonized with your website's main business objectives.
Teamwork makes the dream work, so bring your best to the table and work closely together with the pros.