When setting out to master the subtle yet intricate art of design, one may get overwhelmed by the number of design-tools he or she can choose from. There are loads of basic tools that are good for just that – the basics. However, with time, as you master and perfect your craft, you'll realize that you need something more serious, a design tool that offers more features, that lets you create more sophisticated designs.
And choosing the right tool can get a bothersome process.
It's okay for a greenhorn designer to hesitate which tool to use first. Even seasoned veterans, who've been doing this for years sometimes look for clues and hints in order to choose which designer tool should they be using.
It's no wonder that even the pros are looking for advice. There are a lot of great programs out there that do the job just fine, however, in the digital sphere, everybody is looking for the most compatible one.
That's why we've decided to compare two of the most popular design tools out there: Figma and Sketch. Some consider the first one as the new big thing and the latter as old news. Others say that Figma has nothing on Sketch.
Let us take a closer look.
Figma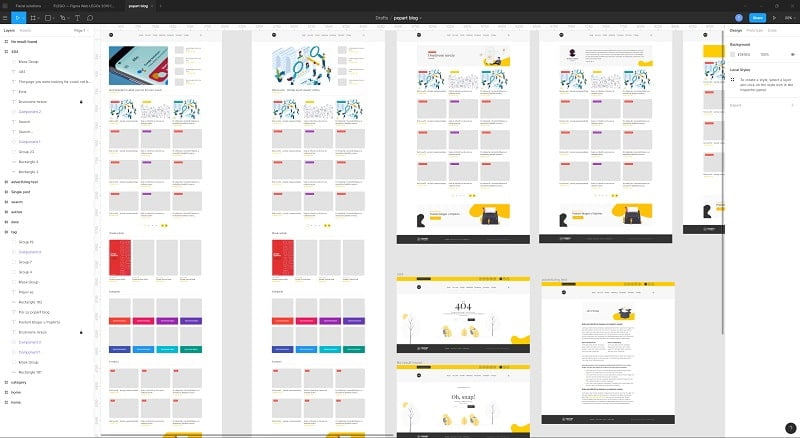 Figma, launched in 2015, in short, is a vector-based software for design which allows real-time collaboration between designers. It features subscription-based pricing, but you can also opt to have a free plan if you want to get started with the software, however, you can't use the software's full potential.
Sleek and seamless, Figma gained rapid popularity and has become a serious competitor in the field of design tools.
Let us not jump the gun just yet. Is it only because of the real-time collaboration and the free plan Figma became so popular?
Not really.
Apart from them, Figma also features integrated solutions such as
Graphic design
Prototyping
UI & UX design
Templates
Wireframing
And it does all this both within the desktop-based app and in browser mode. Did we mention that Linux users can also use it on Unix-based systems? Yes, they can – a great feature and a massive bonus.
Pros
Quick workflow – With templates offering (pre-made wireframes, diagrams, story maps, website templates, and flowcharts) Figma speeds up the work process by letting you choose your pre-made template and immediately start tailoring to your specific needs.
Saves you space – You don't need to save your work on your desktop since with Figma, all your files are stored in the cloud and you can access them anywhere. No more messing around with deleting old projects or storing them on external hard discs. You can even access files older than five months, and make adjustments in minutes.
Engage and collaborate in real-time – This might be one of the most exciting features of the software. No need to send tons of revisions and slight updates to your colleagues anymore since you can work on the same project at the same time and make adjustments on the go.
Use comments to point out where exactly the project needs improvement
Edit projects with your team and see their changes in real-time. You can also disable multi-people editing if you wish.
The copywriting feature lets your writer or content editor create an article on the project at the same time.
You don't have to work on the same systems (Mac, Windows, or Linux) to use the real-time feature in your browsers.
Up to date and fast – The  Figma browser tool is constantly being updated so you don't have to worry about that, plus it runs smoothly and fast which is a crucial feature in today's hectic schedules and demands.
Cons
Design resources – While Sketch delivers an endless resource library whether you're looking to learn how to use the program or to avoid starting a project from scratch, with Figma, you'll bump into limits pretty soon.
A limited number of plugins – While the majority of the other tools offer a huge number of different plugins to make your job easier, Figma falls short on this end as well.
Pricing can be a hassle – While you can use a free plan to get started, using it professionally with your colleagues will cost you a minimum of $12 a month.
Sketch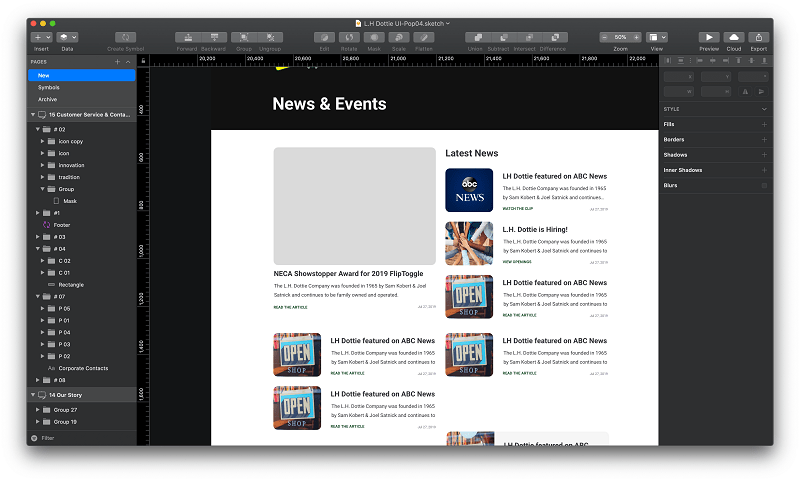 Used most commonly for UI and UX design, Sketch is a macOS software which is also known as "the digital design tool".
It's a vector-based software that sports a wide palette of different plugins which are all easy to use.
A lot of designers swear by Sketch, mostly because of its robust and clear interface. The software (which has been out since 2010) constantly receives innovative and new updates (if you pay for the license, that is). With over a dozen noteworthy updates per year, no wonder why designers like it.
Pros
The plugins – Apart from the regular updates mentioned above, Sketch is notoriously known for the vast number of plugins it features. These plugins help you work faster, more efficiently, and first and foremost, they enable you to become a better designer.
Third-party apps and other plugins – With Sketch, you can pull off such cool things like exporting entire designs with specs fully functional for developers (in the realms of UI design), thanks to Zeplin and their 3rd party app created for this purpose. Creating fairly accurate spec handoffs has never been easier. Other native plugins like the Sketch Measure lets you create specs in real-time for developers. The element information is highly accurate and gives the CSS code, positioning, font family that developers can start using immediately.
The resources – With Sketch, it's impossible to run out of resources and ideas. The software's documentation page alone has a vast number of sections that make it effortless to learn the software, plus, if you are looking for inspiration, simply visit websites like Sketch Repo or Sketch App Resource where you can find thousands of finalized designs which you can download. With Sketch, you never have to start anything from scratch.
The community – Gathering the biggest designer community, you can learn tons of new stuff plus, it's a great way for networking.
Team Collaboration feature & cloud support – Just like with Figma, you can work seamlessly in real-time with your team on your project. No need to hassle with saving your files on your computer, they are stored in the cloud.
Cons
Only available for MacOS X – The main disadvantage of the software is that it's not compatible with other systems. This might be okay for some, however, others might steer away from Sketch because of the same thing. It can also be a problem if you're working together with people who prefer other systems to work on.
Pricing – While you can opt for the one-time purchase for $99 with free updates for a year, you need to pay for the license for the updates next year. Sketch for Teams also sports a monthly subscription, which is $8.25 per month per app user. As you can see, costs can quickly add up.
---
The verdict
During the last years, Figma became a serious competitor for Sketch because of its speed and outstanding features.
However, Sketch developers made a few crucial updates and improvements to up the game. Especially with Sketch for Teams feature.
All in all, such a comprehensive software with almost the same features as Figma, Sketch can be hard to beat, some may even say that there's no competition. The only main problem with Sketch in this regard is that it's Mac-only, which makes it somewhat limited. This is probably one of the coolest features of Figma – it offers you and your team to work on the systems you prefer the most, and work together fast.
At the end of the day, it's less about the tool you're using and more about your skills as a designer. Your best bet is to learn to use all the major design tools so you can be versatile and ready to tackle all obstacles.
Sketch indeed may be the most convenient and time-saving (if you're a Mac user), but Figma will offer you more cross-platform freedom.
Finally, it all boils down to personal preference. Some will always like Sketch more, others will swear by Figma. If you feel more comfortable working with the first one, it's cool. If you like Figma, more power to you.
What's good here is that you see these software developer companies pushing each other to the limits by introducing more advanced solutions. Make sure to keep an eye on both tools, learn them both and use the one you like the most.