Grammarly is not the only lifesaver around when it comes to writing. There are so many applications and programs which claim that they can help us during composing various texts.However, writing is an individual process and everybody has their own foolproof ways of preparing for it, from research to actually getting down to do some writing as well.
If you are taking your first steps in the world of copywriting or you already have a career in it, you can try many different approaches and then figure out which one works best for you.
We are presenting you some of the applications which we are using on a daily basis. They make writing a less of chore and more of an enjoyable task. We hope that they will come in handy for you, too.
Now all that is left for you to do is to put on your playlist and start writing.
1. Power Thesaurus
A synonym is on the tip of your tongue but you cannot remember it for the life of you? Power Thesaurus to the rescue. This thesaurus is an amazing online resource for finding appropriate synonyms when you cannot think of any or you know it but it just slipped out of your mind. Just type out the word you are familiar with and click "Enter" to see a list of all the possible synonyms. It was never this easy to enrich your writing and vocabulary. This can also help you to stop using the same words over and over again.
2. Live Keyword Analysis

How to quickly check if you mentioned all of your keywords? With Live Keyword Analysis, this is a piece of cake. Just type out your keywords and paste your finished text in the provided box. You will receive a ratio of each keyword. From there on it will be easier to continue your editing and decrease or increase the number of times you mentioned the keywords without wasting time and going over the text ad nauseam.
3. Microsoft Word Online
Besides having all of your texts online for safekeeping, you can also use Microsoft Word Online for taking notes. Open a new document and write down the outline of your new article or paste the links of some inspirational pieces. The online version of Word is a bit more straightforward than its "offline" version. This makes the writing a focal point without an abundance of fancy options and buttons. In addition, the automatic saving is great and you can say goodbye to the days of frantically clicking on the "Save" button every two seconds.
4. Google Sheets
Need to organize your blog posts? No problem. With Google Sheets you can make a schedule of your posts and when is each to be published. Remember that you need to have a Google account open so you can use the Google Sheets. Share your publishing plan with the rest of the team. Everybody can add their input or make the necessary changes. Streamlined planning without a dozen of documents.
5. Grammarly or Calmly Writer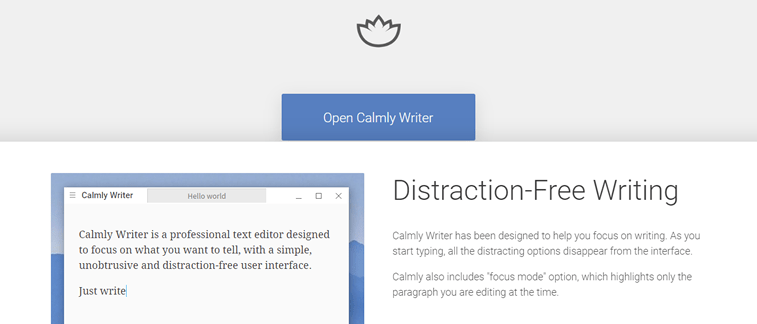 We are not suggesting Grammarly as a grammar checker here. Actually, we are recommending it as a word processor. Grammarly's plain interface is great for writing without distractions. Yes, a couple of notifications will pop up to revise your writing, but you can fix it right there at the spot without wasting precious time.
However, if that also takes you out of your zen writing zone, maybe Calmly Writer is a better option. Writing has never been this fuss-free. Just an empty paper and limited options when it comes to text formatting. This program is for the people who only wish to focus on writing and then leave the editing process for later. You can always later copy the written text in a word processor of your choice and save it as a file on your computer or store it on Cloud or Dropbox.
6. Inoreader

Surely you do not wish to waste time visiting various websites and searching through them all for inspiration? Of course, you do not, because that is time-consuming and ineffective. That is where Inoreader comes in. Inoreader basically "reads" for you. Select the online publications you are interested in and only the articles from those publications will appear in your feed without the annoying clutter and clickbait titles.
Due to your work, you are, of course, interested in content marketing. Add the term "content marketing" and you will receive to your feed only articles that contain that term. It cannot get any simpler than that.
7. WordCounter
Does your client want a particular number of words in an article? No problem, because there is WordCounter to help you count them. Besides counting the number of words in your article, it will also give you a full report of how many characters and sentences there are and which words you are overusing.
8. Good old notebook and a pen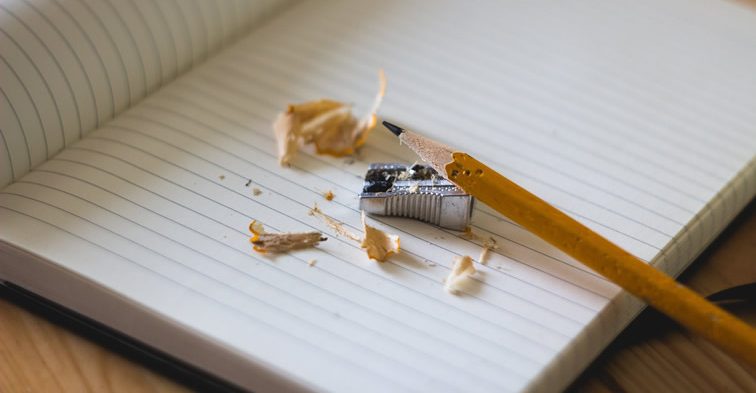 Some of us are a bit old fashioned and we like to first sketch things down on a good, old paper before typing it all up on a computer. It can really help in clearing out your mind since the distractions are minimized and your concentration is a lot better. There are no instant messages from colleagues and no incoming emails.
Tip: if you are afraid that you might miss some important update, leave your headphones on. That way you can tune into the writing with the background music, but you will also be able to hear if there is a new message on Skype or Slack awaiting for your attention. Also, do mute some more active groups during your writing. Work jokes are fun, but you want to finish your task.
Do not underestimate a good pen. Find one that flows just how you like and stick to that brand. There is nothing more frustrating than a pen which does not work well, bleeds or skips letters just when the inspiration hits you. So, to make writing more enjoyable, get yourself a decent pen.
9. Read, read, read
Read everything and anything. Books, blog posts, package copy, brochures, advertisements on the bus station. You can find inspiration literally anywhere. Sometimes just one random line can inspire you.
10. Personalized dictionary
Get yourself a notebook for writing down words and phrases. You can decide how you want to organize it. You can also use it for writing down new and unfamiliar words, to noting down the words you like but never remember to use. In this way, you will improve your vocabulary and also in time write better.
Conclusion
And there you have it. A couple of trustworthy applications that can assist you during your writing plus some additional advice for finding inspiration.
What are your go-to applications for writing and for assistance while coming up with the new copy? Tell us in the comment section below or head over to our Facebook page.
---
Did you enjoy this article? Check out some more: