Chocolate, romantic dinner for two, champagne, and roses. How exciting is that?
If you're a marketeer, then probably not at all. Even those head over heels in love with their new and thrilling partner might expect something more remarkable.
No wonder 48 percent of US adults describe Valentine's Day as overrated and 19 percent as cheesy. That might imply that people fell out of love with this holiday. 
But why does Valentine's Day trigger mixed emotions? Understanding this is the first step towards creating unique marketing campaigns.
Adored & Abhorred: Why People Feel the Way They Do About Valentine's Day?
Despite being the holiday that celebrates love, many people consider Valentine's Day the most annoying holiday. Others can't wait to receive a gift or surprise their loved ones. 
This holiday inherently causes polarizing feelings, but commercialization might not be the sole reason. Here's why some people loathe Valentine's Day.
High Expectations
Americans spent approximately $27.9 billion on gifts in 2021, each present averaging $187. 
Many couples hope to have an unforgettable dinner and are willing to spend hundreds of dollars to make that happen. Yet, one night only can hardly live up to expectations.
That is too much pressure and often results in disappointment. A 2010 study even found that people often break up right after Valentine's Day.
The way media portrays this holiday might persuade couples into thinking affection and acts of kindness should culminate on this holiday. Marketing campaigns should avoid using language, tone, and content that adds to the pressure and choose a lighter approach.
Exclusion
Even though things started changing in the past few years, Valentine's Day still feels exclusive and reserved solely for couples. No surprise that twenty-six percent of people would feel lonely if single on February 14. 
Most marketers still center their Valentine's Day campaigns around those in relationships, yet people also buy gifts for their children, other family members, friends, pets, and even themselves. It's essential to remember this holiday celebrates love, but not the romantic one only.
Businesses should pay equal attention to single, separated, divorced, and widowed individuals and use advertisements to remind them that love is for everyone. 
Oversharing
Valentine's Day can make couples question their relationship. Romantic photos of fancy dinners, getaways, and gifts typically flood social media, causing comparisons and insecurities. 
Although people never know what's going on in someone's life, they tend to wonder if their lives, connections, and partners are good enough compared to others. The oversharing mentality often gives this holiday negative connotations, such as bragging and toxicity. 
How to Create Original Valentine's Day Marketing Campaign Ideas and Avoid Clichés?
Redefine Valentine's Day by Promoting Inclusion
Most marketing campaigns make single people feel lonelier and more excluded by promoting couple-related messages and gifts. Even those in relationships going through a rough patch might find it hard to resonate with this holiday.
As Valentine's Day approaches, the red color, flowers, chocolates, and cute teddy bears start appearing everywhere, signaling that it's time to be happy, in love, and excited. Yet, these campaigns are often over-the-top and cross the line between romantic and corny. 
Avoid cheesiness by redefining Valentine's Day while maintaining its foundation: human connections, empathy, and compassion. Let your advertising speak to everyone, regardless of their relationship status, gender, age, and sexual orientation.
But this holiday might not resonate with every business. If Valentine's Day marketing feels out of character for your unique value proposition, products, and services, consider making your own holiday, celebrating single people, or supporting a social cause. 
You can even consider an anti-Valentine's Day campaign if you want to give it an edgy approach. For example, DoorDash, an online food ordering company, partnered with a tattoo artist, Mister Cartoon, and invited people to participate in an unusual contest.
The winner got the gift of covering their former partner's name with a food tattoo because the love of food never fades.
Celebrate Self-Love
Valentine's Day can also be about the most significant relationship one can have: with themselves. Self-love is necessary because it helps you set healthy boundaries, respect yourself, and not be codependent. 
One of the gravest issues people have with this romantic holiday is that it makes them feel like they must have a partner to be complete. This narrative is a part of what makes many marketing campaigns fail.
Use Valentine's Day to make your consumers feel good about themselves the way they are. Moreover, avoid excluding couples to celebrate self-love. 
Convey a message that reminds people that relationships consist of individuals who must love themselves first to love others. Inspire them to embrace their flaws and leverage strengths. 
For example, you can offer self-care packages, discounts, and coupons people can use to spoil themselves and enjoy the night in a way that makes them feel comfortable. 
Acknowledge the Pandemic-Related Loneliness and Separations
Nearly two years after the WHO proclaimed the pandemic, many families, couples, and friends still struggle with separations due to the travel restrictions. As a result, Valentine's Day will be another lonely holiday for some individuals. 
Cheerful marketing campaigns will likely trigger their sadness, reminding them they aren't with their loved ones. Although you don't have to avoid an upbeat tone, you should consider conveying messages that resonate with those who spend this holiday alone. 
Show your awareness of the current moment and acknowledge that this is no ordinary Valentine's Day because the pandemic affects how people will spend it. Create a campaign that reflects our era and challenges.
The world has become more dependent on technology in the past year. Hence, online dates and activities are the only choices for many people.
Think about organizing a virtual event for Valentine's Day to engage your consumers and kill the loneliness. You can also create a guide with unique ideas on how to spend February 14 if in quarantine or separated from loved ones.
Consider how your business can help people feel more connected and center your campaign around this initiative. Ensure that your promotion is mobile-friendly because nearly 50 percent shop on smartphones.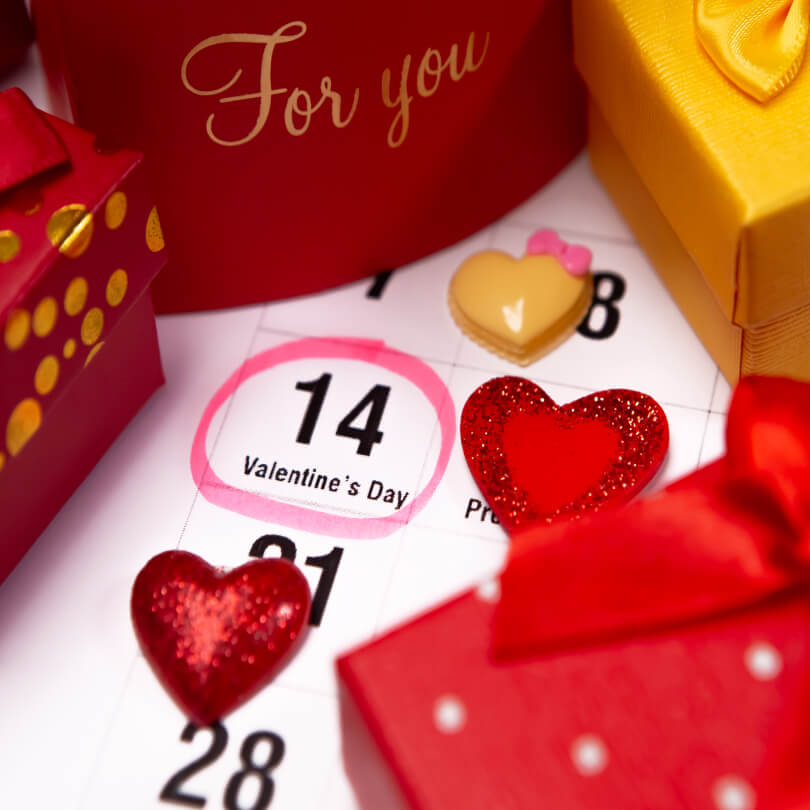 Avoid Overly Aggressive Gifts Promotion
The effort to be efficient and persuasive often fails concerning Valentine's Day marketing. Some campaigns even end up being borderline outrageous or sexist. 
For example, Natan Jewelry created a controversial Valentine's Day ad in 2013, showing a woman with legs crossed in one picture and legs open in the other. The difference is that a man holds an opened jewelry box in the latter. 
It's tempting to create a provoking campaign, hoping consumers will notice. However, avoid overly aggressive advertising at all costs. 
Moreover, it's not a good idea to bomb your customers with emails, newsletters, and notifications. Instead of enticing them to purchase your products, you might cause the opposite effect and lose their interest. 
Find a balance between subtlety and persuasion. Focus on the quality of your offering and point out the benefits for your consumers. 
Be wary of gender stereotypes and bias. Think about the tone and language and ensure inclusion.
Consider the needs and struggles of your target audience and address them in your campaign. That way, you create an authentic and meaningful promotion that makes a difference. 
Provide Unique Incentives
Most businesses will offer similar Valentine's Day incentives, creating a bland impression. That makes it essential to differentiate your promotion and stay ahead of your competition. 
Consider free shipping or extending discounts beyond February 14. You can also provide gift-wrapping for free or partner up with another brand. 
Thus, you can ask your consumers what they would like to get as a Valentine's Day gift and use that data for your campaign. For instance, 39 percent of people would love the gift of experience, such as theater tickets or comedy shows. Yet, candies, chocolates, jewelry, and heartfelt cards are the usual presents. 
Offer Engaging Gift Guides
Choosing the best present for Valentine's Day is a challenging decision. Thus, many people wait for the last moment to buy.
Use your marketing campaign to ease their decision-making and create a gift guide that promotes relevant products. Provide it as a newsletter, landing page, popup, or email.
Assess the needs of your customers and ensure the guide offers value. If your services and products target a specific gender, activity, or hobby, make the most of it and connect it with other elements in your marketing campaign. 
---
Valentine's Day triggers an array of contrasting feelings and thoughts. Some perceive it as romantic and cheerful, while others see it as cheesy and overrated. 
Out-of-touch advertisements and cliché messages are among the principal reasons February 14 tends to have negative connotations. Because of that, you should analyze the needs and worries of your consumers and understand how your products can benefit them on this holiday.
It's also essential to avoid provocative language, banal messages, and unrelatable ads. Create a marketing campaign that makes people feel good about themselves, doesn't exclude anyone, and celebrates diverse love.