Many startups today struggle with developing a unique prototyping framework which would save costs and time. The biggest pain point is to spend months or years on developing a product (website or web app) only to realize that users find it unusable and obsolete. So, what is the key?
Luckily for us, the answer lies in Google Design Sprint framework. If you still have not heard about it, but would like to know how to employ it at your startup, please read on.
---
What is Google Ventures Design Sprint?
Google Design Sprint is a design methodology developed by GV (formerly known as Google Ventures, a venture capital investment arm of Alphabet Inc.) which helps both Google and other companies they support to ameliorate their design and prototyping processes.
The design framework was created in 2010 and evolved from a careful analysis of more than 300 different business strategies, design thinking principles, and user research methods. Its inventor is Jake Knapp who took only the most effective recipes to develop a workflow which supports divergent thinking (creative thinking and brainstorming) and convergent thinking (taking logical steps which take you to a single solution).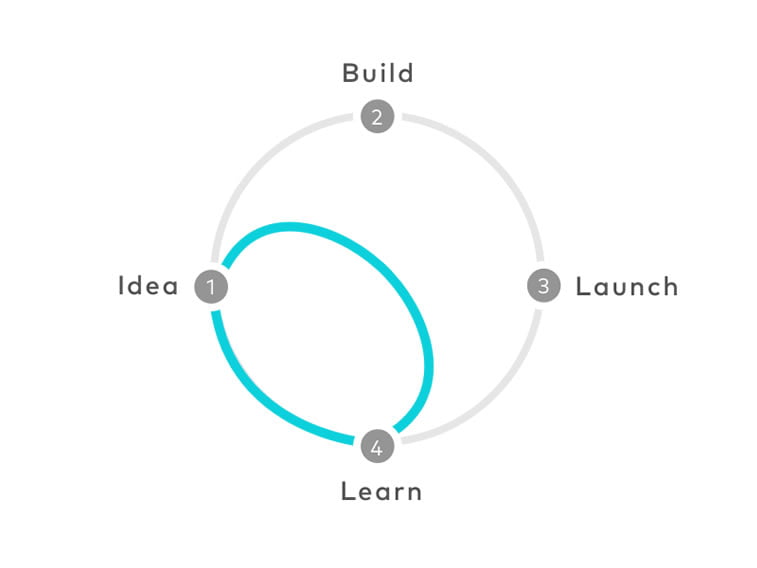 The framework has five phases and helps big teams arrive at one solution which solves critical business questions within a short time period of five (or three) days using rapid prototyping and user testing procedures.
---
Design Sprint Planning
Every sprint consists of the following:
Big challenge (launching a new product, adding new features or moving on to a new platform, improvement of a product, etc.)
Team (4-7 people)
Time (a week, Monday-Friday with a clear schedule so the team can devote their time to collaboration on the challenge)
Space (an office or some other room where the team can collaborate)
Supplies (whiteboard, markers, sticky notes, pens, sketchbooks, laptops, snacks, etc.)
The sprint team is made up of people with different roles: Sprinters, Knowledge Experts, User Research Participants, Sprint Master, and Stakeholder.
The sprint lasts for five days and each day you do the following:
Day 1: Map out the problem and choose an important issue to solve.
Day 2: Sketch competing solutions on paper.
Day 3: Make difficult decisions and turning ideas into a testable hypothesis.
Day 4: Build a high-fidelity prototype(s).
Day 5: Test the prototype with real humans.
For more information about the detailed checklists Monday through Friday, you can visit GV.com/sprint/.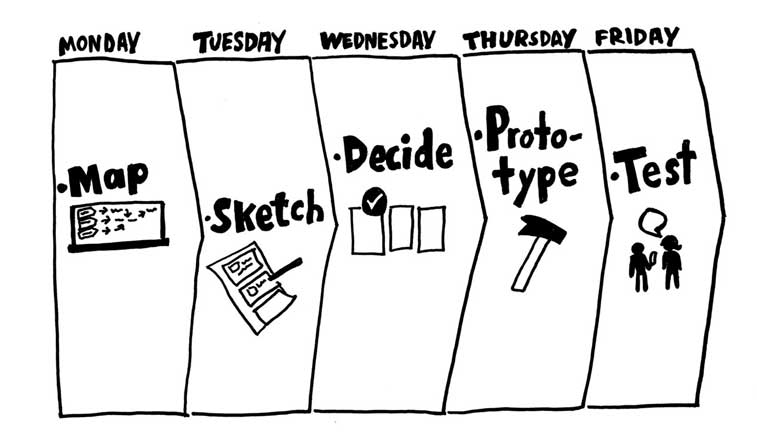 The main planning runs like this:
1. Brief
The first step is writing a Sprint Brief (click here to download a template) – a document which outlines the following three things: Sprint Challenge, Key Goals, and the Deliverables.
Challenge is your biggest pain point (for example, web page redesign, improving a process in a web app, envisioning new products, etc.); Key Goals are what you are trying to achieve; whereas Deliverables refer to the prototype(s) you plan to create, a report from user testing, and a plan for next steps.
---
2. User research
Determining who your users are and researching their needs is especially important when you are developing a completely new product or idea. Before you do the Sprint, you should conduct user research and find out what their difficulties are. It would be great if you had a full-time user researcher to do this, but even a small team can work out a way to reach out to the consumers.
Mind you that research takes time, so if you do a preliminary research you can reduce time in the Understand phase (Day 1). There are different types of research you can conduct: surveys, user interview, diary study, participant observation, etc. which you can collect and help the team define a target persona.
---
3. Call up a sprint team
Your team is the biggest resource, so choose them wisely because they will have to work as a coherent unit.
The key is bringing from four to seven people to the team, including: Sprint Master (the master of puppets a.k.a. facilitator), Stakeholder (usually CEO if you are working for a startup who makes the big decisions but need not stay there every day – they can include on Wednesday, for example), Knowledge Experts (content/UX writer, marketing expert, operations/PM, etc.), Sprinters (a UX designer and a developer who must stay there all week long), and User Research Participants (around five interviewees who will test the prototypes on Friday).
When choosing people for the team, you need to keep in mind that they are supposed to work together so even if you have a lot of people – you can split them into different Sprint teams to come up with different prototypes.
---
4. Plan the lightning talks
Lightning talks are the essential part of the Design Sprint. They last for a few minutes only and are meant to be delivered in short formats, such as Pecha Kucha or Ignite. Their aim is to bring fresh perspectives onto the matter and help the team gather useful information from a completely different perspective.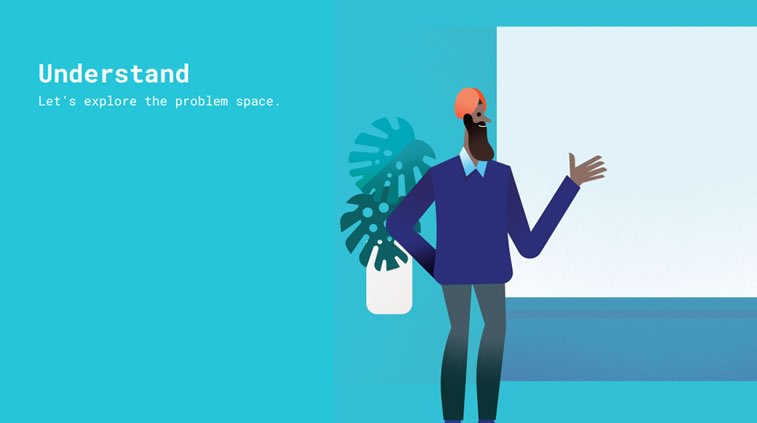 In this phase, you can ask users to give lightning talks and present their point of view from which the engineers and the whole team can learn a lot.
---
5. Create a deck
Google recommends creating a deck where you can help people learn the methods, give lightning talks, and cooperate in a better way. Moreover, they even created a 3 Day Product Sprint Deck to help you start.
---
6. Find the right space
As it was previously highlighted, your team needs to meet in one place at the same time. Even if you cannot bring everyone together in the same room, you can organize a conference call via Skype or GoToMeeting and enable your Sprinters to get expert opinions in time.
The room itself needs to be spacey, full of light, with a round table and chairs, whiteboards and a projector and a computer if you are planning to give lightning talks and conference calls. Additionally, you need to bring other necessary prototyping equipment to help your team do their work.
And above all, set the ground rules (listed below in step 9) which everyone needs to respect during the Sprint.
---
7. Get the supplies
The supplies include a pad + sharpie + pen per person, 10 sheets of paper per person, 1 roll of tape + a pair of scissors, at least 2 whiteboards / large post-it pads per team + whiteboard/magic markers.
---
8. Choose a good icebreaker
When you put all the people in the same room, especially if they have not met ever before, do not forget to use a good icebreaker, such as Super Power, That Takes Me To, or Two Truths and One Lie. The purpose of this game is to prepare everyone for the task at hand and help fire up their creative juices.
---
9. Set the stage at the beginning of the sprint
And the last but not the least is setting the stage. This means outlining some basic rules and giving the schedule so they prepare for what is to come.
Basic ground rules include:
(1) Ask for full attention;
(2) Use laptops only when needed;
(3) Mobile phones put away;
(4) Cut off any unnecessary talk.
---
So, there you have it – Google Design Sprint for rookie startups which demand a methodology to help them cut through the chase and deliver only workable prototypes. If you need more information about the framework, you can visit their official website, where you can also find information about the Sprint book. We recommend browsing the Resources page which gives you helpful tools for running a sprint.
And finally, remember that this design process is not set in stone – it is a highly flexible workflow which can be adjusted according to your goals and the challenge you are facing. For example, if you have a less complex task at hands, you can reduce the phases to three days. The key takeaway is that you can make it shorter, but not longer, because all phases need to be respected and the end-goal: reducing the design time and expenses – achieved.
Good luck with your sprint!
---
Like this read? Learn more about design: