The Ides of March have never been so interesting for marketers. Namely, on March 15, 2016 Google Analytics announced its new services for enterprise users: the 360 suite.
In our previous, introductory article, Google Analytics for beginners, dedicated to the free version of GA services, we did not quite get a hold of the other kind of services made for enterprise users. Since in the meantime things have changed and Google Analytics Premium no longer exists, it is high time we present you the 360 suite.
Something old, something new
For those of you who are not that familiar with Google Analytics products, the 360 suite is actually a new name for Google Analytics Premium, with the addition of a couple of new products.
Two products are actually old, only rebranded:
– Google Analytics 360 is what used to be called Google Analytics Premium
– Google Tag Manager 360 is the former Google Tag Manager for Premium
Four products are new:
Google Optimize 360 (beta)
Google Audience Center 360 (beta)
Google Data Studio 360 (beta)
Google Attribution 360 (ex Adometry)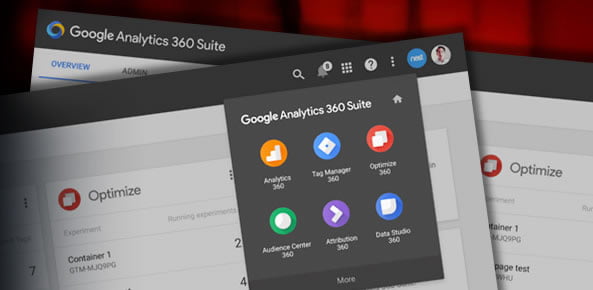 Google Analytics 360 suite includes:
Google Analytics 360
This service was formerly known as Google Analytics Premium and it seems that no change in its features will happen: it will still have more features than the regular, free version, such as in data collection, importing, custom sampling, etc.
Google Tag Manager 360
This service is not just a rebranded version of Google Tag Manager for Premium members, but also a brand new product (since it was only a feature of GA). It was simplified so it now serves enterprise marketers to collect site information and increase data accuracy through APIs.
Google Optimize 360 (beta)
Google Optimize 360 is still in the beta version, so all GA Premium users will be able to test it in the following months. According to Google Analytics' official blog, it is made for website testing and personalization and it "helps marketers deliver better experiences" by offering different variations of a site and letting the users choose the best one for their audience.
Google Audience Center 360 (beta)
This product is also in the beta version, but it is made to help "marketers understand their customers and find more like them across channels, devices, and campaigns". It can also be integrated with Google and DoubleClick, third-party data providers, Data Management Platforms (DSPs), etc.
Google Data Studio 360 (beta)
Another beta came to this world on demand: this data analysis and visualization product, based on Google Docs technology, which integrates data across different data sources and products enables you to create great, interactive reports and dashboards.
Google Attribution 360 (ex Adometry)
Formerly known as Adometry, Google Attribution 360 is a rebuilt product for advertisers which help them "value marketing investments and allocate budgets with confidence" and "analyze performance across channels, devices and systems to achieve their most effective marketing mix."
Deeplinking from Google Analytics to AdWords
In early March 2016, Google Analytics announced that they will be showing the long-awaited AdWords reports in Google Analytics platform in the upcoming weeks. What will change is that users/marketers will from now on see the AdWords logo next to a corresponding AdWords campaign in Google Analytics reports, which represents a deep link between the two services.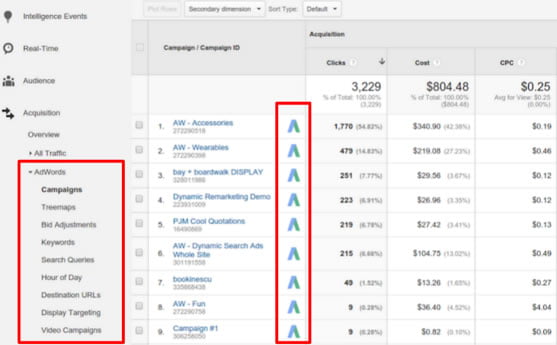 This way, the two services will finally be well-rounded and give a better insight into campaigns, telling you how users engage with your site, which keywords drive more awareness and which drive conversions. If you want to link (or unlink) your AdWords and Google Analytics accounts, visit this Google Support page.
Free version still persists
If you are a free version / small site user, nothing much will change for the time being. The exPremium version will change things for big sites and paid accounts only, and they will first test the new features. And who knows – maybe Google Analytics will incorporate these options into the free version sometime in the future.
It is evident, however, that GAP and Adometry brands will be retired sometime in the future, Search Engine Land reports.
Read more: