Beginning project in web design, SEO or any other field which has certain level of complexity, we face the problem with organizing projects.
Unorganized handling project can result in breaking deadlines, missing important elements, and even it can stop realizing whole project.
Because of that problem as a science Project Management is born, which goal is to educate project managers to be more successful and efficient in their work. In this post we aren't going to talk about whole science of project Management, but we going to present you the way in which we manage our projects.
For easier organization in SEO process we use program Microsoft OneNote, which with its high volume of possibilities and flexible interface allows easy storage of all information about project.
Projects are organized by sections. One section is for one project, inside every section are tabs which allows us to organize all of our relevant information about that particular project.
In the beginning of every SEO camping we open section named by that project, where we put information in categories in these following tabs:
[divider_1px]
Necessary tabs
Data
In this tab we record all data about client.
Start and finish of camping
Contact information
Data for access to website, server and other (Webmaster tools, Analytics, Adwords…)
Status / positions
First and necessary thing that we note is site status on day of camping beginning, so we can efficiently follow site progress.
In Status tab we can write down this info:
Positions for certain keywords
Average monthly site visits
Number of showing in search results
Keywords by which is site shown
PageRank, Domain authority, Alexa Rank etc.
Keywords
Defining of keywords is the most important step in every SEO camping, because of that it is necessary to write things down from the early beginning:
Keywords obtained by client
Competitors keywords
Keywords suggestions (obtaine d by detailed analyze with tool Adwords Keyword Planner).
Competition
Very important step in SEO is analyzing competition. Based on competition we can meet better with client needs. In this tab we can store information like list of competitors, their positions and backlinks.
Goals
Goals can be provided by client in consultation with our SEO expert. Goal has to follow SMART principle – that means that it has to be Specific, Measurable, Attainable, Relevant and Time-bounded.
SEO goals can be:
certain position after certain time period (we can't guarantee exact position, but we can strive for that goal)
Increase number of visits
Aimed advertising
Providing quality backlinks
Increased number of fans on social networks
Strategy
After getting to know site goals, next step is planning the strategy for SEO camping.
To-do
To-do lists is list of activities which has to be done, organized by system of checklist and they has to be in accordance with strategy.
To-do list is based on 2 levels:
Level of whole activities – what has to be done
Level of activities on weekly basis – activities that has to be done for certain week
In main tab are determined all activities that is necessary to be done, and later that activities are arranged on weekly basis. In this way there is no time losing and it is possible to immediately see what is done and what has to be done. Organization of To-do list looks like this:
To-do:
Sept/1 (first week of September)
Sept/2 (second week of September)
Suggestions
Staff which works in SEO will possibly get new ides which can contribute to site progress in any way, and for its realization client permission is necessary. New idea has to be immediately written down, because it can be lost in mass of other tasks and activities which is performed.
Errors on site
Same as ideas, immediately after they are spotted they has to be written down. It is necessary to inform client about that error, fix it or submit it to webmaster for fixing it.
Optionally
Pages
Page tab is needed if client wants to create new pages on website. In this tab are noted ideas about new pages, keywords for certain page, structure, content ideas etc.
Plan for advertising
Plan for advertising is necessary in case when client has budget which purpose is for advertising. In that case we research advertising websites and see which one is the most efficient for positioning adverts. Goal is to achieve maximum visit and conversion on client website with certain budget.
Link building plan
In this tab are defined possible techniques of link building for site and sites where is planned to obtain links. For better track about links we suggest using Excel.
Facebook
Facebook tab is created if client has provided budget for advertising on Facebook. In this tab we note:
Details of every camping
Details about adverts
Plan and expected result
In the end of organization, structure looks like this: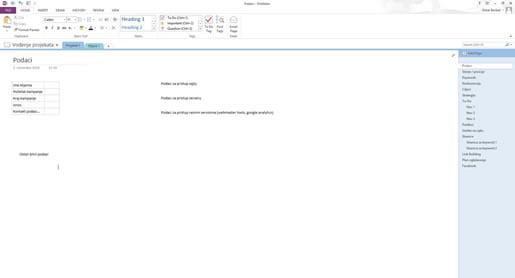 You can download Microsoft OneNote form website www.onenote.com. For users who can't afford buying desktop version of this program, there is cloud version which is free and can be used online via cloud by logging in with a Hotmail account.
OneNote has option to share projects with coworkers. If any user make change to document it is immediately synchronized and it is visible for the rest of users on that project. This is example of using OneNote for SEO projects, but this program can be used for any other type of projects.
Organization is key to success, you will use this info in the right way and improve your work process and results.