Na drugoj po redu SEOIT konferenciji, koja je 22. novembra 2018. godine održana u beogradskom Startit Centru, u organizaciji Startit-a i kompanije Catena Media, bilo je reči o aktuelnim temama iz oblasti SEO optimizacije. Prenosimo vam ovom prilikom značajne aspekte sa ovogodišnjih predavanja.
Koje SEO alate koristiti u 2018. godini
Marijana Škrivanko, SEO menadžer u srpskom predstavništvu kompanije Catena Media, govorila je na ovogodišnjoj konferenciji o značaju različitih SEO alata, od onih osnovnih, poput Guglove analitike (eng. Google Analytics), do onih koji objedinjuju više mogućnosti u okviru jednog rešenja i na taj način maksimizuju benefite.
"Strateško razmišljanje je od izuzetnog značaja kada treba istovremeno voditi računa o procesu automatizacije, skaliranju projekata, vođenju tima i analizi velike količine podataka. Zato su potrebni alati sa kojima možete da učinite više sa manje utrošenih sredstava", napomenula je Marijana Škrivanko.
Osim Guglovih alata, kao što su Google Analytics, Google Search Console, Google Trends, Google Data Studio i drugi, kao i popularnih alata SEMrush ili Ahrefs, ona je istakla da treba obratiti pažnju i na takozvane UX alate koji mere kvalitet korisničkog iskustva na sajtu, jer je to jedan od značajnih signala koje Gugl koristi prilikom rangiranja u onlajn pretrazi.
Prema njenim rečima, zanimljivi su i alati koji kreiraju vizuelnu mapu sajta, kao i oni koji prate rangiranje u odnosu na konkurenciju, ali i oni koji štede vreme SEO stručnjaka olakšavajući pisanje izveštaja. Posebnu pažnju, kako je istakla, trebalo bi obratiti i na platforme kao što su Majestic SEO, Raven Tools, SEO PowerSuite i druge, koje na jednom mestu objedinjuju veliki broj alata korisnih za SEO optimizaciju.
Kako da ne uništite svoj SEO trud kroz WordPress dodatke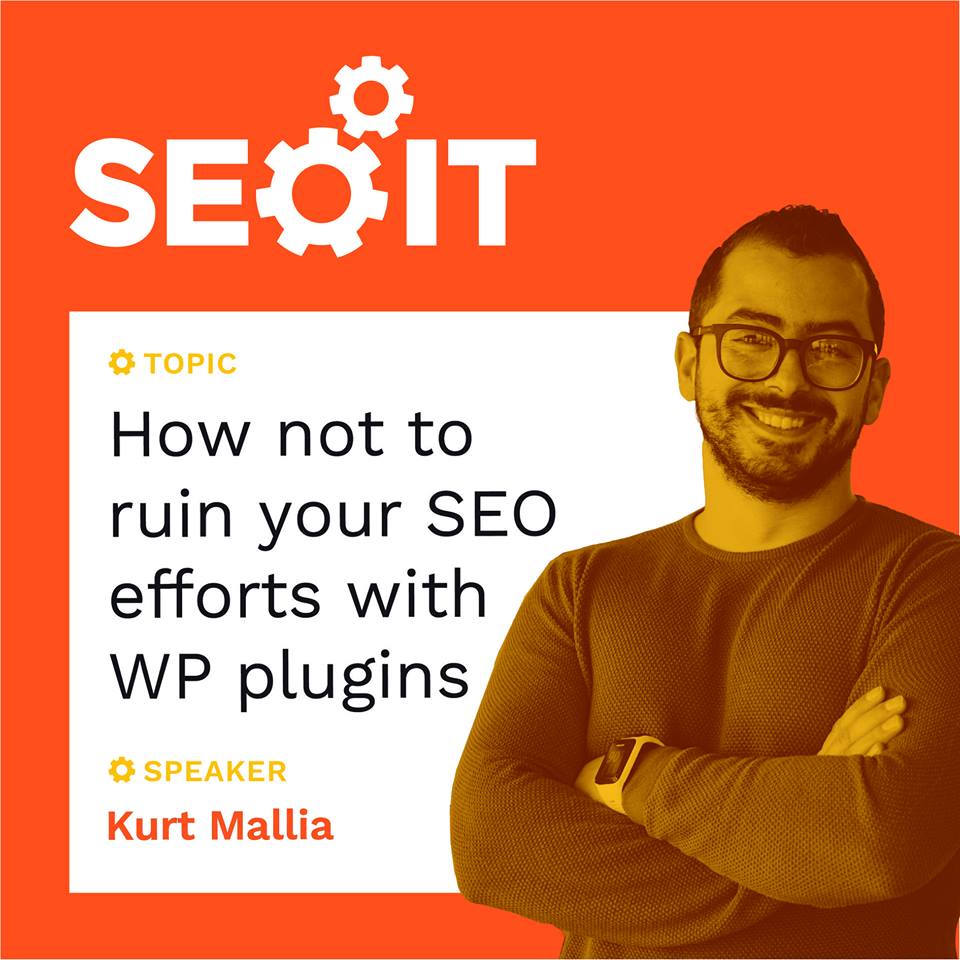 S obzirom na to da je trećina od ukupnih 1,8 milijardi sajtova na internetu zasnovana na platformi WordPress i da je dostupno 55.800 različitih WordPress dodataka (eng. plug-in), važno je istaći da SEO stručnjaci treba posebnu pažnju da obrate na sigurnost dodataka koje koriste, kako ne bi svi njihovi napori pali u vodu zbog jedne greške.
O tome je na SEOIT konferenciji govorio Kurt Malia (Kurt Mallia), koji radi na poziciji Product owner u sedištu kompanije Catena Media na Malti.
SEO specijalisti koji vode računa i o tehničkom aspektu optimizacije, ne bi trebalo da zanemare bezbednosnu ranjivost ili eventualne sigurnosne propuste koje dodaci mogu doneti sa sobom. Njegov savet je, na prvom mestu, da se nikada ne preuzimaju dodaci čija je vrednost anulirana tako što se odjednom nude besplatno, iako inače koštaju, jer velika je verovatnoća da je u tom slučaju implementiran maliciozan kod koji može, recimo, narušiti privatnost korisnika sajta preuzimanjem svih informacija iz baze podataka.
"Sigurnost sajtova na WordPress platformi je u 52% slučajeva narušena upravo zbog ranjivosti određenih dodataka. Zato savetujem svima da koriste proverene dodatke, one koji se redovno ažuriraju, koji imaju dobru ocenu od strane korisnika i za koje postoji veliki broj preuzimanja. Ipak, ne treba to da budu jedini parametri koje ćete uzeti u obzir. Pre nego što instalirate određeni dodatak, testirajte ga i uverite se da radi. I ne zaboravite, uvek bi trebalo da pravite rezervne kopije (eng. backup) redovnim pohranjivanjem podataka. Na taj način, ukoliko se nešto desi, moći ćete relativno brzo da rešite problem i neće vam svi podaci biti izgubljeni", objasnio je Kurt Malia.
On je dodao i da bi WordPress i same dodatke trebalo redovno ažurirati, ali pažljivo. Ukoliko se pojavi najnovija WordPress verzija, kako je istakao, ne bi trebalo odmah je preuzeti, jer određeni dodaci možda nisu kompatibilni sa novom verzijom i neće raditi kako treba, što može izazvati velike probleme.
Kako da sprovedete SEO strategiju uz ograničene resurse
Na ovogodišnjoj SEOIT konferenciji, Dastin Dankan (Dustin Duncan) iz kompanije seoClarity iz Čikaga, govorio je o kompleksnosti SEO optimizacije, koja obuhvata tehničke aspekte, analizu podataka, edukaciju klijenata, marketing sadržajem, saradnju sa drugim timovima i još mnogo toga.
Iako, kako je dodao, velike multinacionalne kompanije izdvajaju i po 20.000 dolara mesečno za SEO, budžeti su najčešće višestruko manji i novac predstavlja jednu od čestih prepreka na putu SEO menadžera prilikom izvršavanja planirane strategije. Osim budžeta, kako je dodao, ograničeni resursi obuhvataju i tim, odnosno broj ljudi koji se bavi SEO strategijom, kao i vreme, koje je često najveći ograničavajući faktor.
"Da bi se uspešno sprovela SEO strategija, važno je dobro promisliti neophodne zadatke i ne preskakati ono što treba da se uradi. Iako je SEO skraćenica od engleske fraze Search Engine Optimization, tokom poslednjih nekoliko godina više bi pristajalo da se zove Search Experience Optimization. Jer, odavno smo prestali da optimizujemo za Gugl i njegove algoritme. Fokus je na optimizaciji koja će korisnicima interneta obezbediti što kvalitetnije iskustvo prilikom pretrage. To znači kvalitetan, originalan, edukativan sadržaj koji odgovara na pitanja, odnosno ključne reči i fraze koje ljudi pretražuju", istakao je Dastin Dankan.
Dodajući koliko je značajno da se SEO optimizaciji pristupa na holistički način, Dankan je naveo i značaj formiranja operativnog SEO okvira. U tom smislu, kako je objasnio, najznačajniji aspekt jednog vebsajta iz ugla SEO analize jeste njegova upotrebljivost (eng. usability) za krajnje korisnike. To je osnova svega i trebalo bi tome posvetiti najviše pažnje, a zatim sledi relevantnost sadržaja na sajtu, koji bi uvek trebalo da bude koristan, svež i kompetentan, dok je na poslednjem mestu izgradnja autoriteta sajta uz pomoć linkova.
Dastin Dankan je dodao i da veliki broj SEO stručnjaka i dalje taj okvir posmatra obrnuto, te najviše pažnje posvećuje izgradnji mreže linkova, koji jesu bitni, ali nisu najvažniji. Prema njegovim rečima,  za SEO optimizaciju je najvažnije imati funkcionalan, pristupačan i upotrebljiv vebsajt koji će korisnicima pružati relevantan sadržaj, a Gugl će to umeti da prepozna (i nagradi) prilikom rangiranja.
Izvor izdvojene slike: SEOIT
---
Ovogodišnja SEOIT konferencija imala je humanitarni karakter, a celokupan prihod prikupljen donacijama učesnika namenjen je organizaciji NURDOR – Nacionalnom udruženju roditelja dece obolele od raka.
---
Ukoliko vas zanima oblast SEO optimizacije, pogledajte još tekstova o toj temi: