Ako ste se nekada pitali na koji način možete da povećate prodaju u svojoj e-radnji i kako da vaš brend i svi vaši proizvodi budu bolje rangirani u rezultatima pretrage na internetu, na ta pitanja odnedavno postoji jedan odgovor – GS1 SmartSearch.
Da pojasnimo, GS1 SmartSearch je najnoviji standard kompanije GS1, poznate širom sveta po uvođenju pojma i standarda bar-koda u svetsku trgovinu. Osim toga, GS1 SmartSearch je i prvi, zvanično prihvaćen spoljni dodatak popularnom skupu instrukcija za markiranje strukturiranih podataka u veb stranicama pod nazivom Schema.org.
Ta ekstenzija nedavno je počela i zvanično da funkcioniše kao nova i unapređena šema za obeležavanje (eng. markup) sadržaja u vezi sa proizvodima koji se prodaju na internetu i kako se navodi, primetno je da već od samog početka utiče na rangiranje onlajn prodavnica u rezultatima pretrage.
Naime, implementacija tog standarda može doneti relevantnije rezultate pretrage za vašu onlajn prodavnicu, pa i za svaki od vaših proizvoda posebno, a samim tim i doprineti povećanju prodaje.
Kako GS1 SmartSearch može da poveća prodaju
Standard GS1 SmartSearch, naime, omogućava prodavnicama na internetu izvesno povećanje prodaje putem:
relevantnijih rezultata pretrage
detaljnijih i preciznijih informacija o proizvodima koje se prikazuju u rezultatima pretrage
Standard GS1 SmartSearch i smernice na koje ukazuje, kako je objašnjeno na zvaničnom vebsajtu za standarde GS1, postiže pomenute pogodnosti za kompanije koje svoje proizvode prodaju na internetu tako što omogućava inkorporaciju strukturiranih podataka o proizvodu i povezuje te podatke sa identifikacionim brojem proizvoda u globalnoj trgovini (eng. Global trade item number, GTIN) koji mu je dodeljen takođe od strane kompanije GS1.
Ti strukturirani podaci o određenom proizvodu zatim bivaju prepoznati od strane Gugla i drugih internet pretraživača, ali i mobilnih i veb aplikacija, kako bi potrošačima i potencijalnim kupcima pružili mnogo više korisnih informacija o proizvodu, pa i kvalitetnije lično iskustvo prilikom onlajn kupovine, što u velikoj meri može biti ocenjeno pozitivno od strane korisnika.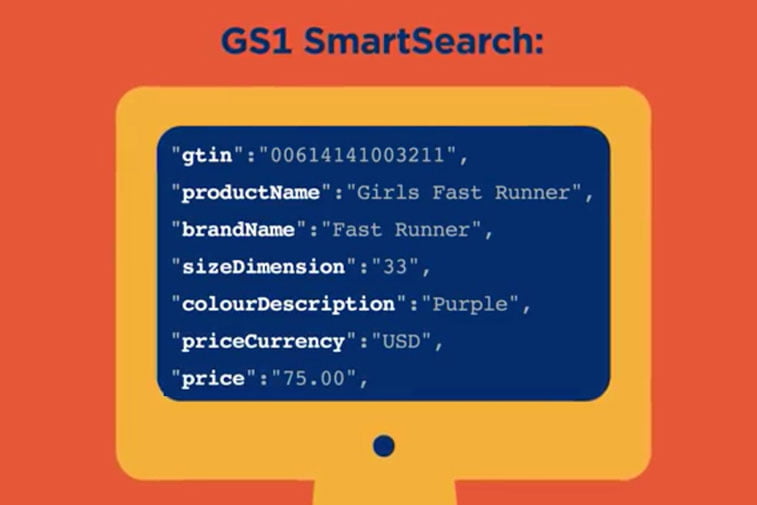 Proizvodi koji su ovim standardom obuhvaćeni jesu svi proizvodi iz kategorija obuće, odeće, hrane, pića i duvanskih proizvoda.
Ukoliko se vaša e-podavnica bavi prodajom nekih od tih kategorija, nastavite da čitate, jer uskoro ćemo ukazati i na to koji se strukturirani podaci implementiraju u šemu sajta.
I do 30 odsto bolja prodaja
Statistički podaci do kojih je kompanija GS1 došla u svojim istraživanjima za standard GS1 SmartSearch, kao i tokom trajanja pilot projekta u Velikoj Britaniji tokom 2015. i 2016. godine, pokazuju da u čak 70 odsto slučajeva prodaji proizvoda široke potrošnje prethodi pronalaženje informacija o proizvodima na internetu, bilo da je kupovina na kraju izvršena onlajn ili u radnji.
Sledi kratak video prikaz primene standarda GS1 SmartSearch, postavljen na zvaničnoj stranici GS1 na mreži YouTube.
Pored toga, i na zvaničnoj stranici onlajn rečnika za GS1 standarde, detaljno je pojašnjeno šta standard GS1 SmartSearch omogućava kompanijama, i to donoseći im:
veću vidljivost njihovih proizvoda u onlajn pretraživanjima
bolje rezultate pretrage na internetu, i to rangiranjem za tri i više pozicija bolje nego ranije, tako da potencijalni kupci pronađu proizvode i informacije koje su im potrebne
poboljšane, precizne informacije o proizvodima na mreži
informacije o proizvodima podjednako prikazane na svim uređajima, namenjene kvalitetnijem informisanju potrošača, što na kraju dovodi do povećanja onlajn prodaje i do 30 procenata
Na zvaničnoj stranici za GS1 u Srbiji još uvek ne postoji opis ovog standarda, odnosno izmene na globalnom sajtu još nisu lokalizovane. Verujemo da će se uskoro i to desiti, a u tom slučaju moći ćete detaljnije objašnjenje da pronađete na stranici sa standardima na srpskoj verziji sajta.
Kako koristiti GS1 SmartSearch za markiranje sadržaja
Internet pretraživači i mobilne aplikacije veoma se često koriste prilikom planiranja kupovine. Kao što su pokazala istraživanja, potencijalni kupci u skoro dve trećine slučajeva prvo pretraže ponude i proizvode dostupne na internetu.
Ukoliko su u sklopu programskog koda vašeg vebsajta ili platforme za onlajn prodaju uneti strukturirani podaci na osnovu standarda GS1 SmartSearch, pretraživači i aplikacije će moći lakše da ih prepoznaju i prikažu korisnicima relevantne podatke.
To znači da pomoću instrukcija GS1 za markiranje sadržaja (eng. GS1 web markup tool) možete poboljšati strategiju za SEO optimizaciju i povećati šanse da vaši proizvodi budu prepoznati od strane pretraživača i mnogo bolje rangirani nego ranije.
Ovaj standard će olakšati dodavanje strukturiranih podataka o proizvodima na vaš vebsajt, tako da će mnogo detaljniji opis biti predstavljen na internetu, i to vrlo verovatno kroz poboljšane rezultate pretrage na Guglu, odnosno u takozvanim Guglovim obogaćenim isečcima (eng. Google rich snippets).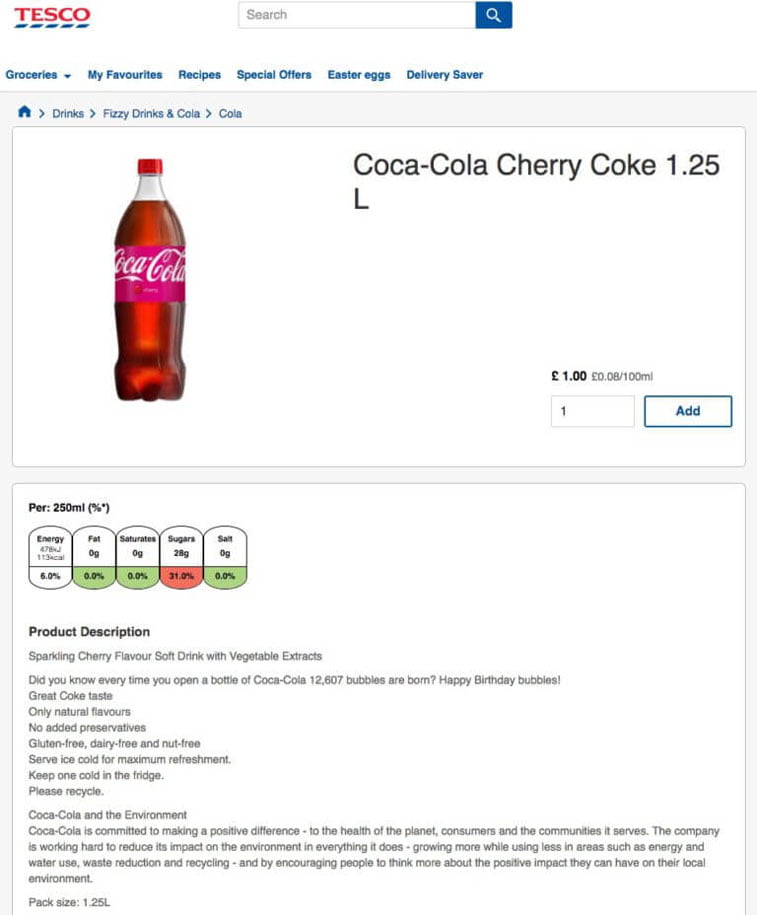 Kao dodatak za Schema.org, standard GS1 SmartSearch uključuje mnoge uobičajene mikropodatke (eng. microdata) i već ustaljene elemente šeme, ali i one napredne. U zavisnosti od proizvoda, unosiće se i podaci, a GS1 je obezbedio i detaljan besplatan vodič za sve kategorije proizvoda i tipove elemenata za Schema.org.
Kako je i objašnjeno na zvaničnom blogu Schema.org, inicijativa GS1 SmartSearch bila je usklađena sa zajednicama na platformama W3C i GitHub, kreirajući kompletan novi rečnik za potpunije podatke o proizvodima.
Preporučeni format programskog koda za standard GS1 SmartSearch je JSON-LD, a kao i kod ustaljenih oznaka, opis proizvoda za Shema.org mora se nalaziti unutar stranice i sadržaj mora biti prikazan na stranici na kojoj korisnici mogu da ga vide.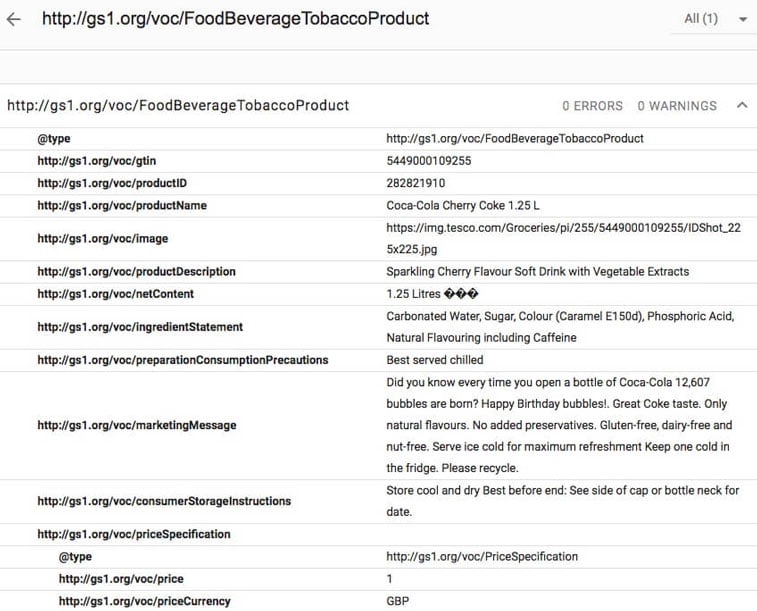 Zaključak
S obzirom na to da se strukturirani podaci ne ističu na veb stranici koju korisnici vide u internet pregledačima, veb dizajneri i front-end programeri mogu da kreiraju vizuelno bogate stranice, u čijoj strukturi će se nalaziti podaci čitljivi Guglu i drugim pretraživačima na osnovu kojih će indeksirati sajtove.
Prilikom implementacije standarda GS1 SmartSearch, dakle, nije potrebno podići kompletno novu platformu za e-trgovinu, već je dovoljno u postojeće onlajn prodavnice, ili opisne stranice za proizvode na vebsajtovima samih brendova, dodati podatke strukturirane na osnovu ovog standarda.
Kao što je i kompanija GS1 u Velikoj Britaniji nedavno istakla, rezultati njihovog istraživanja pokazuju da čak polovina ostvarenih prodaja počinje onlajn pretragom, dok je u 80 odsto slučajeva u upotrebi pretraživač Gugl. Već pomenuti rezultati govore i u prilog tome da su se korišćenjem standarda GS1 SmartSearch prodajne stranice proizvoda pomerile za tri i više pozicija u onlajn pretrazi, dok je sama prodaja povećana u proseku za 30 odsto.
Takve rezultate, složićete se, ipak ne treba zanemariti.
Rast prodaje i bolje pozicije u onlajn pretrazi uvek će dobro doći, a uz pomoć standarda GS1 SmartSearch vlasnici e-prodavnica mogu donekle i sami da utiču na to.
---
Ukoliko vas zanima oblast SEO optimizacije, pogledajte i slične tekstove: