Opšte je poznato da je Fejzbuk (eng. Facebook) trenutno najveća i najpopularnija društvena mreža. Donedavno je bio popularan samo kao mreža za razbibrigu i druženje, ali otkad su u igru uključene i marketinške mogućnosti, sve više korisnika uviđa i koristi njegove potencijale. Jedan od njih je i reklamiranje, tj. plaćeno oglašavanje.
Šta je reklamiranje na Fejzbuku (eng. Facebook marketing)?
Facebook marketing je način da, u zamenu za ulaganje određenog novčanog iznosa, doprete do šire publike i predstavite im svoju firmu ili ponudite uslugu koju prodajete.
Funkcioniše po principu plaćenog reklamiranja objava (eng. post boosting) odnosno prikazivanja objava ciljnoj publici u skladu s kriterijumima koje sami odredimo, i to za iznos novca koji takođe sami određujemo. Glavna ideja je sledeća: što su kriterijumi precizniji, što duže traje, te što više novca uložimo, to će i rezultati biti bolji.
---
Kako odrediti kriterijume za reklamiranje?
Postoje četiri glavna kriterijuma po kojima možete odrediti kome želite da se objave prikažu. To su: pol, uzrast, lokacija i interesovanja. Detaljno određivanje kriterijuma trebalo bi da bude u skladu s objavom, jer će upravo to dovesti ciljnu publiku i navesti je da klikne na vaš oglas.
---
Primer: digitalna agencija
Recimo, digitalna agencija iz Novog Sada koja se bavi veb i grafičkim dizajnom, optimizacijom sajtova za pretraživače i digitalnim marketingom redovno objavljuje blog posvećen struci. Članak koji žele da promovišu bavi se grafičkim dizajnom, konkretno dizajnom restoranskih jelovnika i menija. Žele da se za određeni iznos, u trajanju od nekoliko dana, reklamiraju na Fejzbuku. Kako bi tekla kampanja?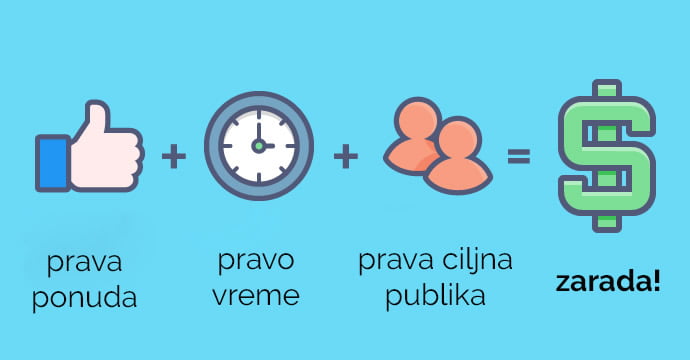 Ciljna publika bili bi grafički dizajneri starosti između 25 i 57 godina, u Srbiji, Crnoj Gori, Bosni i Hercegovini i Hrvatskoj (uz određivanje željenih gradova), a interesovanja: hrana, kuhinja, restorani, organska hrana, picerije, doručak, restorani brze hrane, kafići, grafički dizajn, restoranski meniji, itd.
Prema našim podacima, upravo ovako definisana kampanja doprla je do više od 12.500 korisnika i donela 308 angažmana, 288 klikova na link i 10 novih sviđanja stranice. Najuspešnija je bila u starosnim grupama 35-44 godine i 25-34 godine, nešto manje u starosnoj grupi 45-54 godine, dok su ostale bile gotovo zanemarljive.
---
Koliko košta reklamiranje na Fejzbuku?
Cenu reklamiranja na Fejzbuku određuje sam korisnik. Pravilo je da minimalni iznos po danu ne može biti manji od jednog američkog dolara, a sve ostalo je podložno promenama.
Međutim, da bi to pravilo bilo jasnije potrebno je znati još neke podatke. Naime, Fejzbuk nudi trenutno najjeftiniji način oglašavanja u poređenju s tradicionalnim i novim medijima. Prema podacima koje navodi Moz, prosečni troškovi za oko 1000 impresija iznose samo 0,25 $, što je 1% troškova koje biste morali da izdvojite za TV reklame.
To dalje znači da ukoliko potrošite 1 $ na reklamiranje na Fejzbuku dobijate priliku da za vas sazna 4000 ljudi, od kojih mnogi mogu postati vaše buduće mušterije ili stalni saradnici.
---
Da li je reklamiranje na Fejzbuku isplativo?
Mnogi bi rekli da je preskupo, ali treba uporediti troškove i drugih vrsta reklamiranja da bi se došlo do pravih podataka.
Oglašavanje u štampanim medijima, na televiziji i na radiju zavisi od medijske kuće i mnoštva faktora, a može dosegnuti i dvocifrene iznose. S druge strane, cena oglašavanja u digitalnim vodama kreće se od 2,75 $ na servisu "Google AdWords", 0,75 $ na društvenoj mreži Linkdin i samo 0,25 $ na Fejzbuku.

To Fejzbuk čini ubedljivo najpriuštivijim resursom za reklamiranje i najširim auditorijumom! Za relativno mali iznos možete dopreti do hiljada korisnika koje ste sami odabrali; nije vam potrebno nikakvo stručno znanje, osim, možda, agencije koja je specijalizovana za digitalni marketing, da vam pomogne da napravite najbolju digitalnu strategiju i omogući vam uspešnije kampanje; a uz analizu i posvećenost moguće je lansirati poslovanje u sam vrh! Uz sve to, Fejzbuk štiti privatnost korisnika te ni u kom trenutku vlasnicima stranica ne prikazuje ime i prezime osobe kojoj će se prikazati ta objava. Gledaju se uopšteni kriterijumi poput starosti, interesovanja itd.
Reklamiranje na Fejzbuku je odličan alat za podizanje svesti o kompaniji, nudi dobre opcije za određivanje ciljne publike, zahteva veoma malo posvećenosti i ima veoma pristupačne cene. Možda je vaša konkurencija prepoznala sve ovo i već se reklamira, a vi još uvek niste sigurni da li se isplati uložiti u ovu vrstu digitalnog marketinga? Šta čekate? Obratite nam se da bismo sa vama formirali odgovarajuću strategiju i preduzeli konkretne marketinške aktivnosti.
Zanimaju vas vrste onlajn oglašavanja i plaćeni oglasi? Pogledajte povezane članke: