Is being a leader in the engineering industry one of your greatest ambitions? – If you nodded yes to this question, then you should know that skills and expertise might not be the only things you'll need.
Every professional company that strives for success should have a well-rounded image, including the brand. Otherwise, it could be challenging to reach customers, clients, and even talents.
A website, visuals, and design are just as essential for your engineering business as the products and systems you develop due to being a part of your identity.
Moreover, your website and brand help you present your company to stakeholders and future employees. It's no wonder that showing your brand consistently across all platforms could increase your revenues by up to 23 percent.
Thus, you should know that companies that fail to do so tend to pay ten percent higher salaries. People love being a part of reputable organizations, so it might be hard to retain employees if your brand isn't attractive enough.
Here's why branding plays a significant role in engineering.
Why You Should Develop an Engineering Brand and Website
Regardless of industry, a brand is among the tools you need to communicate your unique value proposition. This invaluable asset allows you to convey the right message and reach your target audience.
In engineering, attracting highly-qualified engineering talents is essential. Your company requires a compelling brand and website that carries your business identity and inspires engineers to want to work with you.
On the other hand, a powerful reputation and renewed trademark will encourage employee loyalty. Since workers are the backbone of every successful organization, you must leverage all the available tools to stimulate their commitment.
Engineering is a highly competitive technical field that requires specialized competencies and knowledge. That means that establishing an innovative yet unique online brand, although challenging, is a must.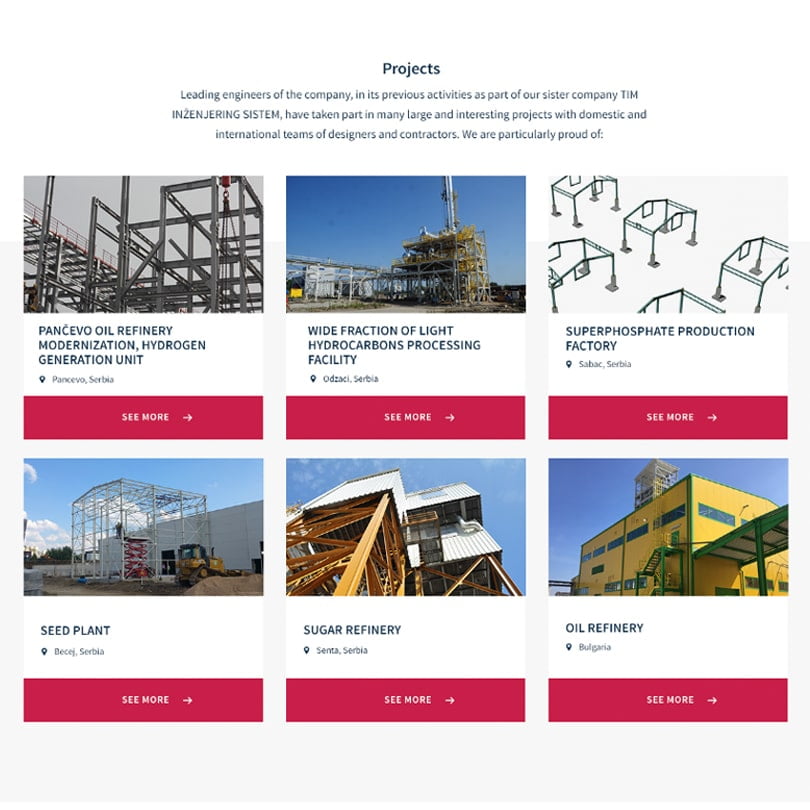 The Importance of Credibility and Showcasing
The best way to present your expertise and convince future employees and stakeholders that you never settle for a status quo is to communicate this message using your brand and website.
But not many engineering companies accomplish a balanced approach, resulting in average impressions. In a world where most people rely on the internet to find products, services and look for jobs, that could be detrimental for your company.
Branding and website help interested parties decide whether your business is credible and if they want to work with you. Not having a clear engineering brand and compelling digital presentation looks like a red flag, causing people to look elsewhere.
Several other companies likely offer the same or similar engineering products as you, making it crucial to stand out. A concise, professional, and informative website that leaves no doubts about what it is that your company provides, allows you to differentiate your business.
Thus, it ensures your prospective customers, stakeholders, and employees have a positive first impression and perceive you as a legitimate business. Word of mouth is no longer enough to convince someone to collaborate with you.
Instead, you must invest in showcasing. Clarify the purpose, vision, and values of your company. Be clear about the process and measures you implement to ensure the quality of your products.
Avoid ambiguity and use testimonials, videos, images, and blog posts to demonstrate your company's transparency. People must be able to visualize what you do as that allows them to imagine how your company could help them realize their engineering projects and determine solutions.
The Shortcut to Lead Conversion and ROI Boost
As a result, you'll increase your odds of getting leads and converting them into sales. Brand and company websites make it easier for people to find you, become interested in your products, and contact you.
Although you might think that creating a stellar brand and developing a website is expensive, these could help you improve your ROI. Moreover, with quality SEO, you can appear in Google search results, allowing you to boost your talent pool and customer base.
Another critical reason to have a strong brand and company website is that it will help you save time and resources. If prospective stakeholders and customers can't find enough information about you online, you risk receiving tedious calls every day.
Avoid getting questions about the elementary aspects of your business by establishing a consistent digital presence that contains all the data and updates people should know. That's also a great way to upsell as it ensures interested parties receive regular announcements and know what to expect from your company.
On the other hand, it's not enough to set up a website and identify the fundamental brand components. If you want to secure your position in the engineering market, you got to do it right.
How to Establish a Brand that Positions You as a Leader in Engineering?
Identify Your Company Mission and Values
Every company needs a purpose, mission, and values that guide its actions and shape its identity. It's what makes you different and helps you stand out in a flock of businesses with similar engineering products.
Determine what your company is committed to and what makes its culture unique. These are the unifying threads that keep everything together and help employees feel a sense of belonging.
However, you should make your objectives and values relevant to engineering yet ensure they're authentic and in line with what your company does.
Communicate What Your Company Finds Important
Potential employees, customers, and stakeholders should understand what drives your company values and projects. Because of that, you must be clear about the non-negotiables and advantages of your business.
Consider what people should know about working with your team and showcase what you provide for those that join your workplace.
Be Clear About the Technologies You Use
As an engineering company, it's crucial to disclose what tech and languages you use. Reveal what drives your processes, how you produce and evaluate designs, or test and simulate how a machine or system operates.
Your prospective customers and employees want to know whether you leverage new solutions and if you can keep up with challenges and ever-changing tech. It's also beneficial to analyze what kind of infrastructure your competition uses and what you should improve.
Leverage Digital Marketing
After identifying what makes your engineering company unique and why you're the leader in your industry, use different communication channels to share your brand with people. Leverage your company website and social media to create and share content that shows what you do.
Develop an engaging online presence, create announcements, share updates, and start interactive conversations that inspire others to know more about you. Offer examples of your past projects and show prospective stakeholders and clients what your company can do for them.
That also allows high-quality talents to imagine how they could grow if they work with you and how that could increase their knowledge and skills. The goal is to ensure people recognize your projects, techniques, and effort.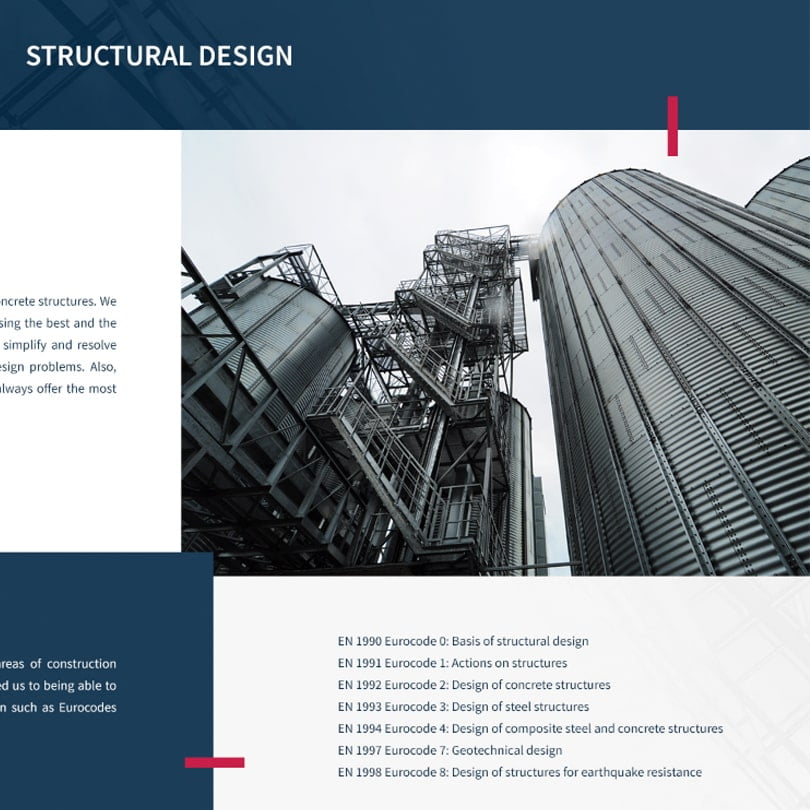 Start a Blog that Demonstrates Your Expertise
Although businesses in the engineering industry benefit more from showcasing than words, you should leverage both. Create blog posts that speak about your expertise, capabilities, and vision.
Moreover, this also allows you to express your passion for the engineering field. Use regular blog posts to show your commitment to continuously increase your knowledge, learn new techniques, and deliver the best results for your clients and stakeholders.
How to Develop a Professional Engineering Website?
Ensure a Positive UX Experience
Many engineering websites have a cumbersome layout full of information and data that make it hard to navigate. Because of that, avoid overused templates and be concise.
The website text should be easy to scan and skim through, without redundant sections and elements. Choose an approach that makes your website look decluttered and professional, ensuring you provide a positive user experience.
Visitors should find information with ease and understand what your company does and how you can help them. Otherwise, you could leave a negative first impression and deter people from considering you as their potential business partner or employer.
Create a Visually Appealing Website
Besides being easy to navigate, your website should be unique and visually captivating. As an engineering company and future leader in the industry, you need to convince your visitors that your business thrives on innovative solutions and ideas.
It's why you should ensure that your website looks like a visual equivalent of your company mission that triggers people to continue navigating. Use videos, images, and graphics to show your most successful projects and demonstrate what you can do for your clients.
Encourage Visitors to Share their Contact Data
One of the most significant roles of a website is to convert leads into sales. To achieve that, you should create content that motivates them to voluntarily leave their contact data, allowing you to contact them.
However, be subtle, or you'll risk leaving an impression of a profit-driven company that only cares about sales. Because of that, be creative and create podcasts, whitepapers, e-books, and e-mail newsletters that engage visitors and motivate them to share their e-mail.
Be Mobile-friendly
Nowadays, most people use their mobile phones to navigate the internet and find information quickly. That makes it essential to develop a website that's mobile-friendly and has a responsive design.
If you want to keep the visitors and ensure they contact you, ensure your website adjusts to small screens and shows every information without any issues. Otherwise, you risk losing potential leads and leaving an impression of a tech-illiterate company.
---
Final Thoughts
It might be tempting to think a brand and website aren't integral to your business if you provide top-notch products. However, without these, people might never hear about your company.
To have a professional, credible, and far-reaching business, you should create a powerful online presence and identity. That allows you to differentiate your company from others that offer similar products.
Thus, having an engaging website helps you share your accomplishments, most successful projects and position yourself as a leader in the engineering industry.