Without trying to generalize things, we can often see headstrong gym and fitness club owners trying to make it without a gym website.
Oftentimes, they think that their social media pages are a great substitute, other times, they simply aren't that tech-savvy and think that owning/running/building a website would be too complicated and costly.
And the biggest problem is the fact that they often realize all this a bit too late when they've already been gobbled up by their competition both online and offline.
In today's day and age, most people will use the internet to make a purchase decision, create a subscription (or, in this case, look for a gym membership). Having that in mind, running a gym without proper web presence is simply foolish.
As such, in this article we will give you five reasons why your gym needs a proper website.
Become Better At Marketing Yourself
Some might argue that running planned-out social media campaigns is a fruitful way of gaining more leads and customers online.
We can argue about this all day, but most developers and digital marketers will agree that the single best way to convert quality leads is through a site. Landing pages, forms, and CTAs are all valuable tools that will help you guide your visitors from your website into your training facility.
Also, your website can easily get in front of your target audience easily with a strategic search engine marketing program. When you are driving relevant organic and paid traffic to your website, it becomes a lot easier to get highly interested, motivated, prospective members.
At this point, you might still think that having a Facebook page can double as a website, and that you can establish your entire social presence on a social media platform.
However, once when you see that there are large segments of your target audience who might not be using social, that social platforms lack some of the most basic features every proper fitness/gym website should have, and most importantly, when you realize that the content you post on your social platform isn't actually yours, things start to get a bit interesting.
Also, if you manage to get reported, spammed, or simply blocked on a social platform, you lose your credibility in an instant and have to start over.
Lastly, after you've learned to market yourself, you can also embrace the power of eCommerce, and launch a wide variety of products that you can sell online. Let those be supplements or retail merchandise, you can build a totally new customer base and new partnerships with ease.
Have a Spot Reserved for Your Staff and Members
No matter whether you're running a hardcore powerlifint/bodybuilding gym with loads of rusty weights and rubber platforms (and occasionally blood) on the floor or a well-kept commercial gym, both your members and staff will welcome an idea of launching a website, for several cases.
For starters, if you employ personal trainers, enabling them to run and manage their schedule online will definitely make their and your life easier. Both of you will have better insight into how their monthly sessions are going, and as such, both of you can make better decisions about how to improve the service even further.
Also, offering a member self-service, by integrating a simple member management software, your trainees will be able to pay for their membership online, change their contact info, replace credit cards, keep their schedules in check, and so on. It's just a great way to streamline every aspect of going to the gym, and it can go a long way in creating an exceptional user (and customer) experience.
Also, by having a website, you can answer some of the most common questions newcomers might have. Everything from phone numbers, addresses, rates, class times, FAQs, personal trainer information can be stored in one place. Also, you can integrate other features into your website like chatbots or live chat to create an even more personalized experience for your visitors.
On the other hand, your website can be the best place to share your wisdom. Long gone is the age of true gym gurus who you could always see walking around gyms, fit, ripped, or strong year-round. They were those who "possessed the knowledge" about everything fitness. Now, you still have fitness gurus in gyms, but we all search the internet for the best diet/meal plan, training method, exercises, and so on.
In such a vast pool of fitness info, it's easy for greenhorns to get sidetracked and overwhelmed. However, if you create a high quality blog section that aims to give the best nutrition, training, and supplementation tips for newcomers and advanced trainees alike, you can get your members even more invested in training and your gym, and you can help your website improve in the search results as well. As you may know, content is king when it comes to SEO, and regular blogging is one of the cornerstone strategies to climb up Google's ranking ladder.
Lastly, by sharing success stories, before and after photos, you can create a powerfully persuasive online presence that will help you attract new members and customers.
Open New Horizons for Your Business
Whether you're okay with it, or not, your gym/fitness club isn't just a temple of health it's also a business. Just go to your Facebook page and chances are, it's running as a "business page".
Apart from that, if you're really serious about your training facility, you will also treat it like a business, continuously trying to bring out the best from you, your trainers, and from your gym.
Adding a website to your business arsenal will also enable you to have a more professional overall look, i.e. to build credibility and legitimacy. After all, nowadays, people (and your potential business partners) will expect a website from you and when they can't find one, they might start to question the legitimacy of your gym.
It also serves as a great, always-available online resource and info center. From simple pieces of information like your address or phone number, to more elaborate queries that might need your prospect to send an email, your website serves both as a resource and/or means of communication.
Most importantly, as we've had to deal with an ongoing pandemic, having a website can help you stay in contact with your members who simply can't visit your training facility or choose not to.
Online fitness classes, with simple exercises your members can perform at home can make a huge difference in the way they see you and your gym.
Launching podcasts and online seminars about weightlifting, fitness, bodybuilding, and related topics can also help you improve your SEO, create a stronger online presence, and establish your gym as an authority. Both online and offline.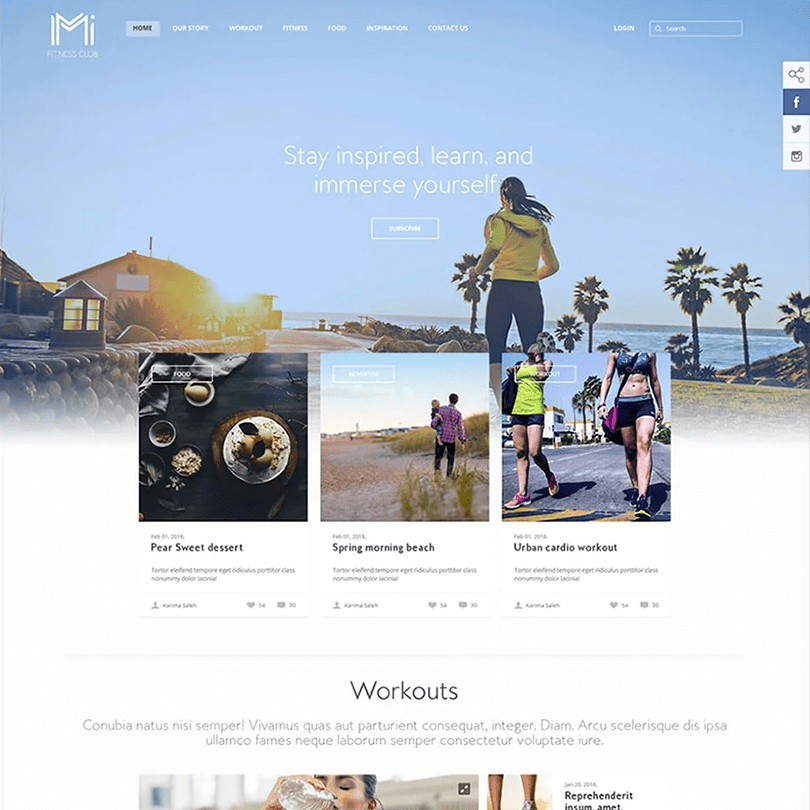 Improve Your Branding
No matter whether you wish to add an eCommerce section to your business model, dabble with podcasts, online sessions, or just want your own space online, having a website will help you create a stronger digital presence.
As we've already mentioned the ongoing pandemic, a large chunk of avid trainees have decided to stay at home and for them, home exercises have become the norm through digital fitness. Being able to adapt to these new challenges doesn't only mean keeping your business moving forward, but it also means helping your gym to become more memorable in the digital sphere altogether.
The other thing a website is incredibly useful for is branding improvement. Sure, you can create an atmosphere on your Facebook page that will do a decent job in presenting your gym, but a social platform simply won't let you capture the essence of your training facility as greatly as your own online space can.
Everything from the navigation, through the imagery to your online gadgets can be tweaked to pay homage to your gym and its spirit.
You can further improve the way you're branding your business by aiming to create that same atmosphere in your blog posts.
For instance, if you're running a "no BS" powerlifting gym, you can have the same "to-the-point" attitude in your blog posts as well, so your visitors and trainees know you mean business.
Also, if you choose to sell your own merch, you can evolve your branding even further. A great T-shirt design can sometimes speak a lot more than an entire blog post, so if you choose to take that route, you'll have the potential of greatly influencing the way people perceive you both online and offline.
Member Experience
We've already touched bases on the importance of member experience, but it's such an important factor that we might need to address it as a standalone reason for having a website.
Simply put, good member experience involves every aspect of your business, both online and offline. It included staff member interactions, facility quality, website, and even the way you say hello to your trainees when you open your gym's door.
Now, as they have to face an ongoing pandemic and several restrictions, many businesses are shifting to a hybrid business model where the lines between in-person and digital services are starting to blur.
What this means is, digital experiences are starting to become just as important as your members' experiences when they are in your facility.
It's no secret that a great website online helps boost member experience. We've mentioned above a few things that can improve your users' experience. They don't necessarily have to be well-researched blogs, comprehensive training tips, lengthy podcasts, seminars, or training videos. Sometimes, simple things like easy booking and/or a member forum can also go a long way in creating a pleasant member experience that will keep your trainees engaged even when they can't visit your facility.
Things You Need For an Effective Gym Website
After talking about the five main reasons to create a fitness/gym website, now, let's briefly go over some of the things you need to create an effective, converting website.
Contact info and Location
As mentioned before, your site needs to have all the essential business information. Make it accessible and easy for your future and current members to find you.
Include the following info:
Location
Contact information: phone number and email address
Hours of operation
Business description
FAQ's
Reviews & Testimonials
Everybody wants a good success story and a few honest lines about your training facility and the results your prospects can achieve.
Every potential member wants to know whether your gym would be a good fit for them or whether they would blend in with the gym community in your facility. Reviews and testimonials can help them make that decision faster.
Mobile is a Must
Having a responsive design that can support any kind of device with internet connectivity is a must. It's 2021 for Pete's sake!
Member Management & Schedule and Bookings
We've already touched bases on this one as well. It's a must for the best possible user experience.
On-Demand Content and Live Streaming
We've also talked about this above. However, you can also capitalize on this feature, especially with integrating a "Start trial" where you can showcase your available online classes your members (and visitors) can engage with at home.
You can make it accessible for members with ongoing memberships and use the trial method for online visitors who currently can't join your gym but want to work out. Later on, you can charge them for more on-demand fitness content.
Professional Visual Imagery and Fresh Content
Fitness and bodybuilding are heavily visual sports and your gym website has to reflect that with high-quality visuals.
On the other hand, we've already talked about the importance of regular, fresh content.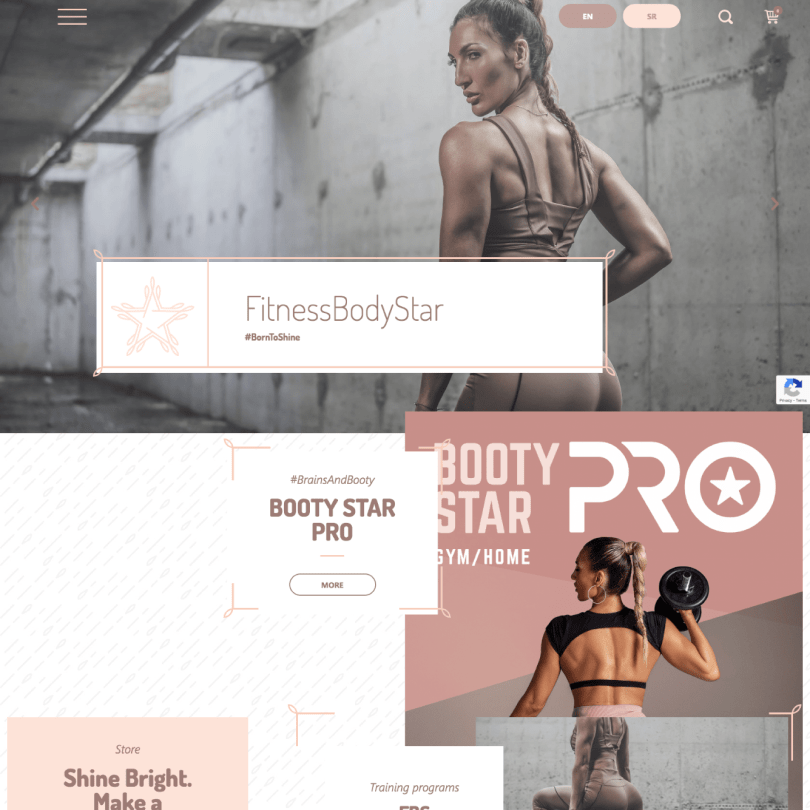 eCommerce
Not a must, but branded merchandise and supplements can lead to better online exposure, a better converting website, and a more prospering business overall.
Optimized and Eye-Catching Pages
It should also go without saying that all of your site's pages should be fully optimized for search engines to rank higher and to drive traffic that's already interested in your gym and content.
Furthermore, professional web design can have a massive impact on the quality of your site overall. Beautiful sites that are built for optimal user experience make a great first impression, keep your visitors on your site for longer, and ultimately, help you convert them.
Privacy, Security, and Hosting
You need to ensure the safety of your users and keeping their data safe is essential for conducting business online. A secure website will enable you to keep everything in check.
---
Finishing Thoughts
As you can see, having a gym/fitness club website isn't a luxury, it's something you cannot afford to be without. Especially since the COVID-19 outbreak, training facilities are facing new and new challenges and blurring the lines between online and offline can offer a solution.
On the other hand, nowadays, having a website is simply a must. Both in terms of branding and business management, it simply just makes things easier and more streamlined.