When it comes to using the internet, you know that you can pretty much do anything you imagine and find anything you want.
You can watch hours of fail videos and clips of cats doing funny stuff. You can buy anything, as long as you have the money. You can also create your website and start posting your own content.
However, there's one part of the internet that is more or less of a gray area, and that's the field of Q&A.
Honestly, when looking for an answer to a specific question it's easy to get sidetracked and to find data that are similar to what you've been looking for. The truth is, sitting through several pages of Google search results can be a bummer, and looking for answers on social media can sometimes be outright daunting.
This is where websites like Quora come in handy.
Quora is an interesting mixture of a social media platform and a search engine with a purpose to help you find the answers to your questions and give you the opportunity to answer certain questions that you're more knowledgeable about. However, this is only the tip of the iceberg. In this article, we will share with you everything you need to know about using Quora.
About Quora
First and foremost, Quora is a simple Q&A platform, founded back in 2009 by two people who used to work for Facebook. Since its launch, Quora has become an authoritative website when it comes to Q&A platforms. Experts usually describe it as a more organized version of Yahoo Answers, a more sophisticated Reddit alternative, and a more opinionated Wikipedia. Back in 2018, the website had more than 300 million active monthly users, showcasing just how powerful its presence online is.
Simply put, the primary function of Quora is quite straightforward. You just search for questions you want answers for and help others getting their questions answered by submitting your own answers.
The biggest concern with this is whether the info your read (or give) is correct/factual or not. Luckily, Quora has been known as a go-to place for industry experts in different niches to give answers and to look for them as well.
Getting started
In short, here are the starting steps you need to take to become an avid Quora user:
Sign up

Filling out your profile

Getting to know your feed

Learning about your Q&A post options

Familiarize yourself with Spaces

Ask questions, get answers, have fun
Signing up
This is basically your first step toward total Quora dominance. Just sign up either with your email, your Google, or Facebook account, it's totally up to you.
Once you're finished with that, you will have to choose from 10 different topics that will later be used to generate your feed. After this, you'll be asked if you'd like to join Spaces groups. Once you're done with all this, you will officially begin your journey with the website.
Filling out your profile
As Quora has a social vibe to it, you will have to fill out your profile. To become a credible answer source, you will need to fill your profile out the best possible.
Starting, you will see different sections with different options. You will start with a profile photo and profile credentials. The latter will be constantly on display and can be viewed as your primary industry or sector you have expertise in or your job title. Below this section, you have the answer to add a short description about yourself.
 On the right side of your profile page, you'll find two more sections. One's for adding employment, education, and location info, while the other is for adding topics that you're knowledgeable about. This latter section will also allow you to search topics.
Getting to know your feed
Simply put, your feed might just be the best place where you can find answers to your questions and find out more about topics you really care about. At first, you will only see topics in your feed that you've previously selected during sign-up, but you can add more at the search box at the top of the site any time. Just search for topics and click "follow" on those that you're most interested in. After that, you will see them appearing in your feed.
The same analogy applies to those topics that your not interested in anymore. You just have to unfollow them and they won't appear in your feed anymore.
Apart from following different topics, Quora's also a great place to discover interesting people and Spaces to follow.
You will also see suggested questions for you to answer which you can pass, follow or, answer (duh). You can also see the previously submitted answers and you can upvote them, share, and even comment on them. You can also quick-access your followed topics in your feed which makes navigation that much easier.
To make your job even easier, you will see a "Set Up Your Account" section that gives you a small list of tasks to help you get familiar with the site's functions and features.
They're the following:
Visit your feed

Follow 5 more spaces

Follow 6 more topics

Upvote 5 more good answers

Ask your first question

Add 3 credentials

Answer a question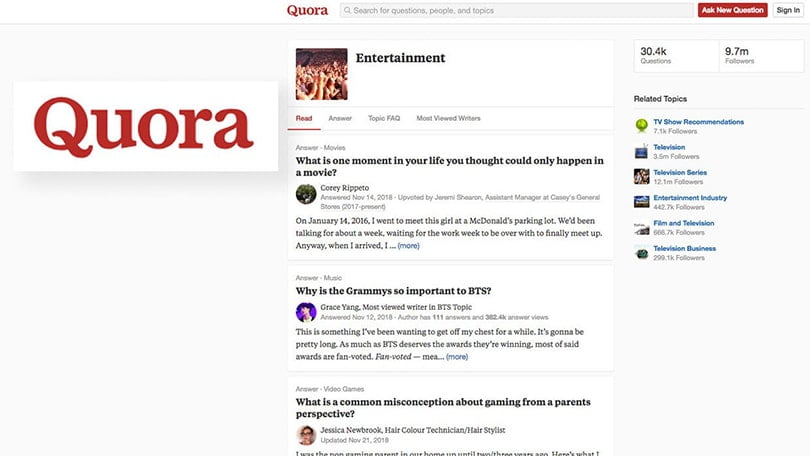 Learn more about the Q&A features
Submitting your answers and getting your questions answered is the sole purpose of the platform so it's a smart move the get to know every possibility the Q&A features hold.
Obviously, you can answer questions but there is a myriad of options you can do. Apart from answering a question, you can follow it, no matter which topic it resides in. With the "request" option, you can search for specific people with the necessary knowledge on the topic and request them to answer that specific question.
These are the most prominent features to interact with the website and the users but there are other features you can use as well.
You can also:
Leave comments

Share on social networks (copy the link)

Answer later

Follow the question privately

Get notified about question edits

Edit the question and source

Edit topics

Merge questions

View stats and log them

Report
As you can see, there are a lot of ways you can interact with questions even though, chances are, you won't be using every feature all the time.
As for answers, they also have their own option set but are a bit more simple.
 As a user, your job is the give the most accurate and appropriate answer to any given question. IF you've been beaten to the punchline, you can always upvote the best answer given. The more upvotes a good answer gets, the higher it will be within the answers section. The answer with the most upvotes gets placed directly below the question itself.
Apart from this, you also have additional options which include:
Bookmarking

Promoting

Suggesting edits

Thanking

Logging

Reporting
Quora Spaces
Introduced a few years back, this feature gives the platform even more of a social vibe as it's a collection of communities and topics created around similar interests and tastes.
Giving Quora a more social feeling, Spaces are also great for social marketing.
Simply put, Spaces Quora's are the subreddit feature in Reddit, offering a dedicated space for a community that's interested in a particular subject. In Spaces, users can follow specific topics and can discover even more answers to particular questions.
Spaces can be really handy and satisfying as you become a part of a community that shares your interests. Together, you can create and curate the most interesting set of answers and links about a particular question or area of interest.
Furthermore, you can use Spaces to organize your writing into different sections. You can also join a group to have shared conversations like a science lounge.
---
The Takeaway
All in all, there's no wrong or right way to use Quora, but you can surely underutilize it if you're not familiar with every feature and option you have at your fingertips. You can use it to simply go over questions that have been already answered. You can also take one step further and ask your questions.
Also, you need to be more assertive and answer some of the questions. Sharing your expertise and knowledge on a subject can be pretty useful and can surely boost your mood. Not to mention, if you give good answers to a lot of questions, you can also build your social network online.
Lastly, always be thankful to those users who provide you with well-written and informative answers. And when you come across a insightful and knowledgeable answer, don't forget to upvote it!
---
Latest on the world of Digital: