Thinking about entering the wedding website development business? If you as an agency plan to focus on this niche, there are a few things you need to focus on in order to leave your clients in awe and create an absolutely stunning wedding website that will help both the happy couple and their guests a great deal in the entire wedding process.
Right off the bat, let's get honest here and say that some young couples who want to get married will say that these platforms can be rather unnecessary, but once they realize that it doubles as a great online resource for their guests' needs and having such a centralized platform for sharing all the necessary info, details, and content is a great option to simplify at least some of the work that goes into a full-blown wedding.
In this article, we will focus on some of the features you as an agency should focus on when it comes to designing the best wedding website that will capture the attention of not just your clients (the couples themselves) but will leave a profound effect on the gusts as well.
Finding The Perfect Platform
First thing's first, you want to ensure that the foundation of the website is rock-solid and reliable. All in all, it's up to you which platform you choose for your wedding website projects as long as they serve their purpose without any major hiccups.
If you want something that's more or less uniform, you can create your own custom template that you can always use as a wireframe for your "standard" projects which allow for fast and effective development.
On the other hand, when the couple is clear about their needs and has the budget to back it up, going fully custom and building everything from scratch could also be a great option as your developers and designers will face a truly unique and exciting challenge, while your clients will have the time of their lives while helping you create their dream wedding website.
All in all, it's on your agency to decide which approach you take, however, having different development and design practices in store for different budgets would mean that you can serve a larger customer base.
Customizing the Design
Once you managed to get a frame that your clients like that, it's time to personalize it. This is where you make the platform a fully-blown wedding website by aligning it to your clients' style, their wedding theme, and everything else that gives it its character to the overall website design.
Based on their needs and preferences, you can have your designers create custom wedding logos and other handy features that accentuate the importance of the happy occasion even more.
Be thorough when customizing. Personalize even the text, with the full event details, and the rest of the content from how the couple met to interesting fun facts and other "trivia". Look for the fonts that best complement the overall design idea, but make sure that it's still clear and readable. Also, make sure the photos and visuals of the happy couple are of great quality. Here, you can be really creative. Let your clients know that they don't have to use the "traditional stuff" like engagement photos to create their design. Instead, they can use other content as well (like photos from one of their exciting adventures together).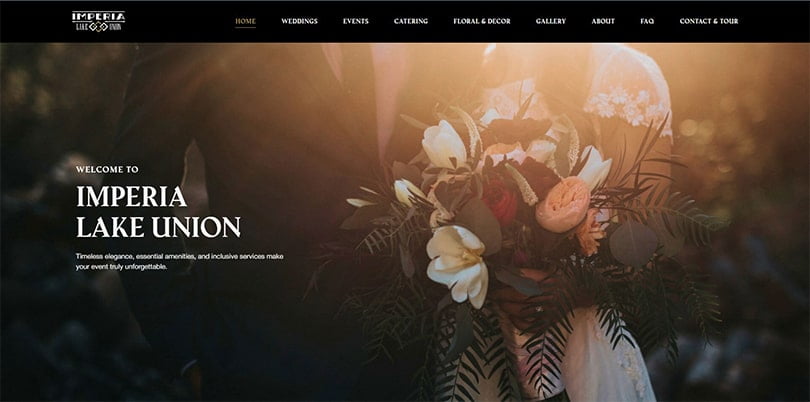 Sharing Necessary Details
You might wonder, actually what type of content would you need for a wedding website. If you're struggling to find ideas on how to get started, consider these below:
The couple's name and the date of the wedding

: Well, this is pretty obvious, as it's among the most important pieces of info regarding the entire event. Post the date once it's set, and then look for adding more info as the entire planning process progresses (by keeping in touch with the happy couple, of course).

Location and travel info

: Give out more information about the venue. Addresses, location, and how people could get there the fastest, and accommodation options are all welcome. Go one extra step and incorporate a Google Maps widget, so your guests can locate it without any problem. Take your time together with your clients and see what they might find useful, from the best hotels to the nearest airports in the area.

Dress Code:

 Helping the guests to properly prepare for the event is also an important factor. Especially, if the couple is planning a specific theme for their wedding. Whether it's formal, casual, black tie, or something else, let the guests know so they know how to prepare for the big day.

Wedding timeline

: Be thorough and ask about every little detail. Things like the exact time of the wedding and other events that will take place before or after the ceremony. If the couple has designated shuttles to the church, for example, let the guests know along with other important timelines and meeting points.

Contributions, gift registry

: A wedding site is a great place for the gift registry as well. Just include a button linking to the registries and thus, enable the guests to click simply the link and make their purchase online. If the couple is planning on asking for honeymoon contributions of any other purpose, just drop a few lines explaining what they will use these funds for and add a corresponding payment button.

Contact Info

: It's only necessary that you add the couple's contact details and even a contact form so your guests can reach out to them with their questions. On the other hand, don't forget about your information as well. Other grooms- or brides-to-be might get enchanted from your designs and choose you as their design agency for their wedding website.

Wedding hashtag

: If you're planning on using a specific hashtag for your big day, let the guests know in advance so that all the photos will be accessible for them online via the same tag. Just add it to the site's header or footer so that the guests can see it. It's a great way to involve everyone in the project to an extent, not to mention, the couple will have loads of awesome photos and memories of the big day.
Online Invites and Tracking RSVPs
Let's face it, couples know that this part can be a huge pain in the neck, and having an online platform where they can actually track who's coming and who isn't can make a huge difference and can actually make the entire organization process a lot more streamlined.
So, to take the weight off their shoulders, install (or develop) a handy invite and tracking tool that helps them manage their guest list with ease. You can get creative with the features and use tools that automatically collect RSVP responses and organize the info for the couple. Better yet, install a tool that supports several RSVP options, enabling the guests to do it via email or directly on the site.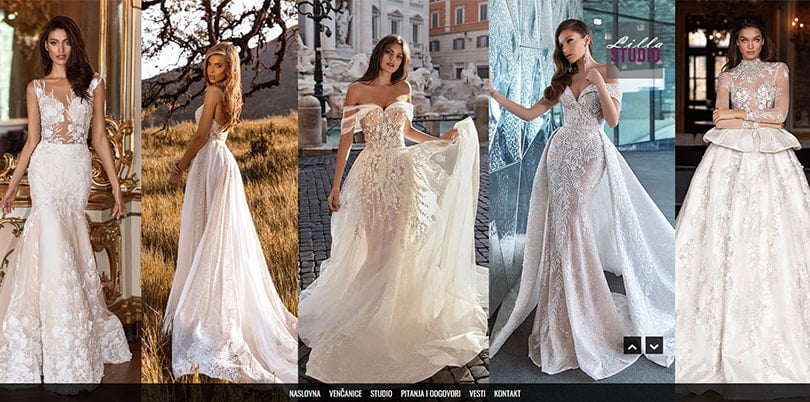 The couple may also plan several events around the big day, like a bridal shower, wedding rehearsal, family toast, and so on – a good tool will enable them to schedule them and keep track of them separately.
Privacy and Exclusivity
Trust us, the last thing your clients want is wedding crashers and uninvited guests ruining their big day. So, the best place to start making the event exclusive and private is on the website. To make sure that the platform is only available for the people who should actually be there is by setting up certain privacy actions. Disabling search engines from finding the website and giving out passwords with the invitations can go a long way, just make sure that everybody gets the password or that you (or the couple) manage to send the link to every guest.
Don't forget the Extras
So, now that all the vital info is on the website, it's now time for a few last-minute things you might consider to make the site even more charming.
Tell the couple's story

: Make the entire website even that more personal by sharing the story of the happy lovebirds. Ask them to write a short text about how they met or if they are more comfortable with pictures, create a gallery with the most beautiful captured moments from their journey together so far.

Even more additional location info

: Add helpful and exciting info about the location like hotel recommendations, fun facts, sites to see, best restaurants, and more.

FAQ section

: Give a few answers to frequently asked questions in a separate section with the most common topics: Will the wedding be outdoors or indoors? Parking? Are kids welcome? What about bringing a plus one? Give them all the answers here.
Create and Preserve Memories
A good wedding website isn't just for informing the guests about the wedding details. After the celebrations, the platform will double as a shareable photo gallery as well that will enable the now-married couple to relive the best moments of their big day for years to come.
Here are a few ideas on how you can turn the site into a great time capsule for your clients:
Add a photo album of the event:

 Just create a digital album once the photographer's ready with the shots. Share it with everyone so even those can see the big event who couldn't make it in person.

Sync the content with your client's social media:

 Social streaming apps can help you automatically display photos and videos from social accounts like Instagram and Facebook on the site.

Live streaming the ceremony: 

If your client wants to include even those loved ones who couldn't attend, consider live streaming as an option from the site to help those guests "be there", digitally, at least. Later on, they can rewatch the entire ceremony at any time.
---
The Takeaway
As you can see, there are many ways to make a wedding website stand out and useful for years to come. These ideas we listed here are great to get you started as an agency. However, if you manage to come up with a few unique things that will make your site plans even better, by all means, go with it. After all, it's all about making your client's big day as beautiful as you can.