Whether you're planning on launching a high school or college website (or aiming to pull a complete rehaul on your already existing platform), you should always strive to provide the best services that will fulfill your students' needs.
This can be a challenging task since the website serves as a bridge between the school and the students who are already enrolled at the institute and those who seek to join their ranks. That being said, a good education website can open up a lot of different opportunities for any academic organization or institute to leave its mark on the digital world as well with its influential educational services.
However, becoming the best education website takes a lot of planning and can be an intricate process. Luckily, in this blog post, we will take the time and go over all the necessary steps you have to take to make your website stand out from the rest and ensures that your existing and future students all have a comprehensive and helpful platform at their fingertips whenever they go online.
Create a Plan
Whether you're looking to redesign your platform or start from scratch, it's always important to have every aspect of the design mapped out. Before you start, you need to have a clear idea about what you are about to do and how the things you wish to accomplish will work.
More often than not, you will find that a solid pre-made template can help you accomplish the majority of the work with ease as it already possesses the necessary characteristics for a school platform. However, templates aren't really the route to take if you're truly looking for a unique and fully custom solution. In the latter case, reaching out to a development agency would be your best bet. On one hand, you will have the people beside you with the necessary know-how to create a website with all the necessary technical qualities you need, and on the other hand, they also have the experience to help you create the best website plan for said technical qualities and functions.
Keep Things Informative
To be top-notch, you will have to provide the potential students and their parents who visit the website with all the necessary info they need. If you've visited a couple of other education institute platforms, you've probably noticed that a lot of schools get caught up with past performances, achievements, and so on. And while these things are vital to a school's credibility, you have to accept the fact that most future students and parents are already quite well aware of these achievements. So aside from detailing every award and school victory, make sure that you include helpful info regarding essential contact information, admission requirements, a photo gallery, school calendar, student and employee statements, a detailed school map, and so on. With these helpful pieces of information, your first-time visitors will literally get a "virtual tour" of your school and makes a good first impression.
Being Responsive
First and foremost, responsive website means being helpful and enabling your future students to easily communicate with your institution through the platform. All the provided info means nothing if your students can't reach out to you directly with their specific questions.
Designing your platform with this in mind can go a long way in improving your institute's credibility. As such, consider adding various custom forms so that your future students can contact you without spending too much time on your website looking for your contact info. As far as functionality goes, you can either provide simple email connection options, a comprehensive FAQ section, or a blog section where they can share their thoughts, experiences, and questions.
Also, if you're looking into more advanced options, consider either live chat or chatbots as means of quick and efficient communication.
Lastly, responsiveness also means that your website displays properly on every device. Mobile, laptop, desktop, tablet – your site should be optimized for all of these to ensure that the user experience is great and reliable across the board.
Keeping it Friendly
Having an inviting and friendly tone throughout the website and content can mean a huge advantage. You need to design your website that aims to befriend the visitor and as such, you should aim to focus and having a user-friendly approach, both In terms of design intuitiveness, simplicity, and tone.
That being said, stay away from making your homepage and/or entire site structure too complicated. Navigation throughout the entire site and pages should be simple, understandable, and smooth.
Focus on Unique Services
This should be the bread and butter of your design (or redesign). An education institute's website main purpose is to give the best service any school could offer to their potential students. Research the field a bit, go and visit other similar websites, take notes of how that particular organization tackles different challenges and how it responds to the needs of their future and current students. However, when you're doing this, don't just go ahead and copy/paste everything. Rather, look for the best solutions and aim to integrate them into your organization's mission and vision. It needs to remain unique and to portray your "brand's" character.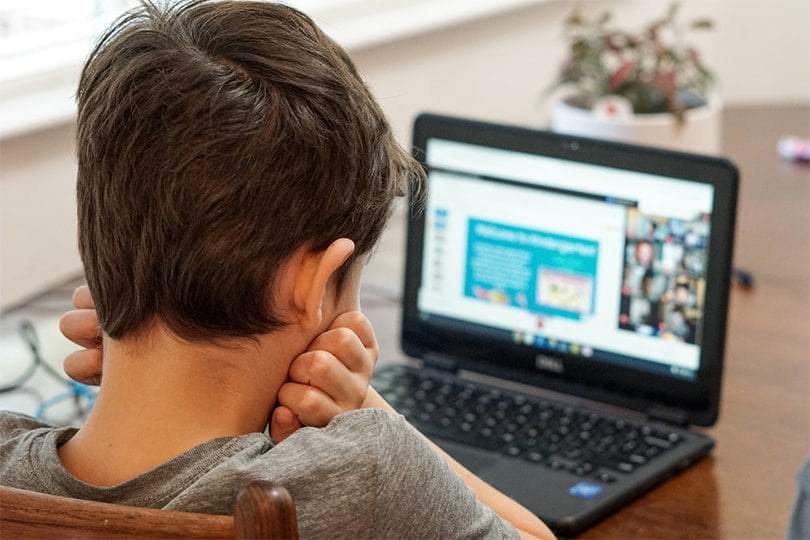 That being said, all the features and functions should all be of service to your students but at the same time, should be designed in a way that complements your organization and highlights all its positives without giving even the slightest negative impact.
Don't neglect Brand Identity
After all, a website is also a great marketing tool. As such, you should concentrate on encapsulating the vibe and feel of your school on the website. Giving your brand justice will make your school instantly recognizable, not to mention, it could help a lot with overall site aesthetics as well. Not to mention, if you play your cards right, your branding approach alone can "buy" some of the students who are still aren't entirely sure about joining your institution. So, don't forget about your logo and a professional design that gives justice to the authentic feel and vibe your school has.
Don't forget about Marketing
All good websites (educational or not) have a good marketing strategy in place that's overarching across their entire digital ecosystem. Embrace these strategies and create one that showcases the latest news and events that are happening in your organization.
Use social media to your advantage. Market your curriculum, programs, and latest events. Showcase everything that's interesting with your organization via posts, pictures, and updates.
Consider starting a newsletter with the latest updates or by informing your audience about your latest blog posts.
Take advantage of live streaming and consider adding online presentations or/and example classes to your multimedia galleries.
Creating a bullet-proof and comprehensive marketing strategy can be a complex task so if you're having problems with it, you can always reach out to a digital marketing company that can cater to your school's every need.
About Us
Adding an "About Us" section is a great way to give more context to your new students about your organization's sole existence and main mission.
Think about it as a mini "get-to-know" section where your students can get a better idea about what the school's all about. It's also a great place to create a friendlier atmosphere and to evoke a sense of belongingness as it helps your future students in forming a connection with your institute and your story.
Contact Us
This is another important aspect. As a matter of fact, some might argue that this is among the most important aspects of your website. As we've already mentioned, enabling your future students to connect with your establishments is one of the keys to a superb education website. So, make sure that you provide a contact us form, email address, phone, address, and so on. If you have live chat or any other automated options, the better.
Admission Process, Curriculum, and Policies
Include a clear and easy-to-understand step-by-step process on how can people get into your program. Include all the requirements that make them eligible and don't forget to remind them about key things so they are sure to come prepared both with the necessary knowledge to pass your exam and paperwork to gain admission.
To make the latter even easier, you can also include a page where they can submit their documents virtually.
Also, another important aspect you should include is info about your curriculum. Have a page dedicated to discussing everything there is to know about your programs, subjects, and other opportunities so they know what to expect when they join your institute.
Lastly, having a separate page for your school policies is also one of those things you don't want to neglect. It's a great way to show your site viewers that they should take things seriously and that the institution shouldn't be taken lightly in the field of education. It simply just gives a sense of responsibility and security.
Gallery
A multimedia section or a gallery is also pretty much a must for a grade-A education website. Having a rich gallery can do a great job in highlighting everything that's great about your institution, does justice for your branding, and can also help you gain a larger audience.
Sharing photos and videos about what's going on in your establishment, you will evoke curiosity among your viewers who will actually see what it's like to join your fine institution.
It's also a great way to show off several highlights from a school year. Think about school competitions, sports festivals, field trips, and so on.
And the List Goes On
Honestly, when it comes to designing a good education website, there's an abundance of different great ideas you can use to create an immersive experience for your visitors. Other handy pages like school calendars, request areas, news pages, downloadables, not to mention, other, more specialized features like dedicated school apps can all make a huge difference and contribution to make your website stand out from your competition.
Examples
So far, there has been a lot of talk about different routes one can take and different features one can incorporate. Now, it's time to see some actual examples of great education websites which can actually serve as inspiration for designing your own.
Booker T. Washington High School
Minimalistic and simple to understand, this website design enables all visitors to access any section with ease.
The video greeting on the main page immediately gives off the vibe of the institution, and also, they have an exemplary admission page with a clearly defined process for new students.
As you can see, another video, another powerful tool that captures the best moments of the school. On the other hand, the navigation is clear and straightforward, enabling you to take a glimpse at the everyday life of the school and students.

---
The Takeaway
Creating an A+ education website is no easy task, however, it doesn't have to be daunting and it shouldn't cause any headaches. With good planning and a clear vision, you can also create a great platform that provides everything your current and future students need.
On the other hand, you can always ask for professional help. Together with a team of experienced web developers and designers, the journey towards a grade A website will be even smoother.