In the world of web design, things often change at a rapid pace. This can be a good thing, but can also somewhat be a curse, because our digital toolbox may become obsolete in just a couple of months, even though we've just updated it less than a year ago.
To keep up with the rapidly changing trends of web design (or with life in general, for that matter), one should always be alert for the latest trends but at the same time, step back a little every now and then to see what's actually happening in the world, and try to assess everything.
This fast-paced nature is predominant in the world of web design, with the best tools undergoing major shifts in the past years. There have been a couple of newcomers on the scene that single-handedly managed to change the landscape of web design while old favorites took a step back to reinvent themselves and came back showing that they can still give the latest to-go tools a run for their money.
Apart from the tools themselves, the entire concept of web design managed to change as well as new apps and cloud-based tech gained more ground and became more and more powerful in the process.
The Game Changers and Tipping Points
Ask any web designer and they will tell you that there was a time when the world of web design was exclusively ruled by the one and only Adobe Photoshop. At the time, it seemed that it had everything a creator needed, however, the information in the workflow mainly moved in one direction both in design teams and in the designer? Client relation. Also, client input came after the delivery of fully completed mock-ups changing the direction of the info and making designers sit back to the drawing board if needed.
However, this all changed with the introduction of Sketch in 2010. It completely changed the scene and how the industry approaches its own craft, setting a new gold standard for interface design. And even then, it still had lots of room for improvement. As a Mac-only tool without cloud support, it gave the opportunity for other players to move in and reinvent the world of web design and shifting the paradigm of one-way info flow direction to a multi-channel structure, where both clients and teams can collaborate more efficiently, and not mention, faster.
Web Design Today
It's 2021, and a lot has changed in the UI/UX landscape, however, some concepts have remained the same. Tools for wireframing, prototyping, and testing have seen a major overhaul, however, the basic approach toward each project has remained somewhat the same. In order to make the project successful, designers must know its ultimate goal, its target audience, the working team's size, and their skills.
Apart from that, a lot of things have changed, especially in the tool department.
So, after the undisputed reign of Adobe and the revolutionary approach of Sketch, which are the best design tools in 2021?
Let's find out.
Figma
This browser-based platform that can run on all standard operating systems offers different monthly service tiers ranging from a free starter package to a full team/organization package, for only 45$ a month.
As a full-blown collab tool for interface design, Figma generally ranks pretty high among designers as it makes real-time collaboration easy like a walk in the park. With Figma, even your entire design team can work on the same project at the same time. Also, client feedback can also come in real-time, making the constant back-and-forth of the old days totally obsolete, and speeding up the entire UI/UX design process remarkably.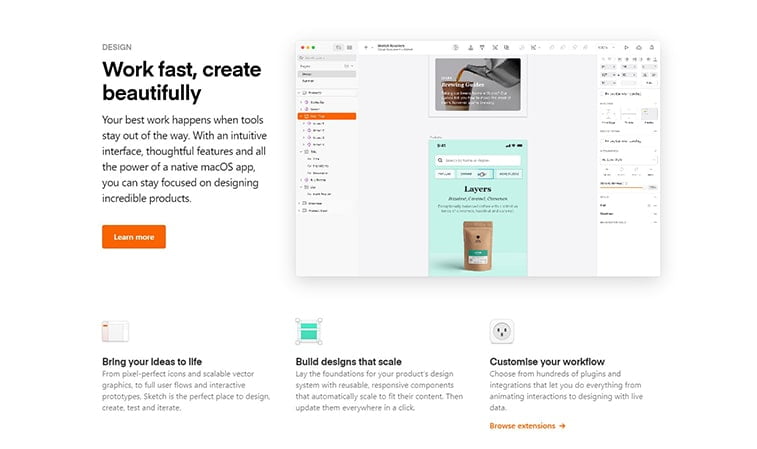 The tool is also rather easy to get started with, not really requiring anything from the designer, as it can run on any platform. It also boasts robust design prototypes, bundles, and a number of amazing plugins. It also supports Farmer and Zeplin integration.
Lastly, if you need inspiration and help, the software also has an avid and vibrant community where you can get tons of help along with thousands of different prototypes, wireframes, and reusable components.
Adobe XD
This macOS, iOS, Android, and Windows-based platform also come with different monthly subscription packages and various offers within these pricing plans.
Adobe XD is basically a must-platform for designers who prefer working with other Adobe products as they complement each other perfectly.
This tool often comes neck and neck with Sketch when you ask designers about the best UI/UX software. Running on all major operating systems, it's clearly a more available option, and it also supports file imports from other tools (like Sketch) to build a wide array of different mock-ups, responsive designs, prototypes, and reusable components, and so on.
Generally speaking, Adobe XD is almost bullet-proof. Among its largest drawbacks, designers usually mention the lack of truly useful features when you want to use the free version. And with so many other options to choose from, you can't blame them if they're not eager to commit.
Axure
Also coming in several monthly pricing offers (and a 30-day free trial), this macOS/Windows tool is one of the best on the market if you need advanced wireframing and prototyping.
Axure also supports adaptable views, great coediting features, a nice widget library, and even a pen tool for vector drawing. Need to access the cloud? Axure Cloud's got you covered.
All in all, Axure will be a better pick for more seasoned designers as it also has a larger learning curve with a myriad of different complex tools and an overall not-so-intuitive design.
Balsamiq
This web/macOS/Windows-based tool offers project-based pricing with the 200 projects package costing a steep $199 at first glance, but when you think of it, it becomes a hard-to-pass deal.
But is it up to the task?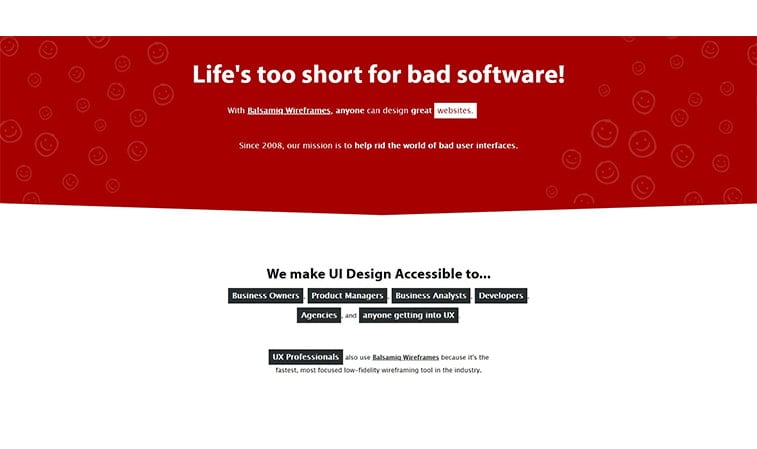 Well, if you are looking specifically for a fast wireframing tool with low-fidelity then yes. In this respect, Balsamiq is almost impossible to beat. With its drag-and-drop features and keyboard shortcuts, the workflow becomes very fast and simple. Sharing your projects with team members is also pretty easy, just as sketching mock-ups.
On the flip side, Balsamiq does not handle high-fidelity wireframes that well. If you're working with those, you may find that Balsamiq can get really slow when processing complex prototypes slowing the entire workflow down as well.
FlowMapp
FlowMapp is a web- and monthly subscription-based design tool that does a great job when it comes to mapping out user-friendly sitemaps.
You can also work together with your teammates on the same project, building User Flow diagrams and setting up sitemaps for website planning. Want to create personas for better audience targeting? FlowMapp can help you with that as well.
On the other hand, the tool's also integrated with Slack, speeding up the workflow even more. Lastly, if you're looking for a solid prototyping UX tool, FlowMapp isn't for you.
Framer
Need a solid tool for advanced animations that's accessible via macOS, iOS, Android, and the web? With three different monthly pricing plans, Framer is one of the go-to designer tools for immersive, high-fidelity prototypes with a wast motion library for React (known as Framer Motion).
With the library, you can write less code and get more work done. On top of that, you also have the Auto-Code Animation feature that writes codes instead of you while you're working on the project design.
For novices, Framer might have a steeper learning curve, as it uses CoffeeScript, which is a simpler version of JS. More experienced designers will probably manage with it just fine on the other hand.
InVision
Running both on Windows and macOS, this tool is among the heavy-hitters when it comes to design solutions. Being the go-to option for Fortune 100 companies, it sports an entire ecosystem with different sub-tools like Craft, Studio, Cloud, and so on.
It's pretty much an all-in-one option allowing for smooth prototyping, animation, collaboration, screens testing, and a lot more.
To top it off, it also integrates with project management tools such as JIRA and design tools like Photoshop.
One of its major drawbacks is the fact that it can be a bit more demanding to learn, even though you have a plethora of different dedicated InVision tutorials at your fingertips. This is especially true when it comes to wireframing which can be unnecessarily complex when compared to other UI/UX tools.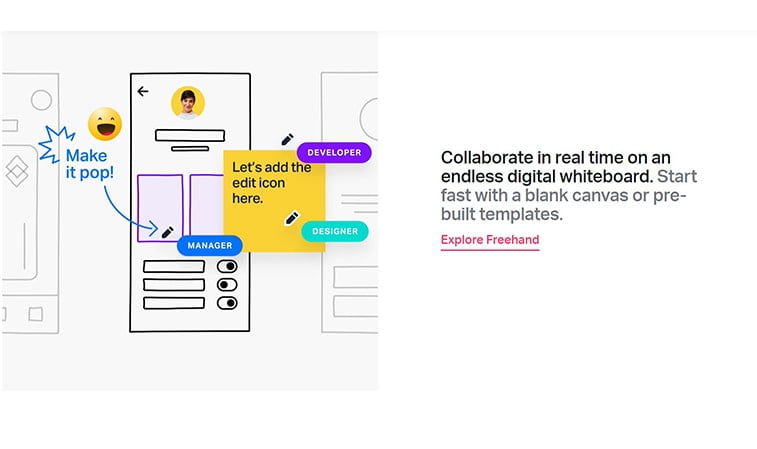 Lunacy
This free, Windows-based tool is mostly known as a lightweight alternative to the macOS-exclusive Sketch.
It works great with raster files and focuses mostly on vector design. Apart from that, it enables you to edit Sketch files as well, without having to worry about platform compatibility.
And while Lunacy has a lot to offer, designers mostly agree that it's still a work-in-progress still lacking basic collaboration and advanced animation features to really be competitive both with Sketch and Figma.
Marvel
Marvel is a web-based platform with customizable monthly plans, that accommodates both the needs of seasoned veterans and design newbies.
This purely online tool is pretty straightforward and extremely easy to use and can be easily integrated into different project management and product design tools (like Sketch and Figma).
If you're after a tool that enables you to design without coding and lets you build both low and high-fidelity prototypes and wireframes, Marvel can be a good option.
However, there's a trade-off. There's no offline access, you can't have several boards running at the same time and it just won't cut it for complex animations.
Sketch
Lastly, here's the macOS-based tool we've all know about. Why stick to it? Well, it's one of the most trusted tools on the market with a huge plugin library.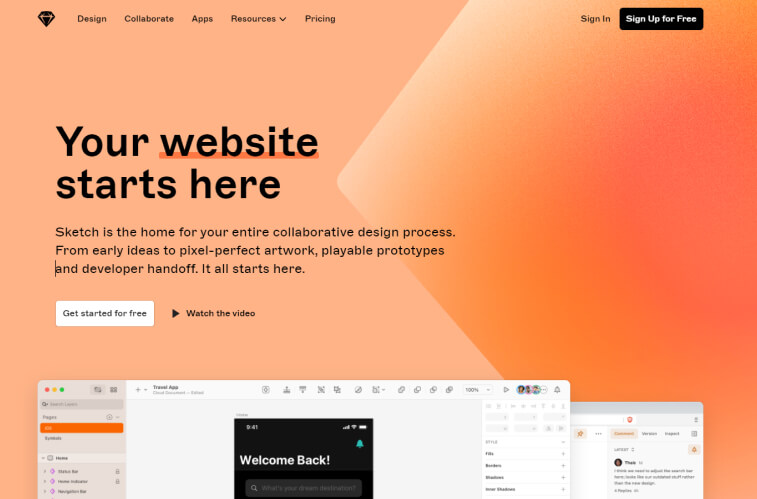 Sporting a shared cloud workplace for the entire design team, featuring simple code exports, simple gif creation, prototyping, and wireframing, Sketch has become a mainstay in most designers' toolboxes.
Experts agree that the best thing about Sketch is the great community and the plugins the same community managed to come up with over the years. And these plugins are what make Sketch stand out. In its purest form, the tool isn't really suitable for sophisticated designs.
Another huge con can be the compatibility limits and the fact that it can clog up your hard drive pretty fast due to the autosave function.
---
Finishing Thoughts
As you can see, there are different tools with different advantages and drawbacks. On the other hand, no project is the same and each one will require a slightly different approach, presenting different obstacles.
Lastly, each designer and team is different with different preferences and habits. When it assessing the best designer tools, one should pick a tool that fits their own needs, and meets their integration, collaboration, and integration requirements.
Even though the technology and trends are constantly changing, it's not always the latest features that take the upper hand but software compatibility and overall reliability.
---
More on Design Trends: