If you haven't been living under a rock or lived on a desert island for the past few years, you know that mobile technology has become a huge part of the retail industry in the past few years in the form of eCommerce apps. With the constant growth of internet usage, more and more consumers opt to buy products online, and use the world wide web (and their mobile phones) to pay their bills, learn new skills, get their groceries, and so on?
It's needless to say, with this revolution, came a surge of different eCommerce and grocery-based apps that aim to make users' lives easier.
About Grocery Delivery Apps
As app usage became more widespread, so did the usage of grocery delivery applications loaded with different benefits such as same-day deliveries, tap-and-collect facilities, and multiple payment options rendering traditional brick-and-mortar stores almost useless. Some digital experts also argue that on-demand grocery delivery app services also provide an overall smoother experience and are more convenient.
On the other hand, they are really great tools in building brand awareness and customer loyalty. That's why more and more entrepreneurs are joining the bandwagon and looking into grocery delivery app development and looking for ways and strategies that will enable them to implement these technologies in their sales procedures seamlessly.
Especially now since the ongoing COVID-19 pandemic managed to shoot grocery app development into the skies with multiple thriving opportunities within the entire grocery industry.
Thanks to the crisis, traditional grocery shopping presents multiple challenges for shops and shoppers alike.˜ Everybody is facing difficulties when it comes to getting the bare essentials especially in areas and countries which are facing complete lockdown.
During such chaotic times, a grocery delivery app can be a life-saver both for shops and consumers alike since they enable both sides to go online and limit contact to a minimum.
COVID-19 and the Online Grocery Industry
The ongoing pandemic has managed to bring a number of powerful industries to its knees on a global scale and gave others the opportunity to reach heights that were previously unimaginable. Lockdowns, quarantines, social distancing, and other countermeasures formed a new kind of demand and online grocery shopping found itself at the forefront of that change along with delivery and ordering apps.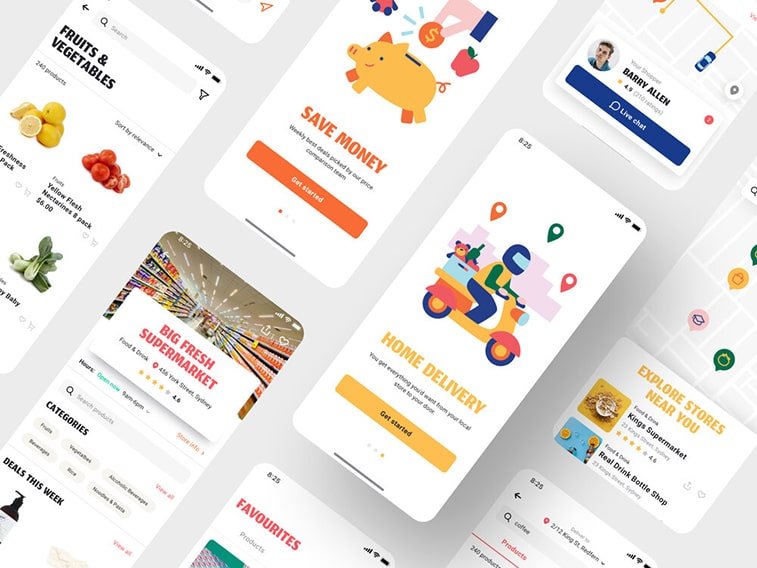 It's only normal. As people face the harsh realities of the virus, they find themselves experiencing difficulties with getting food supplies conveniently and thanks to panic-buying in certain areas, brick-and-mortar locations find it difficult to replenish their stock. Thanks to this, grocery apps hit an all-time high in terms of daily new downloads and usage.
According to experts, this isn't just a passing fancy and go on stating that grocery apps are here to stay. Here are some of the recent forecasts and statistics that aim to depict the current state of grocery app downloads and prognosticated trends. According to TechCrunch's March and April reports:
Just in April this year, grocery apps surpassed the 106 million download mark.
Since January, Amazon's dedicated app download rate has grown by 20%.
Since February, Walmart Grocery, Shipt, and Instacart have seen a huge, 160%, 124%, and 218% increase in terms of daily downloads.
Walmart's grocery app was ranked On Google Play store and gained second place on the App Store in April 2020.
The Walmart app seen a maximum of 54,000 new downloads per day, while Instacart topped with 38,500 downloads since February.
The Target app has also seen a new daily download record with more than 53,100 daily downloads in March
Pros of Launching a Grocery Delivery App
It's true that shopping through apps is nothing new, however, amid the current global pandemic, they've managed to become almost absolute necessities. So, what are the benefits of using such an app during the outbreak?
Reduces Waste
Grocery apps can help brands with better stock management and can help to streamline the supply chain. As such, they can also help rationalize shopper choices.
Supports Small Businesses
A good grocery delivery app can work wonders for small and mid-size grocers with running their businesses and retaining their loyal customers while adhering to safety measures.
Promotes Social Distancing
It goes without saying that ordering products online helps minimize human contact to the bare essential minimum, helping flattening the curve and to provide a safer and more convenient grocery shopping experience.
Helps the Global Economy
Delivery apps can also help with global economic stability as they can provide additional job opportunities for delivery workers.
Developing Your own Grocery Delivery App
The stats and general pros written above are only a few of the driving forces behind new grocery app development projects as the industry is experiencing a huge surge and entrepreneurs are finding new ways of getting the most out of these applications.
If you're also one of those who are planning to develop or invest in developing a grocery app to keep your business afloat (or to help other businesses do the same), you need to incorporate a handful of essential features into your app to ensure that your users will find it helpful and will flock to it on a daily basis. Remember, convenience is the name of the game, now more than ever.
Must-have Features
A functional app allows your customers to get their groceries without having to leave the comfort of their homes. As such, if you want to create a useful app, you'll have to ensure that the online shopping experience will be enjoyable, smooth, and easy to follow. Your visitors need a convenient app with home delivery options and that's not all. Apart from the bare-essentials, here are other crucial features of a great grocery app:
Easy Registration and Login
If you want to ensure your app's success, you need to create a stress-free registration process that's user friendly. Enable your users to log in easily, through their social media profiles so they can start using your app immediately and without any hassle whenever they decide to do their grocery shopping.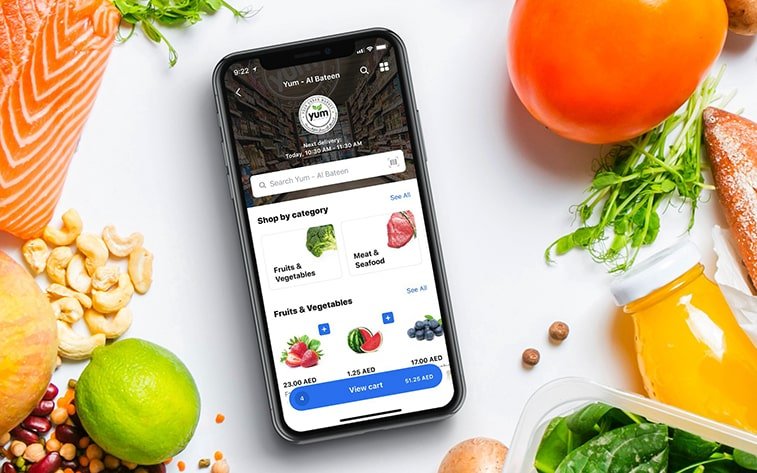 On the other hand, if you use the help of independent delivery boys, making the registration easy for them too is also crucial.
Spend Time on Fine-tuning Product Search
What good is an app that's a pain-in-the-neck when it comes to finding the products your shoppers are looking for? You need refined product search options that will enable your visitors to find their proffered products without having to navigate through the entire product list.
Highlighting Recommended Products
App users like personalized features and highlighting certain products based on previous searches can help build familiarity and even trust with your app. Apart from that, targeted recommendations can also help with increasing the average order value.
Wishlists
Enable your customers to save items for future purchase occasions. This is a great way to retain your customers and to increase your sales without any additional legwork.
Cart Sharing
A great move to increase cart value whole at the same time, reducing cart abandonment rates. Enable your customers to share carts with family and friends.
Price Comparison
Keep your customers in-app with comparison features. This way, they will be able to compare different brand prices within your app, increasing app usage time, and purchase probability.
BOPIS ? Buy Online, Pickup In-Store
The click and collect feature will enable your shoppers to place orders and pickup them later personally at their preferred time.
Delivery & Order Tracking
Real-time tracking features are great additional functionality that can help your customers get the most out of your app.
Language Support
Having multilingual features can be a great way to expand your user base. Depending on your location and the size of your business, this can be a huge asset in terms of reaching new customers and app expansion.
Repeat Orders
A great way to speed up the shopping process and to add one more layer of convenience to the overall app-experience.
Delivery Scheduler
Allowing your users to schedule their preferred delivery time during the checkout process also helps improve the user experience.
Voice Search
Also aims to help improve user experience. Enable your shoppers to place orders or locating products using voice commands.
Payment Options
Include multiple payment options. Cash on delivery, Net banking, credit & debit cards, and so on. By implementing various options you can help grow your user base and can help your shoppers place orders more conveniently.
Push Notifications & Rewards, Coupon Codes
Increase customer engagement and ensure increased app usage through push notifications. Use them to update your users on your latest discounts, sales, and everything else.
Also, make sure to incorporate different reward mechanisms and coupon codes to boost engagement and to encourage purchases.
Easy Checkout
If you want to ensure an exceptional shopping journey for your users (and better conversion rates for yourself), you need a simple and hassle-free checkout process that enables them to do their shopping using only a few steps.
Rate & Review Features
These systems enable your customers to share their experiences with you and others. It's a great way to build trust with your customers and also for you to see where you can improve your app.
Profile Management for Delivery Staff
If you are going full digital, you'll have to think about developing a profile management area for your delivery staff. Enable them to add and update their profile and bank account details.
Also, opt for wallet management options where they can track their payments.
Order Management
You want your delivery agents to be up-to-date regarding their pending shipments. So, developing an order management area is also paramount in streamlining your overall processes, and helps your staff greatly in tracking pending, delivered, and rejected orders.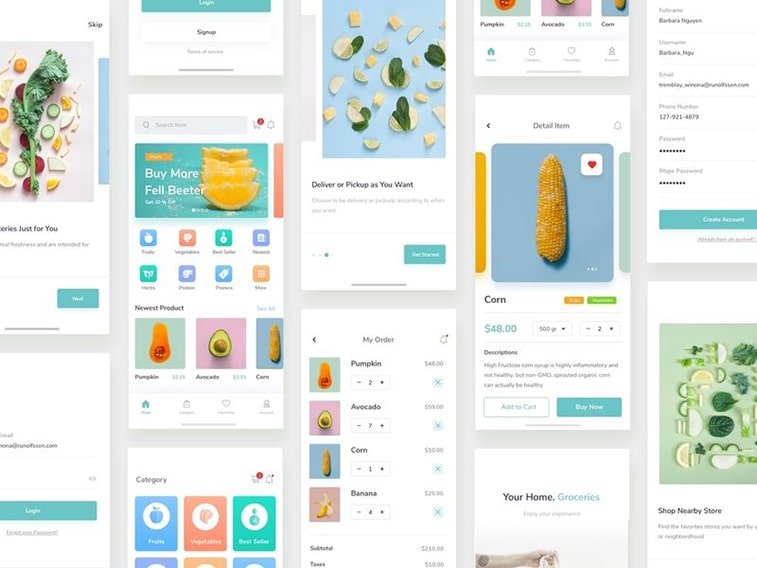 To help even further, you can choose to send out email notifications both on the customer's device and on your staff's to help track deliveries, payment statuses and so much more.
Geo Location
Help your delivery staff reach the target destination as fast as possible through GPS.
Development Cost Estimates
Giving you an exact number regarding total costs is near impossible since every app will cater to different needs and there are numerous factors that go into presenting the final bill.
Complexity: This one is simple. The more features you choose to incorporate the larger the costs of developing your app.
Development Team: The number of developers involved in the development process will also affect your costs. Prices can vary depending on the company you choose to work with also.
Platform Choices: Are you targeting android users? Do you want an iOS-only app? Both? Your platform choices will also play a crucial role in determining the overall price of your application.
Location: Depending on the region where your developers are located also plays a major role in the overall cost of the app. Specialists in different regions work for different hourly rates. Be mindful though and do your research. You can find an excellent development team that works for acceptable wages, and you can also find teams that charge you way too much and hook you up with an app that won't be up to par with the competition.
---
The Takeaway
When will be things back to normal? As of now, it's safe to say that almost nobody can tell. Until then, grocery delivery apps will play a key role in our everyday lives helping the economy and businesses to stay afloat.
Hopefully, the facts written above can help you get a better idea of how to sink your teeth into such a project. However, remember, these are just a few pointers and facts that aim to help you get a better understanding of all the necessities that go into grocery web app development.
If you want to learn more about the details, it's best to reach out to your digital marketing agency or development specialists and hear what they have to say. Especially on a local scale, they may have the necessary insight and knowledge to help you hammer out a sketch of your app, focusing on necessary features and local user trends.