The recent outbreak of COVID-19 and it's spreading has already taken a toll on quite a few countries and its population and for now, professionals can only speculate how long will it take for the spreading to stop, quarantines to be lifted, and when people can finally resume living their normal life.
For now, no one knows how many people will be affected by the outbreak.
Until then, there's a lot of uncertainty and marketers are no exception from that rule. As a matter of fact, the global stock markets have already felt the blast of the outbreak affecting millions of entrepreneurs and marketers alike.
Professional advertising agencies with offices around the globe have already felt the impact of the COVID-19 outbreak and as such, some of them were helpful enough to compile a list of dos and don'ts along with a few tips and facts, and different scenarios to help you keep things afloat in these difficult times.
First of all – exploiting the situation shouldn't be your first move – it shouldn't be a move at all.
In the early days of the outbreak, or better said, when the pandemic started, we could see (and can still see) a lot of entrepreneurs and marketers exploiting fear.
Supplies are running low across the globe (like masks, hand sanitizer, toilet paper, and other basic things) and you can see marketers and businessmen buying these items and running ad campaigns trying to resell them for ten or even fifty times the price.
According to experts, these get-rich schemes aren't just in bad taste but they aren't even what you would call marketing or entrepreneurship for that matter. It's a short-sighted approach that might bring in a few extra dollars but can raise unnecessary panic and can even raise distrust in your brand after all this is over.
Instead of focusing on short-term money-making strategies, it's better to take a look at long-term solutions that will do a better job at helping you battle through these rough times.
Industries and businesses will take longer to heal
Even if the spreading of the virus slows down drastically (like it did in China and South Korea), businesses will still have to face slower recovery to make up for all the losses they suffered.
For instance, China's unemployment rate in February jumped to 6.2 and retail sales dropped by 20.5 percent.
Also, when huge companies shut down their stores to slow down the virus from spreading, they lose income and profit. Of course, in the vast majority of cases, they have the resources to pay their workers during the shutdown but some won't be able to pull this off and will face financial crisis.
Professionals speculate that the virus will cause businesses to lose several hundred billion dollars in the early stages of the spread and layoffs in a few companies have already commenced. All in all, it is estimated that the virus will cost a staggering 2.7 trillion dollars for the global economy, and as such, digital marketers are also affected at the moment since they are losing both conversions and traffic.
Covid-19 and digital marketing
1. The current situation
Organic traffic and conversion rates are at a significant low almost across the board
Generally speaking, most industries have seen a huge drop in traffic in the last few weeks except for the financial space and the news industry, where traffic literally skyrocketed.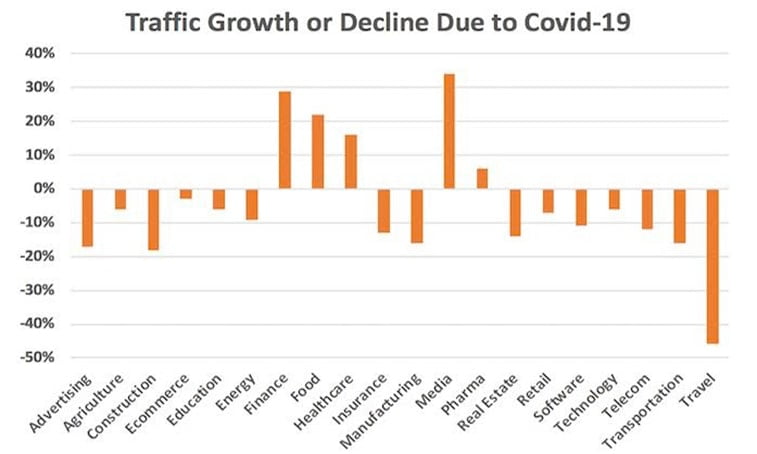 Needless to say, the travel industry has experienced huge drops in traffic since the outbreak. Ecommerce sites, on the other hand, mostly have mixed results for now depending on their product list. Those who happen to sell face masks, hand sanitizers, baby diapers, and baby wipes have seen nicer increases in their traffic, but those who are more focused on luxury goods had a lot fewer visitors than usual.
More or less the same trend applies to conversions too: most industries have seen drops in conversion rates as well.
The only industry that has seen a bigger lift from this perspective is the news industry, with media sites who charged money for people to read their content. This lift was mostly because people wanted to be updated about the virus and other related things such as finances and the global economy.
Other sectors, like travel, have seen a huge drop even with the massive discounts they are offering (in countries where they still are, mostly domestic arrangements).
PPC
Generally speaking costs in PPC are more or less the same at the moment across the board, even for those industries that have experienced massive conversion and traffic hits.
Even in the travel industry, CPC might have dropped slightly but the cost per acquisition has seen a nice increase, even though the number of people searching for things in this industry has significantly dropped.
The takeaway here is that marketers can still pay more or less the same amount of money per click, but there's an increase in cost per conversion in most industries.
2. The foreseeable future
Digital marketing and B2B
Other professionals aren't so grim about the present and future of digital marketing. For instance, experts from Interteam Content Services say that a lot of industry events will be transferred to the digital realm bringing marketers new opportunities and more chances to shine.
Dan Gerstenfeld says that most companies spend the largest part of their marketing budgets on live events and trade shows, so the outbreak might encourage them to relocate that money (or at least a part of it) to web marketing. That being said, a data intelligence company, PredictHQ has released figures that indicated a 500 percent surge in postponements and cancellations of events in February alone due to growing concerns regarding COVID-19.
As such, this shift will encourage marketers to review their strategies and redefine certain parts of it to accommodate the forthcoming trends.
This crash will come differently to marketers
Gerstenfeld says that instead of cutting back marketing budgets like in 2008, most B2B companies are shifting their funds to online marketing from other budget sections that focused on live shows and other events that required human contact.
Since the outbreak a large number of organizations have done everything to minimize face-to-face meetings and events, shifting their businesses toward the digital sphere to generate leads.
As stated above, most companies usually allocate most of their marketing budgets to different live events and that since the outbreak, a huge number of these events have been canceled and postponed.
And now, that businesses turn to the digital realm even of cutting back, even if a small amount of money is shifted to the digital budget, web marketing would experience massive growth.
How to deal with economic hardship during the outbreak?
1. The "every man for himself-attitude"
Be careful, don't run into things head-first but take opportunities 
The subtitle might be a bit misleading but it will make more sense in a bit. As professionals estimate that the global economy will have to withstand a hit of 2.7 trillion dollars in lost money, and recession will hit most countries, according to experienced marketers, entrepreneurs will need to adapt to the situation and wait for the best opportunities to double down when others can't.
What they are saying is, that based on the last two economic crashes, there's less competition during economic downturns, meaning it will be easier and faster to achieve results and you can even get better deals.
The majority of companies who are already facing financial problems might go bankrupt, get bailed or bought out by the government, and most will have to cut back drastically just to keep afloat.
If you are one of those who happen to sit on some cash right now, you can use the money to buy out other businesses, like media companies that thrive on visitors already.
All in all, this economic turmoil may serve as a great opportunity for some to gain a bigger market share. If you happen to have some extra crash on your bank account, this might be the right time to get greedy. It's not something that will bring instant results, but in the long term, buying a news site for example with huge traffic can be exploited for a wide array of purposes.
And as the economy recovers, you will see a huge return on your investment and revenue climb if you played your cards right.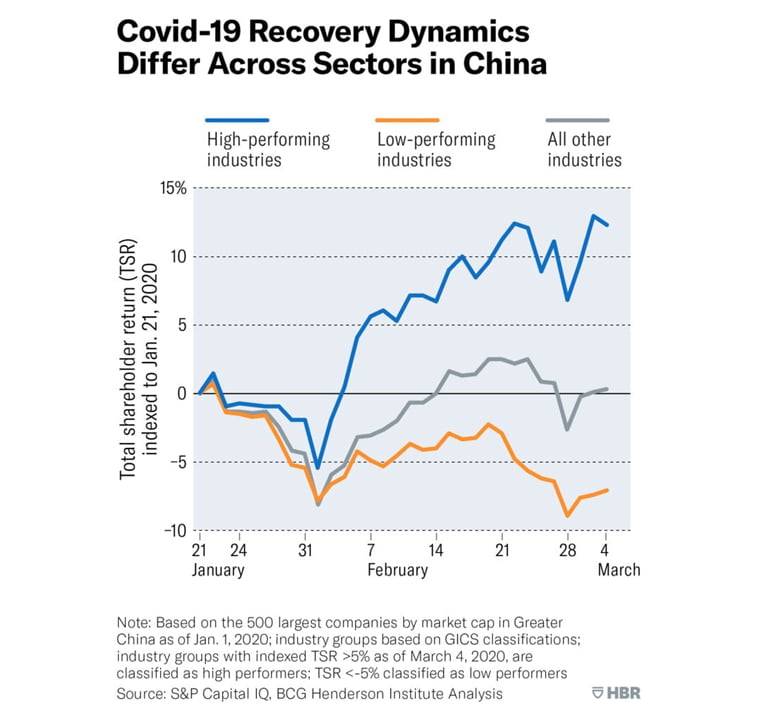 2. The "brain over brawn-attitude"
Rethink strategies, adapt, overcome
Others think that the outbreak will only encourage businesses to exploit digital opportunities and see this time as a great opportunity for digital marketers to rethink their strategies and to make the necessary adjustments to be prepared for this shift.
The biggest advantage of digital marketing (apart from not requiring human contact) is the fact that it can show measurable metrics, so businesses can actually see if their investments pay off or not.
As such, now is a good time for marketers to reevaluate past results, current goals, and processes.
And since currently there's more free time on marketers' hands, this might be the right time to create a promotion strategy that will encourage businesses to choose them for their new online efforts.
As such, agencies might want to:
Create website content with the right call to action and marketing messages
Bumping up their SEO to get more traffic and better rankings
Invest more time in coming up with new content ideas offering even more value to potential customers
Prepare presentations, brochures, and come up with new topics you can inform your clients about
Reevaluate your presence on social platforms and the general engagement you are having. Come up with methods that will strengthen your overall presence.
Think about new ways to tell your story. Use video, host webinars, etc.
These few steps can help you land strike new deals, find new clients and generally, staying sane during these difficult times.
---
 To sum it up
It's clear to see that professionals have different views regarding the future of digital marketing and the entire global economy. What we can hope for is that the dog-eat-dog approach won't be necessary and that the entire COVID-19 will pass soon.
At the moment, the globe is a bit chaotic which can be seen in few digital metrics, but as time passes, we can only hope that numbers will stabilize and new, predictable user behavior patterns will emerge.
What marketers can do now is stay put, and not try to get rich quickly by exploiting the situation.
And until the pandemic passes, marketing agencies can leverage the nature of their industry and try to convince businesses to move even deeper into the digital sphere until it's safe again to resume a normal life.