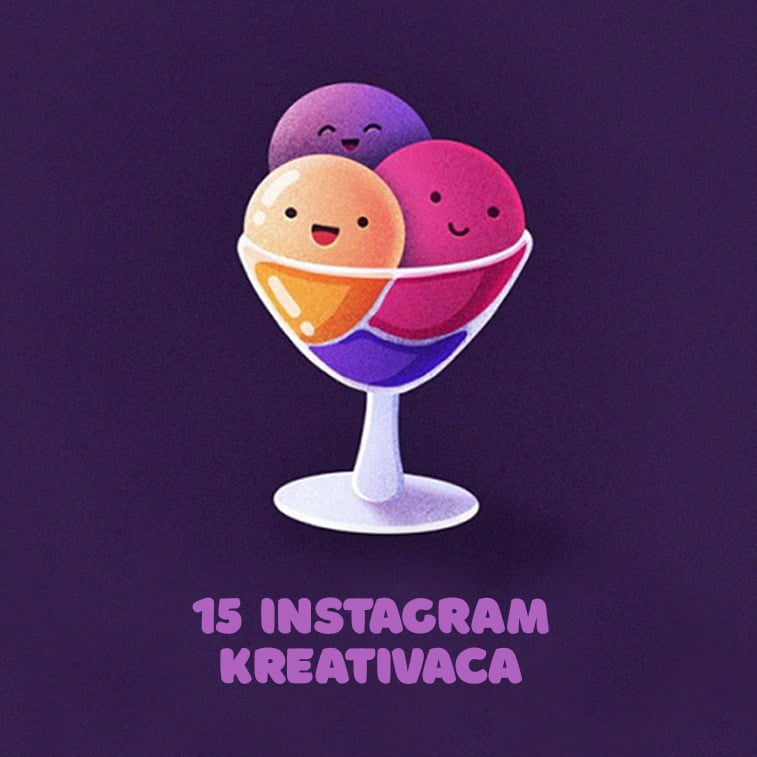 Svima nam ponestane inspiracije u nekom trenutku. Zato su onlajn zajednice kreativaca poput Instagrama, Behance i Dribbble odlično oruđe u borbi protiv perioda neinspirisanosti i umetničke blokade. Osim što su pristupačan način za promovisanje sopstvenog rada, na ovim platformama možete otkriti talentovane umetnike koji dele svoje ilustracije sa svetom.
U današnjem postu predstavićemo vam nekoliko umetnika koji su prisutni na Instagramu i koji su nam svojim prepoznatljivim stilovima privukli pažnju. Možda vas inspirišu da krenete put nekog drugačijeg stila ili da se oprobate u prikazu nekih novih motiva.
1. Adrijan Mačo (Adrian Macho)
Ilustrator iz Bratislave, Adrijan Mačo, ilustruje radove koji su nežni i uglavnom pastelnih boja. Najčešće crta životinje i fasade prodavnica. Takođe ponekad radi i na omotima za knjige. Ipak, izgleda da Adrijanovi pratioci najviše hvale serijal ilustrovanih mapa gradova, koje Adrijan crta za jedan časopis.
2. Džek Rojl (Jack Royle)
Stil Džeka Rojla je jednostavan. I sam je naveo u svojoj biografiji na Instagramu: "Jednostavnost je ključna". Ne opterećuje se detaljima, ali pažnju posvećuje senkama i odsjajima, što čini njegove crteže gotovo trodimenzionalnim. Najčešće ilustruje automobile, ali i predmete iz svakodnevnog života.
3. Gal Šir (Gal Shir)
Gal Šir uvek snima proces svog rada, tako da se na njegovom Instagram profilu uglavnom mogu naći video snimci nastanka raznih ilustracija. Gal radi potpuno digitalno, ili na tabletu ili na Ajfonu. Pravi i svoje sopstvene četkice za korišćenje u Photoshop i Procreate programima koje nudi na svom vebsajtu.
4. Endru Morgan (Andrew Morgan)
U poslednje vreme, Endru Morgan, 3D umetnik i dizajner iz Bristola, posvetio se prikazivanju enterijera i eksterijera inspirisanih sajberpank Japanom i neonskim svetlima retro 80-ih. Uz svaku ilustraciju možete zamisliti u pozadini sintvejv muziku ili rimejk te muzike koji ima svoj poseban naziv – vejporvejv (eng. vaporwave).
5. En-Sofi De Štur (Ann-Sophie De Steur)
En-Sofi De Štur je grafički dizajner iz Genta. Ona najviše uživa u ilustrovanju panorama gradova iz svoje mašte. Često smešta ponekog lika i u svemirsko okruženje. En-Sofi inspiraciju nalazi i u Japanu, pa se na njenom profilu mogu naći ilustracije sa dalekoistočnim motivima, kao što su japanske tradicionalne kuće.
6. Deana Halsal (Deanna Halsall)
Deana Halsal, ilustrator iz Velike Britanije, uglavnom crta portrete i to iz profila. Deana ima i seriju radova koja se zove "Pogled" (eng. View). Pristupila je platnu kao prozoru i smestila svoje likove iza zavesa, roletni i stakla kako sede u svojim sobama, silaze stepenicama ili sede u izlozima kafića.
7. Kortni An (Courtney Ahn)
Kortni An je grafička dizajnerka iz Oregona. Njen rad možete lako prepoznati jer koristi isključivo "svoju" paletu boja, koju čine razne nijanse roze boje, bela, braon i teget boja. U poslednje vreme, Kortni crta simpatične autoportrete sa svojim psom i snima proces od skice do gotovog rada.
8. Kauri Flohuls (Kaurie Vleugels)
Kauri Flohuls stvara u Antverpenu. Ona je ilustrator i grafički dizajner. Najčešće ilustruje ljude, cveće u vazama ili životinje. Kauri voli pastelne boje, a najviše od svih kajsija roze. Kaurini klijenti traže njene ilustracije najčešće za čestitke, razglednice, pozivnice za venčanje ili kao uramljene radove.
9. Lijam Ašurst (Liam Ashurst)
Liam Ašurst živi u Lidsu i bavi se grafičkim dizajnom. Ljudi često tetoviraju njegove ilustracije, što i ne čudi s obzirom na Lijamov specifičan stil. Toliko su popularne, da Lijam mora da navede koji radovi su za klijente kako ih ljudi ne bi tetovirali. Radi crno-bela dizajn rešenja, ali tu i tamo se poigra i bojom.
10. Justas Galaburda
Justas Galaburda koristi svoje četkice Space Noise za Procreate aplikaciju na Ajpedu. Takođe ih i prodaje na svom vebsajtu. Interesantna zrnasta tekstura ovih četkica se može lako primetiti na Justasovim ilustracijama antropomorfne hrane i predmeta iz svakodnevnog života koje objavljuje na svom Instagram profilu.
11. Stiv Skot (Steve Scott)
Da li se sećate crtanog filma Džetsons? Stil Stiva Skota najviše podseća na retrofuturizam iz ovog crtaća i Gugi arhitekturu koja je bila popularna 60-ih godina prošlog veka. Urbani pejzaži, svemir i ljudi koji čekaju u redovima su motivi koji se ponavljaju kod ovog londonskog dizajnera.
12. Žeremi Pistre (Jeremie Pistre)
Francuski dizajner Žeremi Pistre takođe voli futurističke urbane ilustracije, ali i pejzaže u prirodi. Oprobao se uspešno i u tehnici grafičkog dizajna koja podseća na papirne isečke. Žeremijevi stariji radovi na njegovom Instagram profilu uključuju i seriju ilustracija planeta, kako onih realnih tako i onih iz njegove mašte.
13. Sejdž Aun (Sage Aune)
Stil Sejdž Aun najviše podseća na stikere koje ona i pravi od svojih manjih ilustracija. Rođena u Arizoni, Sejdž često voli da crta motive koji se vezuju za ovu američku saveznu državu. Kaktusi, pustinja, lobanje i još mnogo toga se može naći na Sejdžinim simpatičnim ilustracijama.
14. Lora C Mojer (Laura C Moyer)
Bombone, lizalice, cvetovi u jarkim bojama – to je ono što Lora C Mojer najviše voli da ilustruje. Zavisno od klijenta i njihovih želja, Lora unosi u sve što kreira svoj ljupki stil. Pored klasičnih ilustracija, Lora ilustruje i pozitivne motivišuće poruke koje takođe deli na svom Instagram profilu.
15. Olivija Gibs (Olivia Gibbs)
Španska ilustratorka Olivija Gibs takođe voli da koristi jarke i vesele boje za svoje crteže. Najčešći motivi na Olivijinim radovima su torte, cveće i voće, a neretko i sva tri na jednoj istoj ilustraciji. Nemoguće je da pri pogledu na njen Instagram profil ne pomislite na prolećne i letnje dane.
---
Čiji radovi vam se najviše dopadaju? Pišite nam u komentarima ili na našoj Facebook stranici.
---
Da li vam se svideo ovaj članak? Pogledajte i sledeće:

Latest posts by Nina Bovan
(see all)