Kada se bavite veb programiranjem, bilo da ste školovani softverski inženjer ili samouki programer, poželjno je da budete u toku sa dešavanjima u branši, da se informišete o novostima, da znate koji trendovi vladaju i da iz dana u dan učite i usavršavate se.
U zavisnosti od ličnih afiniteta, nivoa znanja, želje za učenjem novih veb tehnologija i posvećenosti razvoju karijere, razlikovaće se i lista sajtova koje redovno pratite.
Brojni su portali na kojima možete mnogo toga da naučite, pregledate stručne tutorijale, podelite znanje sa kolegama, dobijete povratne informacije o sopstvenom radu ili pronađete rešenje problema na koji ste naišli u radu. Ovom prilikom predstavljamo vam listu značajnih sajtova za koje smatramo da svakom programeru mogu biti od koristi i doneti brojne mogućnosti za učenje i međusobnu saradnju.
Sajtovi korisni za programere
1. A list apart
Ovo je verovatno jedan od najstarijih veb blogova za razvoj na Internetu. Blog pod nazivom A list apart već 20 godina rado posećuju programeri širom sveta, i to ne bez razloga. Sveobuhvatan pristup veb dizajnu i kodiranju obezbeđuju brojni tekstovi na teme razvoja aplikacija, procesa izrade sajta, veb tipografije, UI/UX dizajna, strategije sadržaja i značaja veb narativa, donoseći i značajne vesti i trendove u IT sektoru. Osim toga, putem povezanih sajtova A book apart i An event apart, dostupan je i veliki broj stručnih knjiga, kao i brojni zanimljivi događaji.
2. Smashing magazine
Iz dana u dan, već 12 godina, blog Smashing magazine donosi kvalitetan sadržaj iz oblasti veb dizajna i programiranja. Kako urednici sami kažu, ne žele po svaku cenu da prate trendove, već se trude da praktičnim člancima objasne ono što istinski može biti potrebno u svakodnevnom radu. Kroz brojne tekstove, e-knjige i organizovanje konferencije u ovom onlajn magazinu koji je prvobitno bio blog posvećeni su unapređenju veština dizajnera i programera, kao i povećanju njihove produktivnosti i razvoju karijere.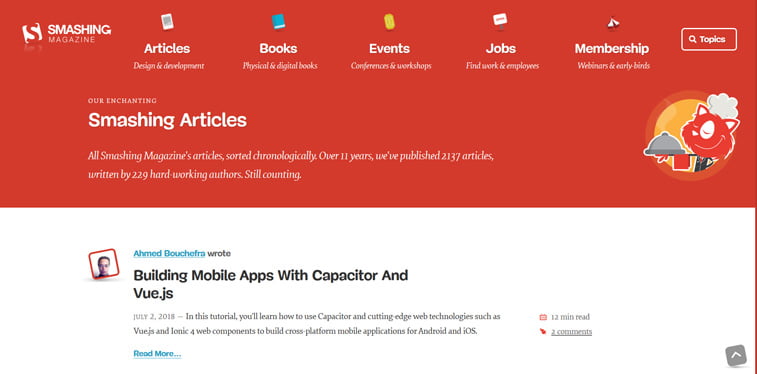 3. GitHub i/ili GitLab
GitLab je novi GitHub – mogli bismo tako da kažemo, imajući u vidu da je kompanija Majkrosoft (eng. Microsoft) nedavno preuzela platformu GitHub, što je brojne programere nagnalo na odluku da presele svoje projekte na GitLab. Ipak, GitHub je i dalje najpopularniji repozitorijum otvorenog koda (eng. open-source), nešto između društvene mreže i alata za upravljanje projektima, koji svakodnevno koristi više od 20 miliona programera. Mnoge je, međutim, uplašila mogućnost da će korporativni interesi nadvladati nad interesima zajednice programera, te su svoje projekte počeli ubrzano da prenose kod glavnog konkurenta – na platformu GitLab, koja je objavila da sada ima 10 puta više aktivnih programera nego ranije.
Ne znamo da li će se u budućnosti nešto promeniti, ali čvrsto verujemo da svako ko se bavi programiranjem i zanimaju ga rad sa otvorenim kodom, saradnja na projektima, dobijanje povratnih informacija od zajednice i iznalaženje zajedničkih rešenja za probleme trebalo bi da bude aktivan član na ovim platformama ili nekoj sličnoj njima.
4. CSS tricks
Kada je veb dizajner i programer Kris Kojer (Chris Coyier) pokrenuo CSS tricks pre 11 godina, bio je to blog o CSS-u i savetima za njegovu primenu. Danas je to jedan od najpopularnijih blogova iz oblasti veb razvoja (eng. web development) i, iako je zadržao naziv, tematika se proširila na sve što je u vezi sa izradom sajtova.
Osim tekstova i tutorijala koje pišu Kris Kojer i njegov tim, dostupni su i video snimci, kratki saveti za različite trikove, pretraga po abecednom redu u formi almanaha, kako su to na sajtu nazvali, ali i prijava za nedeljni bilten (takođe jedan od omiljenih među programerima i veb dizajnerima), kao i oglasna tabla za poslove u kompanijama širom sveta.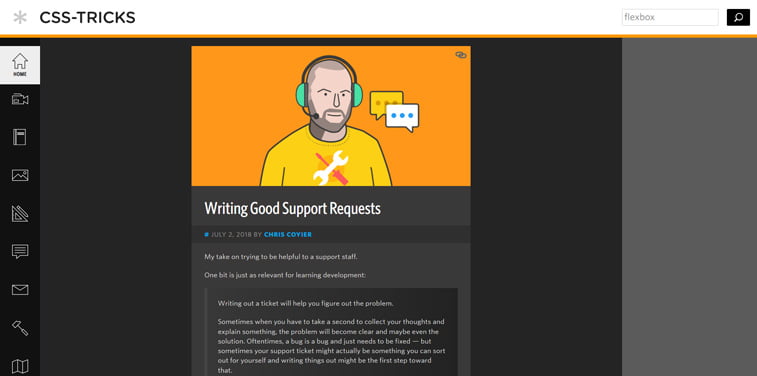 5. Stack overflow
Osnovan 2008. godine, Stack overflow nastao je sa idejom da bude forum na kojem će svako od programera moći da dobije odgovor na traženo pitanje. Forma pitanja i odgovora zadržala se i do danas, s tim što se broj tema znatno povećao.
Trenutno su pitanjima obuhvaćene 133 oblasti, a prema zvaničnim podacima ovog portala, Stack overflow mesečno beleži više od 50 miliona poseta. Do sada je postavljeno 14 miliona pitanja, na koja je odgovoreno 19 miliona puta, a procenjuje se da su oko 7,5 milijardi puta programeri na ovom sajtu uspeli da nađu odgovor upravo na ono što ih zanima.
Osim rešavanja problema, programeri ovde mogu da nauče nove veštine, ali i da pronađu otvorene pozicije za poslove širom sveta.
6. Webdesigner news
Portal Webdesigner news na jednom mestu objedinjuje sve značajne vesti, zanimljive priče, korisne alate i edukativno štivo namenjeno veb dizajnerima i programerima. Sajt se ažurira više puta dnevno i svojim korisnicima donosi relevantan sadržaj prikupljen sa različitih blogova, društvenih mreža, iz onlajn časopisa i brojnih drugih izvora na internetu.
Sadržaj obuhvata vesti, prikaze značajnih alata i aplikacija, studije slučaja, inspirativne objave, video snimke i još mnogo toga.
Postoji i mogućnost glasanja za članke, tako da se mogu sortirati oni sa najviše glasova korisnika, a postoji i mogućnost obeležavanja omiljenih tekstova, kako biste mogli da im lako pristupite ponovo.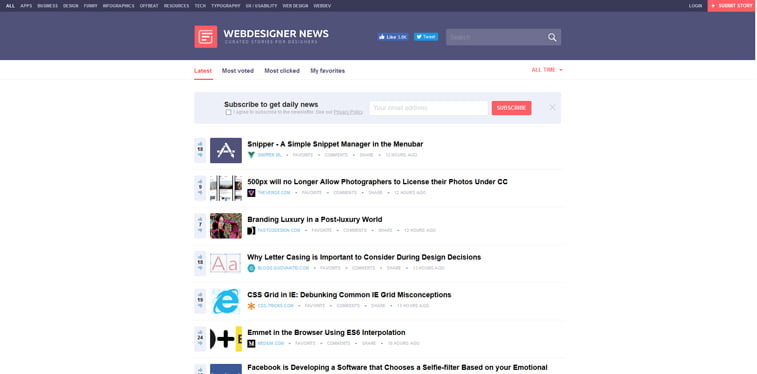 7. DevTube
Video snimci predavanja i govora značajnih i uticajnih programera iz celog sveta objedinjeni su na jednom mestu – na portalu pod nazivom DevTube. Pretraga sadržaja moguća je po temama, odnosno oznakama koje snimci pokrivaju, a najčešće su to informaciona arhitektura, Java, testiranje, C++, kodiranje, najbolji primeri iz prakse i još mnogo toga.
Sadržaj se redovno dopunjuje, a dešava se da u toku jednog dana bude dodato i više od 1000 novih snimaka. Moguće je pogledati i spisak svih video zapisa jednog predavača, ali i pretraživati sadržaj po godinama – za sada su dostupne 2017. i 2018. godina.
8. SitePoint
SitePoint je onlajn prostor za veb programere kreiran od strane programera. Nastao je 1999. godine i do danas se razvio u sveobuhvatnu zajednicu profesionalaca koji se bave programiranjem, veb dizajnom i istraživanjem iz oblasti softverskih rešenja.
Na sajtu su dostupni brojni stručni članci, kao i tutorijali za učenje programskih jezika HTML i JavaScript. Osim toga, u digitalnoj biblioteci ovog sajta dostupan je veliki broj elektronskih knjiga, koje sadržajem obuhvataju CSS, PHP, UI/UX dizajn, izradu mobilnih aplikacija, rad na platformi Vordpres, kao i praktične savete za poboljšanje efikasnosti u svakodnevnom radu.
9. Laracasts
Profesionalci koji su puno radno vreme posvećeni programiranju, i to prvenstveno koristeći Laravel, PHP i JavaScript, na sajtu Laracasts pronaći će veliki broj zanimljivih video tutorijala. Na neki način, kako autori sajta navode, ovo bi mogao biti Netfliks za karijeru.
Zbog istinski korisnog sadržaja prikazanog na zanimljiv način moguće je da ćete zaista poželeti da odjednom odgledate (ili popularno rečeno bindžujete) video snimke sa ovog sajta kao omiljenu seriju. Jer, sadržaj je i ovde podeljen po serijama, a svaka serija, u zavisnosti od tematike, sadrži više epizoda.
Sadržaj se ažurira svakodnevno i do sada je postavljeno više od 1000 snimaka. A pored toga što možete da gledate, pojedine epizode možete i da slušate u formi podkasta. Jedina negativna strana jeste to što sadržaj nije dostupan besplatno, već se plaća mesečna naknada (kao i za Netfliks uostalom).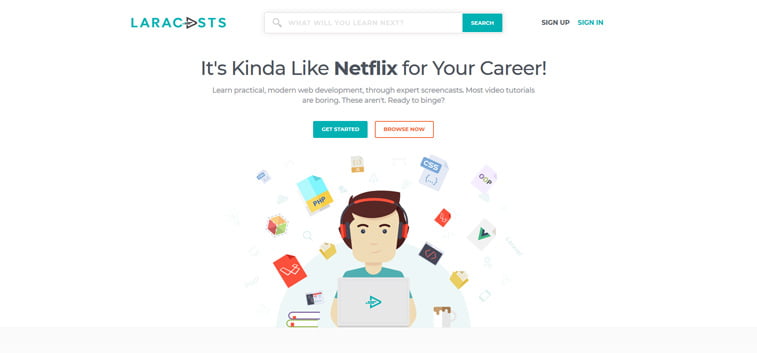 10. ShopTalk show
Podkast ShopTalk show autori nazivaju internet radiom o internetu, dok ga neki od programera opisuju kao "jednostavno najbolji podkast za novajlije i profesionalce u oblasti veb programiranja". Voditelji su veoma poznati i uticajni programeri i veb dizajneri – Kris Kojer i Dejv Rupert (Dave Rupert). Kris Kojer je ujedno i osnivač sajta bloga CSS tricks, ali i suosnivač platforme CodePen, specijalizovane za frontend programiranje.
Nove epizode se u sklopu ovog podkasta objavljuju jednom nedeljno, a teme koje obuhvataju su raznolike. Često u emisiji imaju gosta, mada ponekad i sami autori govore o temama kao što su CSS i JS, postavka fleksibilne tipografije, testiranje prototipa, ispovesti programera i mnoge druge.
---
Nadamo se da smo ovom listom upotpunili vaše dosadašnje znanje iz oblasti veb programiranja. Ipak, imajte u vidu da ovaj spisak obuhvata samo deo značajnih i korisnih sajtova, jer postoji zaista veliki broj portala sa kvalitetnim sadržajem. Zato bismo voleli da čujemo i vaše mišljenje.
Koje sajtove najčešće pratite? Postoje li neki koje ste pratili, pa iz nekog razloga odustali? Na koje biste portale posebno skrenuli pažnju kolegama programerima? Podelite svoja iskustva u komentarima ispod teksta ili na našoj stranici na društvenoj mreži Facebook.
---
Ako se bavite programiranjem, biće vam korisni i slični tekstovi: