Web strategy efficacy depends on data. Without it, business leaders, marketers, and designers can't understand whether their efforts result in desirable outcomes.
For example, 40 percent of brands plan to boost their data-driven marketing budgets, and three out of four marketing specialists base their decisions on data analytics. Thorough reports enable the extraction of meaningful insights from seemingly unrelated pieces of information.
Marketing analytics is the top investment in the marketing sector because they enable marketers and designers to go beyond the typical performance indicators, such as traffic source, bounce rate, and clicks. These quantitative metrics give valuable insights, but they can't encompass the visitor experience nuances.
Yet, that is crucial for understanding your user's activity flow. If you want to highlight your website's best points and tweak the weak ones, you must know what visitors see, where they scroll, what entices them to click, and where they finish their journey.
But to achieve that, you need methods that provide more depth and are specialized, such as a visual sitemap builder, A/B testing tools, or heatmaps.
Heatmaps are an efficient solution that allows you to provide the best user experience for your visitors, increase revenues, and improve conversion rates.
What are Heatmaps?
Heatmaps are images that visualize how visitors interact with the website. They are easy to set and use. Thus, you don't require special skills to extract information from this user behavior tool.
This two-dimensional data representation shows the time visitors spend on a website and highlights the pages with a color gradient, indicating the level of engagement.
For example, warm colors, such as red, are high activity. But cold colors, such as green and blue, mean the opposite. Heatmaps show three engagement aspects: mouse movement, clicks, and scrolling.
Even though all three indicate activity, each gives you different insights. A click map tells you which buttons, categories, or links get the most attention from your visitors.
Scrolls indicate which parts on the website pages people view more than others. That can tell you whether they're missing out on a significant region, requiring you to move it to the top.
Finally, maps that show where visitors hover the most with the mouse indicate their interests. You can use this information to place CTAs and other relevant elements in the areas where warm colors are dominant.
Other analytics tend to focus on an abundance of data points that often don't clarify what you can do to improve the user experience. On the other hand, heatmaps are an intuitive approach that reveals what part of your website pages draws the highest level of attention.
In a nutshell, using heatmaps on your website helps you:
Spot trends and ignored regions on website pages.
Understand if the visitors can see the critical content.
Determine if the users can find and use buttons, links, CTAs, and opt-ins on every page.
Identify if the visitors spend too much time on non-clickable elements on a page.
Find out if the users experience navigation confusion or other issues on the website.
These insights enable you to make data-driven decisions about whether you should redesign or update your website or run split testing. However, WordPress doesn't automatically provide heatmaps functionality, but you can add it with plugins.
When choosing the right one for your website, you should know its features and how it benefits your web strategy.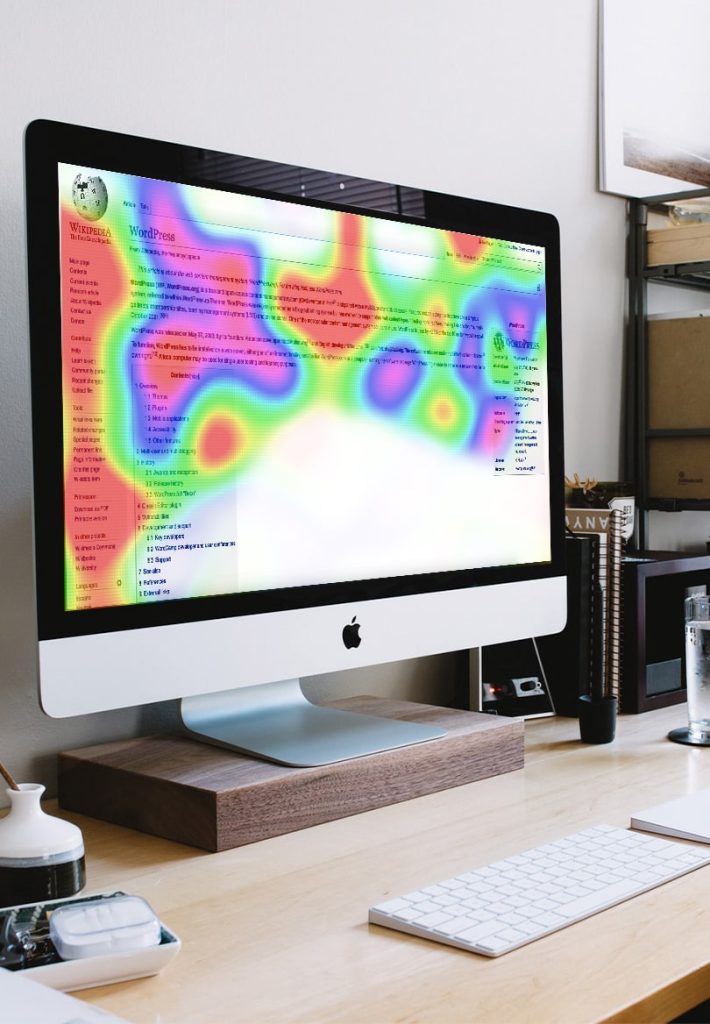 Top 10 Heatmap Plugins for WordPress
Crazy Egg
Crazy Egg offers heatmaps, session recordings, and A/B testing tools to help you understand if your website provides a well-optimized user experience. You can add it to your WordPress with an official plugin or via tracking script.
Crazy Egg has more than 300.000 users, making it one of the most popular heatmaps that's cost-effective and multifunctional at the same time. This plugin allows you to identify where your clicks come from (e.g., organic search, social media networks) and understand the overall flow visitors experience on your website.
Thus, if you struggle with interpreting data, Crazy Egg offers individual user sessions that give you thorough insights into how users navigate around your content. You can use the plugin for free but with limited features or choose one of the four plans (starting at 24 USD per month).
HotJar
This web analytics platform helps you understand how users experience your website using heatmaps, user recordings, surveys, and incoming feedback. The plugin integrates your WordPress with HotJar account and generates mouse movement, click, and scroll heatmaps.
Moreover, this platform offers user testing, meaning that they can hire participants who will test your website and provide their insights. HotJar allows you to install their plugin and use the basic plan for free, but if you want to leverage the premium options, you can start at 39 USD per month.
Mouseflow
Mouseflow offers a set of tools that reveal why you're failing to convert your visitors into customers. Their features include session replay, heatmaps, funnel activity tracker, forms interaction, and incoming feedback.
This powerful system records visitor clicks, mouse hovering, scrolls, and taps on mobile phones. Plus, it enables you to replay user sessions and understand where things went wrong.
You can even adjust heatmaps to the geographic location of visitors. The free plan includes 500 recordings a month, but you can get the perks of their Starter plan for 24 USD per month.
Lucky Orange
Over 300.000 websites globally use Lucky Orange tools to increase their conversion rates and understand their visitors. This platform unlocks various features that enable you to optimize user experiences, such as dynamic heatmaps, session recordings, conversion funnels, visitors' profiles, and form analytics.
Lucky Orange also has one unique tool: live chat. This function allows you to talk with multiple visitors directly and answer their inquiries.
The software offers a free trial for one month, and the Starter plan starts at ten dollars per month and enables unlimited recordings and heatmap data for 30 days.
Inspectlet
Despite being in the fifth position, Inspectlet has a substantial competitive value. This platform records videos of your visitors as they navigate your website, enabling you to see what they're looking for and what captures their attention.
Besides, Inspectlet has advanced filtering capabilities. Thanks to that, you can see recordings of people that added something to their cart but never purchased it.
Finally, this platform has eye-tracking heatmaps that show you where users are looking and help you understand your visitors and what sparks their interest. Inspectlet offers a free plan with limited features, while the premium packages start at 39 USD per month.
Clicky (Yoast)
Yoast provides a free WordPress plugin, coming from the developers of the Yoast SEO Plugin. This tool integrates the Clicky web analytics service into your blog and automatically adds tracking code to every page.
Thus, Clicky helps you understand your visitors by compiling heatmaps data and providing insights into how much time users spent in each session. However, you must buy the Clicky subscription for 14.99 USD per month to use this perk.
UXWizz
UXWizz is a cost-effective tool and gives you complete control over data and uses WordPress storage instead of a cloud service. It's easy to install and provides in-depth analytics, allowing you to understand where converting visitors come from.
Thus, heatmaps will show you what elements on your pages are getting the most attention. You can purchase a personal lifetime license and one-year support for 79 dollars or opt for an agency license for 1249 USD.
Contentsquare
Contentsquare recently teamed up with Clicktale to become a global leader in digital experience analytics. This platform is geared towards enterprises because it encompasses multiple features that are crucial for understanding the complexity of customer behavior.
Contentsquare includes intuitive heatmaps that measure clicks, scroll-depth, and engagement. Thus, if you install their browser plug-in, your entire team can track live metrics and understand how visitors interact with a specific zone.
Aurora Heatmap
One of the principal benefits of using this WordPress heatmap is that there's no need to purchase a third-party platform. It's easy to install and activate Aurora Heatmap.
That means that you don't have to register, and you can use it with WP Rocket, W3 Total Cache, and WP Super Cache. Thus, Aurora Heatmap enables you to generate heatmaps for mobile devices and desktops.
You can use the free version or choose one of the premium plans, starting at 19 USD per month.
Hotspots Analytics
Hotspots Analytics is an advanced analytics plugin for WordPress websites, and it enables you to generate heatmaps, track user activity, or add custom event tracking. Although this plugin is free, it may have a small impact on your website's performance because it makes an additional server request for each mouse click, custom event, page view, and screen tap.
Final Thoughts
Heatmaps are a stellar tool for understanding the why behind data analytics. Instead of showing statistics only, they give you insights into how users navigate your website and what captured their attention.
Thanks to that, you can optimize your pages and provide a better user experience, increasing the chances of turning your visitors into customers or loyal audiences. If you're unsure which of the ten WordPress heatmaps tools works best for your needs, use the free trial versions, and find out first-hand what's the right one for you.