In a world full of images, digital art has a lot of advantages. Illustration software allows us to create graphics that are easily replicated, saved, and transferred at low cost and with tons of versatility.Recent technological advances put these tools right at our fingertips. Tech-savvy creatives have developed programs for photo editing, digital drawing, painting, special effects, and even designing 3D models. 
Don't let the wrong software hold you back. With the right illustration tools, you can reach your full creative potential.
Here is a list of the best Illustration Software to meet your needs in 2021. Continue reading to make sure you choose the right graphic design software for the job.
What Is Illustration Software?
Illustration software allows you to create designs using a wide range of graphic design software. While once only used by professionally trained graphic designers, this software has evolved dramatically over the years. There are now hundreds of easy-to-use drawing and editing programs available.
Back in the day, illustration software meant pixels, expensive, and bulky computer systems. Nowadays, digital design involves features, such as vector drawings, cloud-based storage, powerful editing tools, and affordability. 
Thanks to the latest digital technology, marketing professionals can create crisp images for advertising materials such as logos, brochures, websites, and billboards. 
Digital artists can mimic hand drawing with powerful pen tools and add paintbrush tools on drawing apps. You can create your next masterpiece with the swipe of your finger, mouse, or stylus.
Designers can sketch out their ideas quickly and beautifully, make adjustments on the go, and share their vision with clients. Entrepreneurs can manage their businesses while maintaining their creative edge.
Students can explore new design concepts and develop presentation design. 
Everyone can explore their artistic side by creating and editing images and videos for social media platforms.
Things To Consider When Choosing the Best Illustration Software
Each graphic design app has its pros and cons. Here are a few things to consider when deciding which program to use.
Functionality
What project are you working on? What is your end product?
Editing a photograph requires software that works with raster images. You can keep the basic image but adjust the colors and lighting. You cannot increase the size of the image much without it becoming grainy and pixelated. 
Creating an image that can be blown up to billboard size must be done using vector graphics. This design method uses points, lines, and curves to create images using a mathematical formula. Therefore, you can zoom in or out as much as you want, and the image stays crisp and clean.
What file types do you need to import, manipulate, and export? Ensuring your digital art can be seamlessly transferred and shared is critical.
Illustration Tools
How many tools do you need to get your project complete?
Illustration software comes with a wide array of tools to create, edit, layer, filter, add effects, and so on. Beginners may need something simple, while professional designers would prefer programs with all the bells and whistles. Everyone wants a user-friendly program with a clean interface.
Mobility
What device are you using illustration software on? Graphic design tools need to be readily available when you need them. Don't let your technology restrict your creativity or your bottom line at home, the office, school, or out meeting clients.
Some graphic design apps work better on a desktop with Windows or Mac, while others are more suitable for an iPad or tablet. Always check the program's system requirements before purchasing it because some programs require more storage space than others. 
Price
The trick here is to match your needs with the appropriately priced program. 
If a free graphic design app meets your needs, that's great! If not, it's worth it to spend some extra money upfront to get all your projects completed better and faster.
Many current drawing software options offer a basic program for free and a paid upgraded version. It's worth trying the free version or taking advantage of a free trial period before committing to the paid version.
Best Illustration Software That Made The List
Here are our top 12 picks for the best illustration software in 2021.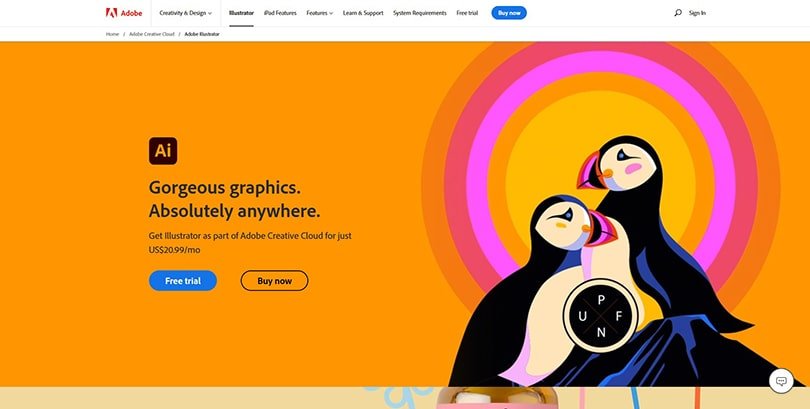 Professional designers around the globe agree. Adobe Illustrator is the recognized standard for vector graphic software. 
For beginners, they offer lots of learning resources. Once you master the basics, you'll see that Adobe Illustrator can do it all. It is best for illustrations, graphics, logos, cartoons, and fonts. 
Illustrator also works smoothly with Adobe's other Creative Cloud apps. For professionals who need to create and store documents, graphics, fonts, or online portfolios, Adobe has it all.
Adobe is the industry leader in digital design, photo-editing, and drawing programs.
Key features include:
Built-in templates, graphics, videos, and images to get your creative juices flowing

24/7 customer support

Syncs to cloud storage, so you can access your art from anywhere

Available on desktop and iPad versions
Different pricing plans, including discounts for teachers and students.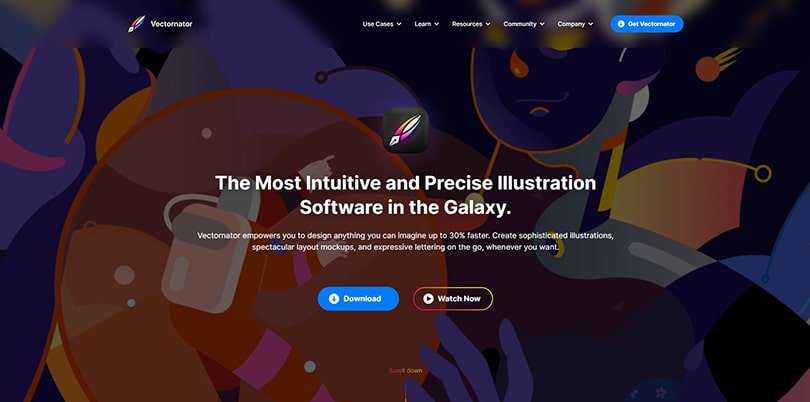 Our next choice of vector illustration software may create a new industry standard in graphic design. Vectornator hosts similar capabilities as Adobe Illustrator, but the cost is free. It offers some of the best features of all the drawing software currently available.
Vectornator works great for professional artists using Apple products and is available on your Mac, iPad, and iPhone. 
It is best for illustrations, UI Design, lettering, and print design. The powerful pen tool creates freeform paths for more realistic graphics. 
Quick action menus allow you to create beautiful art even faster. The Drag and Drop feature allows you to transfer almost anything into your workspace. Its coolest feature is Auto Trace.  This allows you to import a raster image and transform it into vector art.
Vectornator is the ideal choice for the next generation of professional artists with its superior functionality, high-end drawing tools, and is free.
Key features include:
Perfectly-sized templates for social media graphics, icons & images, and visual designs

A community forum for users to ask questions, exchange ideas and provide feedback

A wide range of import and export features

Automatic time-lapse recording ability

Complete undo & redo work history, even if you previously closed & reopened the file 

PDF editing capabilities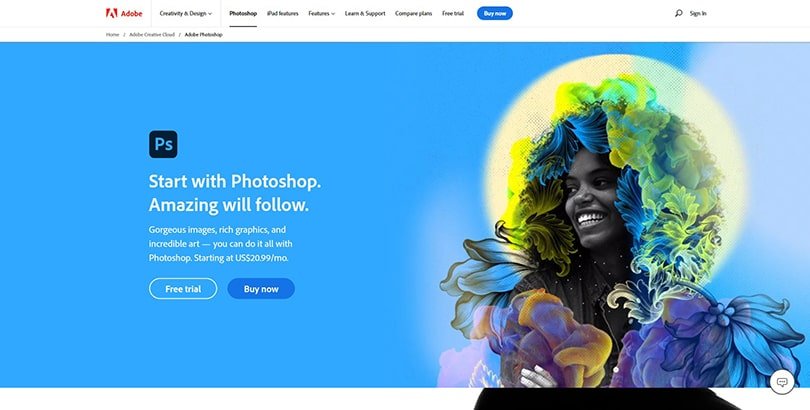 Just like Adobe Illustrator, Photoshop is the best raster-image software available. It provides powerful tools, works perfectly with other apps in Adobe's Creative Cloud, and is available on both Mac and Windows platforms.
Everyone from professional designers to hobbyist photographers trust Photoshop. Turn your images into art. You can retouch, change colors, adjust the lighting, apply filters, change the background, and more. Edit and enhance as much or as little as you like. The possibilities are endless. 
It is best for photo editing, image compositions, website mockups, and adding effects. 
Key features include:
Brushes for high-quality calligraphy and hand lettering

Pencil, ink, and charcoal brushes to create perfect lines and shading

Create a personalized toolkit with all of your favorite brushes

Learning resources, including tutorials and Help Center
Different pricing plans, including discounts for teachers and students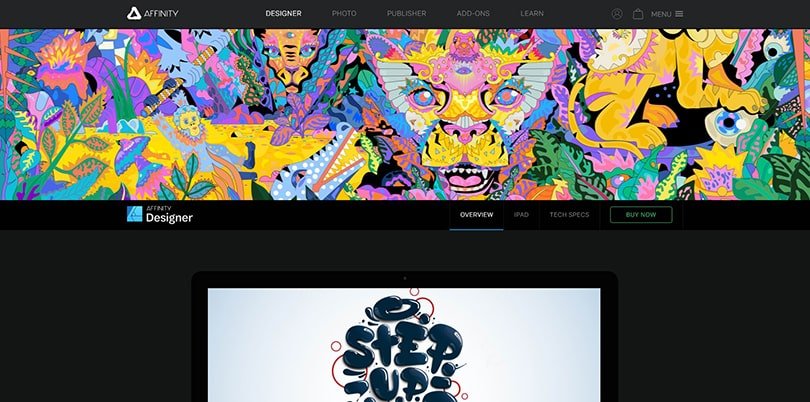 Designed as an alternative to Adobe Illustrator, this program offers comparable capabilities with similar tools. You can easily transfer your skills between these two programs. So what makes Affinity different?
It offers a full list of features for a one-time cost. You can easily switch between raster and vector workspaces. It boasts time-saving functions that efficiently edit objects with shared attributes. Affinity is available to use on Mac, Windows, and iPad. 
It is best for creating logos, icons, concept art, mock-ups, and more. This illustration software supports all major image and vector file types. Affinity Designer won several awards, notably App of the Year by PC Pro and Editor's Choice by DigitalArts. 
Key features include:
Supported on the iPad Pro and iPad Pencil

Create custom typography with full control of tracking, leading, and kerning 

Ability to zoom 1,000,000%

Customizable keyboard shortcuts

Unlimited artboards 

Handle thousands of objects without slowing the program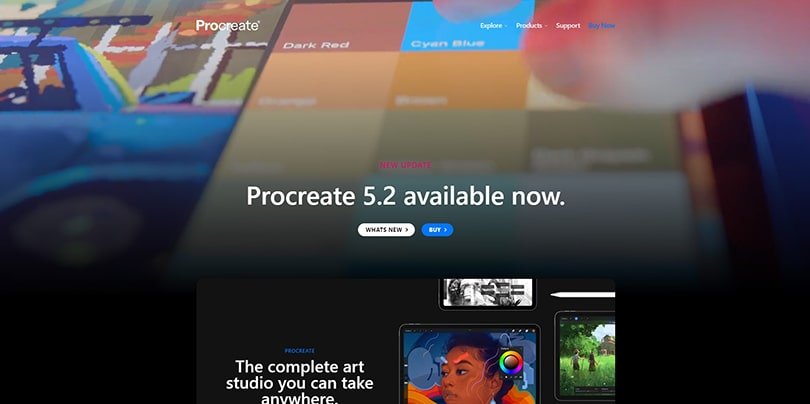 Simplicity at its finest. Procreate is one of the easiest drawing programs designed specifically for use on an iPad and works perfectly with the Apple Pencil. 
Procreate offers powerful tools for professional artists, including an entire set of customizable brushes. These brushes include inks, pencils, paints, and charcoals. 
You have complete control of all color choices thanks to Procreate's unique features, Color Dynamics, Color Harmony, and Color History. It also provides finishing filters. Complete your project with Blur, Chromatic Aberration, Color Adjustments, Gradient Map, and more.
It is best for sketches, paintings, illustrations, and animations. Procreate is a digital artist's dream come true.
Key features include:
One-time, low-cost price

Shortcuts using finger-tap moves

Valkyrie Engine that keeps the technology moving as fast as your fingers

Time-lapse recording capability

QuickShape to create perfect shapes every time

ColorDrop to drag and drop your colors anywhere on the canvas in one easy move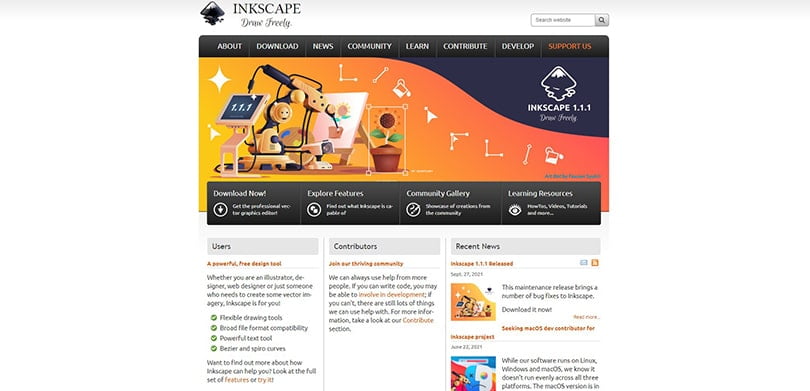 Promoted as another alternative to Adobe Illustrator, Inkscape offers many vector capabilities but with a unique interface. It requires more time to learn the menus and tools on this drawing software. Given its one-of-a-kind toolset, this drawing app is more suited to experienced graphic designers.
Inkscape provides flexible drawing tools, can export files in many file formats, and runs on Windows, Mac, and Linux.
The most unique feature of Inkscape is its community of contributors. With its open-source code, you can download the program and rewrite it to meet your needs. As a member of the Inkscape community, you can also offer suggestions and write code to continue the program's development. 
It is best for illustrators, professional designers, and web designers. 
Key features include:
Learning resources, including FAQs and written & video tutorials

Free, open-source graphic design app

Community gallery showcasing graphics creativity by Inkscape users

Powerful tools for object creation, object manipulation and fill & stroke

Ability to contribute new/updated code for program development

Professional publishing to web browsers or commercial printers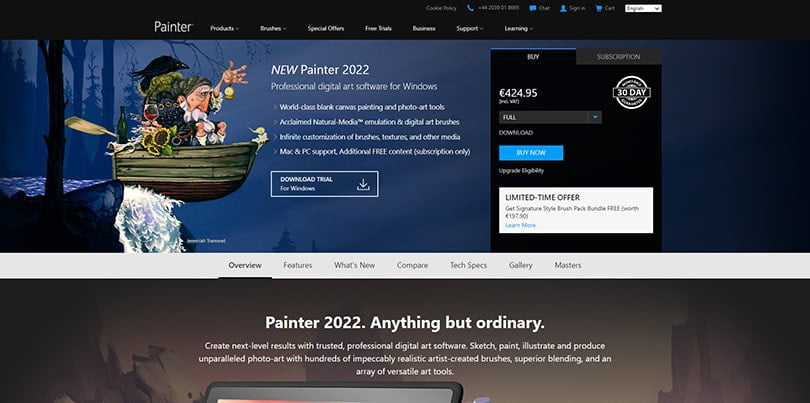 Looking to work with both raster-based images as well as vector-based shapes? Corel Painter simulates traditional painting, drawing, and printmaking. Professional designers love this program!
This professional digital art software has a wide array of tools to sketch, paint, illustrate, and edit to create the most realistic art around. Add depth and texture with brush tools for watercolor, particle, pastels, thick paint, and airbrushes. Control the canvas with pan, zoom, and rotate functions. Customize the color palette. 
It is best for illustrations, fine art, photo art, and concept art. Corel Painter is supported on Mac, PC, or drawing tablets and is available as a one-time purchase or subscription service. 
Key features include
Easily transfer files between Painter and Adobe Photoshop

Transform photos into digital paintings with the auto-paint and clone tools

Learning resources such as tutorials, tips & tricks, webinars, and artist interviews

Expand your tools with creative brush pack add ons

Brush Accelerator enhances your computer's hardware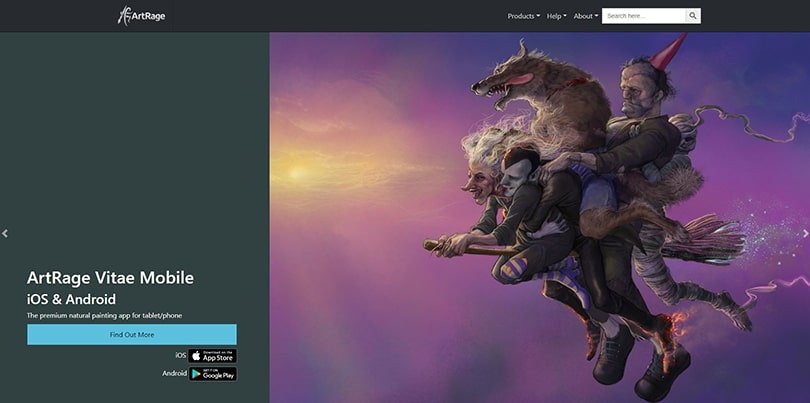 This software provides realistic painting tools, textures, and color blending for professional artists. ArtRage is like having a complete art studio at your fingertips. This graphic design app is used in classrooms to expand the traditional art experience.
Enjoy tools that function like the real thing, from thick oil paints to delicate watercolors. The application creates texture just as a real paintbrush would on your canvas! You can apply different shades of pencil on a sketchpad or get the texture of wax crayons on paper. These are the most realistic drawing tools available.
It is best for beginning artists exploring new mediums and professional artists wanting to use all the tools. ArtRage will support your creativity at every level. It is available for a one-time purchase on Windows, Mac, and portable devices.
Key features include:
Smear and blend features to create natural color gradients

Digital painting app that can replace costly traditional art supplies

Canvas and paper that responds to brush strokes, creating realistic textures

Customer support including a comprehensive manual, forum, and FAQs

Available in ArtRage Lite, a slimmed-down version perfect for beginners

Import an image to trace or reference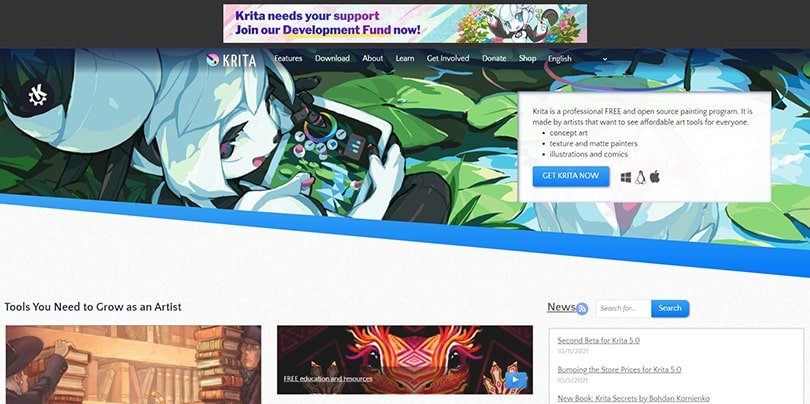 This free graphic design app is perfect for amateur artists looking for an easy-to-use raster editing tool. Users can create a customized workspace with movable menus and panels. Set it up and save it for increased functionality!
Krita utilizes vector-based tools to create perfect shapes and word bubbles for comics. It features over a hundred customizable brushes that create a wide range of textures. 
This open sourced program runs on Mac, Windows, and Linux. Krita offers tons of support through its user manual, tutorials, and FAQs. It is best for fantasy-style illustrations, manga, and animations. 
Key features include:
Additional brush packs and texture packs available for download

Composition templates and storyboard templates available for download

The Krita community welcomes people to test new updates

Customizable shortcuts for commonly used tools

Brush Stabilizer tool to smooth shaky brush strokes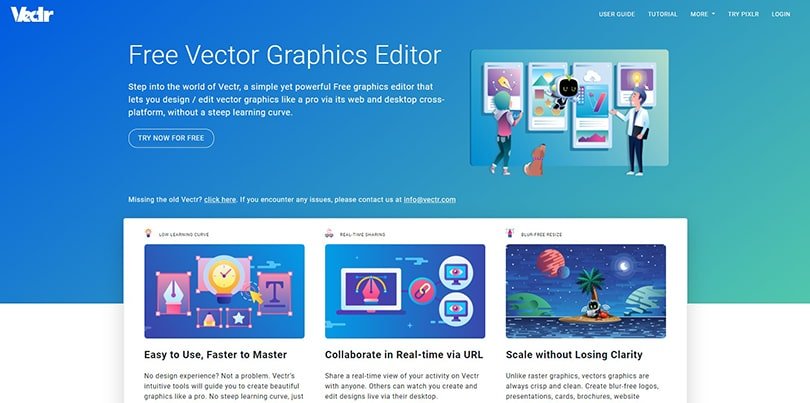 Need to get professional-grade graphics done on a deadline? This free vector graphic software is for anyone needing a simple but powerful tool to create and edit vector-based images. Vectr is accessible, straightforward, and efficient. 
Designed primarily for business professionals who need simple and clear tools, it is compatible with multiple operating systems. You can use it through its web-based application or download it to Windows, Mac, or Linux.
It is best for logos, cards, brochures, presentations, and website mockups. Vectr is perfect for busy entrepreneurs!
Key features include:
Real-time collaboration through their online program

Extensive online tutorials

Automatic saving and syncing across all platforms

Advanced toolset full of shapes, icons, clipart, and more
The Future Of Digital Illustration
The combination of advanced programming, cutting-edge techniques, artificial intelligence, and interactive designs is creating a new standard in drawing software. 
Business professionals and creative artists are leading the way by creating graphics that can stream across mixed media platforms, are more personalized and accessible, and provide a positive user experience for their target audience. 
The continuing evolution of digital art will impact every aspect of the 21st century. You can be a part of this business trend. Not only is art good for the soul, but digital illustration makes it good for business too.