The new era ushers in as now the performance reports from Google My Business also shows device and platform when breaking down analytics and insights.
The new upgrade in the GMB performance report has been around for a while now and the new section lets you see who viewed your business profile. The new, upgraded section also lets you see how people actually found your local listing. It shows whether your prospects have found you on mobile or through desktop. It also breaks down how many people found you through Google Maps or by using Google Search.
To access these reports, you only need to log in to your Google My Business account, click on your business, and need to select the Insights tab on the left side of the panel. Once there, you can easily access the new and improved performance reports which are right at the top of the page. There, you just need to select the section that shows how people actually found your business.
The charts then give you a pretty detailed breakdown of who looked at your profile on Search and Maps and also divides the devices on which people found you (desktop vs. mobile).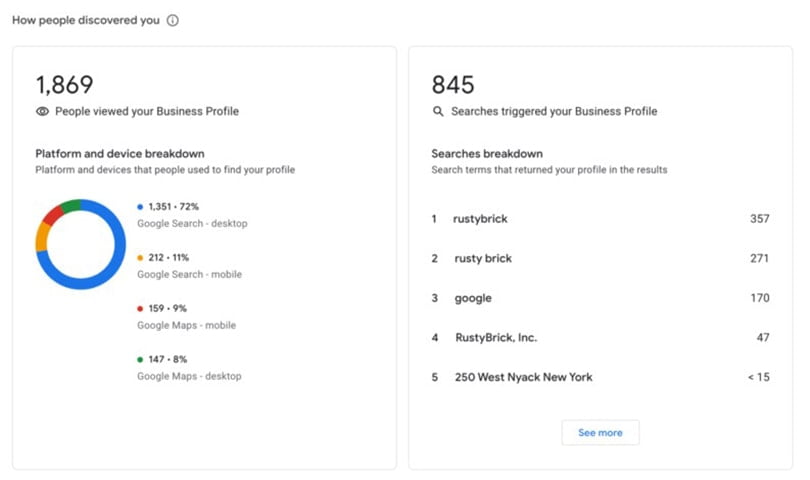 Apart from all this, Google has also updated its help document to accompany the new performance reports. The updated section gives a general explanation of the people who viewed your profile and the number of unique visitors. The new section explains that a single user can be only counted a limited number of times when they visit your profile on several devices or platforms. More specifically, per device and platform breakdown, a user will only be counted once a day. Several visits throughout the day won't be counted.
And since the number in the new report shows unique visitors only, the number of views you find in your email notifications and on your Google My Business might also be a bit lower. Also, the new metric focuses on Business Profile views and not overall views of the Business on Google, overall views might also be lowered a bit on Google My Business.
So, why is this that important?
Well, it's pretty self-explanatory. The more insights you have the better you can target your audiences online. Having more insight into how people find your business can help you create a better overall online strategy that will help you gain more customers more efficiently and close new deals.
Oh yes, and ultimately, make more revenue in the process.
As such, make sure to check out the new and improved reports and turn the odds in your favor.
---
More on Google