Ah, tasks—all the to-do items of your day-to-day, whether it's finally dragging yourself to the supermarket or working up the strength to summarize the team meeting notes.
In the case of your workflow, you simply won't—ahem, can't—neglect the many tasks on your plate. That being said, you might struggle to prioritize the most important items or work through them efficiently if they are written as scattered post-it notes or static items in a neglected list. 
In this blog, we'll cover the basics of task management and how incorporating the right task management software can optimize your workflow to be more efficient and even enjoyable.  
What is a task?
A task is essentially an undertaking or piece of work that needs to be completed.
A workflow is basically a culmination of these tasks to reach any specific outcome that will provide value for a stakeholder. The way these tasks are managed, whether individually or on a team, has a greater ripple effect.
When you approach tasks from this perspective, you can see that accurately summarizing those meeting notes and distributing them in a timely, attractive manner could affect another team member's ability to make decisions on the upcoming phases of a project. 
What is task management?
Task management is the process of prioritizing and managing tasks to ensure they are completed on time. As a core function of project management, it involves making intentional decisions and deliberate actions related to communication and resource allocation. 
In fact, changes in organization priorities, poor communication, and resource dependency are some of the most frequently reported primary reasons for project failure. 
It's not a huge stretch of the imagination to conclude that these factors can be effectively managed throughout the task management process. 

Who are the key players when it comes to task management?
Team members are on the front lines of task management, with their own individual tasks and priorities ahead of them. Their main role in task management—in addition to actually doing the work—is to provide feedback when it comes to scope, the time required, and the resources they need. 
On the flip side of this, their narrow focus or specialization can make it hard for them to prioritize their tasks or see the bigger picture for the greater business.
A project manager, however, has several responsibilities that provide a broader context when it comes to task management, such as:
Taking the lead on planning projects and evaluating viability

Highlighting dependencies between tasks

Estimating costs

Identifying and minimizing risks

Assisting in the assembly of project teams

Adjusting the project plan to address unforeseen changes and new priorities.
In order to bring these key players together, all-inclusive task management software is an absolute essential. We'll explore this in action a little later.  
Why is task management important?
Benjamin Franklin once said, "By failing to prepare, you are preparing to fail". While ineffective task management or a lack thereof might not immediately lead to failure, it creates a bumpy road ahead. 
To understand this better, we've compiled some of our top task management software secrets to optimize the process.
3 insider tips for better task management
From marketing and software teams to HR managers and beyond, human capital alone isn't sufficient to implement effective task management. 
Using digital tools like monday.com for task management makes it possible for your team to collaborate from wherever they are while providing the clarity and pooling of resources to prevent duplicate work, bottlenecks, and overall inefficiency in workflows.
For a zoomed-in view, let's look at how monday.com's features can address your task management goals.
The goal: Improved collaboration and transparency
Tip #1: embrace a Work OS
A Work OS (Work Operating System) is a digital cloud-based workspace (like monday.com as a totally random example) that enables teams to plan, execute, and manage all processes, from day-to-day task management to organization-wide projects.
A Work OS helps increase collaboration because you can easily tag colleagues and stakeholders, update statuses on any device, create and share customizable forms to send out, and integrate with the other tools you already use and love, like Gmail, Adobe, Zendesk, and more! 
On monday.com, you can create shareable task boards with ease and distribute work with drag-and-drop functionalities. There are practically endless possibilities for customization, whether by color-coding, assigning multiple task owners, or a large selection of columns, such as adding polls, links, progress tracking, and the ability to connect multiple boards. 
To increase transparency, there is even an updates section for internal and external users to communicate directly on tasks in real-time.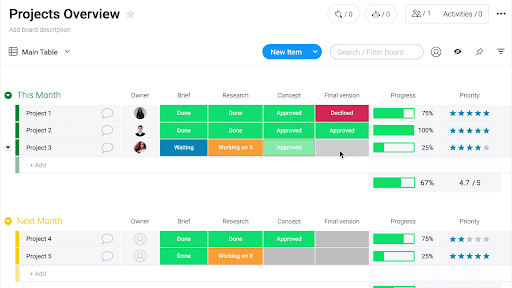 The goal: ensured completion of high priority tasks
Tip #2: Assign priorities and deadline reminders
The first hurdle to managing tasks is determining what's most important and when it needs to happen within a workflow. The next is making it known to team members!
monday.com allows you to not only collect all of your tasks in one place but to add specific columns for priority and due dates to further emphasize the information. The due date column will automatically remind either the task owner or all of the users on the board when a deadline is coming up. 
This simple and colorful layout also makes it easy for managers and team members alike to get a sense of how many high-priority tasks are in the pipeline, and informs their workflow.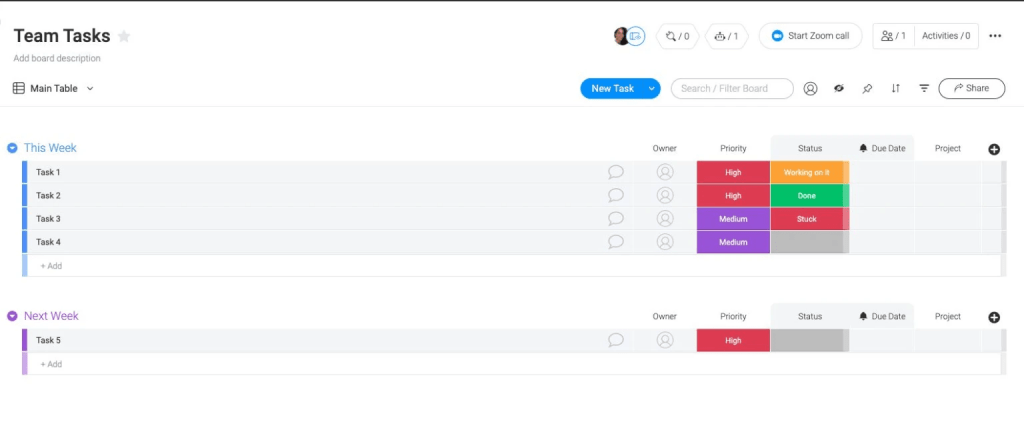 The goal: increased productivity
Secret #3: create workflow automation recipes
Manual tasks exist in practically every industry. In the realm of finance and accounting, 47% of AP professionals consider manual data entry and inefficient processes their biggest challenge. 
Automations are an excellent way to cut down on time-draining, manual tasks like triggering the next phase of a project, or asking a team member to review and provide feedback on a document you created. Not to mention, you can reduce or eliminate messy email and instant chat threads.
You can also automate reminders so you never miss a deadline again.
With monday.com, you can create an automation recipe to fit your needs:

Efficiency, centralized
It's fair to say that task management can be daunting, but you can conquer the beast with effective and customizable task management software. 
As a truly all-hands-on-deck effort, the intentional collaboration and monitoring of task loads will garner a positive impact on your teams' collaboration and transparency, prioritization, and overall efficiency. 
Have you already adopted a Work OS? What is your favorite feature? Let us know below!
---
Related articles: