Design conferences around the world have always been a great place for meeting with peers, learning new skills, sharing knowledge, and networking with respectful industry leaders, professionals, and design aficionados.
This year seem to be jam-packed with interesting events, so we have created a selected list of upcoming conferences that you should consider attending if you are interested in graphic design, typography, UX research, interaction design, front-end development, design operations, new technologies, ethics in design, the politics of image making, and other design topics.
Take a look and start planning the next trip to attend your favorite events.
Upcoming design conferences in 2019
UX London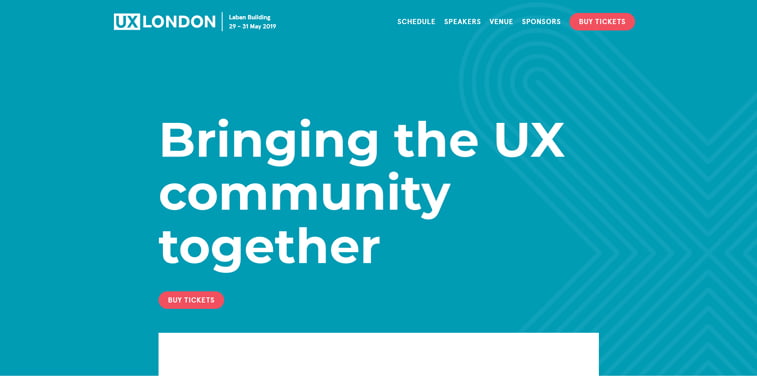 UX London brings industry leaders from all over the world to share their knowledge, insights, ideas, and experience in the field of user experience during the talks, workshops, lectures, and networking events on May 29-31, 2019. Program is packed with insightful lectures scheduled during the morning sessions, while the afternoons will be dedicated to workshops. Each conference day will focus on a specific UX topic, so attendees can make their own schedule depending on their area of interest.
Day 1 will be dedicated to designing products. The talks will cover topics of creating user-centered products, launching them to the market, lean process of continuous product improvement through Design-Measure-Learn process, and much more. It will be best for product managers, product designers, and scrum masters.
Day 2 will focus on designing for people. It is going to be all about leveling up the customer experience, keeping track with design trends, UX research, and service design. It will be best for researchers, service designers, and customer experience team.
Day 3 will tackle the topic of designing for the future. The talks will give rich insights into the new tools, technologies, and interaction trends, with a focus on artificial intelligence, conversational interfaces, and consumer expectations. It will be best for managers, executives, and leadership teams.
---
DesignOps Global Conference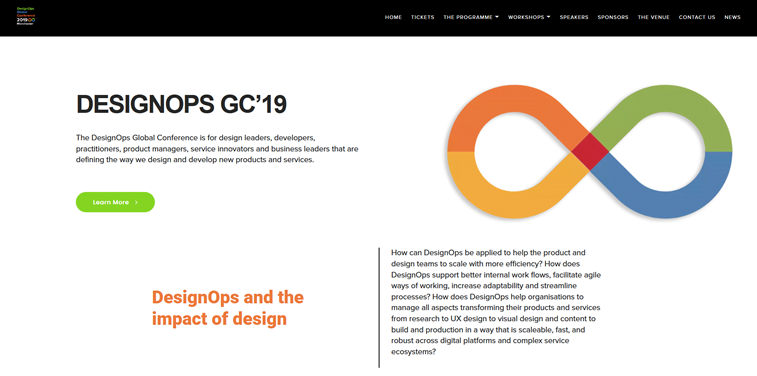 This year, the DesignOps Global Conference is going beyond Agile to challenge the new frontiers in design. This event is designed for product teams, design leaders, developers, practitioners, innovators, and business managers that are developing new products and services. By bringing them all together, DesignOps conference becomes the place for ResearchOps, DesignOps, DevOps, and ContentOps teams to learn how to scale, implement agile methods, build robust digital products, and deliver extraordinary experiences to users.
Why does organization culture matter? How do we change the way we design and collaborate? What new roles are emerging? How are different organizations using autonomous systems to design? What role does Service Design play in delivering disruptive innovation? How should we measure success? These are some of the questions that will be answered during the DesignOps conference.
---
First Round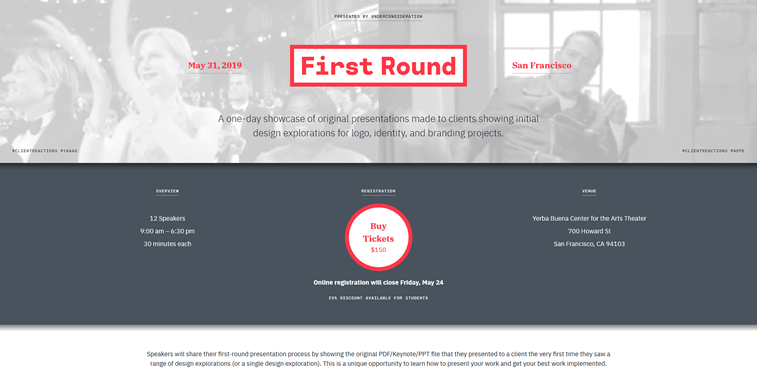 First Round is a one-day event that will host 12 speakers to showcase their work, design process, explorations, and experimentations. The idea is to show the first-round design solutions for logo, identity, and branding projects. Speakers from various design studios will showcase their design explorations, and Tom Crabtree, Danielle McWaters, Brent Couchman, Takashi Kusui, and Aaron Poe are going to be among them.
---
Hang Time by Dribbble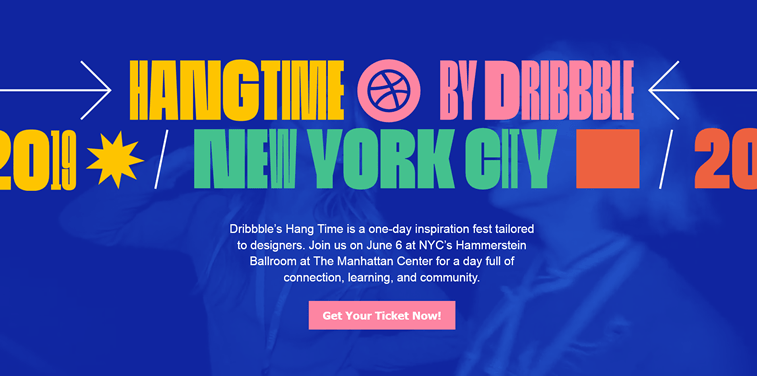 Dribbble's Hang Time is another one-day event for designers full of interaction, connection, learning, and networking, tailored to suit designers' inspiration. It is happening on June 6 at NYC's Hammerstein Ballroom at The Manhattan Center.
Some of the announced lectures include Design Like a Developer: Building Motion Into Your Products by Matthew Paul, The Craft of Creating Visual Identities by Mackey Saturday, and Branding and the Beast – The Elusive Art of Pricing and Creating Brands by Marc Hemeon, while one of the workshops is called The Condensed Guide to Starting a Creative Business On Your Own Terms with Jon Contino.
It will certainly be a day full of inspiration, and, of course, there will be time to hang out with speakers and the Dribbble team during te after-party.
---
European Design Festival
This year, from 6th to 9th of June, Warsaw will become the European capital of graphic design. The 14th edition of the European Design Festival will take place in this city, and it will be packed with interesting lectures, workshops, design studio tours, exhibitions, film screenings, as well as graphic design competitions. By promoting European and Polish design, and presenting the latest trends, for a couple of days this festival will be a great place for inspiration, creative action, and learning.
Through several workshops, for both professional designers and amateurs, participants will get the chance to sharpen their skills or get familiar with calligraphy and lettering, creative coding, design safari, and conflict solution exercises.
Besides that, Element Talks Conference will be part of the European Design Festival this year. More than 2,000 participants from across Europe will get the chance to learn together through lectures on two stages, workshops, Element Market fair, and networking sessions. Also, European Design Awards Gala will take place in Warsaw during the festival. It will award and showcase the best European graphic designers in print, branding, web design, and other areas.
---
Border Sessions
Border Sessions is an interdisciplinary platform for technology, art, and science. This tech culture festival is on the mission of addressing important social and environmental issues. Over the course of four days, there will be various labs, summits, film screenings, meet-ups, and a kids' program in the center of The Hague.
There will be more than 30 speakers on stage during the festival night on June 13, and more than 30 other events happening throughout the Border Sessions. Well-established and emerging engineers, designers, innovators, researchers, writers, artists, and activists will gather together to showcase their work and talk about new developments in technology. The list includes both new talent and established experts. All of the guests and speakers will be pioneers in their field of expertize, and they will cover topics such as the future of food, biohacking, circular cities, human rights, and space design.
---
CSS Day & UI Special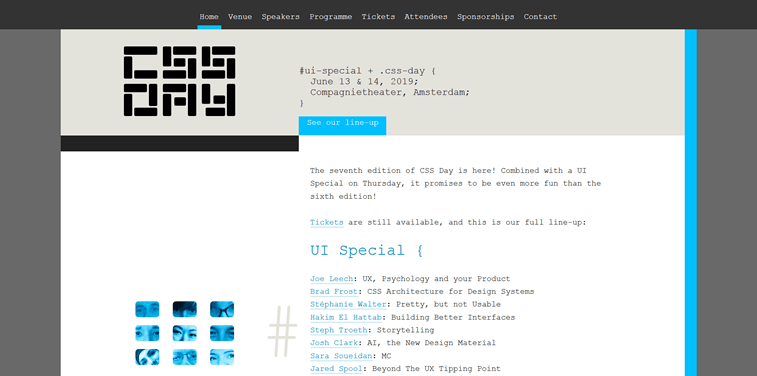 This is going to be the seventh edition of CSS conference, and another round of UI Special event. UI Special is scheduled for June 13, and CSS Day is happening on June 14. Both of these events are for advanced designers and developers, so there is not going to be anything for beginners.
CSS Day will be jam-packed with 8 sessions about interesting, lesser-known, and curious CSS features. It will cover topics such as algorithms in CSS, line breaking, Grid implementation details, line layout and vertical rhythm, Flexbox holy albatross, and much more.
The UI Special will bring world-class leaders of UI design to talk about building better interfaces, architecture for design systems, storytelling, topics beyond the UX tipping point, design process and culture, as well as other relevant topics.
---
SmashingConf Toronto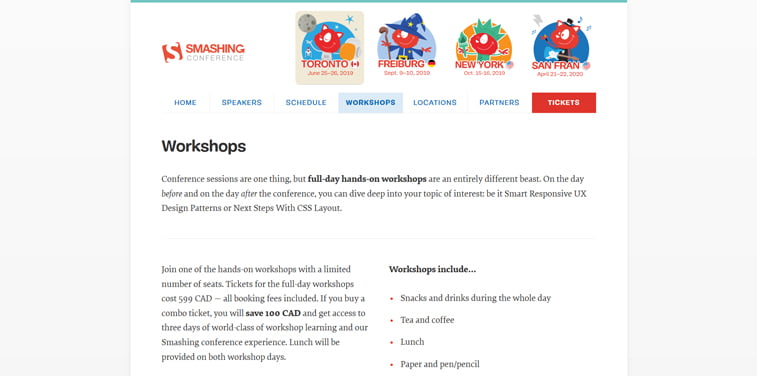 This year, the second SmashingConf Toronto will tackle various issues about front-end development and UX design. Talks, debates, and hands-on workshops will cover topics of design systems, performance, service workers, design across cultures, Vue.js, animation, designing for touch, and much more. Speakers who are already announced include Phil Hawksworth, Sarah Drasner, Steven Hoober, and Jules Forrest. They will reveal their design processes during live interactive sessions, and talk about their setup, techniques, tools, and shortcuts they use every day. As announced, there will be everything from refactoring and debugging to sketching and redesign. Also, one day before the conference start, on June 24, the SmashingConf team will host side events that might be worth your attention as well.
---
App Design & Development Conference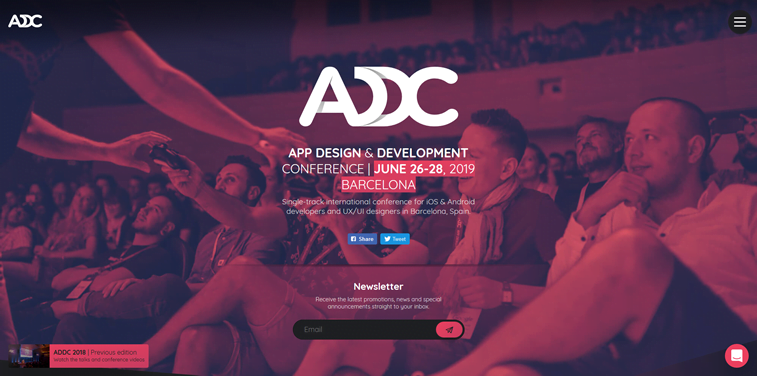 ADDC is an international conference for iOS and Android developers, as well as for UI/UX designers. It is an opportunity to meet, collaborate, and share knowledge. Talks will feature speakers from Google, Adobe Design, Facebook, IBM Public Cloud, Microsoft, Spotify, WeWork, and many other companies. Workshops are scheduled for June 27, and they will explore the topics of design research beyond user testing, seeing map and flatmap as Swift design patterns, building design systems with Google's Material Design, and good coverage in Android.
---
User Research London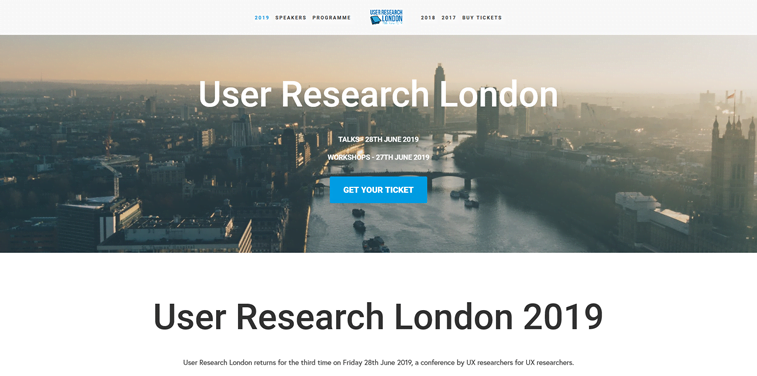 User Research London is a conference by UX researchers for UX researchers. Program of this year's event includes workshops on June 27 and talks on June 28.
There will be an opportunity to gain hands-on experience from workshops such as An introduction to measuring the user experience with Bill Albert, A strategic research framework everyone can use with Meena Kothandaraman and Zarla Ludin, Elevating your users – recruiting people for research with Jess Lewes and Maria Santos, and Street photography skills for UX research with Steph Troeth.
Topics tackled in talks will include key experience indicators for product management, creativity in research, the path to customer centricity, exploring the emotional user experience, research operations, psychological safety for researchers, researching voice, designing for people's rights, and much more.
---
OffGrid Sessions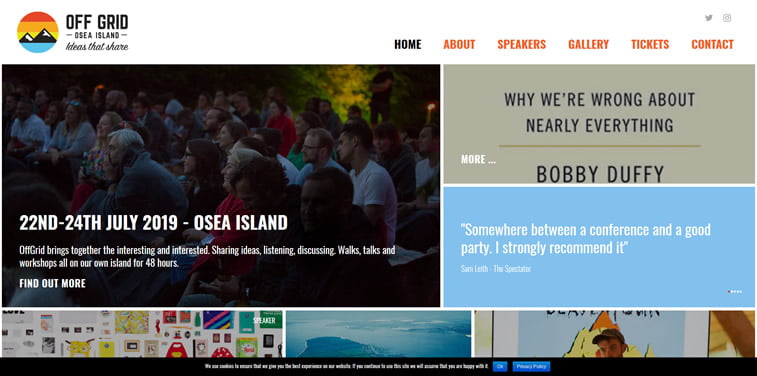 OffGrid Sessions is a conference that brings participants on an island for 48 hours. It is an independent festival developed from the UK media, tech, and design community. It was founded by Jeremy and Aimi Hill with a mission of creating an informal and reflecting environment in a natural setting, and it brings people together to discuss ideas, learn from others, and explore the new possibilities.
How much do we really understand what's going on is the 2019 theme, and its aim is to challenge preconceptions and the things we hold to be true. This topic will be discussed from different angles through the economic, psychological, commercial, and cultural diversity of speakers and participants.
Previous themes for OffGrid Sessions have included topics like Creativity vs. Innovation, Skillset vs. Mindset, and New ways to approach old problems.
---
TypeCon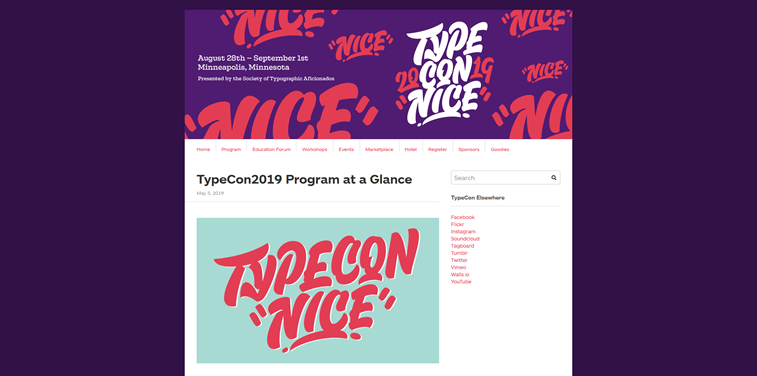 Society of Typographic Aficionados (SOTA) is an international organization dedicated to the promotion, study, and support of typography. It is also the organizer of the TypeCon annual conference, which is in its 21st edition this year. As always, there will be various lectures, discussions, workshops, exhibitions, and parties going on over the course of five days.
As announced, this years' program is set out to be packed with interesting events. There will be some pre-conference workshops going on, as well as the Type & Design Education Forum, SOTA Marketplace, SOTA Silent Auction Viewing, Catalyst Award Presentation, Type Gallery Exhibits, SOTA's Night of Type, Type Crit, Type Walk, and any other events.
---
SmashingConf Freiburg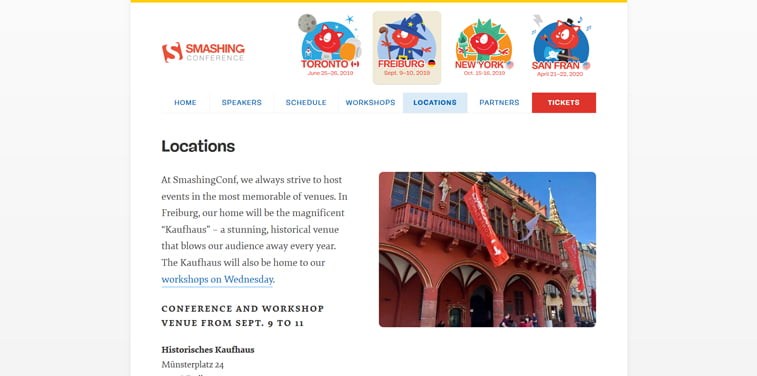 Another important SmashingConf event in 2019 is going to be the 8th edition of SmashingConf Freiburg, in the Smashing's hometown in Germany. There will be one track of events, going on for two days, and it is expected to gather together more than 250 attendees. As always, it is going to be all about front-end and UX design, but also about UI design and machine learning, with a focus on real-world problems and solutions.
The talks will explore topics of psychology and UX, design workflow, refactoring, static site setup, CSS Grid techniques, performance, deployment patterns for HTTP/2, and much more. Some of the speakers who will share their knowledge and experience are Sara Soueidan, Philip Walton, Jackie Balzer, Joe Leech, and Netta Bondy.
---
Design Matters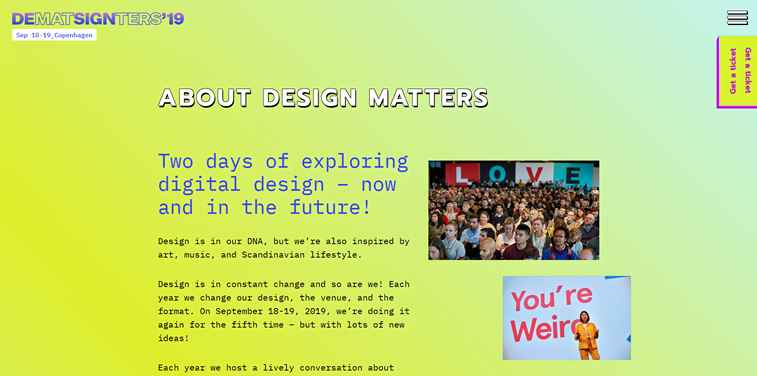 Design Matters conference will provide a platform for a two-day exploration of the ever-evolving digital design industry. This year in its fifth edition, Design Matters brings fresh ideas and new perspectives. During the live session New Movements in Digital Design, designers will get the opportunity to discuss industry challenges and their role in the future, as well as to talk about their own processes, ideas, engagements, impressions, and inspiration.
Some of the confirmed speakers are Nikolas Klein, product designer at Figma, Ingrid Haug, co-founder of Design Matters, Nikoline Høgh, lead UX designer at Unity, Andrew Schmidt, senior product writer at Slack, and Thomas Schrijer, senior designer at WeTransfer.
---
POST Design Festival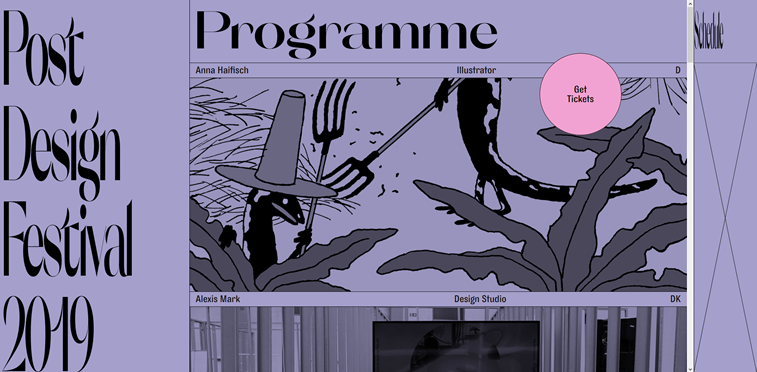 Talks, workshops, installations, exhibitions, and panel discussions during POST Design Festival in Copenhagen will take a critical and collaborative approach to the design industry and address issues such as ethics in design, the politics of image making and the unknowns of the creative future. It will be an opportunity to explore and re-imagine the purpose of graphic design, digital design, and illustration.
The 2019 edition will try to tackle the post-colonial, the post-disciplinary, the post-technological, and the post-pedagogical within design and illustration. Some of the visionary creatives have already confirmed the attendance. So, on October 25 and 26 there will be talks and discussions with speakers Alexis Mark, Amy Suo Wu, Anna Haifisch, Johanna Burai, Dinamo Typefaces, Elham Namwar, The Reading School, and The Rodina, while other participants are going to be announced soon. On October 23 and 24, creative workshops will take place, and their program is yet to be announced.
---
Interaction Latin America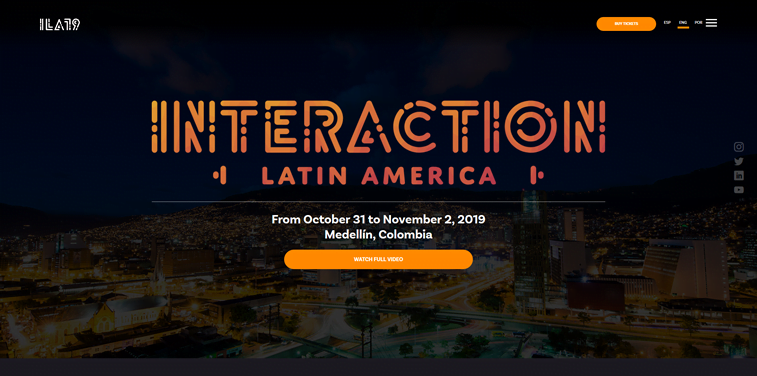 Interaction Latin America is one of the most important conferences in this part of the world that is dedicated to interaction design, user experience, innovation, and technology. This year, the conference theme is Convergence, described as the point where geography, people, cultures, technologies, and ideologies meet and evolve. It is a great opportunity to get together with design, tech, and innovation leaders and contribute to building a better world.
Confirmed speakers include Nick Finck, lead UXDI instructor at General Assembly and curator of UX Seattle, Cheryl Platz, principal UX Designer at Gates Foundation and owner of Ideaplatz, and Donna Spencer, lead consultant at Readify, speaker, writer, and UX leader.
---
We hope that our selection is a helpful resource for you, although it isn't an exhausting list of events happening in 2019. Do you know some other design conferences worth visiting? Please share in the comments below or on our Facebook page, and we will add it to the list.
---
Take a look at other design-related articles: