A/B testiranje je praksa koja omogućava marketarima, korporacijama ili oglašivačima da imaju uvid u ponašanje posetilaca sajta i da saznaju načine kako da povećaju stopu konverzije.
Međutim, prakse A/B testiranja nisu još uvek tako popularne i uglavnom ih koriste samo profesionalci. I to je verovatno razlog zašto većina ljudi nije upoznata sa ovom tehnikom.
Šta je A/B testiranje?
A/B testiranje je upravo ono kako i zvuči: postoje dve verzije jednog elementa (to je u našem slučaju interfejs ili web sajt) i pokazatelj koji će definisati uspeh svakog od njih. Ovo se koristi kada je potrebno odabrati koja je od dve verzije bolja, a to se može uraditi korišćenjem različitih alata.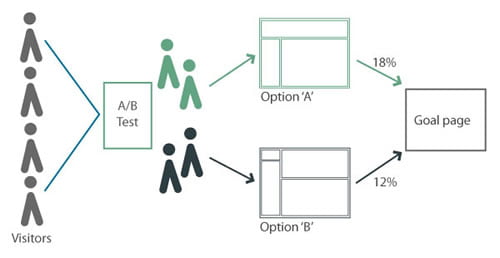 Recimo da imate dve verzije dizajna i ne znate koja je od njih efikasnija. Ono što treba da uradite je da podelite dolazni sadržaj sajta i usmerite ga na jednu od ovih verzija i nakon određenog vremenskog perioda počinjete sa merenjem pokazatelja.
Ova praksa može da vam da uvid u mnoge stvari sa stopom konverzije, call-to-action performansama i stopi bounce rate. Od dve verzije, na kraju ćete izabrati onu najbolju, na osnovu parametara za koje ste zainteresovani.
Odakle početi?
Ovo zavisi najviše od vremena koje ste postavili za ciljeve na svom sajtu. Možda je u pitanju sajt koji treba da prodaje, odredišna stranica sa obrascom za registraciju, kontakt forma ili bilo šta drugo gde je ponašanje korisnika važno za vaš cilj.
Možete testirati mnogo stvari sa A/B tehnikom, ali one koje se najćešće testiraju su:
pozicije slika
prikazivanje cena
obrasci za prijavu
call to action (poziv na akciju) element
opisi u naslovima
Sada kada imate osnovno razumevanje tehnika A/B testiranja, veoma je važno da imate strpljenja u ovom procesu i da sačekate malo duže da bi dobili prave rezultate. To može da potraje od nekoliko dana do više meseci zavisno od rezultata koje želite da postignete.
Druga bitna stvar je da ne uključujete stare posetioce u novi test, ako su vaše varijacije veoma različite u odnosu na trenutni web sajt. Imajte na umu da ne testirate samo dizajn i estetski utisak, sadržaj je jednako važan.
Recimo da vaš sajt ima stopu konverzije 30% koja treba da se poveća na 40%. Web sajt ima 10.000 posetilaca dnevno. Test sa 6 varijacija bi bilo potrebno primenjivati svega nekoliko dana da bi dobili odgovarajuće rezultate. Međutim za sajt koji ima 200 posetilaca dnevno bilo bi potrebno skoro četiri meseca da bi test dao iste rezultate.
A/B testiranje je tehnika sa  kojom možete odmah započeti i postoji mnogo alata za to na web-u.  Zato smo za vas izabrali neke od najboljih alata.
Optimizely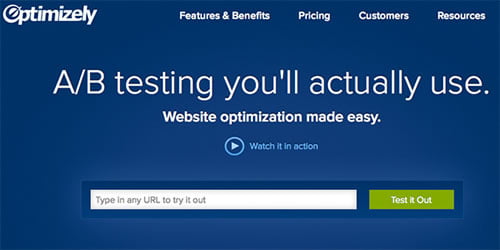 Optimizely je jedan od naprofesionalnijih A/B alata na web-u. Možda je cena malo veća u odnosu na druga rešenja (postoji i besplatna trial verzija na mesec dana), za taj novac dobijate  stvarno dobre mogućnosti. Ovo je definitivno najbolje mesto za početak, ako ste ozbiljni u vezi A/B testiranja.
Visual Website Optimizer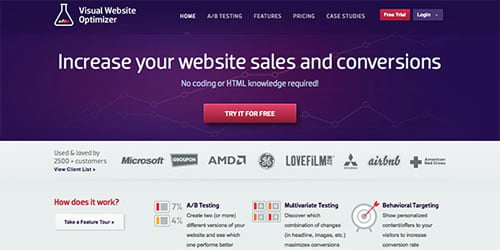 Visual Website Optimizer je još jedan sjajan alat da povoljnim paketima za plaćanje i trial (probnom) verzijom sa ograničenim mogućnostima. Ovo je još jedan dobar izbor za sve koji žele da iskušaju podeljeno testiranje.
Unbounce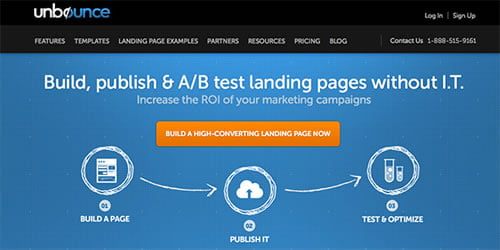 Unbounce je odličan alat za testiranje odredišnih stranica i to nije samo alat za testiranje, takođe dozvoljava kreiranje odredišnih stranica bez toga da ih kodirate sami. Započinjanje testiranja je veoma brzo. Na njihovom sajtu možete naći i video sa obašnjenjima o ovom alatu, načinima funkcionisanja i benefitima koje dobijate.
Postoje i neki drugi alati koje možete koristiti, ali ove koje smo naveli su sasvim dovoljni. Google je ranije posedovao neke alate za A/B testiranje, ali ih je inplementirao u Analytics, pa ukoliko koristite Google Analyitics možete probati kako sve to funkcioniše.
A/B podeljeno testiranje je jedna od najmoćnijih tehnika u današnje vreme koju možemo koristiti da "komuniciaramo" sa našim korisnicima bez toga da budemo lice u lice sa njima.
Zapamtite da uvek možete nešto unaprediti na vašem sajtu, zavisno kakav sajt imate. Rad na malim varijacijama putem A/B testiranja, bez sumnje, može vam pomoći da postignete bolje rezultate sa vašim web sajtom ili aplikacijom.