Setting up a website is crucial to starting a successful business. Everything is getting digitized and you don't want to fall behind in the game.
Building your own website does not have to be a long, drawn-out process or expensive. You don't even have to know how to code. As a start, your website just has to follow the best business blogs and websites and learn from them.
You might be wondering how to create a free website?
There are numerous free website builders available online to make your task easy. You just have to learn how to use their in-built features. And your website will be up in minutes. Yes, it's that simple.
Here are the top 10 best free website builders and their significant features.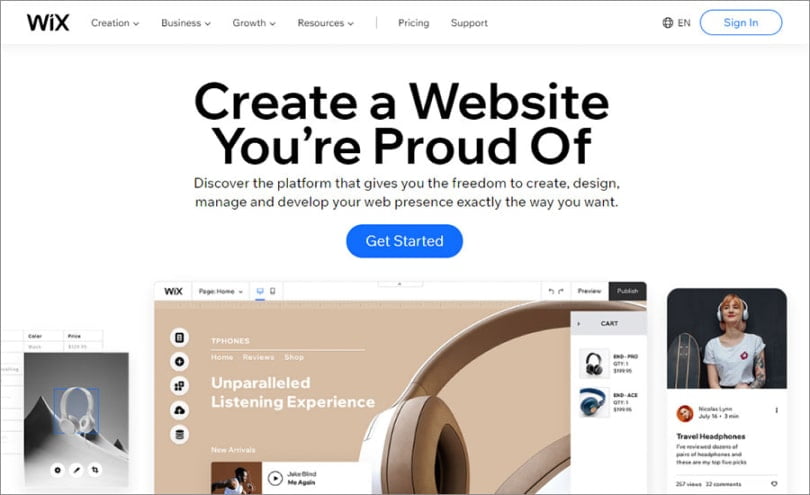 Create your own professional website from scratch on Wix.  You can promote your business, start your online store, or put your work on display. You can choose from over 500+ professionally designed customizable website templates. Get the professional touch, the way you want it.
Features:
Wix Editor – The drag and drop feature lets you fully customize your website. You can add video backgrounds, scroll effects, and animation.
Wix ADI – Want a website in minutes? Artificial Design Intelligence has got you covered. Answer a few questions and get a personalized website instantly.
Velo by Wix Open Dev Platform – Take a step further and create a web application with hassle-free coding and serverless computing.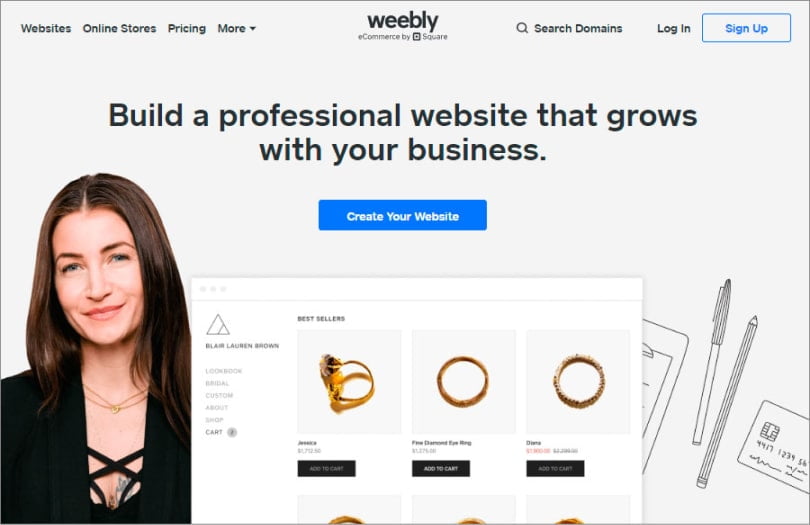 Weebly is one of the top free website builders in the market. The website provides you with guidance in each step of website building. You can reach out to the Customer Success team via email, call, or chat.
Features:
Weebly + Square – Remain focused on your business while Square handles the payments. You don't need coding, just items to sell.
Optimized for mobiles – Your customers can visit your website from a PC, tablet, or mobile phone. All Weebly websites are automatically optimized for mobile browsing and search engines.
Connect with your customers – Build your blog in mere minutes and tell your customers what you and your company stand for.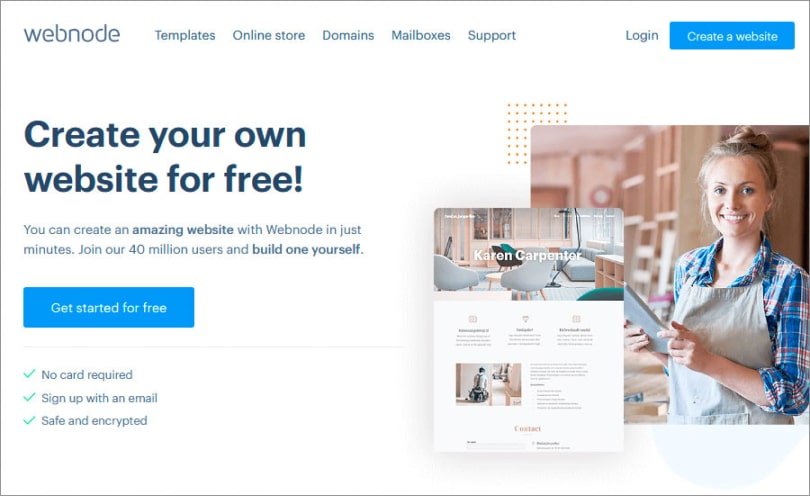 Webnode is the best website builder software for those who do not have frequent access to a desktop. You can create and update your website from your phone. The website builder has been up for 20 years and has over 40 million users.
Features:
Simplicity – You can sign up with just your email without adding your card information.
Intuitive editor – Add different types of content to any part of your website by just clicking on the plus sign. No coding is required.
Free domain – Purchase the Mini or higher Premium Plan, and get a free domain name for one year. If you can't afford it, run your website for free on Webnode's subdomain.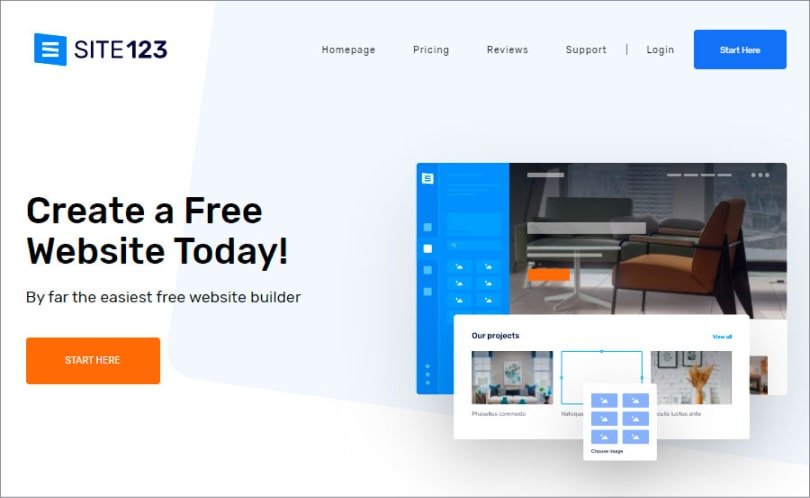 Build a free website in three easy steps with SITE123. Select which type of website you want, upload your content, and publish your website. You'll have a website within an hour.
Features:
Automatically optimized – Your website will be automatically responsive and fit on any mobile device.
SEO tools – Drive more customers to your website by optimizing your SEO and improving your results on search engines.
Royalty-free images – No need to hire a photographer. The integrated image bank puts hundreds of quality pictures at your disposal.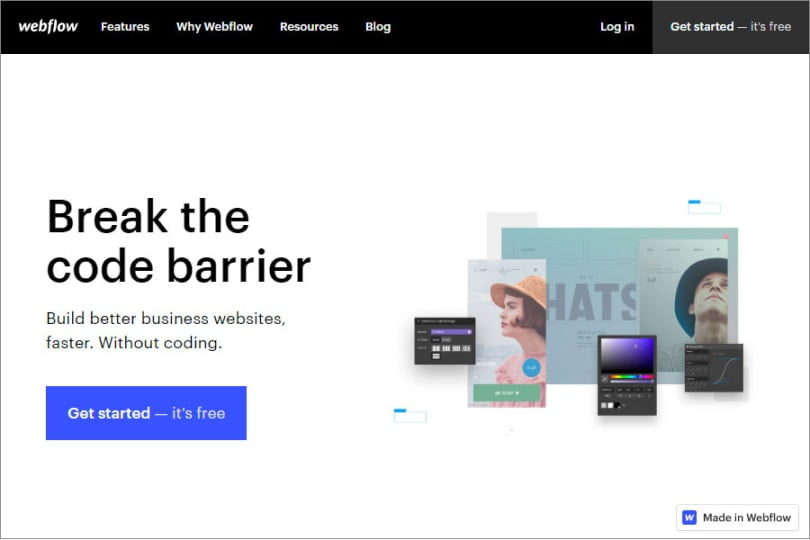 The top website creators use Webflow. You can build a professional, custom website on a completely visual canvas without any coding.
Features:
Webflow university – The website has free courses that help you learn how to design a website with Webflow. Learn from HTML and CSS basics to SEO and CMS essentials.
Fast hosting network – Put your website on the same network as Netflix, Amazon Web Services. It is fast, reliable, hassle-free.
Community – Join a community of 75,000+ members. Interact with like-minded individuals and learn from them.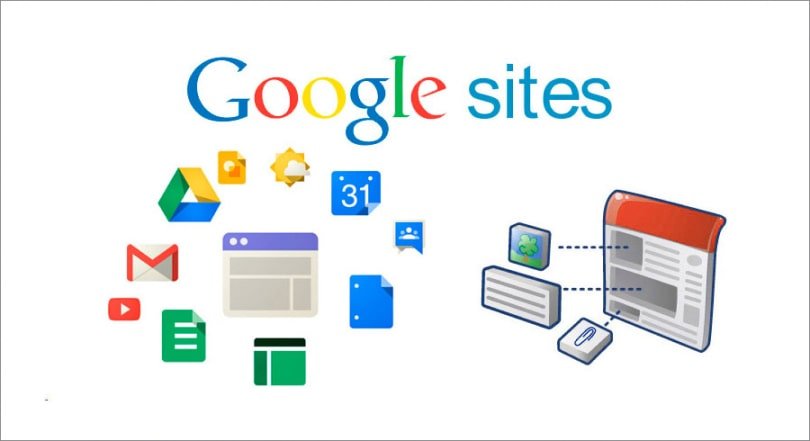 Google Sites is home to an expansive workspace that makes your work convenient. You don't need any prior programming or design skills to build your website with Google Sites.
Features:
Accessibility – Collaborate with your team easily with Google Workspace. Sync your calendars, Doc, Drive folder and work on the website together.
Security – No need to hire IT. You can change user permissions and ownerships with just your mouse making your work secure.
Domain – You can choose to purchase a domain through google's domain host partners.

Jimdo is the best website builder for the self-employed. The website is meant for small businesses looking to launch online. You also get a free domain for a year.
Features:
Get discovered – Jimdo handles your digital housekeeping. Receive tips on how to attract traffic and get a better google ranking.
Logo – You can make a free logo with Jimdo logo creator and build a unique brand image.
Professional store – Sell to your customers from anywhere and keep 100% of your revenue. Jimdo charges no fees on sales.
Instagram and Facebook integration – Expand your business through social media. All the products in your store will be automatically synced to your Facebook and Instagram.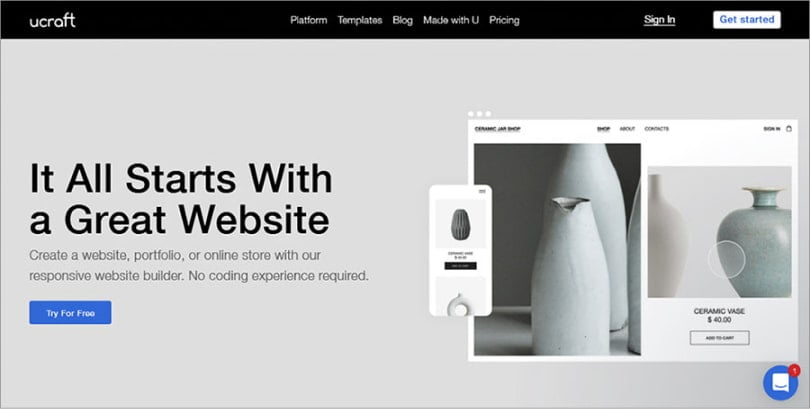 Don't know coding? Ucraft has got your back. Build a website, portfolio or launch your online store in minutes with its drag and drop feature.
Features:
Online stores – Sell your products/services across the web. Accept global payment methods like Paypal and Visa.
Free hosting – Your website will be hosted for free on Google Cloud making it fast and secure.
Blogging – Make your buyers feel connected with a personal blog created by the ready-made, designer blog templates.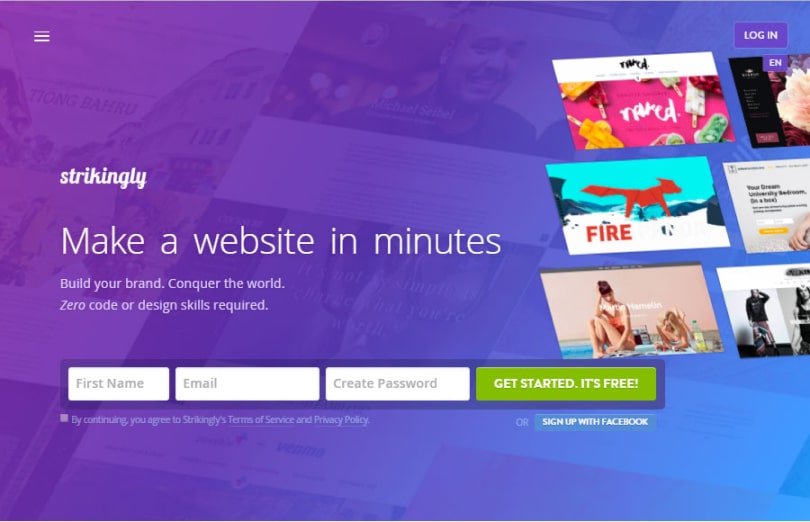 Build a website with Strikingly in minutes without coding or design skills. Get inspired by the blogs on the website about various entrepreneurs achieving remarkable success in their fields.
Features:
Built-in e-commerce – Add Strikingly's Simple Store and start making sales. You can connect to Paypal or Stripe instantly. Keep your customer base hooked by adding coupons and membership log-ins.
Built-in analytics – Your website comes with built-in analytics. Check who is visiting your website, how often, and how many viewers are getting converted into actual customers.
Personal touch – Get your audience familiar with the real you. Add your Facebook, Twitter, and Instagram feed directly on your site.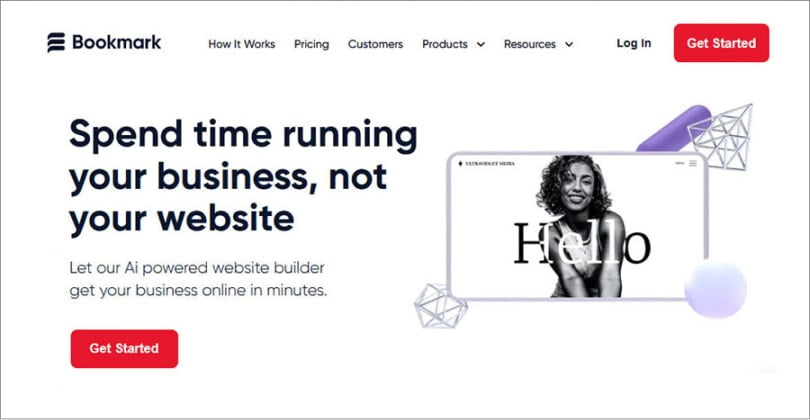 Get a hassle-free website with Bookmark. Less work, high returns. The AI-powered website builder ensures that your business is up and running online in minutes.
Features:
Multilingual website – Appeal to a global audience by using their language. Bookmark lets you translate your website in seconds.
Product Reviews – Build customer trust by allowing other customers to leave reviews on your products.
Discount coupons – Keep your customers returning by offering them tempting discounts. Offer 40 payment options.
---
Identify the needs of our business and consequently the needs of your website. Keep your skillset in mind and your future goals. If you own a small business, Jimdo is your pick but if you want your business website to be more professional and want to scale quickly, something like Webflow is a better pick. An important aspect to keep in mind is whether the website will be able to keep up with your expected business growth.