No matter if you are an entrepreneur who wants to start PPC advertising on Google or a beginner marketer or SEO specialist, taking the AdWords certification is a great stepping stone for your business.
However, if you are oblivious of what this exam entails and what you will get from it, keep reading to find out. Here we will outline some of the basic Partners program exams, as well as useful tips for passing the Fundamentals Exam.
---
What is Google Partners program?
Google AdWords is the biggest online advertising service, and currently the principal source of revenue for Alphabet co, which is the majority owner of Google. AdWords system offers advertisers the option of paying for brief advertising copy to appear in the SERP or other ad network places, such as YouTube, third-party websites, etc. The system uses cookies and keywords to determine who will get to see the ad.
In order to start advertising on Google and use the service, one must join their Partners program which entails getting an AdWords Certificate. In order to get listed in the Partners web page, you must pass at least two exams.
There are six different exams to take:
AdWords Fundamentals (mandatory)
Search Advertising
Display Advertising
Mobile Advertising
Video Advertising
Shopping Advertising
Passing the Fundamentals Exam is mandatory, whereas you get to choose which another exam(s) to take. This means that in order to get the certification, you need to pass two exams: Fundamentals + Search Advertising / Display Advertising / Mobile Advertising / Video Advertising / Shopping Advertising.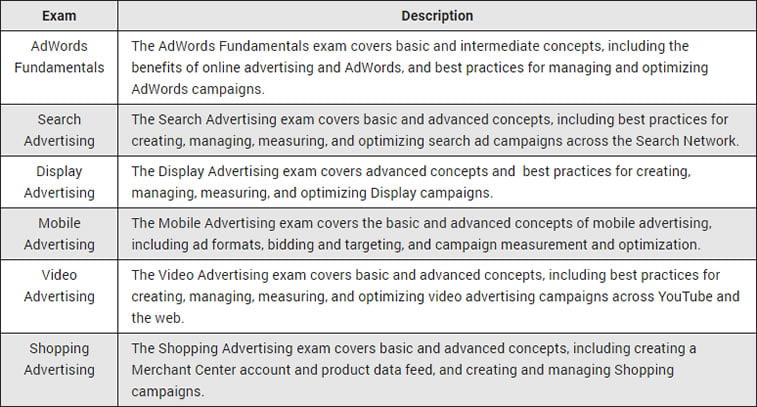 Taking the exam is completely free and Google offers you study materials to help you understand how the system works. If you fail the exam, you can retake it in a week.
Mind you that after you have passed the exams, they will expire in a year, so you are going to have to pass them again. The reason for this lies in the fact that Google updates its rules and terms of service quite frequently so some things can change in the meantime.
Since you need to pass the exams independently, this means that if you pass Fundamentals in October and e.g. Search Advertising in November, the former will expire in October 2018 and the latter in November 2018.
---
What do you need AdWords certification for?
Reasons for taking the exam can be various.
First off, you learn a lot.
If you are an entrepreneur and want to start placing ads for your company on Google, taking the exam will definitely be beneficial for you. You will learn and understand how running the campaigns works, how to monitor them and get useful insights to improve your ads. Additionally, you will be able to even attach the Partners badge to your website, which definitely means your visitors can trust you.

On the other hand, if you are a marketer, SEO specialist or want your digital agency to get the badge so you can offer this service to your clients, passing the exam would be a great milestone for your company and a form of free advertising, too. Namely, every partner gets listed and is able to connect their website with the listing. This makes you and your agency trustworthy and Google-approved.
---
Studying tips for AdWords Fundamentals exam:
The first thing you need to do is to sign up for the Google Partners program.
The next step is going through the Exam study guide which is written by Google and is the only official and best tool for taking the exam. The guide consists of three modules:
Understanding the value of online advertising. In this module, you will get to know Google's advertising network and see how AdWords work – where your ads can be shown and how to create quality ads.
Setting up an AdWords campaign. The second module, you will learn how to choose a campaign type, what the best practices are, what targeting options AdWords offers, how to choose and set your bid and budget, and you will also be introduced the tools you can use to plan your campaigns (Keyword Planner and Display Planner).
Measuring and optimizing performance. The third module introduces reporting options – different reports for result measurement, tools for measuring your performance, metrics evaluation in line with your goals, as well as tips for optimizing your campaigns.
Each module offers additional study materials, which we wholeheartedly recommend to read because the guide itself is usually not enough to get the total grasp of the program, especially if you are a beginner – or even a senior in advertising.
Also, we highly recommend watching the AdWords Fundamentals Exam preparation course on YouTube:
After this, you can try to take the mock exam(s) and only after you are completely sure you can take it – go ahead and try.
Hope this works for you!
---
Back to you
Have you taken the exam(s) already? Is there anything you would add? After how many attempts have you passed? Tell us your study tips in the comments below.
---
Find this read useful? Learn more about SEO: