Often neglected by many a community manager, Twitter is actually more useful than you can imagine.
And complex, too. But not scary-complex kind of way. As one of the biggest and fastest-growing social platforms, it is often undervalued due to the brevity of its tweets.
How can one think of a 140-character-long tweet and make it sound interesting enough for a wider readership?
— you may ask yourself.
Well, the answer is simple: you do not need to be a linguistic genius or a crazy copywriter to hit the jackpot on Twitter. You just need to discover some advanced Twitter techniques, so keep reading and find out how to go pro.
Do KISS and tell
We will start from the basics. Even though this is not a fancy feature Twitter has, it is, however, a technique you have to master from the first day of launching your profile. Many people do not know how to express themselves shortly, but this is a must on this social platform.
You have probably been told not to kiss and tell – but when on Twitter, you need to. Keep It Super Simple is what we are aiming at. The shorter your tweet, the better. Kevan Lee, a respectable content crafter, calculated that the perfect length of a tweet should be 100 characters long if you want it to hit multiple retweets.
Use Tweet Deck
The amount of information and tweets flying around at the same time can be overwhelming. Keeping track of what so many people are posting at the same time can be hard, but not if you know how.
If you want to keep an eye on all the freshest updates, you are going to have to use some nice tools Twitter already offers. For example, Twitter Deck is an application which gives you a clear overview of the latest updates, notifications, messages and activity feed, all in one window, so you can follow them simultaneously and in real time.

And there is an additional section for instant tweets, so you don't have to worry about not having where to post them. All you need to do is to log into your account and the magic begins!
Meet Advanced Search
What many beginners on Twitter do not realize during their first day(s) of tweeting is the Advanced Search section. What makes it better than default search box is that it allows you to target specific thing, such as phrases, language, accounts, hashtags, location, etc. And do not forget to hit the Other section for more specific results!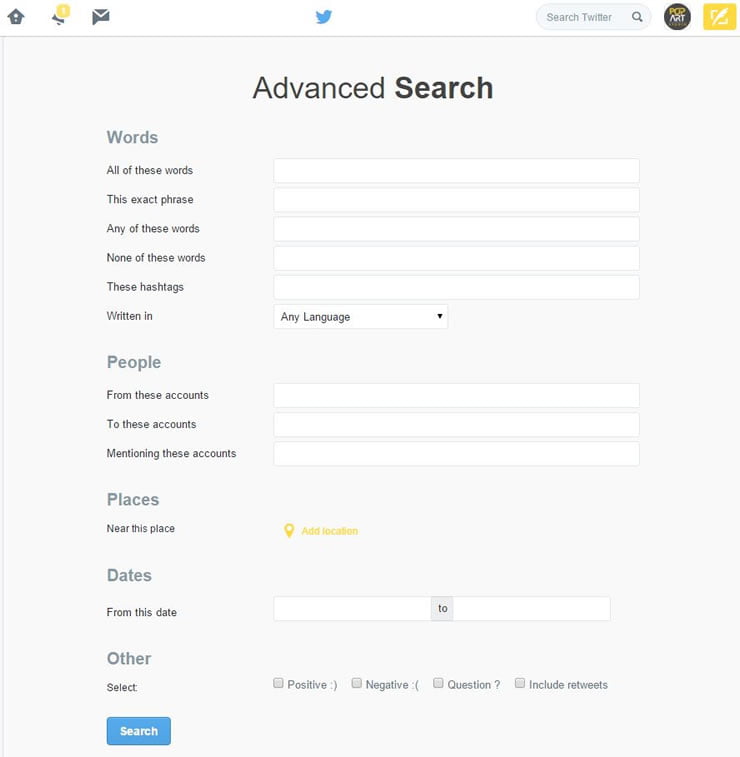 Be fast, be furious
We are living in a fast-paced world which sees no time constraints. This means that if someone retweets you, asks you a question or sends you a message, you need to answer them as quickly as possible. The aforementioned Twitter Deck can help you with that.
Additionally, make sure to keep your tweets as fresh as a daisy and send only the newest industry news into the air.
Add media
If you want your tweets to be more appealing to visual users, make sure to click the Media button before your post your tweet. They say that a picture is worth a thousand words, but we can modify this saying according to Twitter glossary:
a picture is, indeed, worth a thousand characters,
so always prepare one to help you with engaging your followers.
Further reading: