Creating a wireframe is a key step in web design and web development because it allows to shift the focus more on functionality and interaction with users.
Website design is not restricted to the order of the elements on the front page and the choice of colors or images that will be associated with the theme of the site. Of course a good visual design is important to attract the attention of visitors and to ensure good user experience.
Although wireframe does not contain too many details, its goal is to create a clear presentation of the final design with the essential elements that will be the guide for team members involved in the project (developers, visual designers, content developers, project managers).
Wireframe needs to be created quickly and the time of its making should be spent on creative thinking and communicating with team members. Wireframe allows customers to notions basic idea of the site, leaving most of the functionality in their imagination.
Good wireframe is crucial for the success of the project
A very important thing when working for clients is that they should be involved in the project. Clients need to know what they are getting, how it will look and function, in order to minimize the chances of dissatisfaction at the end of the project (which is not uncommon).
All who are engaged in web design and development are certainly at least once came into a situation to have an unsatisfied customer. This is a normal thing, but if the same situation repeated many times it is a sign that something needs to change.
The solution lies in improving the flow of the project, starting from creating a wireframe and later prototypes or static mockup's.
Now that we know wireframe facilitates communication ideas, defines a clear path of the project, reduces costs, improves usability and functionality testing, it is certain that deserves first place in your work process.
Free wireframe tools
Below we present several free tools and one of the best current premium solutions.
InVision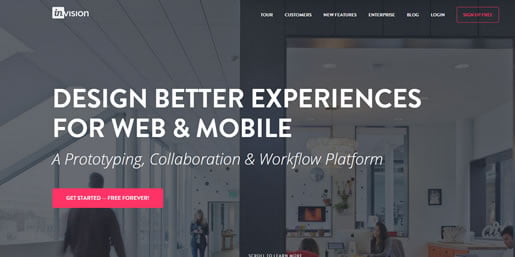 InVision is a tool for creating prototypes and mockups, which is based on the cloud. In addition to the advanced options for creating prototypes, team members working on the project have excellent possibilities of collaboration where the changes are visible in real time. This tool is free to use.
Moqups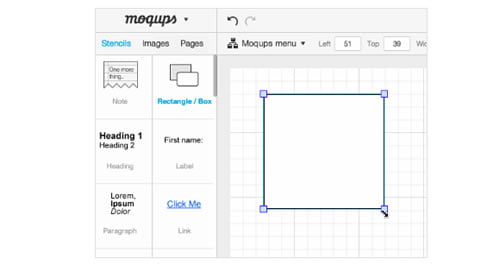 Moqups is a simple HTML5 application for creating mockups, prototypes, wireframes and UX design in general. In addition to the predefined elements of the user interface tool allows you to upload photos and export completed works in pdf and png format. Simplicity and functionality is what characterizes this tool.
Cacoo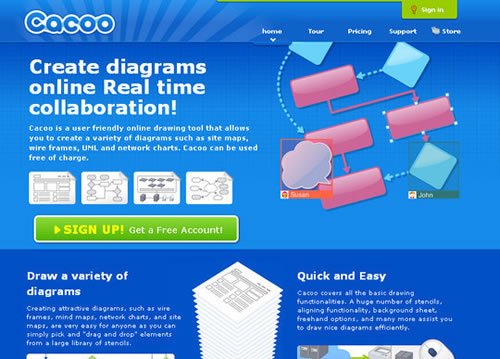 Cacoo is a user friendly online drawing tool that allows you to create different types of diagrams, site maps, wireframes, UML diagrams, network diagrams etc. Cacco offers basic functionality in the free version, and there is also a premium version.
Gliffy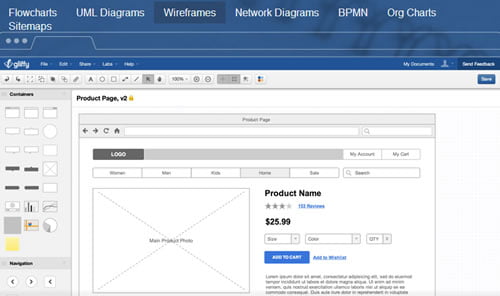 Gliffy is a tool that combines several different tools to create different types of diagrams, flow charts, UML diagrams, organizational charts and wireframes. With the free version of the program you can create five diagrams which is enough for smaller projects.
MockFlow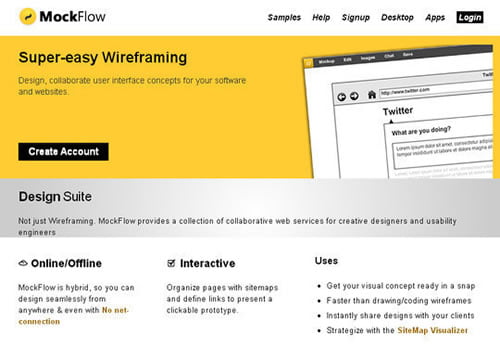 MockFlow design cloud enables online options for the planning, creation and sharing of work for designers. This tool is interactive with plenty of options that you can use. Free version of this program offers the possibility to create only one project and one license for design.
Wireframe cc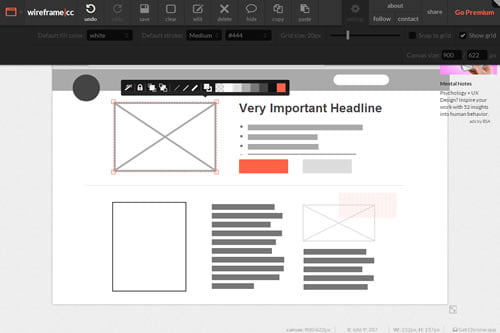 Wireframe.cc is a simple tool for creating wireframes for websites and mobile apps. Offers intuitive options for managing elements of design, easy editing, sharing and limited range of options. The main goal of this tool is to prevent losing basic idea of design by using various decorations and styles.
UXPin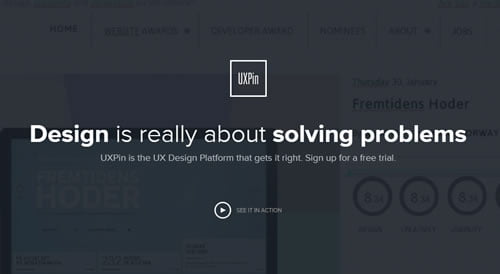 Currently the best available solution for creating online interactive wireframes and prototypes. UXPin is mostly focused on creating a good UX and has many options for customization of design elements. It is designed for users who want to spend more time on creating wireframes with beautiful design. UXPin offers great options for collaboration. You can try it for free for a period of 30 days.
If you know some good tools of this kind, share them with us in the comments.