Any website that have content in more than one language can be considered multilanguage website. Also, there are multi-regional websites which explicitly target users from different countries.
We will give you some practical advices how to create website with multiple languages, and follow all Google terms of service.
Creating a website which covers several countries or languages (or both) can be a challenge. Because you have multiple versions of your websites content, all problems you occur could be multiplicated ( sounds frustrating, right ? ), so my advice is – before you publish your site online, you should test everything on your website, so you can be sure there is proper infrastructure.
Ask yourself: Whats my goal ?
The most important thing on the start is to define regions you are targeting and languages offered on the website so you can choose proper domain and URL structure.
What are your targeted regions
Which languages will be used
Domain name and URL structure
Domains and URL structure
After you know what languages will you use, and countries or regions to target, you will need proper strategy for your URL structure. Before starting building website articles and architecture, take a look at advantages and disadvantages of every URL structure.
www.example.co.uk (different domain for every area)
en.example.com (subdomains)
www.example.com/en (folders)
We will analyze all three domain options.
Geo-targeting
The best solution with geo-targeting is to own multiple domains with country specific TLD. This lets you create different websites with TLD (Top Level Domain) code of country you target, use META tags, different servers and use IP addresses of targeted countries. If you use generic TLD like .com, .net, .net, you will also be able to use geotargeting using Webmaster Tools.
Second option is to use multiple subdomains, you will also be able to use geo-META tags, set different IP addresses, and set geotargeting option in Webmaster Tools.
The last option is using folders to sort your pages on different languages. You would also be able to set geo-META tags, Webmaster Tools, but no different IPs.
Authority and trust of domain
Search engines use several parameters when deciding authority, trust and strength of a domain.
So, from this point of view, the best choice would be using folder tactic (www.example.com/blog). Considering folder like part of a main website, all parameters are satisfied. When we use different domains, then none of the factors mentioned above doesn't transfer to a new domain.
But what happens when we use subdomains ?
Researches of some SEO experts shows that when root domain have small number of subdomains, part of authority can go to subdomain.
Results of search engines
When one site appears many times in search results, its bigger chance to get a visitors. Search engines usually don't show more than 2 results for 1 website, to maintain diversity and quality of the results.
In this case, using different domains can get you the most of benefit.
Also, if you use folder tactic, its clear that you cant get more than 2 pages in search results.
When its about subdomains, Google alghotitm gives priority to different domains, and not showing more than two results for 1 subdomain or domain. But like always, there are exceptions when its about world famous brends like HP where subdomains are more preffered than pages of the same domain.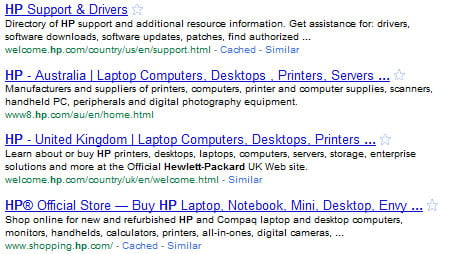 Links in interior pages of the site that sometimes appear in search results are there to help users in site navigation. Its generated using alghoritm, but webmasters can also select the most relevant links from Google Webmaster Tools. This links are supported both for domains and subdomains.
Web Design and Structure
When we are making a website, we are mostly going for the same design and structure on all pages, which makes user experience more comfortable, and that also helps search engines understand main components of website.
If we use subdomains, we don't have to use same design and structure, because subdomains are stand-alone websites, only with one dot more in URL.
Should we use more domains, subdomains or folders ?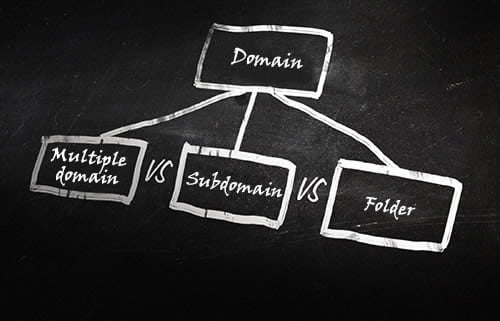 It's all up to you, you should know which method would suit the best for your website.
Multiple domains should be used only when you want to cover a lot of different countries, and ofcourse, when you have enough content and resources for those domains. This solution makes possible to have totally different appearance of the website, structure and categories and significally helps in number of results in Search Engine Results Page.
When to use subdomains ?
Subdomains should be used when you have different products and services you would like to offer using different website structure (Google did this for different products like Adwords, Translate, Mail, etc …). Subdomains could also be used for geotargeting and more indexed results in SERP. For dynamic multilanguage websites, subdomains are excellent solution because simplified coding and good SEO results.
When to use folders ?
Folders are the most common, and the easiest solution for all purposes. Folders are like subdomains the safest method when it comes to SEO and web development, even if subdomains gives a bit more of segmentation compared to folders. You should use folder method in case you have relatively small website and you want to keep domain authority in main categories.
Duplicate content
Websites offering multilanguage content for different regions often use same content. This is not a big problem, but only if content predicted for different countries/regions. Even if Google advices to as much unique content as possible, big G understands that its not always posible.
If we have duplicate content we shouldn't forbid robots to index site using noindex tags or robots.txt, we should only let them know which is preferred version of the content using canonical links and redirect them properly rel-alternate-hreflang. In this way, you can ensure that every user gets suitable version of the content and stops Google "slaps". You can watch and learn more about using rel-alternate and adjusting multilanguage website in official Google Webmaster Channel.
Conclusion
We explained advantages and disadvantages of all three ways using more than one language on website, but before you bring decision what method you should use, first ask yourself:
– Do I have enough resources and content for more domains/subdomains ?
– Do I have enough knowledge to properly adjust domains/subdomains ?
– Am I able to start good SEO campaign for it ?
If answer to this questions is NO, the safest way would be to hire a professionals.