Digitalni marketing i SEO u poslednjih nekoliko godina postali su usko povezani, toliko da se skoro ne može razaznati jasna granica između njih i SMM-a (eng. Social Media Marketing), koji neki smatraju i posebnom oblašću poslovanja.
Ono čime se stručnjaci za marketing na društvenim mrežama bave jesu – sasvim logično – društvene mreže i promocija brendova na istim. Jedna od najvažnijih društvenih mreža, ako ne i najuticajnija u poslednjih nekoliko godina, jeste Fejzbuk (Facebook).
Od samog svog nastanka, Fejzbuk je veoma uznapredovao i u pogledu analitike koju nudi svojim poslovnim korisnicima. A ona se vrlo lako može videti korišćenjem alata Facebook Page Insights.
Šta je alat Facebook Insights?
Alat Insights je posebno sredstvo pomoću kojeg vlasnici stranica (ne profila, nego poslovnih stranica) dobijaju uvid u uopštene informacije o posetiocima i korisnicima stranice – o demografiji, uređaju preko koga se dolazi na stranicu, vremenu provedenom na stranici, broju sviđanja/deljenja/komentara/spominjanja, promotivnim kampanjama, pregledu video snimaka, itd.
Gde se nalazi ovaj alat?
Za početak, biće vam potreban profil i poslovna stranica; važan preduslov je, naravno, i to da je vaš sajt povezan sa stranicom (odnosno, da je stranici dodeljeno vlasništvo, iliti na engleskom jeziku – ownership).
Saznajte kako da napravite Open Graph Protocol i Facebook App.
Možete mu pristupiti na dva načina:
preko direktnog linka https://www.facebook.com/insights (ukoliko ste vlasnik više stranica, u sekciji Page Insights jednostavno odaberite željenu stranicu);
na samoj stranici vaše firme, kliknite na karticu Insights koja se nalazi ispod pretrage, odnosno iznad naslovne fotografije vaše stranice (vidi sliku dole).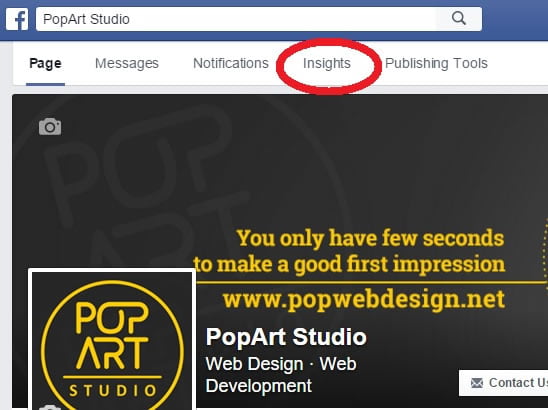 Šta sve sadrži?
U trenutnoj verziji, alat Facebook Insights sadrži devet odeljaka: Overview, Likes, Reach, Page Views, Actions on Page, Posts, Videos, People i Local.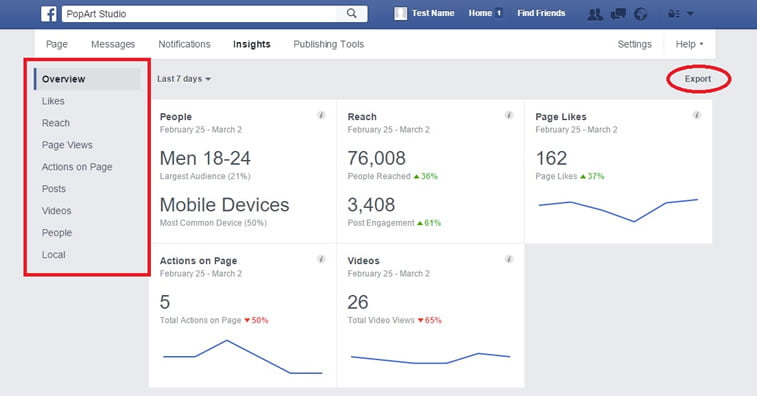 1. Pregled (Overview)
U ovom odeljku nalaze se uopštene informacije o posetiocima vaše stranice (morate imati barem 30 osoba kojima se stranica sviđa), uređaju na kome su je pregledali, dometu, video snimcima, sviđanjima, itd. u vremenskom periodu koji odaberete (danas, juče, u zadnjih nedelju ili mesec dana), kao i pregled zadnjih 5 objava.
2. Sviđanja (Likes)
Odeljak sviđanja prikazuje podatke o ukupnom broju sviđanja (total page likes), neto sviđanja (net likes), gde je dugme Like pritisnuto (prego oglasa, na samoj stranici i sl.), i to možete da odaberete koji god želite vremenski period od nastanka stranice.
3. Domet (Reach)
Ovaj odeljak prikazuje koliko je korisnika videlo vaše objave i kako su reagovali na njih (komentari, deljenja, sakrij, prijavi spam).
4. Broj pregleda stranice (Page views)
Kao što i sam naziv kaže, u ovom odeljku imate uvid u broj pregleda, koji se može razvrstati prema kartici (Timeline, Home, About, Photos, Reviews), prema starosti i polu, državi, itd. i izvoru.
5. Aktivnost na stranici (Actions on page)
U ovom odeljku možete saznati kako su se posetioci vaše stranice ponašali – na koje su linkove kliknuli, da li su kliknuli na broj telefona, link do sajta, itd.
6. Objave (Posts)
Uvid u odeljak o objavama govori vam kada su vaši posetioci na mreži, koja vrsta objave je uspešnija (link, video snimak), a tu takođe možete pratiti i konkurentske stranice i videti njihovu uspešnost.
7. Video snimci (Videos)
Ukoliko ste rešili da se posvetite i video promociji, u ovom odeljku možete pratiti broj pregleda snimaka koje ste postavili, preglede snimaka duže od 30 sekundi i najpopularnije video snimke na stranici.
Pogledajte naš promotivni video koji smo nedavno objavili na Facebook stranici i na našem YouTube kanalu!
8. Demografija (People)
Odeljak o demografiji pruža vam uopšten uvid u pol i starost korisnika, jezik, lokaciju itd.
9. Lokalna analitika (Local)
Od novembra 2015. godine dostupna je i lokalna analitika koja vam govori o korisnicima Fejzbuka koji su u blizini vaše firme – tako da ih na osnovu ovih podataka možete ciljati pri promociji stranice.
Kako iskoristiti alat Insights za unapređenje poslovne stranice?
Odgovor na ovo pitanje pre svega zavisi od vlasnika stranice, administratora društvenih mreža, ili bilo kog drugog člana tima koji se bavi strategijom sadržaja.
Na osnovu svih ovih podataka mogu se praviti izveštaji o učinku, posećenosti, promene u radu i sl.
Podatke možete izvući u željenom formatu klikom na dugme Export, koje se nalazi u desnom gornjem uglu na kartici Overview (vidi sliku gore).
Ova alatka kompanijama može dati uvid u to kako se troše sredstva uložena u promociju na Fejzbuku i koliki je povrat investicija (eng. Return on Investment, ROI). Na osnovu svih ovih informacija, može se takođe spremati i strategija pisanja sadržaja (eng. content strategy) ili čak persona za ciljnu grupu (više o tome možete pročitati na Mozu).
Iz iskustva predlažemo da ovu alatku ne gledate prečesto – umesto da se usredsredite na sadržaj, bićete omađijani ciframa koje će vam lako odvući pažnju. Ovaj alat treba da učini upravo suprotno: da vam pomogne u stvaranju sadržaja i unapređenju poslovnog imidža kompanije. Zbog toga predlažemo umereni pregled i izveštavanje na mesečnom (ili čak tromesečnom) nivou.
Vidi još: