U zadnje vreme se u svetu web dizajna često spominje Google Penguin update, neki su možda čuli za njega, a većina webmastera je i osetila njegov uticaj na svojim sajtovima.
Ova ispravka izazvala je pustoš u SERP (rezultatima pretrage pretaživača) i doprinela da mnogi sajtovi koji su radili SEO optimizaciju za sebe izgube svoje pozicije na Googlu, dok su manje popularni sajtovi koji izgledaju prilično slabo zauzeli njihovo mesto. Dakle, šta se desilo i kako se boriti protiv toga?
Smisao Google Pingvin ispravke je da kazni sajtove koji koriste SEO tehnike na lukav način samo da bi zauzeli bolje pozicije na rezultatima pretrage. Postoje neke stvari ovde koje igraju glavnu ulogu…
1. Onpage SEO. Ako preterano koristite vašu glavnu ključnu reč u naslovima, H1 tagovima, meta tagovima, sidebaru itd. Google će analizirati to ponavljanje i na osnovu toga će kažnjavati – penalizirati sajtove. Google zahteva da sve bude prirodno i da se ključne reči koriste umereno na sajtu. Hteli vi to ili ne od sada ćete morati da se prilagodite pravilima igre koje Google diktira, ako želite da postignete visoke pozicije u rezultatima pretrage.
Ukoliko ne želite da se prilagodite Googlu imate mogućnost da odustanete od njega (što i nije baš pametno rešenje)  i da radite optimizaciju za Yahoo i Bing koji ne uzimaju u obzir sve ove faktore i dopuštaju da koristite tehnike onako kako vi želite da bi postigli željene rezultate.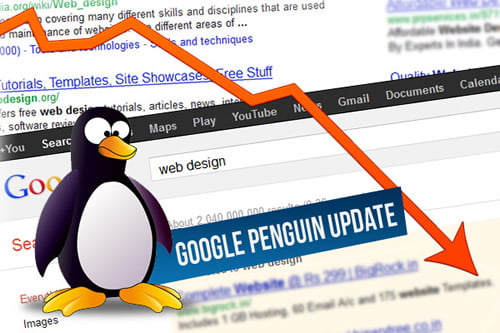 2. Anchor tekst vaših dolaznih linkova. Dugo je važilo pravilo da ako želite da se dobro rangirate za neke ključne reči samo njih treba da koristite u tekstu linka, ali to se promenilo. Google sada proverava distribuciju tekstualnih linkova koje ste koristili u Offpage SEO optimizaciji sajta i traži da se uklonite neprirodne povratne linkove. Znači ako je vaš sajt prijavljen na Google Webmaster Tools i Google detektuje neprirodnu distribuciju linkova, dobićete poruku da su vaši povrtni linkovi neprirodni i da treba to da popravimo. Problem je sledeći, prirodni linkovi nebi trebali uvek imati anchor tekst, deo njih treba da izgleda ovako http://www.vašsajt.com. Anchor tekst bi takođe trebao da bude raznolik da bi linkovi bili prirodni, tj. da koristite više različitih ključnih reči u linkovima koji vode ka vašem sajtu.
Mnogi ljudi nude razna rešenja i recepte kako tačno treba da se radi izgradnja linkova, ali naš savet je da ne slušate nikoga od njih. Ako neko od njih stvarno ima tajnu formulu za dominaciju na pretraživačima sigurno je nebi podelio sa vama već bi je iskoristio i primenio na svom sajtu.  Najvažnije je da se držite osnovnih odrednica koje je definisao Google i prema tome uradite mnoga testiranja da bi odredili koja strategija linkova najbolje funkcioniše za vas.
Pa kako možete da pobedite Google Pingvin?
Kao što smo upravo rekli niko neće podeliti sa vama tačnu formulu kako da to postignete. Ono što možemo uopšteno preporučiti je da se ne trudite da uklonite vaše stare linkove, jer bi to moglo da potraje godinama. Umesto toga počnite da gradite nove linkove i pridržavate se Googlovih pravila distribucije. U idealnom slučaju ako dobro uradite novu link strategiju, neravnomerna raspodela linkova koju ste do sada imali će početi da se izjednačava i izgleda prirodno Googlu.
Opet, to je samo naša preporuka vi ne morate da je uzmete u obzir osim ako sami ne želite. Šta god da uradite želimo vam mnogo uspeha u izgradnji dobrih linkova i samim tim povećanju profita vašeg sajta.