Postoji dosta open source softvera koji su dostupni za preuzimanje na Internetu. Možete naći programe kako za OSX tako i za Windows, za dizajniranje i kodiranje sajtova. Nažalost nemaju svi sredstva za premijum (komercijalne) softvere ili vremena za učenje novih interfejsa.
Postavili smo ovaj vodič sa opisom nekoliko sjajnih softverskih aplikacija otvorenog koda. Svaki softver je potpuno besplatan za preuzimanje i instaliranje. Web dizajn je veoma težak posao i zahteva odgovarajući skup alatki. Ovaj članak možda ne sadrži sve što je potrebno, ali se nadamo da će bar poslužiti kao dobra početna tačka za web dizajnere sa ograničenim budžetom.
Notepad++
Mnogi developeri znaju dosta o Notepad++, ovo je  fantastičan open source softver, okruženje koji podržava veliki broj programskih jezika.
Čak i kada se radi o back-end web razvoju, možete izraditi kompletne softverske aplikacije u Javi ili C++, lista sintaksnih karakteristika je ogromna. Trenutno ovaj softver radi samo na Windows OS i za sada nema naznaka da će biti dostupan za druge operativne sisteme. Ovaj softver je odlična zamena za Dreamweaver i još neke skupocene alate.
NetBeans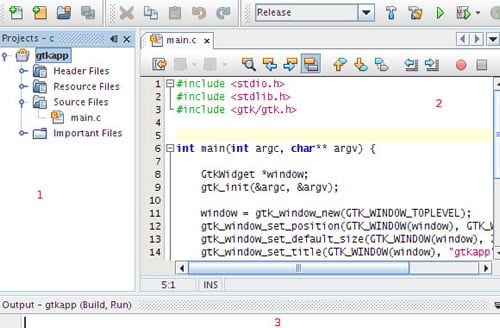 Uzimajući u obzir rešenja za različite OS imamo NetaBeans IDE. Ovo je besplatano radno okruženje za Windows, Mac i Linux. Softver podržava mnoštvo sintaksa, takođe i neke 3rd party Java/C++/PHP frameworke. O NetBeans- u se toliko sjajnih stvari može reći. Pogledajte najnovije izdanje na njihovom oficijalnom sajtu sa više dokumentacije i informacija o promenama.
Trenutno softver podržava različite jezike, što je odlično za programere širom sveta. NetBeans je zaista univerzalno rešenje kada su u pitanju besplatna okruženja za kodiranje  nezavisna od operativnog sistema. Još jedna prednost ovog okurženja je to što postoji velika lista plugin-ova za proširivanje mogućnosti ovoga softvera.
Amaya
Amaya softver je u stvari jedan stariji projekat pokrenut od strane W3C. Prvobitno je pokrenut 1996. i imao je mnogo ažuriranja od tada. Trenutno se Amaya može naći u verziji 11.4 sa podrškom za Windows i MAC. Ovaj softver trenutno malo zaostaje za današnjim web standardima što možete primetiti na njihovom sajtu.
Amaya nema specifikaciju za HTML5 i CSS3, kao ni opcije za naglašavanja sintakse koda, takođe nećete pronaći automatsku sugestiju koda za mnoge druge programe. Ako imate vremena dajte priliku i iskušajte Amaya, možda vam se svidi i ispostavi kao korisna.
Smultron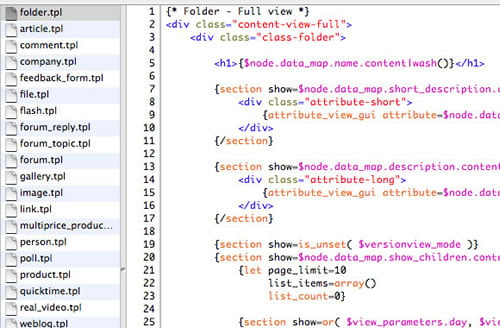 Smultron text editor je program napravljen za Mac OS X i mobilne iOS uređaje. Ovaj softver poseduje mogućnost naglašavanja sintakse koda, dostupan za preko 90 različitih jezika. Stultron je veoma moćan IDE softver za skidanje sa Mac App Store i odličan je za iskusne web developere.
FileZilla
Svi web dizajneri i developeri će u nekom momentu biti u situaciji da koriste FTP pristup. Ne možete da objavite sajt bez postavljanja fajlova na sever. Srećom postoje nekoliko open source FTP programa koje većina webmastera mogu koriste, a FileZilla je najbolji izbor za Windows korisnike.
Softver je besplatan za korišćenje i ima mnoge osnovne karakteristike koje očekujete. Možete da sačuvate predefinisana FTP podešavanja za brzo povezivanje na sajtove koje često koristite i još mnoge korisne opcije. Svako kome je potreban besplatan FTP program na Windows platformi treba da iskuša FileZillu.
Cyberduck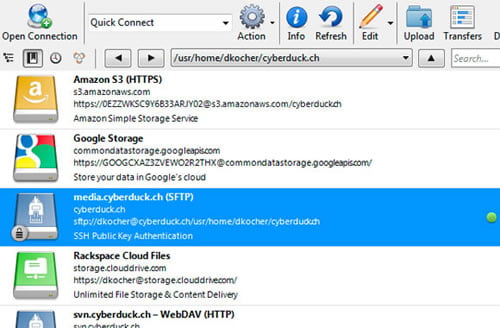 Što se tiče MacOS X operativog sistema Cyberduck je definitivno najbolji besplatan FTP softver. Možete preuzeti aplikaciju direktno sa Mac App Store. Takođe je dostupan i za Windows korisnike ako mislite da FileZila nije dovoljna. Ono što je karakteristično za Cyberduck je jednostavnost u performansama korisničkog interfejsa. Možete brzo skenirati svoj server kako bi pronašli potrebne fajlove i preuzeli specifične foldere.
Takode ovaj program će vam omogućiti da pregledate fajlove pre preuzimanja. Ono što je takođe posebno za Cyberduck je to što se možete direktno povezati cloud storage servise kao što su Google Drive i Amazon S3.
GIMP/GimpShop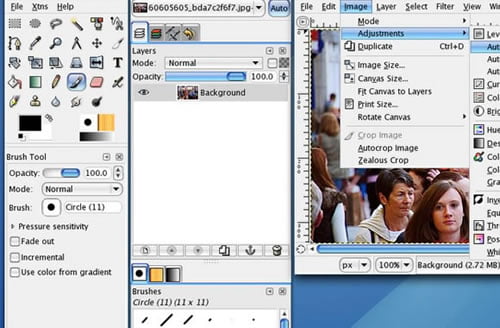 Možda će Vas zbuniti razlika između GIMP i GimpShop-a. Oba su besplatna i open source softvera za preuzimanje za Windows ili Mac kompjutere. GIMP je skraćenica za GNU Image Manipulation Program koji je orginalno izdanje ovoga softvera. Poznavaoci ovog programa će prepoznati interfejs i sve tipične alate za uređivanje slika.
GimpShop je besplatan i open source softver, dizajniran da izgleda slično kao Adobe Photoshop, tako da grafički dizajneri koji su upoznati sa Adobe proizvodima mogu lako da ga koriste. Ovo je u osnovi besplatan paket za uređivanje slika, banera, dugmića, čak i za kompletan mockup web sajtova. Ako ste neodlučni između ova dva programa predlažemo vam da probate oba pa da onda odlučite.
Inscape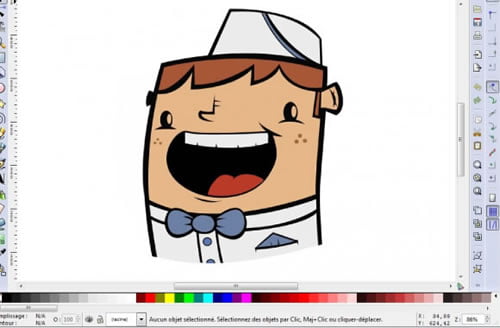 Ovo je takođe jedan od alata za grafičku obradu koji je odličan za buduće web dizajnere. Inscape je open surce projekat za rad sa vektorskom grafikom. Možete ga smatrati besplatnom elternativom Adobe Illustratora sa podrškom za Windows, Linux i Mac.
Najbolji deo rada u Inkscape je to što možete raditi direktno sa W3C SVG vektorskom grafikom koja je zadnjih godina sve više podržana i može se ubaciti direktno na web stranice. Web browseri takođe podržavaju SVG grafiku i možete je koristiti u razne svrhe.
Greenfish Icon Editor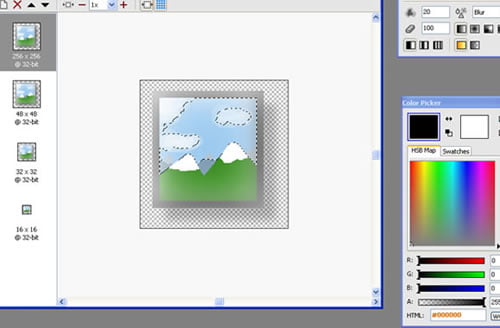 Nažalost ovaj program se može koristiti samo u Windows-u, ali i ne može uraditi ništa posebno što ne možete postici u GimpShop-u. Jedino što Greenfish Editor može uraditi je brže kreiranje skupova ikonica koje koje su prilagođene izgledu vašeg sajta. Softver je 100% besplatan i radi na svim Windows platformama. Možda ćete morati provesti malo više vremena da se snađete u navigaciji, ali će biti korisan za dizajnere koji koji vole preciznost i žele da vide pobliže svaki piksel.
Na kraju
Nadamo se da ovaj vodič biti od koristi kako za dizajnere tako i za developere, pa ako imate slobodnog vremena isprobajte neke ovih softvera da vidite kako ustvari rade. Bićete iznenađeni koliko moćni mogu biti, a što je najvažnije svi su besplatni i lako ih možete preuzeti i insalirati na vaš računar.