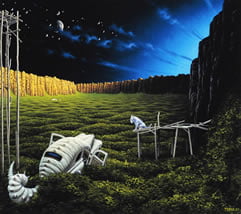 Jacek Yerka je slikar iz Poljske rođen u gradu Torun. Kada je reč o digitalnoj umetnosti, mali je broj umetnika koji crtaju takve radove. Potrebno je prvo osmisliti slike imaginarno u glavi, a zatim to i preneti na papir. Jedan od takvih umetnika je Yerka. 1995. godine  je dobio priznanje "World Fantasy Award".
Jerka je izlagao svoje radove u Poljskoj, Francuskoj, Nemačkoj i USA, takođe njegovi radovi su izloženi u muzeju Poljske. U nastavku pogledajte neka od njegovih dela.
E-business and internet marketing specialist.
Latest posts by Jovan Ivezic (see all)