U poslednjih par godina broj fontova koji su dostupni za upotrebu u web dizajnu je dramatično porastao. Ne tako davno su se isključivo koristili osnovni Arial, Helvetica, Times i Georgia dok sada postoje različiti načini da se iskoristi svaki font koji možete da zamislite. U nastavku članka predstavićemo neka od rešenja kao i njihove dobre i loše strane.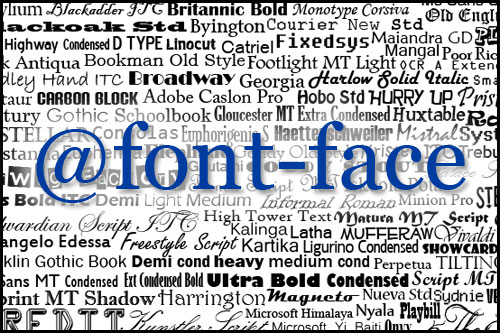 @font-face
Najosnovnije rešenje iz cele grupe jeste CSS3 @font-face opcija. @font-face omogućava da se učita font fajl kroz CSS i da se onda primeni stil u HTML-u.
Dobro:
Pokreće ga CSS. Ne treba Javascript ili Flash
Potpuno dostupan
Lak za implementiranje bez dodatnih plugin-ova
Loše:
Ograničen na open source fontove
Linkovi:
Spice Up Your Web Typography with @Font-Face
Google Web Fontovi
Od kada je Google izbacio svoj Google Web Font API servis je porastao i obuhvata stotine besplatnih fontova koje možete da koristite u svom dizajnu. Servis je postao hit čim se pojavio i sa obzirom na bazu fontova i svakodnevni rast ovo je sigurno jedno od najboljih rešenja.
Dobro:
Pokreće ga CSS. Ne treba Javascript ili Flash
Potpuno dostupan
Google hostovani fontovi su često keširani već i učitavaju se izuzetno brzo
Laki za implementaciju kroz Google Web Font biblioteku
Loše:
Izbor je ograničen na besplatne fontove
Linkovi:
Easy Custom Web Typography with Google Fonts API
Typekit
Za one kojima trebaju profesionalni ili klasični fontovi u svojem korporativnom dizajnu Typekit je sigurno najbolje rešenje. Za razliku od besplatnih servisa Typekit omogućava korišćenje popularnih premium fontova kao što su Futura, Meta i Cocon.
Dobro:
Najveća biblioteka fontova uključujući i klasične typeface
Servis je preuzeo Adobe što ga čini pouzdanim
Lak za implementaciju preko Typekit online interfejsa
Loše:
Premium servis sa godišnjom naknadom
Linkovi:
Getting Started with Typekit
Cufon
U zadnje vreme Cufon je u senci većih web font servisa ali je bio veoma koristan izvor kada se prvi put pojavio. Cufon je Javascript baziran što ga čini kompatibilnim na starijim pretraživačima koji ne podržavaju @font-face ali zato ima neke svoje nedostatke.
Dobro:
Dobra cross browser podrška
Skup karaktera može biti limitiran u fajl manje veličine
Liše:
Tekst nije moguće selektovati
Trebalo bi ga koristiti samo za header a ne i body tekst
Ograničen na open source fontove
Linkovi:
sIFR
Kada je sIFR prvi put predstavljen pre mnogo godina bio je značajan dodatak alatima koje koriste web dizajneri. U zadnje vreme Flash tehnologija koja pokreće sIFR jednostavno ne može da bude konkurentna ostalim rešenjima na ovom polju.
Dobro:
Skoro svaki font može da se upotrebi pa i oni klasični
Tekst može da se selektuje
Loše:
Flash bazirana tehnologija je teška i spora
Ne radi na Apple uređajima
Težak za implementaciju
Linkovi:
Typeface.js
Typeface.js je izašao kao alternativa za sIFR i FLIR pošto ne zahteva dodatnu tehnologiju kao što je Flash ili PHP već je kompletno Javascript baziran.
Dobro:
Dobra cross browser podrška
Lak za implementaciju uz par Javascript linkova
Loše:
Izlazni tekst je slika što znači ne može da se selektuje
Trebalo bi ga koristiti samo za header a ne i body tekst
Ograničen na open source fontove
Linkovi:
Typeface.js
Typeface.js – A sIFR Alternative