Ako je sadržaj kralj, onda definitivno dizajn treba da bude kraljica. Dizajn je smrtno bitan elemenat za uspeh web sajta pošto je dizajn odgovoran za strukturu prikaza sadržaja i zbog toga loš dizajn može da smanji dobro iskustvo za korisnika što smanjuje posećenost.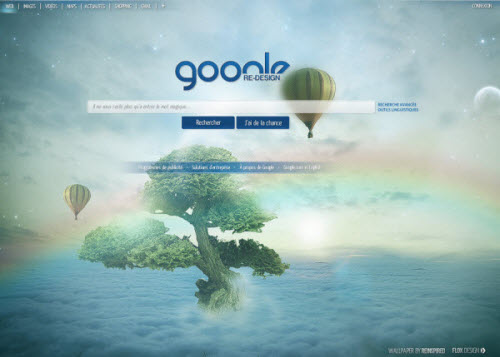 Često web dizajneri moraju da prave izbor između funkcionalnosti i preglednosti pošto je nemoguće stvoriti takav dizajn koji će se svima dopasti. Postavlja se pitanje kakav je dizajn najbolji? Web dizajneri često postavljaju ovakva pitanja a neki su izazvali sami sebe tako što su uzeli da urade redizajn, na svoju ruku za sada poznatih sajtova kao što su Facebook i YouTube. Iako ovo nisu zvanični novi dizajni za ove gigante pogledajte i uživajte.
Facebook
Prema zvaničnim statistikama Facebook uslužuje preko 500 miliona aktivnih korisnika, sa oko 700 milijardi provedenih minuta na istom. Za ovakvu vrstu statistike vrlo je nezahvalno raditi dizajn. Upravo je ovo jedan od razloga što je veliki izazov uraditi redizajn Facebook-a i što su se mnogi dizajneri odlučili za taj potez. U daljem delu članka pogledajte neke od radova na temu Facebook-a.
Koncept dizajn: Barton Smith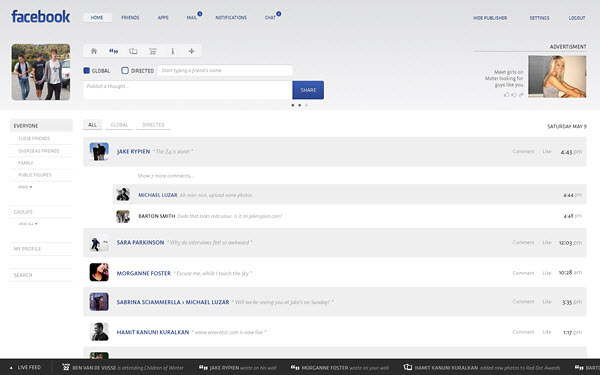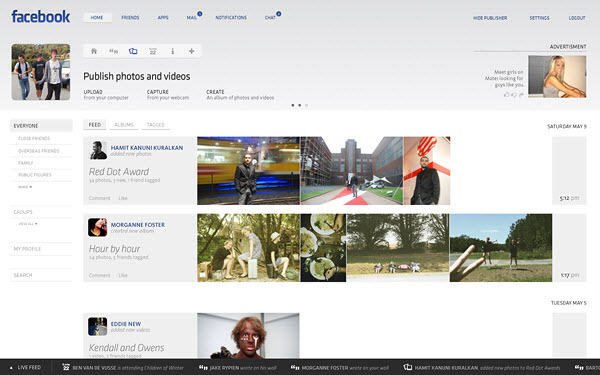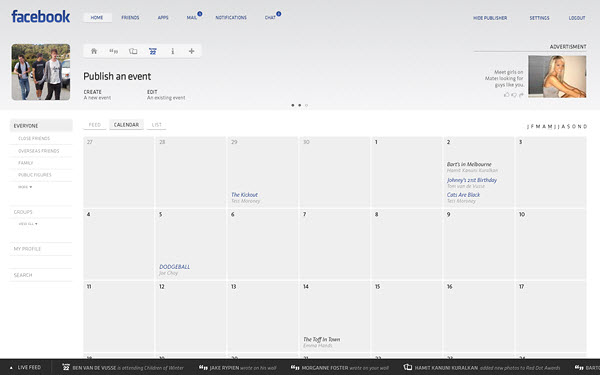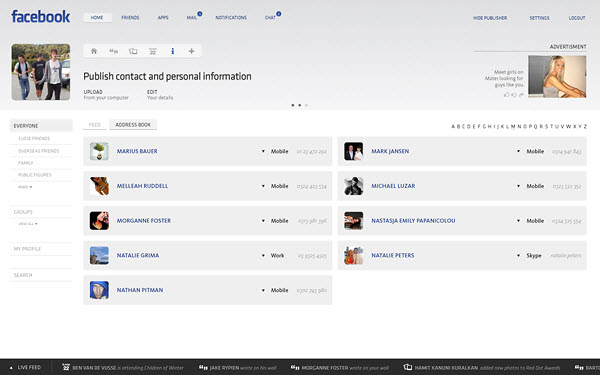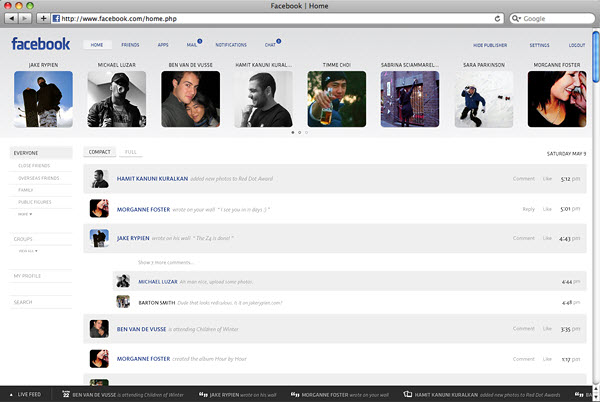 Koncept dizajn: Information Architects
Ovaj inovativni dizajn je nastao krajem 2006 i kasnije je još adaptiran prema sadašnjim standardima kako bi mogao da se poredi sa trenutnim dizajnom Facebook-a. Ideja je bila da se stvori izgled kao da je u pitanju email aplikacija sa 3 elastična reda koja su odvojena i gde su jasno podeljeni filter, stream za informacije i reakcije.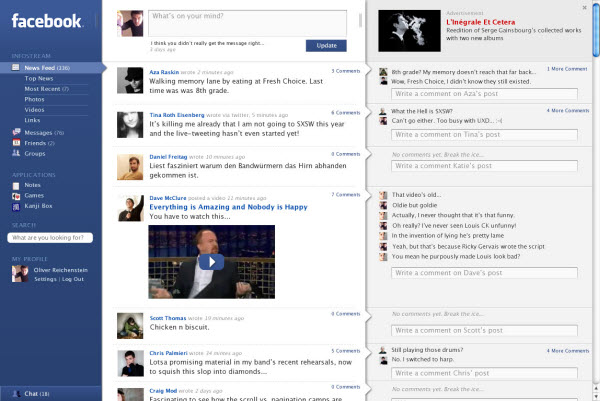 Koncept dizajn: Justin Dauer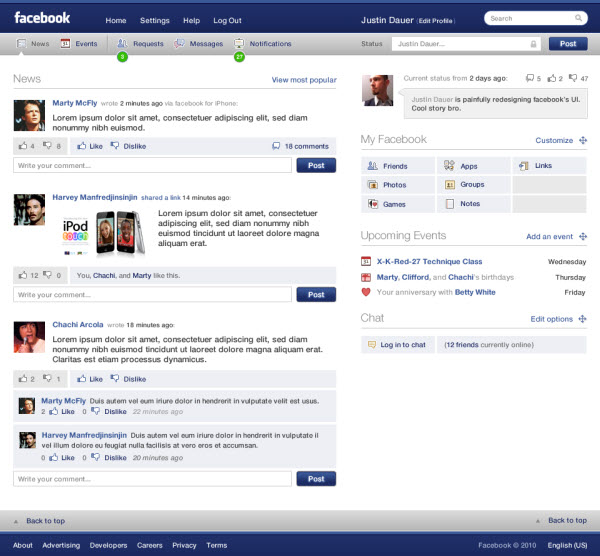 Koncept dizajn: Peter Knoll
Veoma smeo dizajn od strane Peter Knoll. Grafički deo je znatno poboljšan da ceo sajt ima mnogo primamljiviji izgled. Interfejs je mnogo čistiji sa lepom tipografijom koja je tu zbog lakše čitljivosti.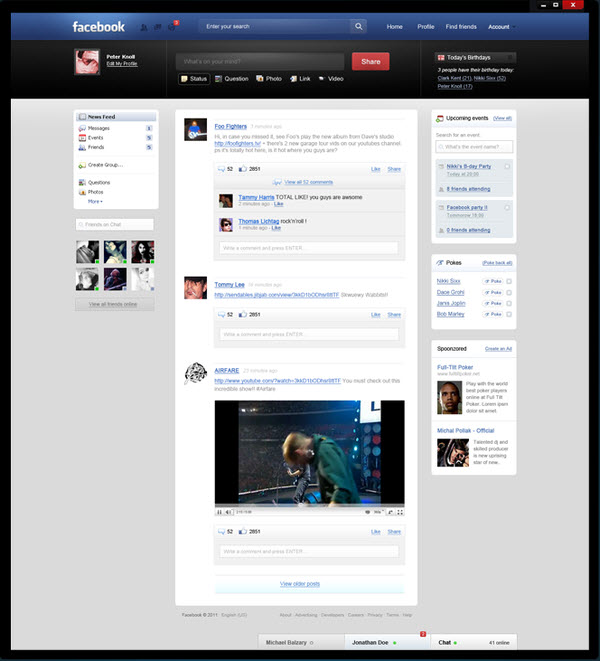 Koncept dizajn: AndasoloARTS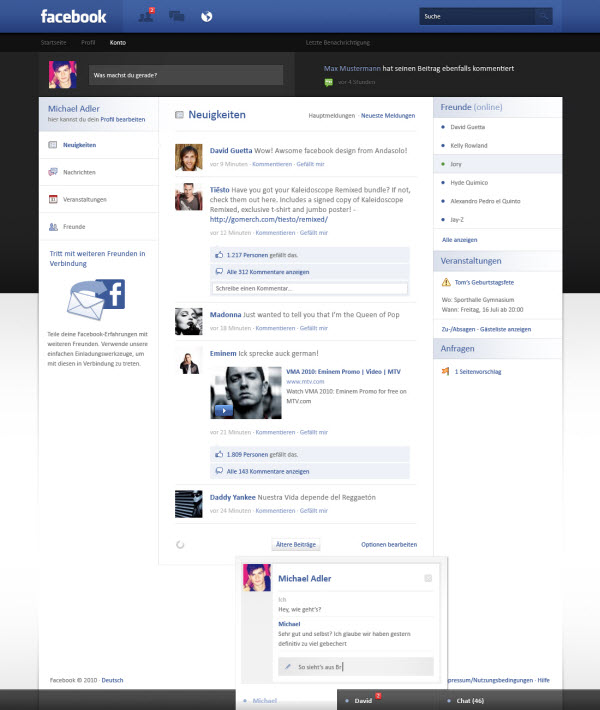 Koncept dizajn: Jonaska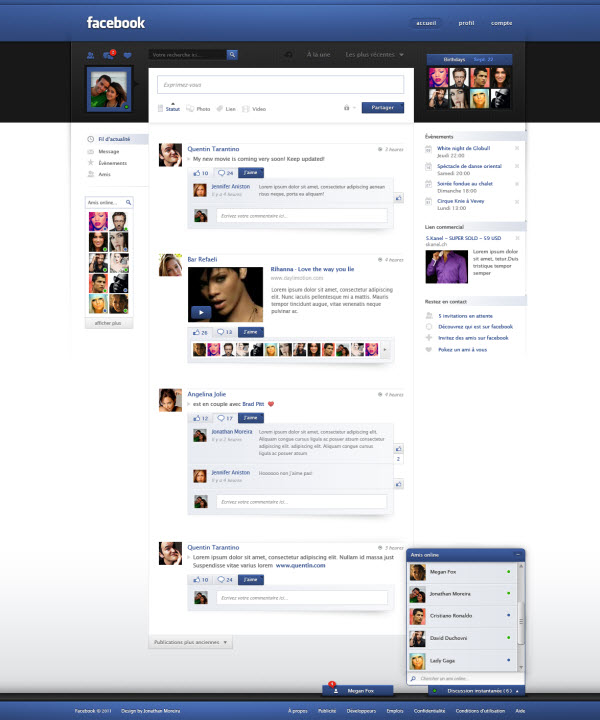 Koncept dizajn: Czarny-Design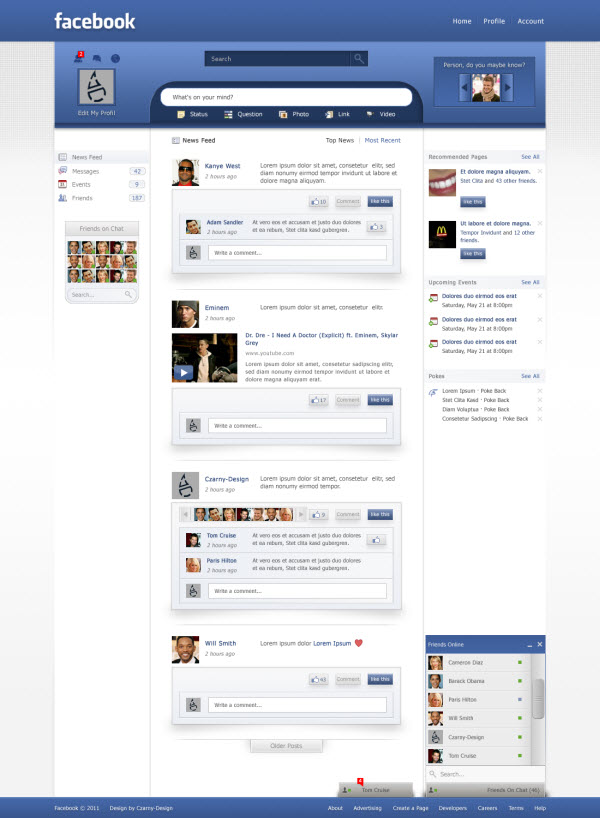 Myspace
Jedan od začetnika društvenih mreža je svakako Myspace koji je vremenom poklekao od strane Facebook-a i od tada se bori za opstanak. Rebrandiran kao My_____ sada cilja da postane glavna društvena mreža za zabavu odnosno sadržaje vezane za muziku, filmove, poznate ličnosti, TV i igre i sve to da pokreću fanovi.
Koncept dizajn: Rafael Oliveira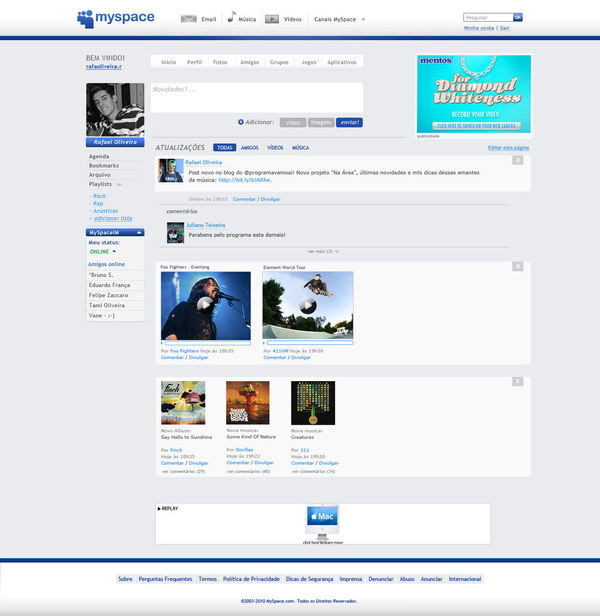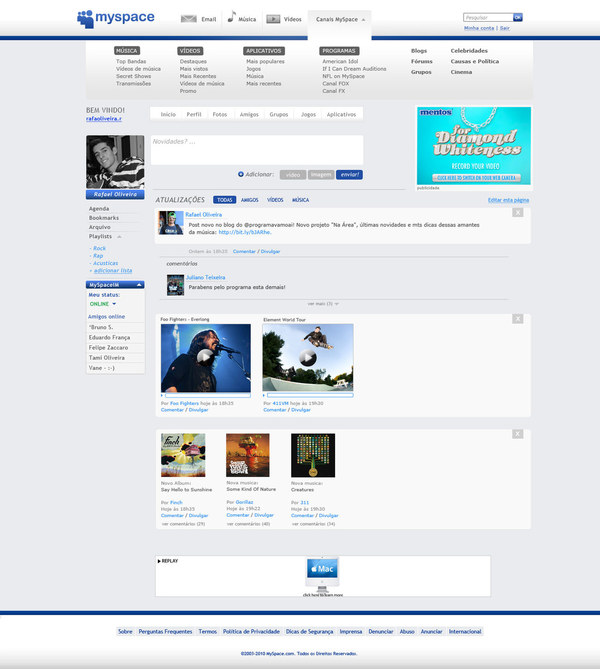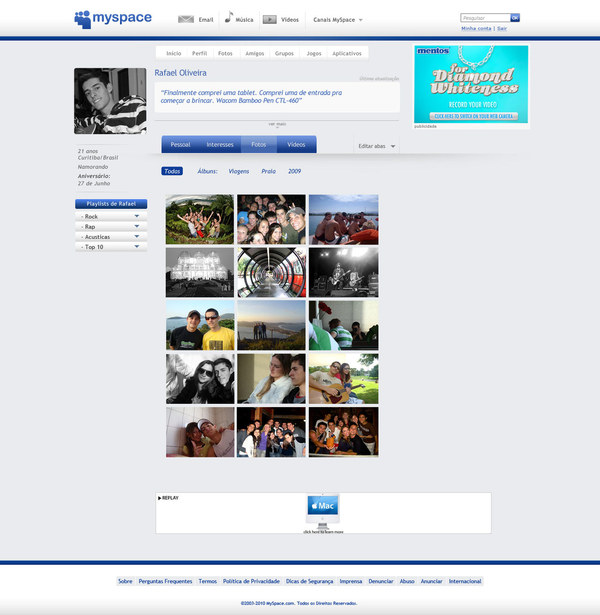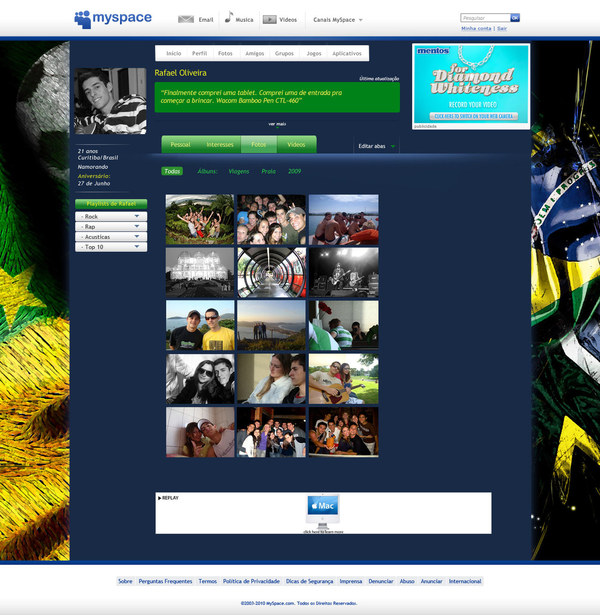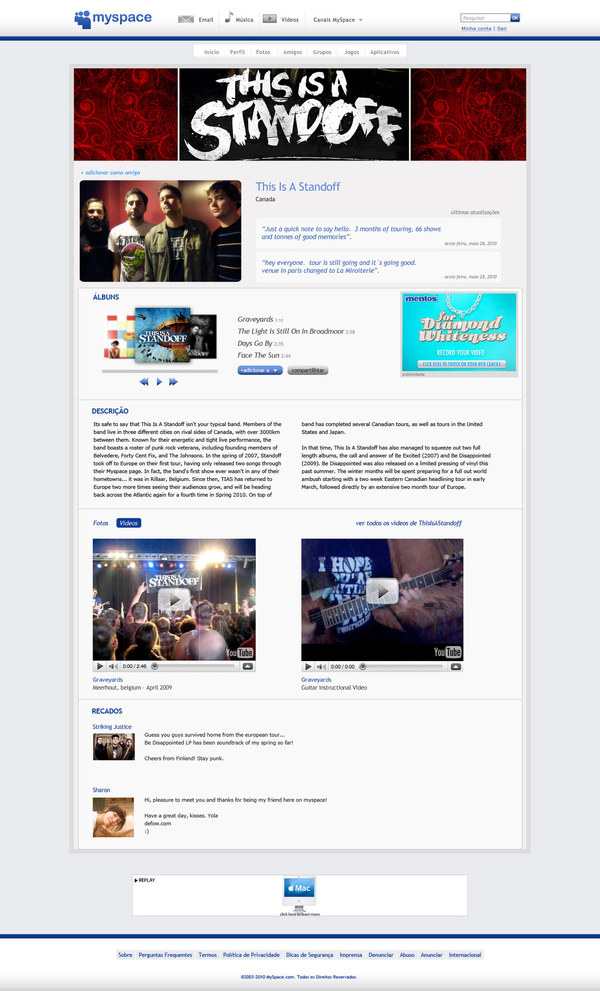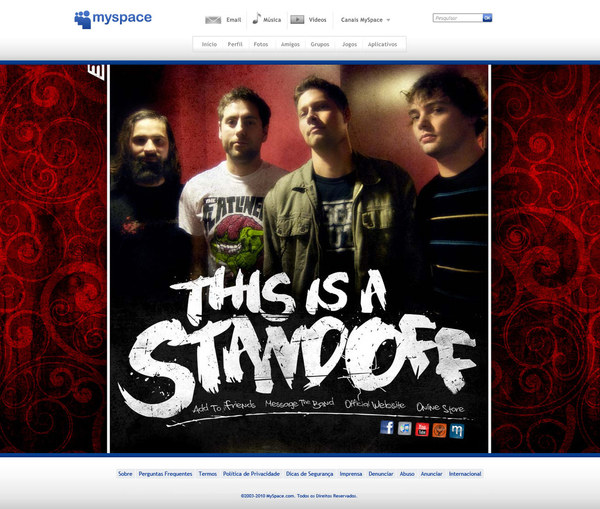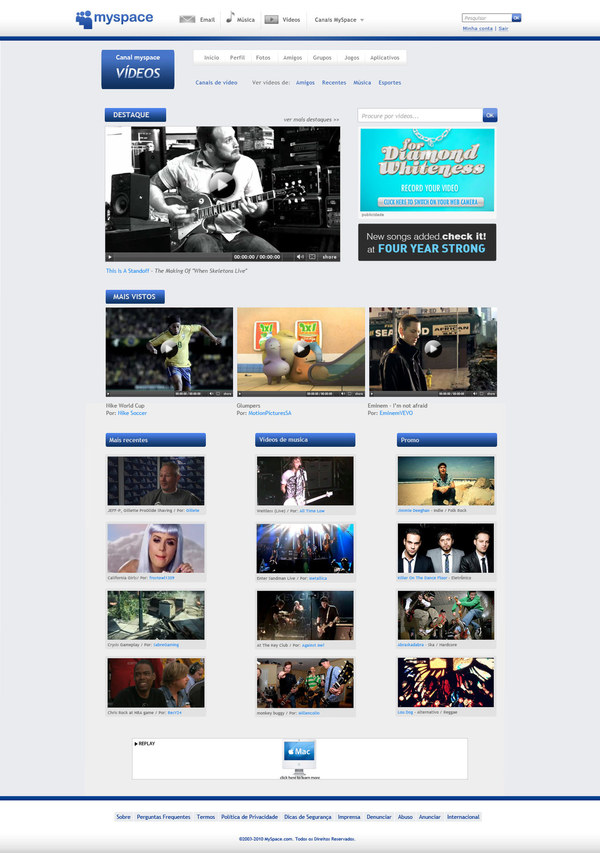 Google
Sa procesiranjem preko milijarde zahteva za pretragu širom sveta Google je najpoznatiji sajt na svetu. Isto tako je poznat kao kraljevstvo koje pokušava da dominira internetom tako što pravi prijateljski nastrojene proizvode kao što su Android, Gmail i Analytics. Kako Google ima velik broj vrhunskih dizajnera koji rade na dizajnu svih njihovih proizvoda svaki pokušaj redizajna sa strane je vrlo smeo i predstavlja izazov za njihove dizajnere.
Koncept dizajn: Craig Reville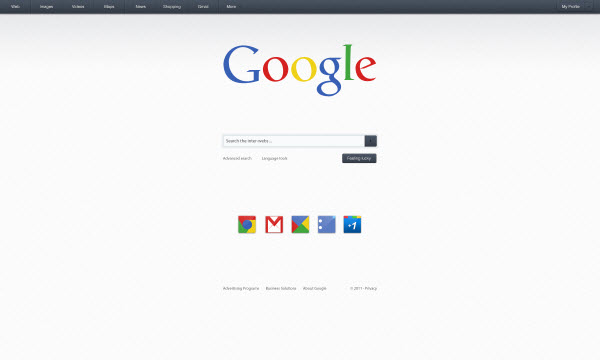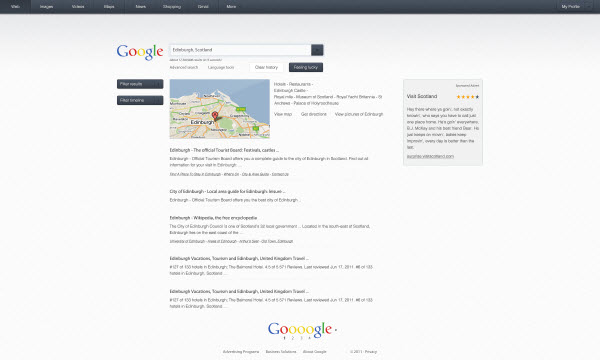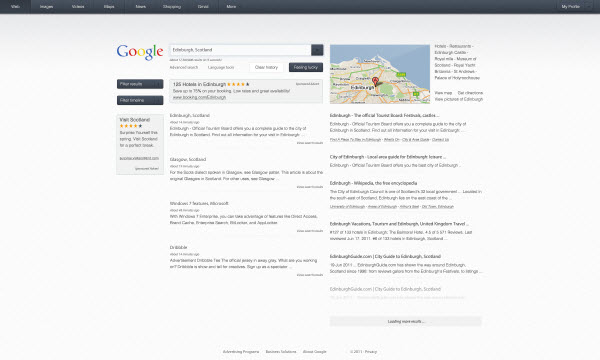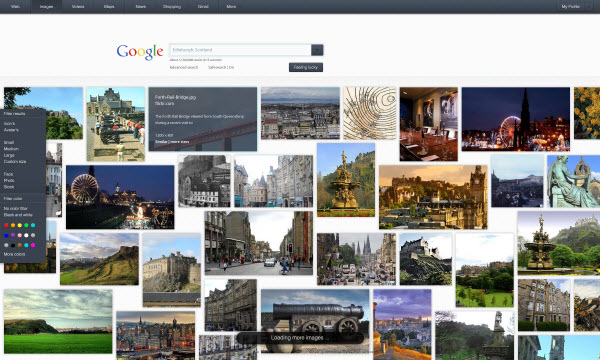 Koncept dizajn: FloxDesign
Malo podseća na Bing ali je za nijansu više epski. Iskreno bilo bi lepo kada bi ovako nekako izgledala Google glavna strana.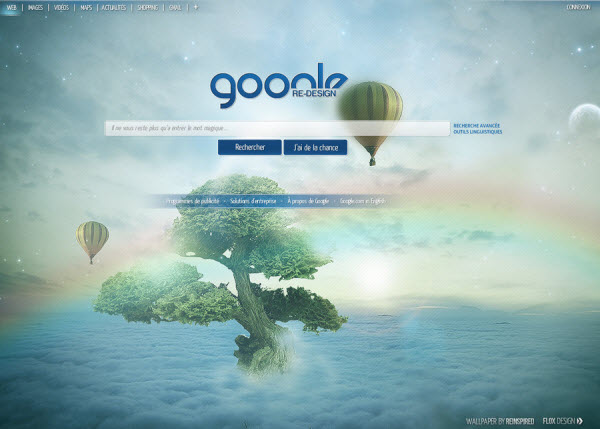 YouTube
Rangiran na 3 mestu na svetu i na 4 mestu u USA po saobraćaju YouTube je web sajt za pronalaženje, pregled, kačenje i razmenu video materijala. Većina sadržaja je okačena od strane individua ali ima i sve više materijala koji kače mediji kao što su CBS, BBC, Vevo i Hulu. Da li imate smelosti da redizajnirate sajt koji ima preko 2 milijarde pregleda dnevno? Oni svakao smeju…
Koncept dizajn: Michele Byrne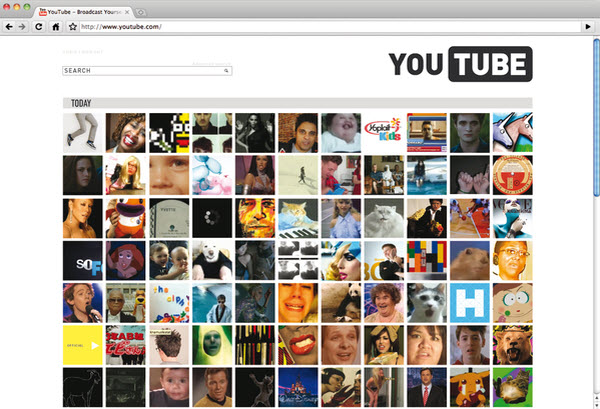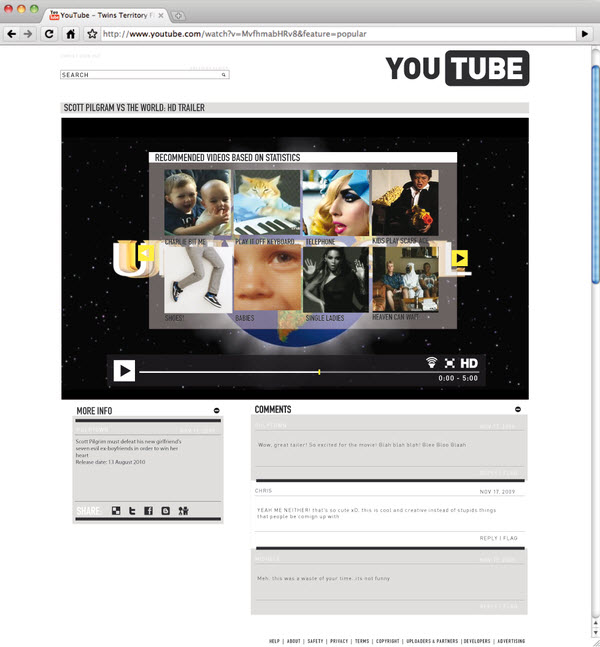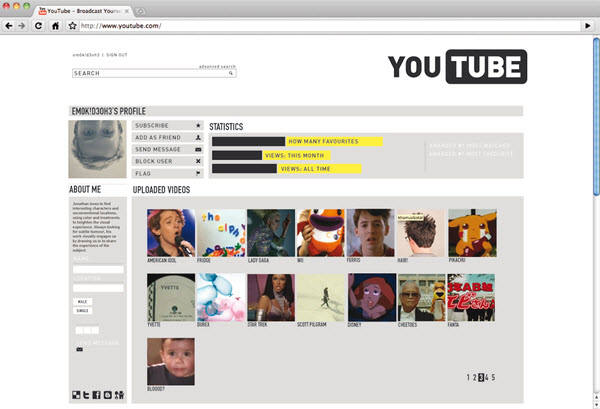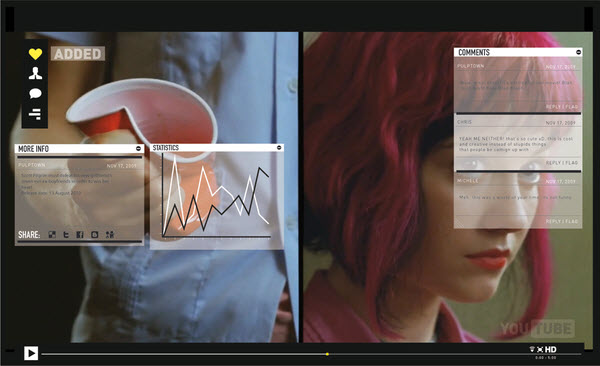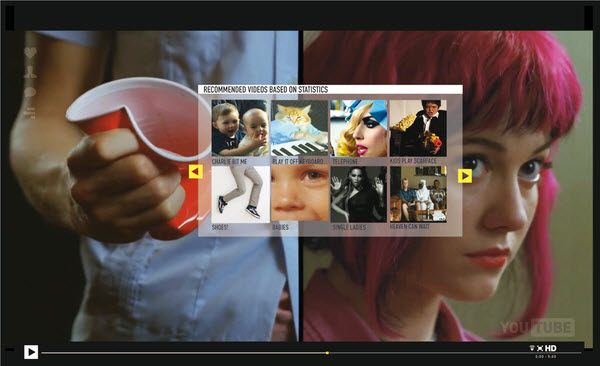 Koncept dizajn: Josh Collie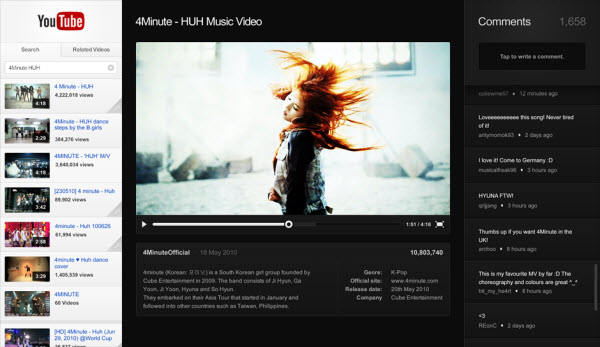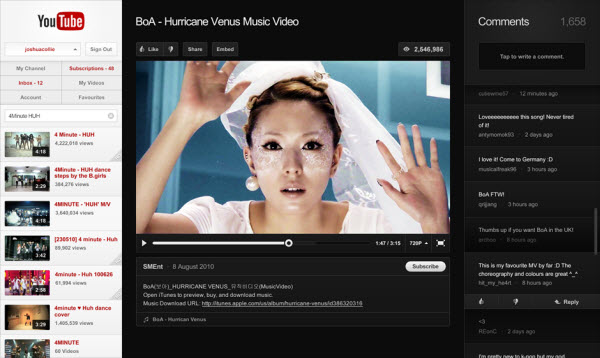 Koncept dizajn: Thadeu Morgado
Eksperimentalni redizajn YouTube glavne strane. Stil je manje više isti jedino što je kompletna postavka promenjenai ubačen je veliki slajder u kojem se kreću featured video materijali.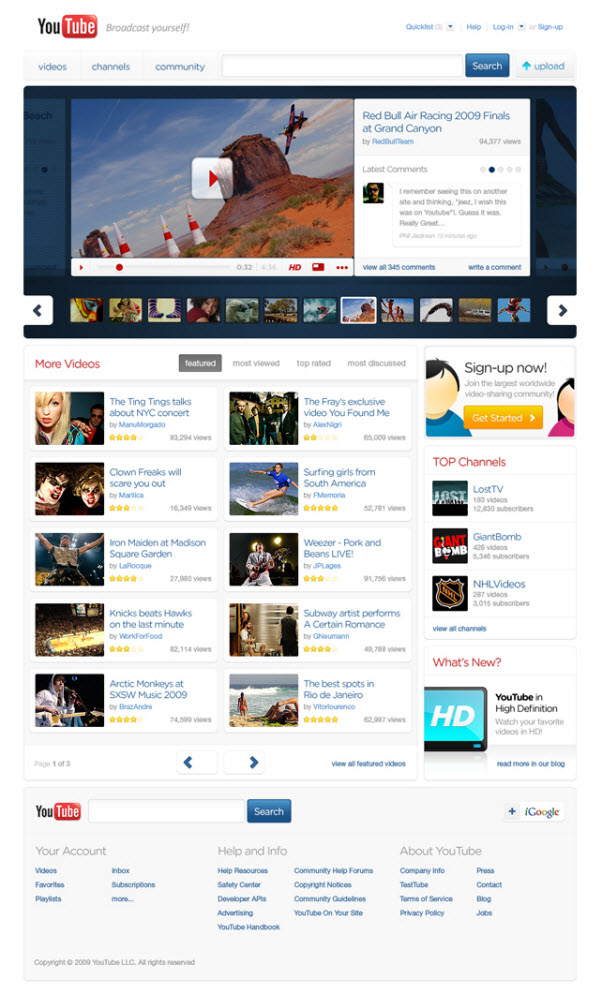 Amazon
Amazon je postao online 1995 i sada je već postao multinacionalna e-commerce kompanija sa ogromnom ponudom knjiga, časopisa, muzike, DVD-ova, elektronike itd. Pošto imaju tako veliki i razvijen posao dizajneri širom sveta postavljaju sebi izazove tako što redizajniraju Amazon da bude još lepši i više okrenut korisnicima.
Koncept dizajn: Trevor Cleveland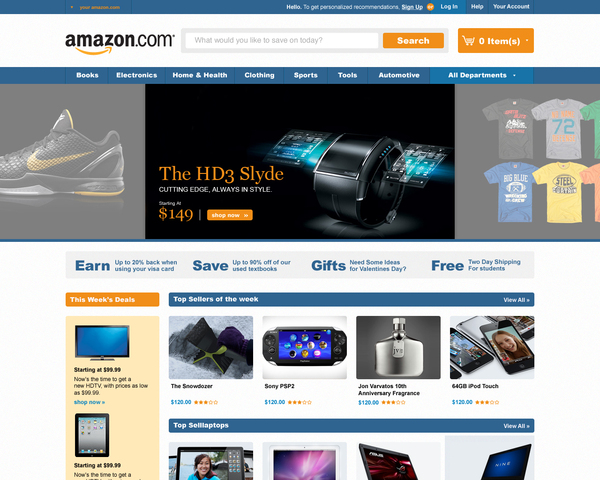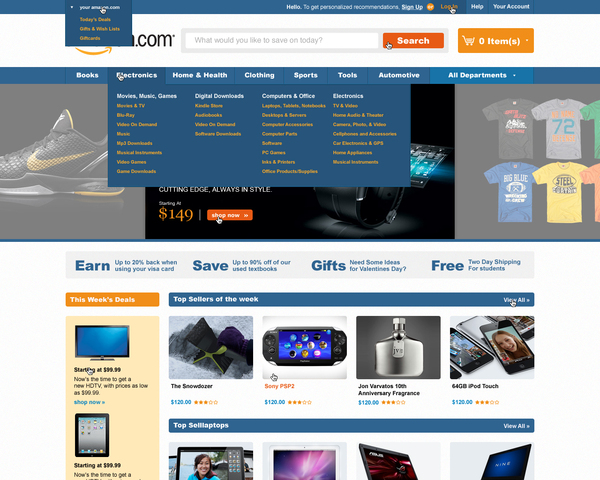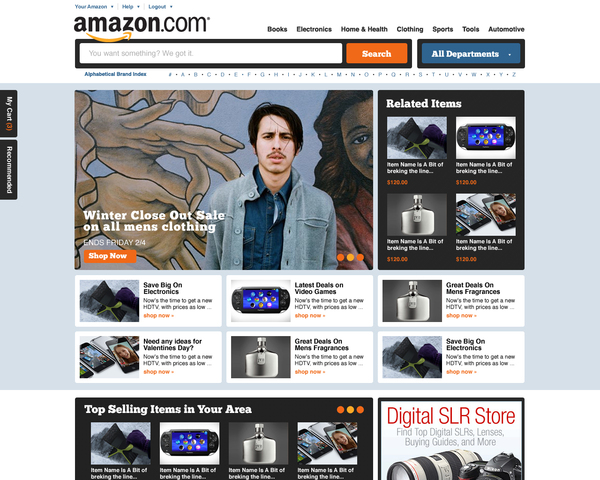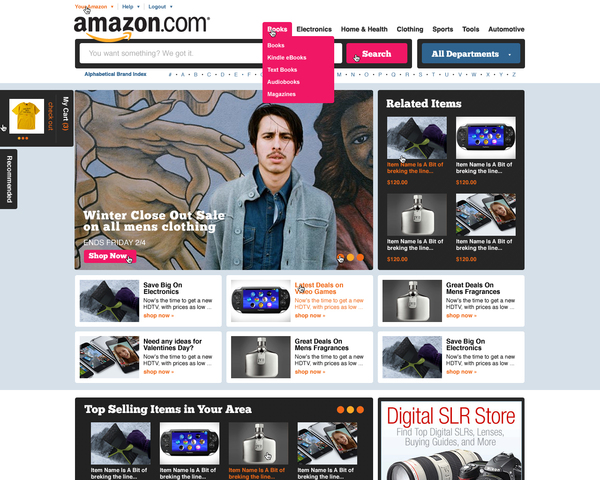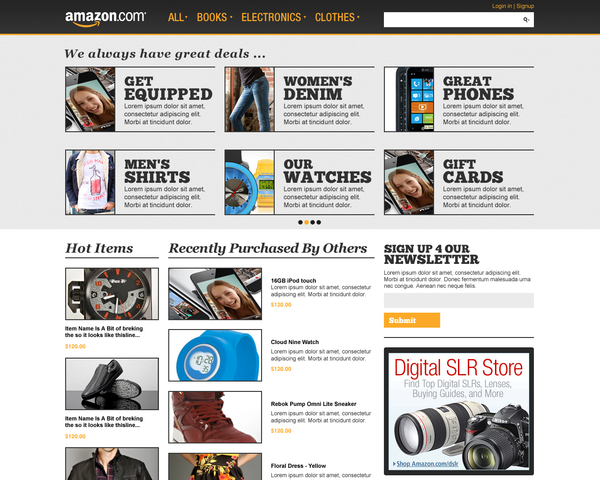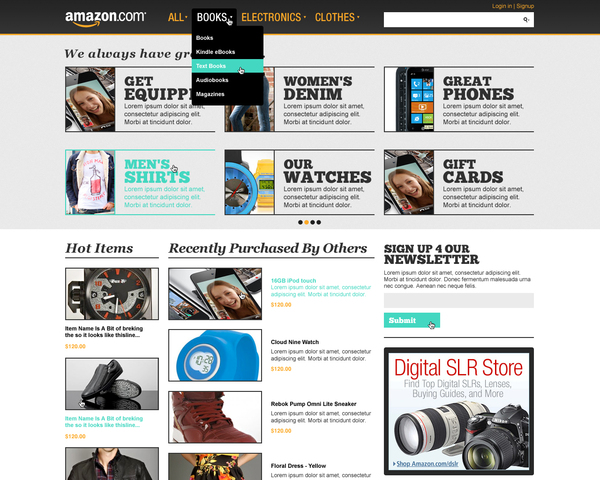 Koncept dizajn: Maurice Kindermann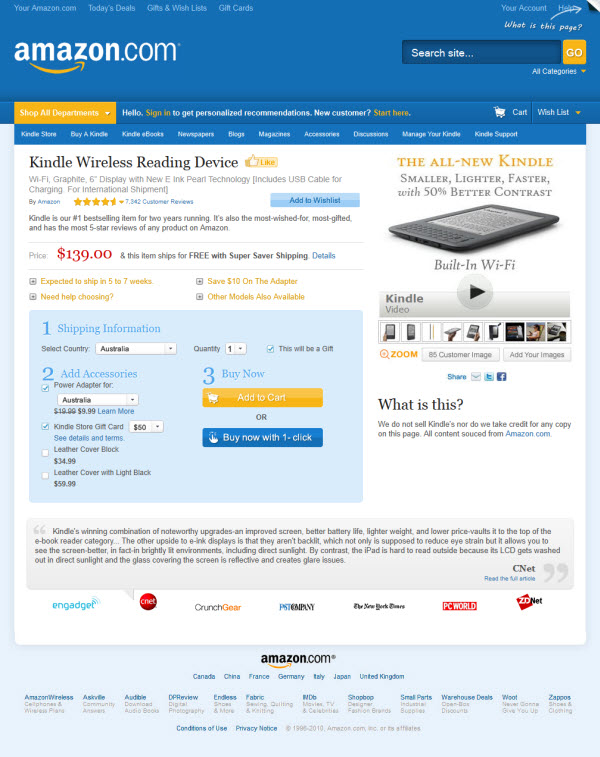 IMDb
Najveći web sajt na kojem možete pronaći podatke o nekom filmu, televizijskoj seriji, glumcima itd. je svakako IMDb. Redizajnirati ovaj portal koji sadrži toliko informacija je svakako veliki izazov za sve dizajnere.
Koncept dizajn: Vladimir Kudinov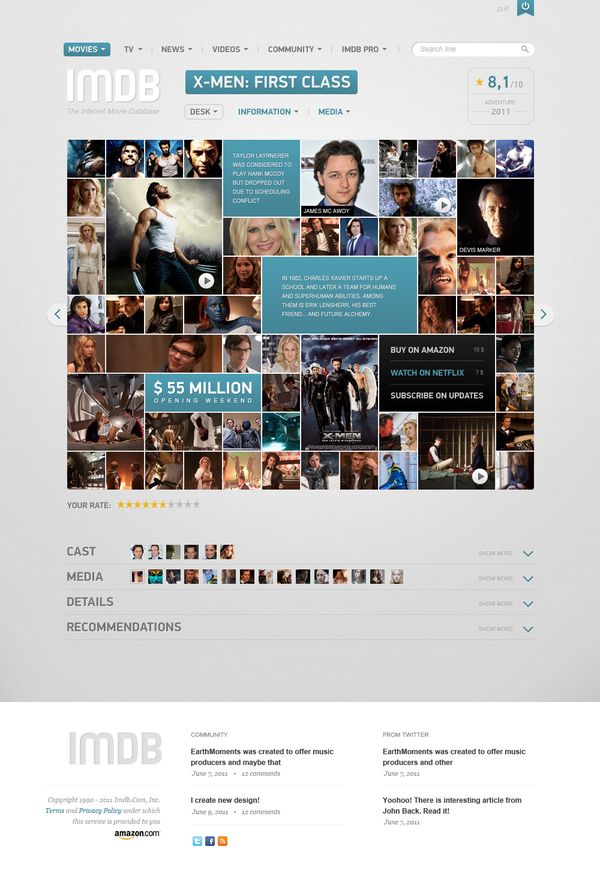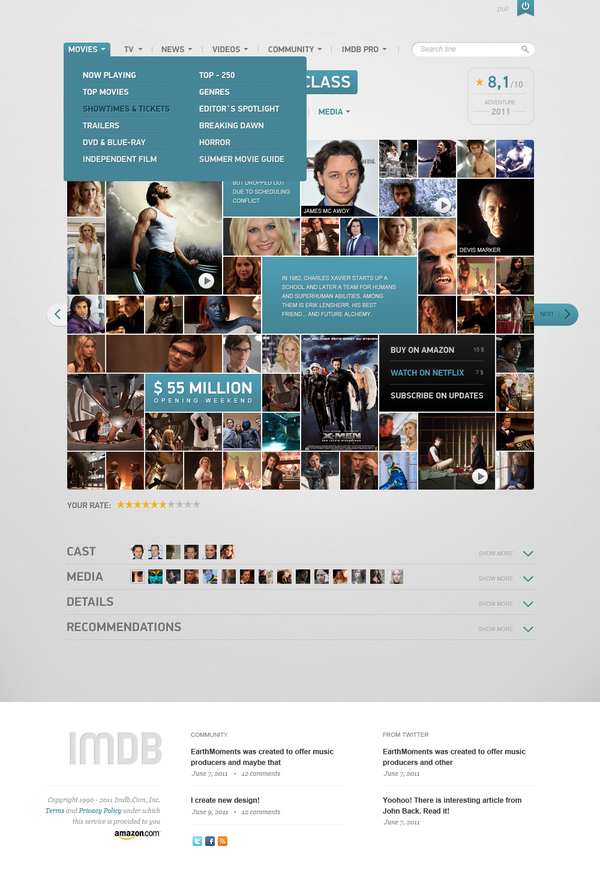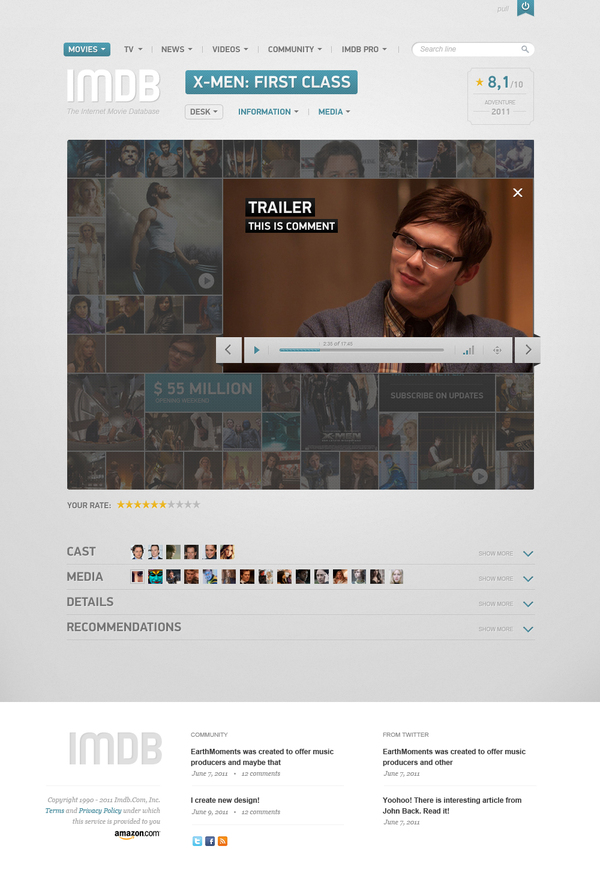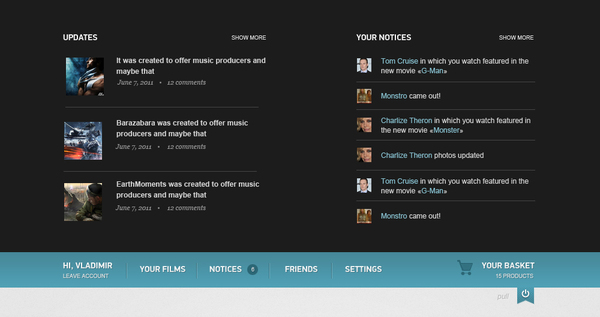 Koncept dizajn: Rob Hendricks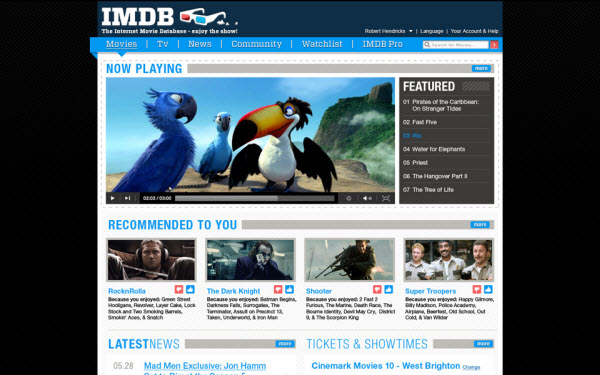 Mnogi tvrde kako kod ovih ogromnih sajtova dizajn nije bitan i nije u prvom planu pošto se svaki korisnik navikne na to što je pred njim a u neku ruku mora da koristi. Postavlja se pitanje da li ima smisla i da li je uopšte dobro menjati nešto što tako dobro funkcioniše već duži vremenski period.